August 1, 2019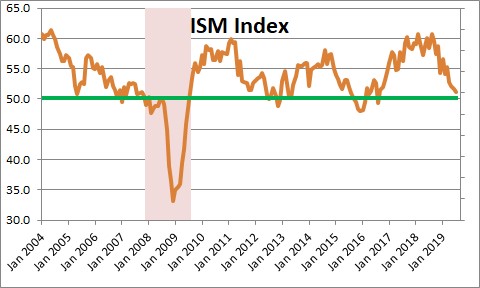 The Institute for Supply Management's index of conditions in the manufacturing sector fell 0.5 point in July to 51.2 after having declined 0.4 point in June.   Clearly, the escalating trade trade war between the U.S. and China is taking its toll on manufacturers.  But while the PMI has fallen fairly steadily since reaching a peak of 60.8 in August of last year, the decline has been from a very high level.    The PMI for July at 51.2 still corresponds to a 2.5% increase in GDP growth.  The earlier numbers were consistent with GDP growth between 4.0-4.5%
Timothy R. Fiore,  Chair of the ISM's Manufacturing Business Survey Committee indicated that "Comments from the panel reflect continued expanding business strength, but at soft levels. July was the fourth straight month of slowing PMI® expansion."
It is important to recognize that the overall index is the compilation of a number of different components — production, orders, employment, supplier deliveries, inventories, prices, the backlog of orders, exports, and imports.
The orders component rose 0.8 point in July to 50.8 after having fallen 2.7 points in June..  "Customer demand expanded slightly in July following one month of no expansion. Three of the top six industry sectors expanded, and three contracted during the period,"   An orders index above 52.4  is, over time, consistent with an  increase in the Census Bureau's series on factory orders.
.
The weakness in orders overall is, to a large extent, the result of slower growth overseas.  Export orders fell 3.4 points in July to 48.1 after having fallen 0.5 point in June.  "Many respondents noted global trade softness in China as a reason for sluggish activity. Two of the six big industry sectors expanded, while three reported contraction," says Fiore.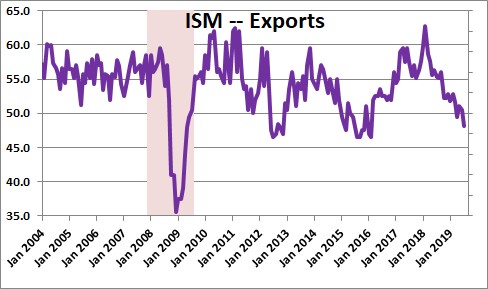 The production component fell 3.3 points in July to 50.8 after having jumped 2.8 points in June.    "Production expansion continued in July, at a weaker pace compared to June. For the second straight month, production output was able to improve customer-inventory positions and reduce backlog orders,"    A level above 51.5 is consistent with an increase in the Federal Reserve's industrial production figure.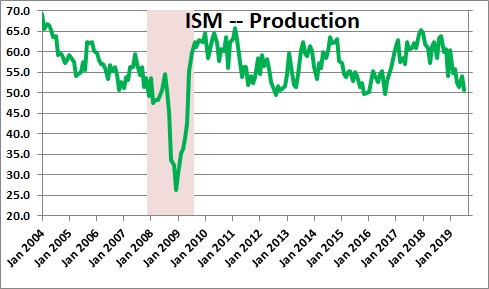 The employment index fell 2.8 points in July to 51.7 after having declined 0.5 point in June..  The ISM report said the following:  "Employment continued to expand slightly compared to June. Comments were generally 'pro hire,' but there is a growing reluctance to replace unplanned exits and retirements,"  While the economy is currently cranking out about 180 thousand jobs per month, the factory sector thus far accounts for only about 20 thousand of them.  Most of the jobs are coming from services and construction.  An ISM employment index above 50.8 is consistent with an increase in the Bureau of Labor Statistics data on manufacturing employment.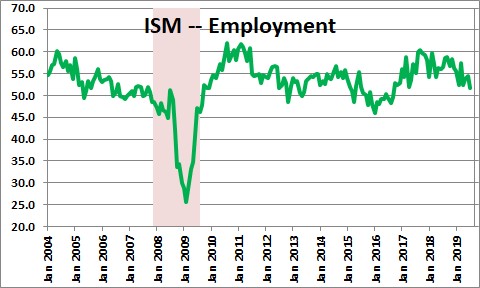 The backlog of orders edged upwards by 0.2 point in May to 47.4 after having plunged 6.7 points in May.  Fiore said "Backlogs shrank during July due to production output being able to exceed new order intake rates,"  Backlogs remain very close to their lowest level of performance since October 2016, when the index registered 45.8 percent."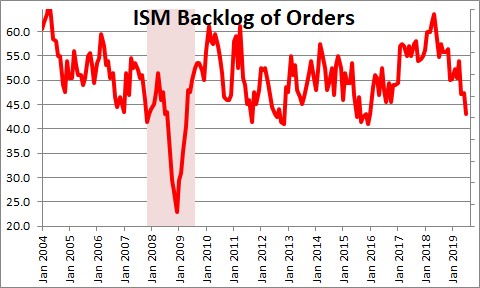 The prices paid component declined 2.8 points in July to 45.1 after having plunged 5.3 points in June.  "Prices contracted in July at higher rates compared to June. Respondents reported a large-scale decrease in prices for aluminum, copper, corrugate, computer memory and steel products,"   A price index level above 52.5 is consistent with an increase in the BLS producer prices index for intermediate materials.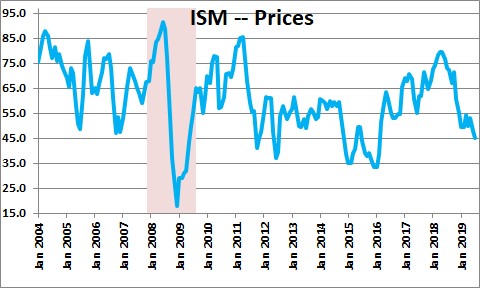 We believe that the economy is  expanding at a relatively robust pace.  We expect GDP growth of 2.7% in 2019 after having risen 3.1% last year.  During that period of time the manufacturing sector will continue to expand at a moderate pace.
Stephen Slifer
NumberNomics
Charleston, SC