December 6, 2019
The latest batch of data continues to defy widespread expectations that growth is going to close out 2019 on a weak note and remain soft in 2020.  Payroll employment surged in November with a surprisingly robust increase of 266 thousand.  The stock market climbed to yet another record high level.  Consumer sentiment maintained its upward trajectory in December and is now within two points of its peak level thus far in the expansion.  Interest rates are extremely low.  We are certain that the nay-sayers will find things to fret about, but we obviously see the world differently.
Payroll employment surged 266 thousand in November with upward revisions to both the September and October data.  While the huge increase in November reflected the return to work of 42 thousand General Motors workers who had been on strike, the revised October increase of 156 thousand was reduced by 42 thousand as that same group of workers walked off the job.  The 3-month moving average of payroll employment of 205 thousand washes out all these monthly distortions.  Last year the average monthly increase was 223 thousand.   If today it is something close to 205 thousand, that sure does not seem weak to us.  Furthermore with employment gains averaging 205 thousand and the labor force rising by about 125 thousand per month, the labor market is getting tighter with each passing month.  Perhaps, the economy is not as close to full employment as everybody (including us) thought.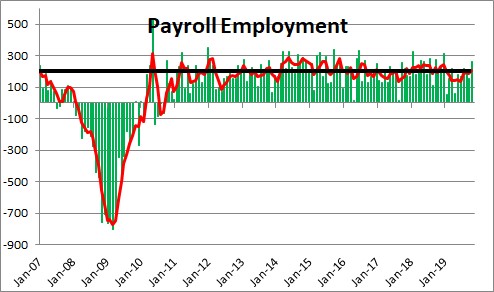 The unexpectedly large employment gain sent the stock market to yet another record high level.  And while U.S. investors focus on the increase in the S&P 500 index, stock markets around the globe are moving in the same direction and are now at their highest level since the middle of 2018 – 18 months ago.  Since reaching its low point in mid-December of last year the S&P 500 index has risen 30%.  Growth in stock markets outside the U.S. has climbed by 19%.  Not too shabby!  If the fear this year was that slower growth outside the U.S. was going to spread and reduce GDP growth in the U.S. or perhaps even produce a recession, that fear factor is going to disappear in 2020.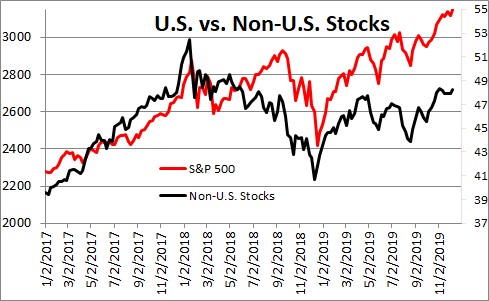 Most other economists are apparently focusing on the manufacturing sector which is legitimately weak as tariffs and a drop in export orders have taken a toll.  Fair enough.  But it is important to remember that manufacturing is just 11% of the GDP pie.  It is small and slower growth in that sector has trimmed GDP growth in 2019 by a few tenths of a percent.    Some of the factory weakness this year was caused by the problems at Boeing.  But the expectation is that the 737-MAX jet is likely to be flying again in the early part of next year.  At the same time, recent weakness in the manufacturing sector has been accentuated by the G.M. strike.  But that, too, will disappear in the months ahead because G.M. workers are now back on the job.  While the factor sector is not going to return to vibrant growth in 2020 a modest rebound seems likely.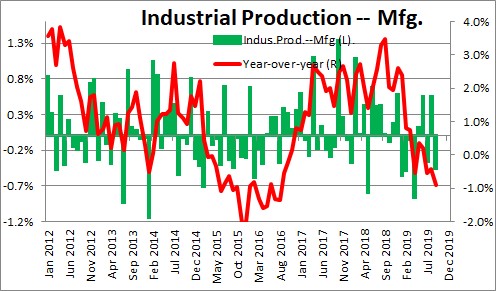 The driving force behind the economy in 2019 has been consumer spending which has been rising at a solid 2.5% pace and that seems unlikely to change in 2020.  If growth in two-thirds of the economy is going to be steady at 2.5% in 2020, the overall GDP growth rate is going to remain solid for the foreseeable future.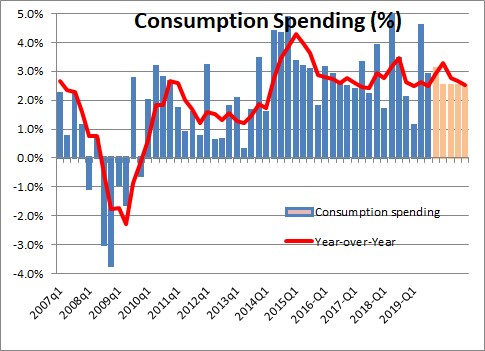 Consumer sentiment rose again in December to 99.2.  That is the fourth consecutive increase in this series which hit a low point of 93.3 in September.  It is within an eyelash of the peak level for the cycle of 101.4 which was attained in March 2018.  And why shouldn't the consumer feel great?  The stock market climbs to one new record high level after another.  If you have sneaked a peak at your 401-K lately you were almost certainly pleasantly surprised.  Jobs growth remains sold and the already tight labor market is getting tighter with every passing month.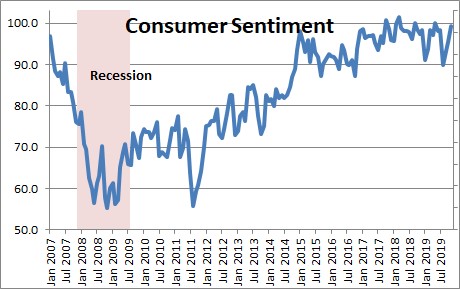 At the same time, the Fed has cut short rates three times this year by a total of 0.75%, and mortgage rates have fallen more than one percentage point from 4.9% at this time last year to 3.7%.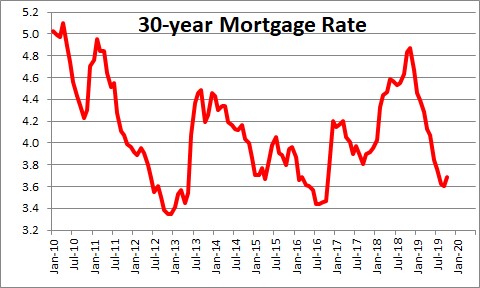 Not surprisingly, with the big drop in mortgage rates new and existing home sales are on a roll and would be even faster if builders could step up the pace of production.  Their problem is that they simply cannot find enough bodies to hire.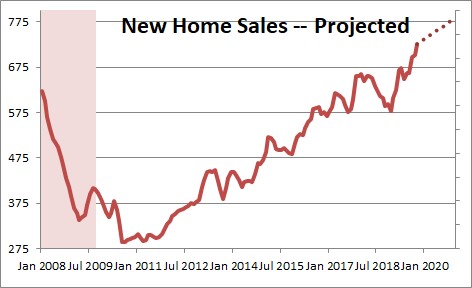 We simply do not see the ominous signs in the economy that others are worried about.  As always, time will tell which camp is more correct, but we are probably more comfortable with our more optimistic scenario going into yearend than they must be hawking the idea of a sharp growth slowdown in 2020.  With solid jobs growth, a sharp drop in interest rates, the stock market surging, and consumer confidence close to its highest level thus far in the cycle, what's not to like?
Stephen Slifer
NumberNomics
Charleston, S.C,