September 3, 2021
Payroll employment rose 243 thousand in August which was considerably smaller than the 750 thousand increase that had been expected.  The boo-birds jumped on that small gain to suggest that the rising number of COVID cases has stopped the economy dead in its tracks.  While there could be some small impact from COVID, the primary factor underlying the small employment gain is almost certainly an inability of employers in multiple industries to find the workers that they need.  With the expiration of federal unemployment benefits after Labor Day, more workers should become available to build houses, work in restaurants, and find factory jobs.  As a result, we continue to believe that we will see robust 8.0% GDP growth in the third quarter followed by 10.5% growth in the fourth quarter as more workers become available, employers find ways to work around some of the supply interruptions, and COVID cases reach a peak and begin to subside.  Despite numerous obstacles the business sector has adapted well over the course of the past year-and-one-half as corporate earnings jumped to a record high level in the second quarter.  Economists and market participants continue to be mystified by the relentless upward movement in the various stock market indexes.  But there is a reason this is happening – corporate profits have skyrocketed.
Given the press coverage given to the latest COVID wave, there is a fear amongst economists that Americans will retreat back into their homes and cut back on dining out or refuse to board an airplane for fear of contracting COVID.  Or perhaps employers will refrain from hiring additional workers until the latest COVID wave subsides.  While those are legitimate concerns, the evidence suggests that consumer spending has been largely unaffected.  The smaller-than-expected increase in payroll employment in August primarily reflects a shortage of available workers, not the beginning of a pullback because of reduced demand.
One place that such a retrenchment would likely hit first would be in the food and beverage industry.  But yet, Open Table reservations are running about 10% below their pre-pandemic 2019 pace.  These 7-day averages bounce around from week to week, but that shortfall is little different from what it was in early June.  Restaurants here in Charleston, S.C. are packed.  Every single one seems to have a "Help Wanted" sign out front.  We certainly do not get a sense that a COVID fear has caused any significant retrenchment in consumer behavior.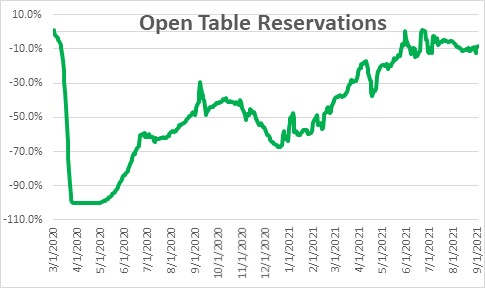 Ditto for air travel.  The TSA counts the number of travelers through TSA checkpoints daily and compares that to the same day in 2019 – prior to the pandemic.  The data continue to be about 78% of their pre-recession pace and that figure has been steady for months.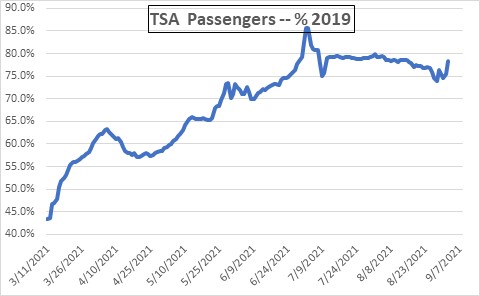 Regarding the jobs report for August we suggest that the smaller-than-expected August gain of 243 thousand reflects the difficulty that employers are having in finding the bodies that they need.  The employment survey is taken in the weeks that contain the 12th of the month.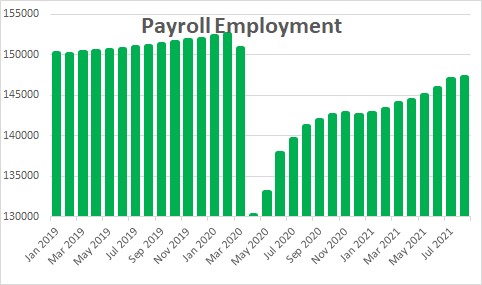 If the small employment gain for August reflects a slower pace of economic activity, why is it that the weekly initial unemployment claims data continued to decline through the end of August and are now the smallest they have been since the end of the recession?  Why is there a steady drop in the number of workers receiving unemployment benefits through the end of August?  Why are the number of people receiving unemployment benefits as a percent of the labor force continuing to decline?  Why are so many respondents to the Institute for supply Management's surveys of conditions in both the manufacturing and service sectors in August highlighting worker shortages as a factor in curtailing their ability to produce goods and services?  Yes, the August increase in payroll employment was smaller than expected.  But to conclude that this is an early indicator that the pace of economic activity has slowed because of reduced demand caused by COVID would be a serious mistake.  It reflects a serious labor shortage not a drop in demand.  Our sense is that after Labor Day when the federal unemployment benefits expire we will see a surge in employment and a continuing drop in the unemployment rate.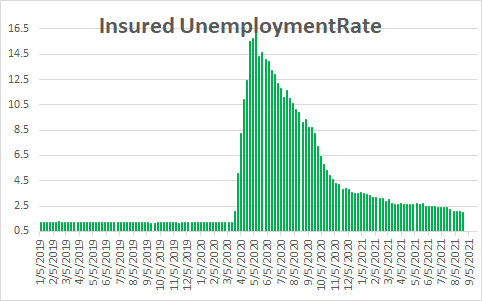 Of all the data released in recent weeks perhaps the most surprising has been corporate earnings for the second quarter which skyrocketed.  Earnings in that quarter jumped to a record $2.8 trillion.  In the six quarters since the end 2019, corporate profits have risen 16%.  This includes both the recession-induced drop in earnings in the first two quarters of last year, and the subsequent rebound.  Despite a well-documented worker shortage, supply difficulties in getting necessary parts, and COVID-induced adjustments which include allowing employees to work from home, firms are boosting output, increasing productivity, and bolstering earnings.  No wonder the stock market is on a roll!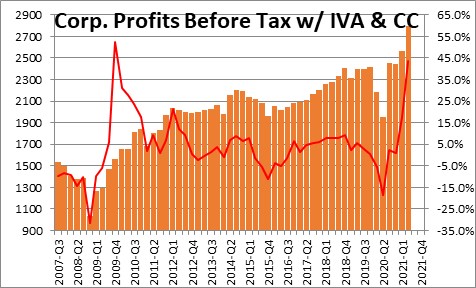 Stephen Slifer
NumberNomics
Charleston, S.C.