January 15, 2021
The virus continues to spread rapidly.  Both the labor market and the economy softened somewhat in November and December.  But that hardly seems consistent with the economic crisis described by President-elect Joe Biden in his speech on Thursday.  We understand that he is trying to enlist support for an additional $1.9 trillion fiscal stimulus/corona virus relief package, but he is grossly exaggerating the degree of economic weakness.  The economy may have to endure a couple more months of sloppy-looking data, but GDP growth for the year seems likely to be 5.5% and the unemployment rate could fall towards the 4.5% mark by yearend because a vaccine is on its way.  The economy is simply not in a dire economic crisis.
Initial unemployment claims rose at yearend which suggests that the labor market has weakened somewhat.   But people are taking what is, thus far, a single-week's increase and extrapolating that into a leading indicator of significant weakness in the weeks and months ahead.  We doubt that will happen.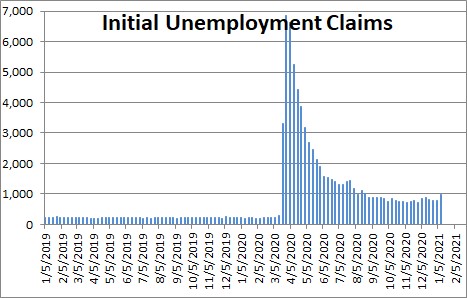 In addition, retail sales have declined in the last couple of months as consumers cut back on Christmas spending.  But much of that softness will be reversed as the vaccine becomes more widely distributed in the spring.
The doomsayers seem to ignore the fact that, spurred by record-low 2.7% mortgage rates, the housing sector is on fire with existing home sales at the fastest pace since 2006.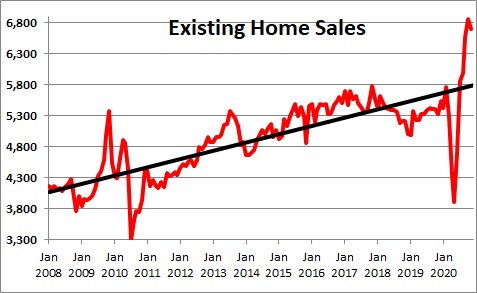 Also, driven by rapid growth in orders the manufacturing sector continues to climb.  Industrial production rose sharply in each of the last three months of the year as orders surged and forced manufacturers to step on the gas.  Furthermore, production would have been even faster if their suppliers had been able to keep pace.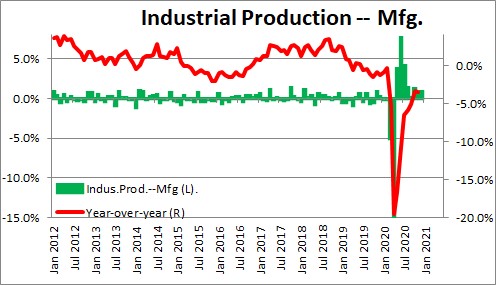 In addition, consumers have plenty of cash on the sidelines in the form of an elevated savings rate to allow them to spend at a reasonable pace for at least the rest of this year.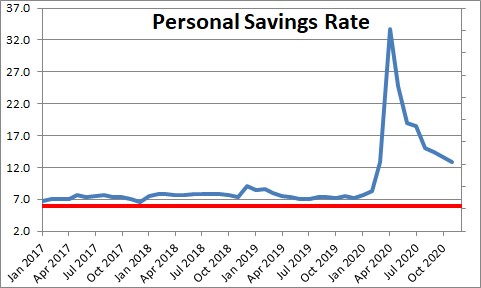 Finally, if the economy were on the brink of an economic slowdown the stock market would be one of the first places where such fear would become evident.  Instead, the stock market is at a record high level.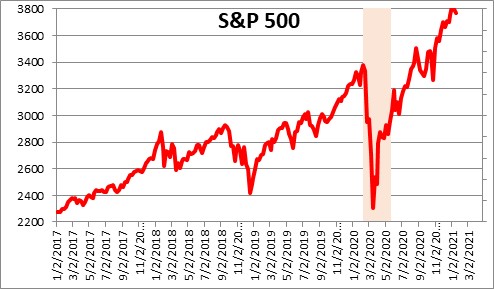 Fed Chair Powell is one of the cheerleaders for the significant economic weakness: theme.  But that seems odd since in December the Federal Reserve predicted 4.2% GDP growth in 2021 and indicated that the unemployment rate would decline to 5.0% by the end of the year (versus 6.7% currently).  So where exactly is this economic crisis that he is describing?
Our sense is that our leaders in Washington – from president-elect Biden, to the Democrats in charge of both the House and the Senate, and even the Chair of the Federal Reserve – are describing an economy that is in dire need of assistance.  If a second economic stimulus/corona virus relief bill had not been passed late last year, and a vaccine had not yet been developed, we might have more sympathy for that view.  But just two weeks ago Congress passed such a bill and a vaccine is already being distributed.  For that reason, everybody – including the pessimists – anticipate a quick upswing in growth that will lead to respectable GDP growth for the year and a further decline in the unemployment rate.  We find it hard to believe that a scientific community that shortened the normal vaccine development cycle from 10 years to 1 year cannot quickly find a way to accelerate the production of that vaccine and improve its method of distribution.
The proposal for still more government spending seems to reflect a notion that policy makers cannot overstimulate the economy.  In the very near term that may be true.  But there are consequences in terms of far larger-than-expected budget deficits in the years ahead.  In September, the Congressional Budget Office anticipated a budget deficit of $1.8 trillion this fiscal year, but that was before the recently-enacted $900 billion spending package.  It now seems likely that we will see a second consecutive budget deficit of at least $3.0 trillion and a debt to GDP ratio that surpasses the post-World War II high of 106% and climbs to a record-breaking 110% of GDP.  While Congress should boost spending to help the economy when it dips into recession (like it did last year), it should also cut back on spending when the economy returns to normal.  We have absolutely zero confidence that will happen.
Then there is the almost inevitable acceleration in the inflation rate. Growth in the money supply of 25% in the past year almost guarantees that inflation will soon begin to rise.  And, indeed, signs of a higher inflation rate are becoming increasingly evident.  Commodity prices have risen sharply in recent months.  The dollar has been falling which will boost the prices of imported goods.  Crude oil prices have climbed to $53 per barrel and OPEC is cutting production in an effort to push them higher.  Prices at restaurants, bars, hotels, and airfares were all cut last year in the midst of the recession.  But once the vaccine becomes more widely distributed and we all feel more comfortable going out to eat and travel, those prices are also going to climb.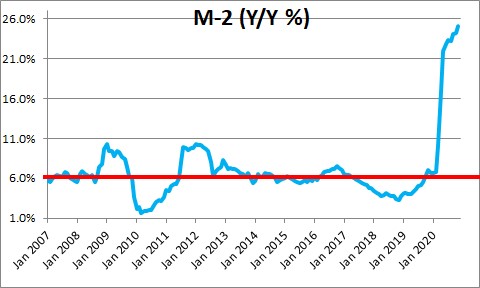 Our leaders in Washington completely dismiss these longer-term consequences and/or feel comfortable they can control them once they begin to emerge.  While we hope they are right, but we remain unconvinced.
Stephen Slifer
NumberNomics
Charleston, S.C.