May 4, 2022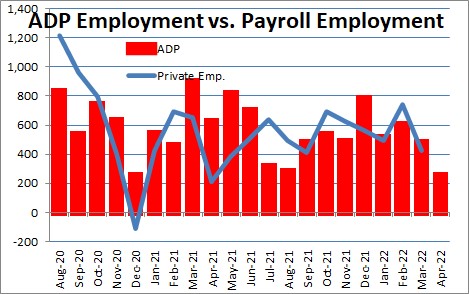 As shown above the ADP survey shows an impressive correlation with the private sector portion of the payroll employment data to be released a couple of days later.  And well it should.  ADP, or Automatic Data Processing, Inc. is a provider of payroll-related services. Currently, ADP processes over 500,000 payrolls, for approximately 430,000 separate business entities, covering over 23 million employees.  The survey has been in existence since January 2001, and its average error has been 112 thousand.
For April the ADP report showed a jobs gain of 247 thousand which follows an increase of 479 thousand in March.
Nela Richardson, the Chief Economist for ADP said, "In April, the labor market recovery showed signs of slowing as the economy approaches full employment.  While hiring demand remains strong, labor supply shortages caused job gains to soften for both goods producers and services providers. As the labor market tightens, small companies, with fewer than 50 employees, struggle with competition for wages amid increased costs."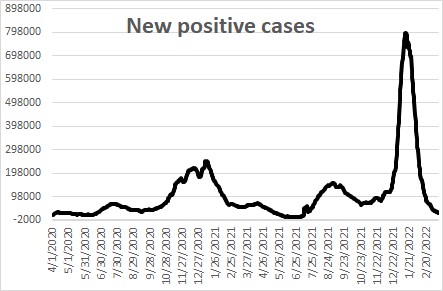 Given the ADP report, we are looking for payroll employment to rise by 450 thousand in April.   We will get that report from the BLS on Friday.  We also expect the unemployment rate to decline 0.1% in that month to 3.7%.

Stephen Slifer
NumberNomics
Charleston, SC