January 8, 2020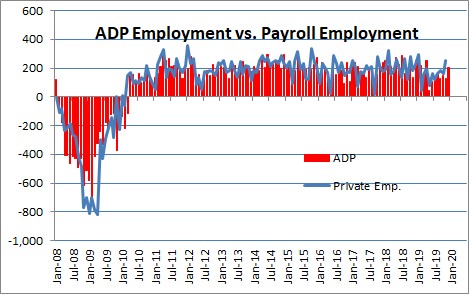 .As shown above the ADP survey shows an impressive correlation with the private sector portion of the payroll employment data to be released a couple of days later.  And well it should.  ADP, or Automatic Data Processing, Inc. is a provider of payroll-related services. Currently, ADP processes over 500,000 payrolls, for approximately 430,000 separate business entities, covering over 23 million employees.  The survey has been in existence since January 2001, and its average error has been 65 thousand.  So while it is not perfect, it does have a respectable track record.
The ADP survey said that employment rose 202 thousand in December after having rise 124 thousand in November and 151 thousand in October.  It is worth noting that the October and November increases were both revised upwards by about 30 thousand which puts the revised data much more in line with the employment gains reported by the Bureau of Labor Statistics.  In the most recent 3-month period ADP employment has risen 159 thousand.   On Friday we expect the BLS to report that private sector employment rose  about 170 thousand in December.  Keep in mind that the labor force is rising by only about 100 thousand per month.  So while the employment gains are slowing the pace of employment continues to outpace growth in the labor force which means that the unemployment rate will continue to decline slowly and it is already at a 50-year low.  While  the monthly job gains have gotten smaller than the  220 thousand per month average increase in 2018 that is largely because workers are so hard to find.  The only sector of the economy that is weak is the manufacturing sector where exports orders have plunged..

Jobs in goods-producing industries increased 29 thousand in December —  factory employment jumped 37 thousand,  mining fell by 1 thousand, and factory employment declined by 7 thousand.   Service providers boosted payrolls by 173 thousand in December after having climbed 122 thousand in November.  The December increase was led by an increase of 61 thousand in business and professional services,  46 thousand in health care,  an increase of 3 thousand in education, a loss of 21 thousand jobs in leisure and hospitality, an increase of 78 thousand in trade, transportation, and utility workers, and a 10 thousand increase in financial services.
With the labor force rising very slowly by about 100 thousand per month and employment gains of 170 thousand, the unemployment rate will continue to decline slowly.  The unemployment rate currently is at 3.6% which is a 50-year low and well below the full employment threshold.  As a result we continue to see shortages of available workers in most industries.  The tightness of the labor market is finally putting upward pressure on wages which in the past year have risen 3.7%.  Productivity has climbed by 1.5% which means that unit labor costs, or labor costs adjusted for the increase in productivity, have risen 2.2%.  The Fed's inflation target is 2.0%.  Thus, the tightness in the labor market is finally putting some modest upward pressure on the inflation rate.
Thee S&P 500 index is close to a record high level..   Meanwhile, interest rates are extremely low.  Consumers remain confident.  Corporate earnings are solid.  Thus, our conclusion is that the economy will expand by  2.4% in  2020.  Still steady growth despite a long laundry list of potential worries.
Stephen Slifer
NumberNomics
Charleston, SC