May 6, 2020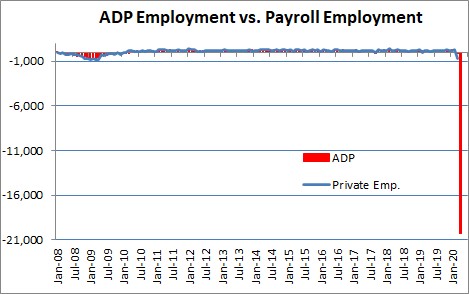 .As shown above the ADP survey shows an impressive correlation with the private sector portion of the payroll employment data to be released a couple of days later.  And well it should.  ADP, or Automatic Data Processing, Inc. is a provider of payroll-related services. Currently, ADP processes over 500,000 payrolls, for approximately 430,000 separate business entities, covering over 23 million employees.  The survey has been in existence since January 2001, and its average error has been 57 thousand.  So while it is not perfect, it does have a respectable track record.
The ADP survey said that employment plunged by 20,236 workers in April.    This was roughly in line with the expectation given everything that we have learned from the weekly initial unemployment claims data.  Perhaps most interesting is which categories took the biggest hit to employment and which were relatively unscathed.
Not surprisingly, the largest decline was in the leisure and hospitality with a decline of 8,607 thousand (or 51%) as restaurant workers were laid off in droves, and hotel employees were cut as occupancy rates plunged.
Construction employment declined by 2,477 thousand (or 15%).
Factory employment declined by 1,674 thousand (or 13%).
This was followed by employment in the trade, transportation, and utilities industries which declined 3,440 thousand (or 12%),
Administration and supports jobs fell by 1,120 thousand (or 12%).
And jobs in natural resources (presumably oil workers) fell by 78 thousand (or 13%)
Even health care workers were let go as employment declined by 999 thousand as hospitals struggled to make ends meet.  They ceased doing profitable elective surgeries as they attended to the enormous number of corona virus patients.
Also instructive is what categories of employment did not decline.  Management jobs rose by 6 thousand (or 0.3%).  Teachers rose by 28 thousand (or 0.7%).  And jobs in the financial services industries declined by 216 thousand (or 2.4%)
What strikes us is that the burden of layoffs fell most heavily on low-paid workers.  Indeed, 2/3 of total jobs lost (13,167 out of a total of 20,236) came from the leisure and hospitality, trade, and admin.categories.  Intuitively, that squares with what we think we know, but when you see it in black and white and have some data to support that conclusion, it raises the question of whether the massive hit to the economy to halt the spread of the corona virus was really worth the cost.  That will undoubtedly be a hot debate in the months ahead.

We have been expecting payroll employment for April (which will be released on Friday) to show a jobs drop of 20,000.  Given what we have seen from the ADP report we have no reason to alter that forecast.
Stephen Slifer
NumberNomics
Charleston, SC