November 1, 2019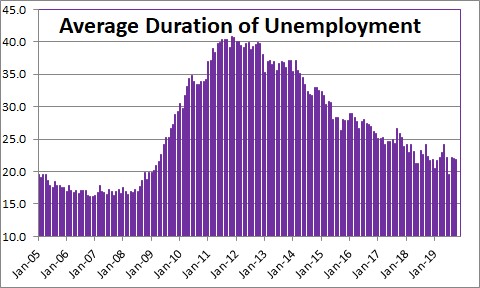 .The average duration of unemployment declined 0.2 week in October to 21.8 weeks after having fallen 0.1 week in September.  This series bounces around from month to month, but it does seem to still be declining slowly.
While the unemployment rate has fallen by 6.4% since reaching a peak of 10.0% in October 2009, the average duration of unemployment has declined far more slowly.  It is clear that  few of the new hires have been from the ranks of the long-term unemployed.  There is a mismatch between the skills that employers need, and the skill set that these long-term unemployed workers seem to have.  Employers in today's world demand their new hires to be tech savvy, and these long-term unemployed workers tend not to have that ability.
The Bureau of Labor Statistics indicates that 1.26 million workers have been jobless for 27 weeks or longer, and that represents 21.5% of all unemployed workers.
The average duration of unemployment should decline slowly in the months ahead as the labor market gets progressively tighter.  Firms will have to look just a bit harder to find the workers that they need, and that includes looking at long term unemployed workers and perhaps offering them some sort of training program to improve their skills.
Stephen Slifer
NumberNomics
Charleston, SC