June 3, 2022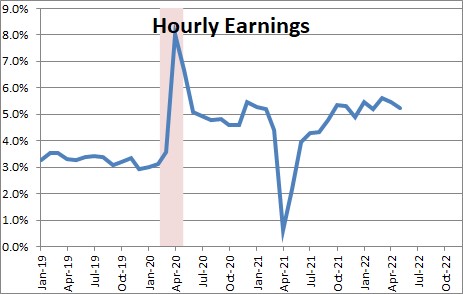 Average  hourly earnings rose 0.3% in May to $31.95 per  hour after having risen 0.3% in April  Firms across-the-board are scrambling to find additional bodies by offering higher wages, better benefits, work from home incentives, and a host of other creative solutions. The year-over-year increase currently is 5.2%.  Hourly earnings at $31.95 are now considerably higher than the $28.43 level that existed in February 2020 — just prior to the onset of recession.  Firms in  low-paid industries (in particular) have to ante-up to get the workers they need by offering higher wages to new employees.  This series is likely to register sharp gains in the months ahead.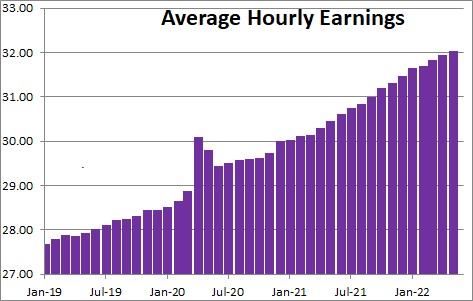 But the problem is that while nominal earnings have risen 5.2%, inflation has risen even faster and real or inflation-adjusted earnings have declined 2.5% in that same period of time.  Workers have noticed that their real earnings have declined which is going to intensify the pressure on employers for even larger wage gains in the months ahead.  And because firms are readily able to pass those higher costs along to their customers, this will also put further upward pressure on the inflation rate.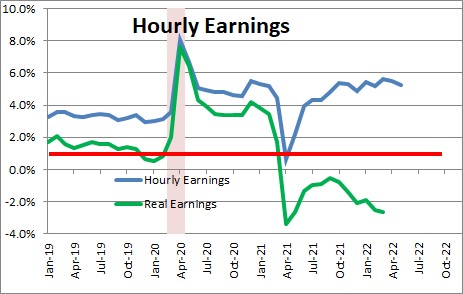 Average weekly earnings rose 0.3% in May to $1105.47 after rising 0.3% in April.  The year increase in weekly earnings is now 4.3%.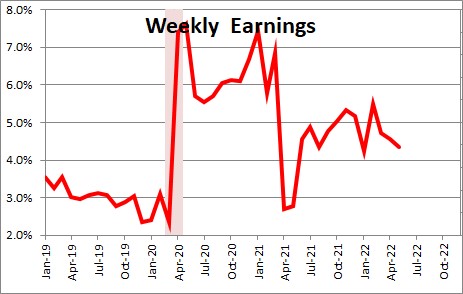 Stephen Slifer
NumberNomics
Charleston, SC