May 8, 2020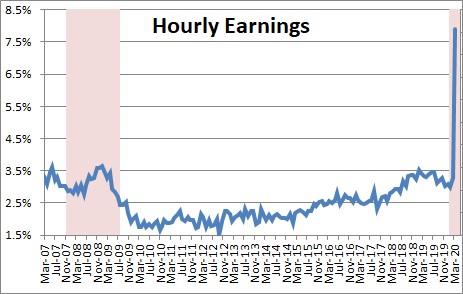 Average  hourly earnings jumped 4.7% in April from $28.67 to $30.01 after  having risen 0.5% in March to $28.62 after having risen 0.3% in February,  This may seem a bit odd, but it came about because many of the jobs lost in that month were low paid workers.  Cut more low paying jobs relative tot higher earning wages and the average rises.
For this same reason, average weekly earnings rose 5.0% to $1026.34.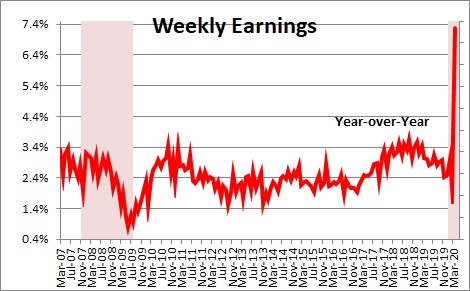 For what it is worth, if jobs fall again in May but rebound sharply in June it appears that Q2 GDP is on track to decline by 60.0%.  However, that figure will not be released until the end of July.  Prior to its release we will receive employment data for May and June as well as other important indicators, so the forecast will get fine-tuned between now and then.  But whatever it turns out to be, it will be a record decline in GDP.  If we see a drop of that magnitude, it will raise the question of whether the tactic of trying to halt the spread of the virus by shutting down the economy was worth the cost.
However, the virus is showing some signs of slowing down its rate of spread.  At the same time the government's $2.5 billion in fiscal stimulus is quickly spreading into the economy.  As a result we , anticipate an increase in GDP of 50% or so in Q3 and 7.0% growth in the fourth quarter.
Stephen Slifer
NumberNomics
Charleston, SC