May 17, 2022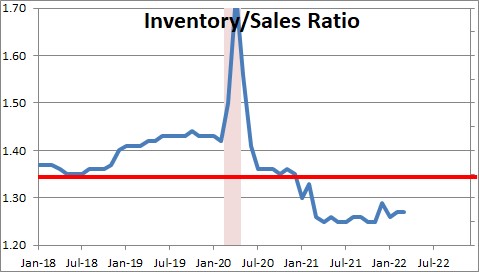 Firms are always trying to keep their inventories in line with sales.  When the economy falls into recession, typically businesses do not cut back production as quickly as sales decline, so the inventory/sales ratio rises sharply  — which is exactly what happened during the 2008-2009 recession and again last year.  Then as the economy recovers and sales once again begin to rise, corporate leaders are able to  get inventory levels into closer alignment with sales.
In March  business sales rose 1.8% while inventories climbed by 2.0%.  In recent months for series are climbing at about the same pace.  As a result, the inventory/sales ratio has been fairly steady but at a low level.  Business people need to step up the pace of production to build inventories  to ensure that they have adequate supplies on hand.  But supply constraints in the form of skilled labor shortages and delays in the delivery of needed supplies have constrained the ability of businessmen to boost inventory levels.
The inventory shortfall is most acute at the retail level which should be readily apparent if you visit  your local grocery store, Target or Walmart.  The inventory shortfall at the retail level is then followed by the shortfall at the wholesale level of  production.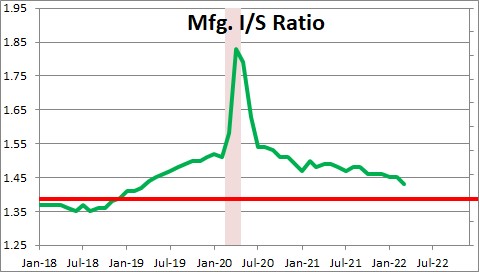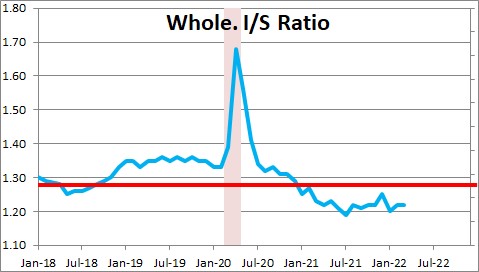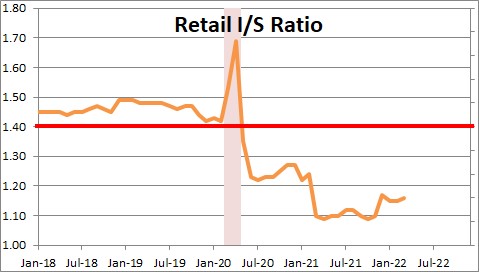 Stephen Slifer
NumberNomics
Charleston, SC