November 20, 2020
Many economists and the media have developed a narrative that says the economy's rebound in the third quarter was caused by the stimulus checks, stimulus will only provide a temporary lift to the pace of economic activity and, as a result, fourth quarter GDP will slip to about 3.0%.  They also suggest that as the virus spreads more rapidly many businesses will close their doors and consumers will become more cautious.  In our view, they twist every piece of newly released data to fit this scenario. But consumers and businesses are not following the script.  Consumers keep spending; businesses keep hiring.  Why?  Partly because for the first time since March there is light at the end of the runnel.  The end of the pandemic is in sight.
First, consider the stock market.  Investors are simply a collection of consumers and business people and the stock market is currently at a record high level.  It is hard to square their perception of what is likely to happen to future economic activity and corporate profits with the prevailing pessimistic view of the world.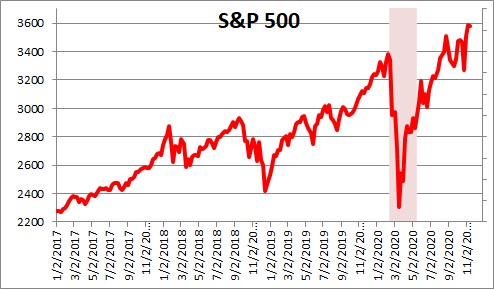 Then there is the consumer.  Consumers are sitting on a pile of cash.  They have enough surplus savings to keep them spending at a reasonable pace for the next couple of years.  The savings rate in October was 14.3%.   That means that consumers today have $2.8 trillion of savings.  Over the past 20 years the savings rate has averaged 6.0%.  If the savings rate were 6.0% consumers would have $1.2 trillion of savings.  Thus, consumers today have roughly $1.6 trillion of excess savings to spend if they choose to do so.  To put that into perspective, consumer spending in 2019 rose a total of $0.7 trillion.  The consumer has enough ammo to keep on spending for a long while and that is exactly what they are doing.  Consumer spending is on a roll.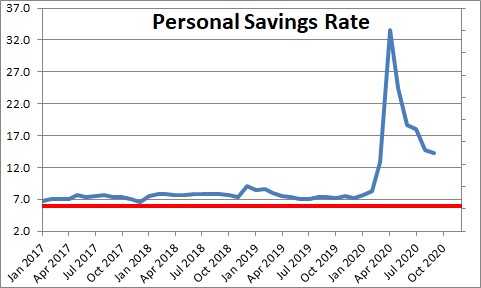 Existing home sales in October climbed to 6,850 thousand.  That is the fastest pace of sales since 2006.  Furthermore, the average length of time between listing and sale was 21 days — the shortest length of time on record.  Despite the pandemic the housing market is on fire.  Meanwhile, realtors have less than one-half the number of homes available for sale as they would like.  With more inventory, home sales would easily be 7,500 thousand. Clearly, the catalyst behind sales is the 2.8% 30-year mortgage rate.  But low rates are going to be available throughout 2021.  Many potential home buyers who have been unable to find a suitable home will keep searching and buying.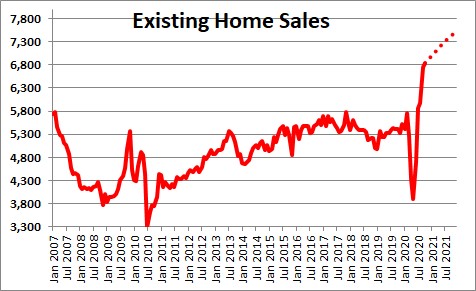 Retail sales have been surging in recent months.  But the pace of sales slipped in October and registered an increase of just 0.3% which followed gains of 1.1%, 1.4%, 1.6% in the July to October period.  Could this be the first sign of slower growth ahead?  We doubt it.  Even with the smaller increase in October, sales in the past twelve months have risen 5.7%.  That includes the March/April recessionary period as well as the dramatic rebound that followed.  Over the past 10 years the average yearly increase in sales was 4.3%.  So, despite a pandemic and people losing their jobs, consumers are spending more rapidly now than they did in the past decade.  That is not what you would expect.  Furthermore, it makes no sense that consumers are lining up to buy $300,000 median-priced houses, but are somehow going to curtail spending on all other goods and services.  We suspect the October slowdown will prove to be temporary.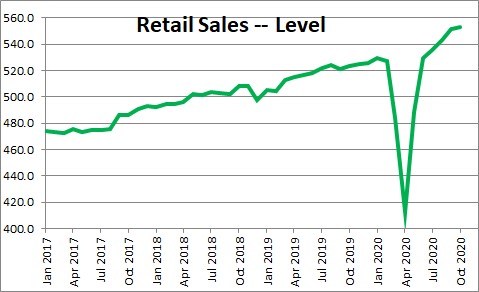 Others note that consumer confidence is quite low and they fear that as the virus spreads, confidence will decline and drag spending down with it.  Fair enough.  But despite the low level of confidence, consumer spending has been torrid.  How can this be?  Our sense is that the incessant stream of negative news spouted by the media has made consumers nervous, but it has not affected their willingness to spend.  Amongst the laundry list of recent worries has been the election and uncertainty about when a vaccine would be widely available.  But in recent weeks both of those concerns have been mitigated.  Our sense is that confidence in late November and December will climb sharply and temper the fear of slower growth ahead.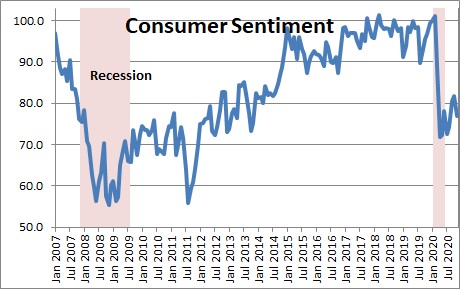 Finally, pessimists note that layoffs are on the rise.  They point out that initial unemployment claims rose 31 thousand in the week ending November 14.  One economist was quoted on NBC as saying, "With no income, no prospect of further benefits or a job, people will stop spending, putting holiday sales at risk."  On CNN another said, "It's hard to believe the recession is over if workers keep losing their jobs at this rate."  But these people ignore the fact that claims declined 46 thousand in the previous week.  It is important to remember that weekly data are always volatile.   The trend in claims is still trending downward.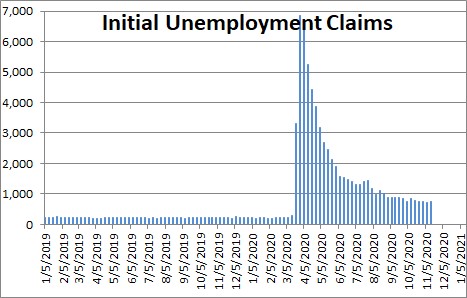 We acknowledge the fact that the level of claims is far higher today that it was prior to the recession.  People are still losing jobs and that is not a good thing.  But that is only part of the story.  Every week some people lose jobs, at the same time people are also being hired.  Currently the number of people receiving benefits continues to decline.  The only way that can happen is if more people are being hired than are being laid off.  The "insured rate of unemployment" which is published weekly and closely tracks the unemployment rate continues to decline rapidly.  For this reason we expect the November employment report to show a jobs gains of 800 thousand, and a decline in the unemployment rate of 0.7% to 6.2%.  The labor market continues to improve rapidly.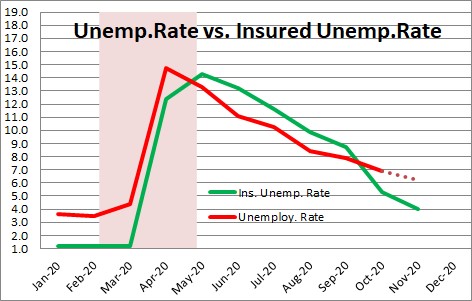 If jobs keep rising and the unemployment rate keeps falling more people are working, earning income, and spending.  As a result, fourth quarter GDP is likely to be far more robust than most economists expect.   We expect fourth quarter GDP growth to be 10.0%.  The Atlanta Fed's GDPNow report which tracks incoming data has risen from 2.2% on October 30 to 5.6% currently.  It is likely to climb further.
While there are lots of legitimate reasons for consumers and businesses to be cautious, recent data suggest that is not happening.  Everything from the stock market, to housing, to retail sales, and jobs remain solid.  Furthermore, two vaccines are on the immediate horizon with additional announcements expected within weeks.  Rather than pessimism, we think that considerable optimism is warranted.
Stephen Slifer
NumberNomics
Charleston, S.C.