October 8, 2021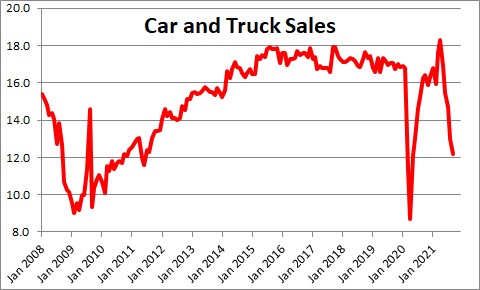 Unit car and truck sales fell 6.4% in September to an annual rate of 12.176 million after having plunged 11.6% in August and having fallen 5.9% in July.  Indeed this is the fifth consecutive decline in sales.  It is important to remember that the March and April spike in sales was due in large part to the $1,400 tax refund checks associated with the $1.9 trillion fiscal stimulus package passed in March..  Prior to those couple of months sales were averaging about 17.0 million.  But since then the declines appear to be attributable to  the widely-discussed chip shortages which is curtailing the manufacturers ability to produce.  Many respondents to the Institute of Supply Management's monthly survey of manufacturing firms cite shortages of critical electronic components as their biggest challenge.  These shortages are going to last at well into 2022.  The drop in sales  is not attributable to reduced demand, but the curtailment of supply.  Dealers simply have few cars in their showroom to sell.
While the drop in new car sales will bring down retail sales in  September remember that retail sales also include used car sales which have been super strong.  We'll just have to wait and see how all that turns out.  But the weaker sales are now, the stronger they will be when chips once again become available..
We expect GDP growth of  7.0% in Q3, and 8.0% growth in Q4.
Stephen Slifer
NumberNomics
Charleston, SC