August 4, 2020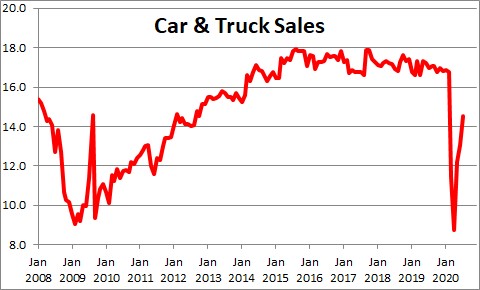 Unit car and truck sales rose 11.1% in July to 14.52 million after climbing 7.2% in June and surging 39.5% in May.  But those gains only partially offset the stunning declines of 31.9% in March and 23.4% in April.  Car sales in February — before the pandemic shutdown were 16.76 million.  After the collapse and partial rebound they stand today at 14.52 million.
The further increase in car and truck sales in July suggests that retail sales will climb further by perhaps 5.8% in July following its record-breaking 18.2% increase in May and 7.5% increase in June (which followed precipitous declines of 8.2% in March and 14.7% in April).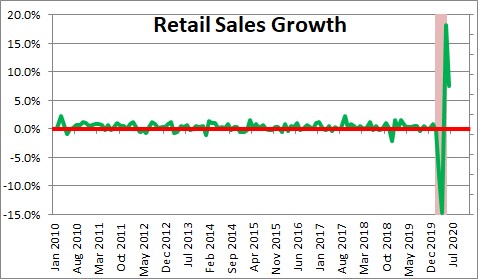 If our 5.8% forecast of retail sales for July is correct, sales will be $554.9 billion versus a previous peak monthly level of $529.6 in January.  Given all that has been going on, that is a remarkable performance (with a lot of help from the fiscal stimulus program).
Following the 32.9% decline in GDP in the second quarter, we expect a rebound of 32.0% in the third quarter as the stimulus checks get the economy back into expansion mode, and additional growth at a 7.0% pace or so in the fourth quarter.
Stephen Slifer
NumberNomics
Charleston, SC