February 6, 2020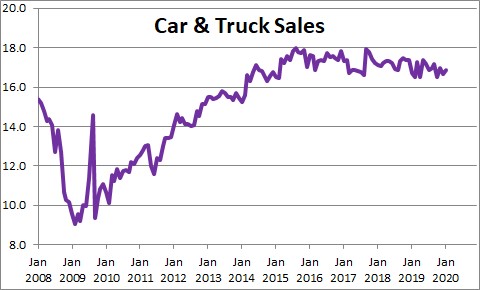 Unit car and truck sales rose 1.2% in January to 16.844 million after having declined 2.0% in December    During the last year car sales have risen 0.8%.  Car sales have been been edging their way lower for the past couple of years and should continue to slide gradually in the years ahead as consumers shift spending to other products.
Consumer sentiment from both the University and Michigan remain at lofty levels which should mean that consumer spending will climb at about a 2.5% pace in 2020.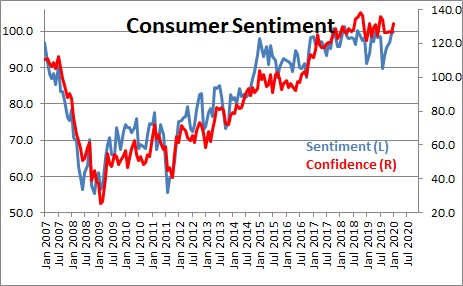 Confidence will remain solid simply because the economy continues to crank out 170 thousand jobs per month.  Steady growth in jobs means continuing growth in income.  At 3.6% the unemployment rate is at a 50-year low so almost everyone who wants a job has one.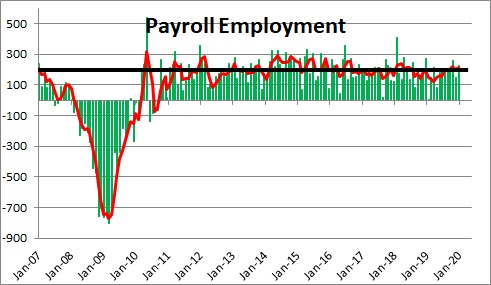 Driven by the steady jobs gains, real disposable consumer income (what is left after taxes and inflation) is rising at a solid 3.0% pace.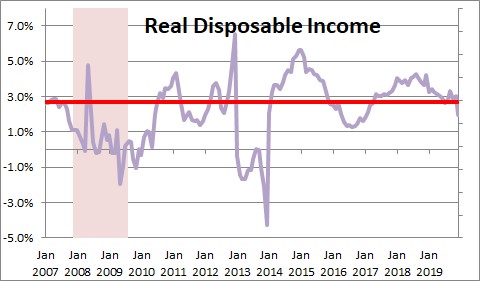 Meanwhile, consumers have paid down tons of debt and are now in a position to spend.  At the same time, mortgage rates have fallen  1.3% to 3.5%.  For all of these reasons we look for  2.4% GDP growth in  2020.  Thus, the consumer is in good shape to continue to spend at a brisk pace.
However, the reality is that many Americans, particularly younger Americans, are less enamored with owning a car than their parents.  Ones who live in larger cities have chosen not to own a car but to use ride-sharing services like Uber or Lyft.  At the same time Americans preferences have shifted away from sedans to SUV's of varying sizes.  The car manufacturers are only now beginning to adjust production towards the different mix of cars being sold.  Thus, we expect car sales to edge lower in the months ahead.
Stephen Slifer
NumberNomics
Charleston, SC