August 29. 2023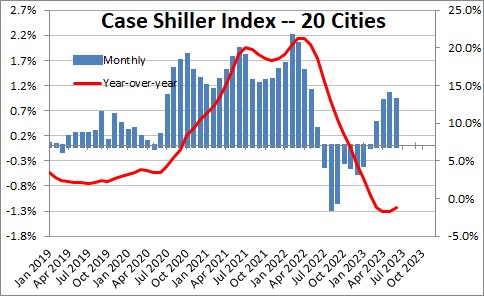 The Case Shiller Index of Home Prices in 20 cities rose 0.9% in June after climbing 1.0% in May and 0.9% in April.  After a long period of rising rapidly, prices began to fall late last year but after declining for seven months they have once again begun to turn upwards..  Over the past year home prices have fallen 1.2%
Craig J. Lazzara, Managing Director at S&P DJI said that, ""U.S. home prices continued to increase in June 2023.  Our National Composite rose by 0.9% in June, and it now stands only -0.02% below its all time peak from exactly one year ago."  He added that, "June is the fifth consecutive month in which home prices have increased across the U.S. With 2023 half over, the National Composite has risen 4.7%, which is slightly above the median full calendar year increase in more than 35 years of data. We recognize that the market's gains could be truncated by increases in mortgage rates or by general economic weakness, but the breadth and strength of this month's report are consistent with an optimistic view of future results."
A broader index  for the entire U.S. — which would include a large number of smaller cities — rose 0.5%.  For the year as a whole this series has fallen 0.1%.   We expect this index of home prices to rise slightly on a monthly basis for the foreseeable future.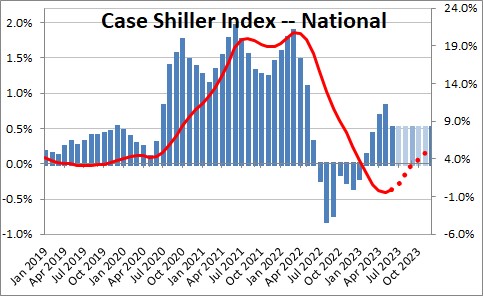 What about housing affordability?  There are three pieces to this equation.  First, as noted above, home prices should rise somewhat in the months ahead.
Second, mortgage rates climbed from 3.0% at the end of 2021 to 7.2% currently.  We look for mortgage rates to peak at roughly 7.3%.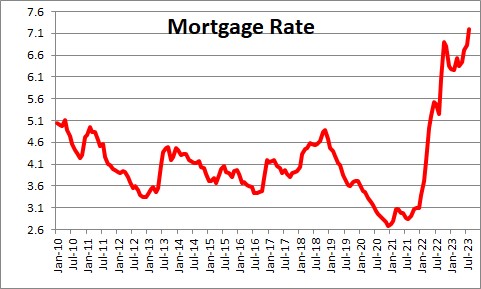 Third, job gains and wage hikes are boosting consumer income.
With the housing affordability index at 93.8% in May potential buyers had  6.2% less income than was necessary to purchase a median-priced home.  With income continuing to rise, mortgage rates fairly steady, and  home prices rising slowly, housing affordability should be roughly unchanged between now  and yearend.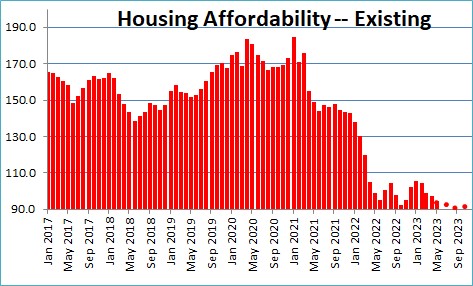 The supply of existing homes available for sale is at a record low level.   This shortage of homes available for realtors to sell is going to push home prices higher in the months ahead.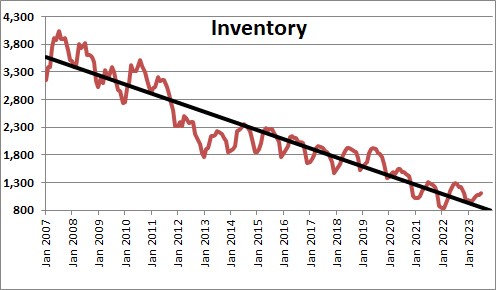 We expect 2.7% GDP growth in the third quarter and 1.6% growth in the fourth quarter.  Businesses are still hiring as rapidly as they can.  The ratio of consumer debt to income remains very low.  And while interest rates should rise somewhat further, real rates will remain low until the end of the year.  Hence, real interest rates will not be high enough to be a significant brake on the economy until early next year.
Stephen Slifer
NumberNomics
Charleston, SC