December 28, 2021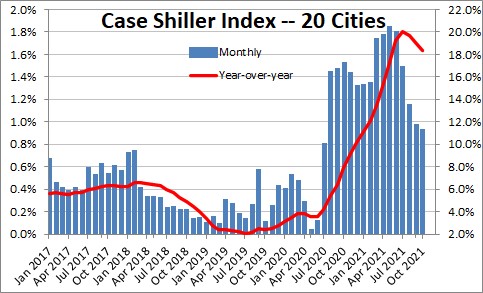 The Case Shiller Index of Home Prices in 20 cities rose 0.9% in November after rising 1.0% in September and 1.1% in August.  Over the past year home prices have risen 18.4%.
A broader index  for the entire U.S. — which would include a large number of smaller cities — is rising at a virtually identical 19.1% pace.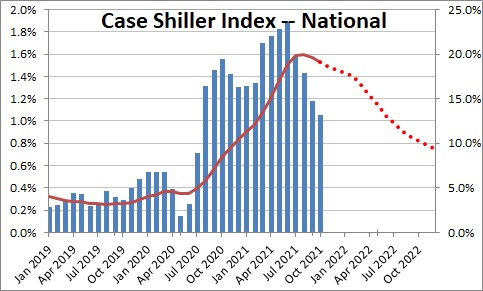 Craig J. Lazzara, Managing Director and Global Head of Index Investment Strategy at S&P DJI. noted that, "In October 2021, U.S. home prices moved substantially higher, but at a decelerating rate.  The National Composite Index rose 19.1% from year-ago levels, and the 10- and 20-City Composites gained 17.1% and 18.4%, respectively. In all three cases,
October's gains were below September's, and September's gains were below August's.
What about housing affordability?  Home prices are rising quickly.  .  One might think that  housing is becoming much less affordable.  That is not really the case for a couple of reasons.  First, mortgage rates remain at a near record low level of 3.1%.  And, second, consumer income is growing.  As a result, housing remains affordable with the index of housing affordability at 151.  This means that potential buyers have 51% more income than is necessary to purchase a median-priced home.  At the peak of the housing boom in 2006 consumers had just 14% more income than necessary.  Housing was very expensive then.  That is not the case now.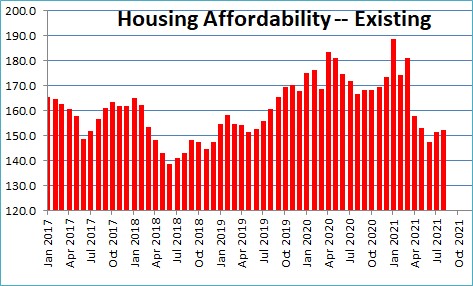 Having said that, potential buyers at the low end of the market are getting priced out.  Higher down payments and rising monthly payments are causing potential buyers for homes priced at or below $300,000 to defer their purchase.  Their income is just not keeping pace with the dramatic price increases.  But homes priced above $400,000 continue to sell quickly.   The supply of existing homes available for sale is still far too low to satisfy demand.  If inventories begin to climb some of the intense price pressure will dissipate.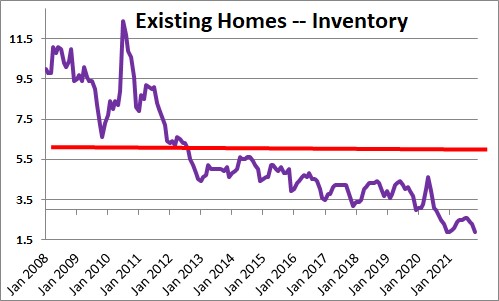 If inflation continues to climb and the Fed drags its feet to remove some of the surplus liquidity in the economy, then long-term interest rates are going to rise which will boost 30-year mortgage rates as well.  For what it is worth, we expect mortgage rates to climb from 3.1% today to 4.2% by the end of 2022.  At the same time home prices next year may climb by about 8.0%.  Combining all that information suggests that the affordability index will slide from 151 today to 138 by the end of next year.  That should slow the pace of housing to some extent next year, but there continues to be a situation where demand exceeds supply.  Builders are not starting new homes fast enough to keep pace with demand.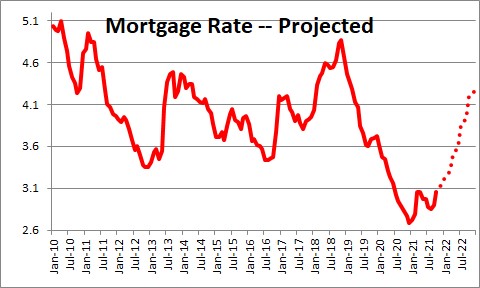 We expect 8.0% GDP growth in Q4.  That would give us  5.7% growth for 2021 and we expect 4.9% GDP growth in 2022.  American consumers continue to spend at a respectable pace as the $1.9 trillion fiscal stimulus package has put cash in consumers wallets. Businesses are still hiring as rapidly as they can, but are being limited to some extent by supply side challenges which should dissipate during 2022.  Many businesses are taking advantage of technology to boost both sales and profits.
Stephen Slifer
NumberNomics
Charleston, SC