January 28, 2020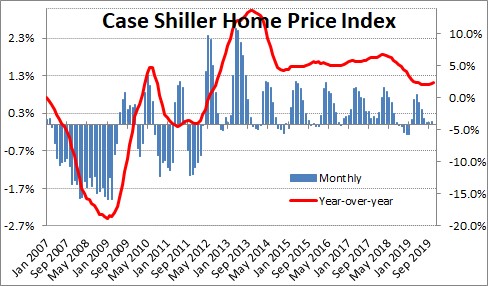 Case Shiller Index of Home Prices in 20 cities rose 0.3% in November to 219.08 after having been unchanged in November.   Five years ago home home prices were rising at a 10.5% rate.  A year ago they were climbing at a 5.0% pace.  But home prices continue to slow and over the course of the past year home prices have risen 3.0%.  Clearly, the rate of increase in  home prices has slowed significantly.  The cities in which home price appreciation has slowed the most are all on the West Coast — San Francisco, Los Angeles, and Seattle — all cities that have benefited in the past from Asian money.  With substantially slower growth in Asia it appears that the housing markets in those cities have cooled considerably.  It is worth noting that this home price index is for the largest 20 cities in the U.S.
A broader index  for the entire U.S. — which would include a large number of smaller cities — is rising at a somewhat faster 3.9% pace.  Both series seem to be edging their way upwards given the significant shortage of available homes for sale.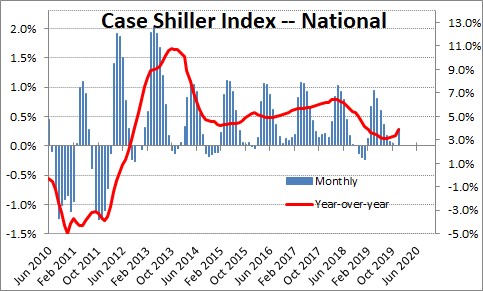 Some economists previously feared that the earlier run-up in  home prices and  mortgage rates had made housing unaffordable for many.  However, the rate of increase in home prices has slowed sharply.  At the same time, mortgage rates have declined 1.2% to 3.7%.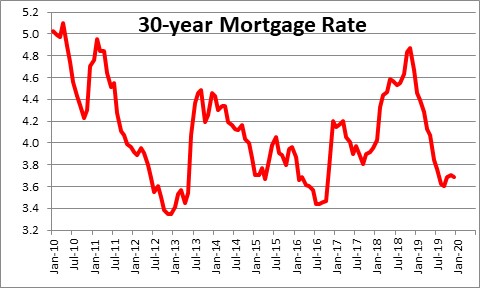 The chart below from the National Association of Realtors indicates that  the housing affordability index now stands at about 165.0.  This index combines the effect of house prices, mortgage rates, and consumer income.  The level of the index means that consumers have 65.0% more income than is necessary to buy a median priced home.   To put the current level in context,  just prior to the recession in 2007 consumers had 14% more income than was necessary to purchase a median priced home.   Housing at that time was very expensive.  Housing today remains affordable because the rate of increase in home prices has slowed, mortgage rates have declined, and consumer income is also rising.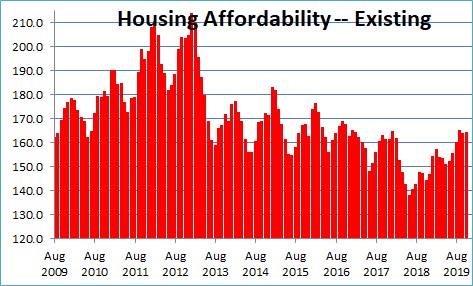 There is an acute shortage of homes available for sale.  The inventory of existing homes is at 3.0 months which is well below the 6.0 month supply that is generally regarded as the point where supply and demand are roughly in balance.  Housing starts have recently begun to climb which is what is required to alleviate this housing shortage.  The question is whether builders can find an adequate number of workers to keep housing starts rising vigorously.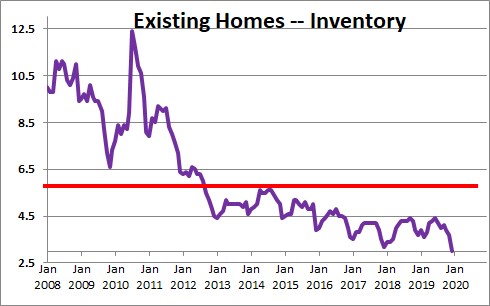 Given all of the above we expect the housing market to do relatively well in the months ahead.  The biggest constraint is that builders simply cannot find enough qualified workers.  So while the market should continue to climb, look for it to grow at a moderate pace.  And with the excess demand for housing it is likely that  home prices will rise more rapidly in the months ahead.
Stephen Slifer
NumberNomics
Charleston, SC