7April 28, 2021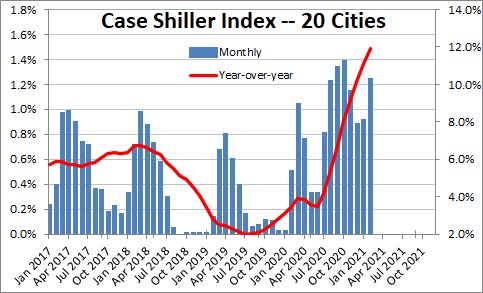 The Case Shiller Index of Home Prices in 20 cities rose 1.2% in February after having risen 1.1%, 0.9%, and 0.9% in the November to January period.  Over the past year home prices have risen 11.9%.
A broader index  for the entire U.S. — which would include a large number of smaller cities — is rising at a marginally more rapid 12.0% pace.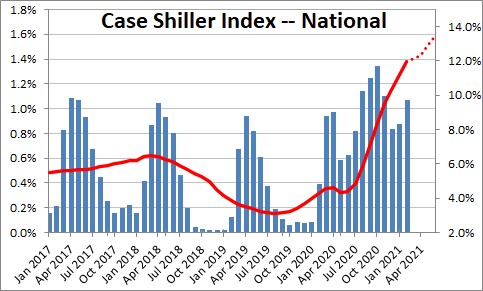 Since the recession ended last April, home sales have been rising rapidly.  With little supply on the market home prices have been rising.  Builders need to find enough bodies to significantly boost the pace of production in the months ahead or else home prices will continue to climb.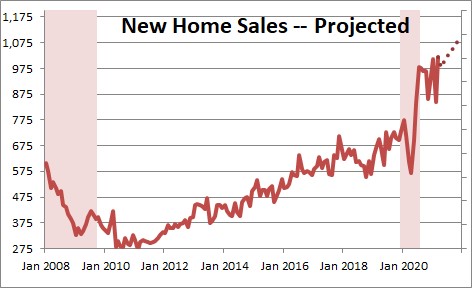 What about housing affordability?  Home prices are rising quickly.  Mortgage rates have recently climbed from at a record low level of 2.7% to 3.1%.  One might think that  housing is becoming less affordable.  That is not really the case because consumer income is growing.  As a result, housing remains affordable with the index of housing affordability at 173.  This means that potential buyers have 73% more income than is necessary to purchase a median-priced home.  At the peak of the housing boom in 2006 consumers had just 14% more income than necessary.  Housing was very expensive then.  That is not the case now.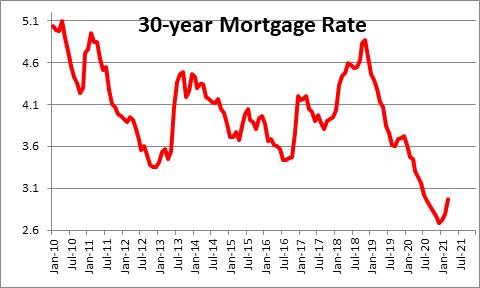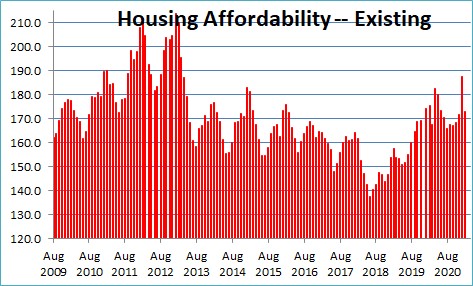 We expect Q1 GDP growth of 7.0% and10.0% GDP growth in Q2, with 8.0% growth for 2021.  The rate of spread of the virus is slowing rapidly, vaccination is gathering momentum with some epidemiologists anticipating herd immunity by the end of May.  American consumers continue to spend at a vigorous pace as the $1.9 trillion fiscal stimulus package has put cash in consumers wallets. Businesses have stepped up the pace of hiring.
Stephen Slifer
NumberNomics
Charleston, SC