May 31, 2022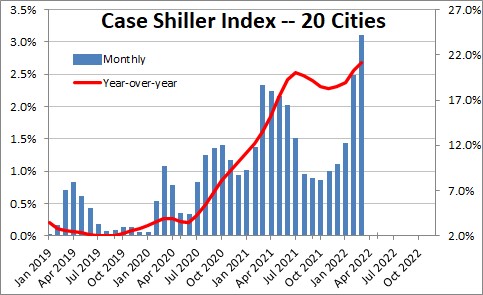 The Case Shiller Index of Home Prices in 20 cities rose 3.1% in March after rising 2.4% in February.  Over the past year home prices have risen 21.2%.
A broader index  for the entire U.S. — which would include a large number of smaller cities — is rising at a similar 10.6% pace.   For what it is worth, we expect this index of home prices to slow slightly to a 15.0% pace in 2022.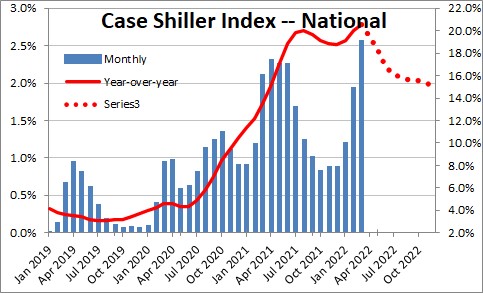 Craig J. Lazzara, Managing Director and Global Head of Index Investment Strategy at S&P DJI. noted that, "Those of us who have been anticipating a deceleration in the growth rate of U.S. home prices will have to wait at least a month longer.  The National Composite Index recorded a gain of 20.6% for the 12 months ended March 2022.   March's reading was the highest year-over-year price change in more than 35 years of data."  He added that "Mortgages are becoming more expensive as the Federal Reserve has begun to ratchet up interest rates, suggesting that the macroeconomic environment may not support extraordinary home price growth for much longer. Although one can safely predict that price gains will begin to decelerate, the timing of the deceleration is a more difficult call."
What about housing affordability?  Home prices are still rising quickly.  However, as noted above, we expect them to slow as the year progresses but still rise 15.0% in 2022.
Mortgage rates have climbed to 5.1% and are likely to reach the 6.1% mark by the end of this year.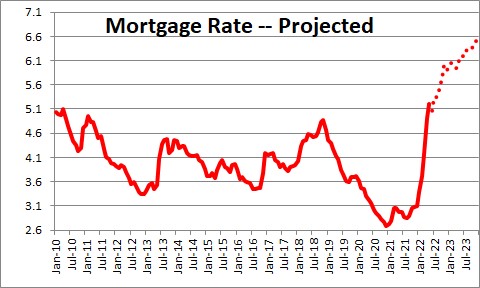 But job gains are still boosting income.  In  March  potential buyers had 24% more income than is necessary to purchase a median-priced home.  We suspect that by yearend 2022 that the affordability index will have declined to  6% or so.  So while much lower than it is today, housing is expected to remain relatively affordable for most buyers through the end of this year, even with continuing price increases and higher mortgage rates.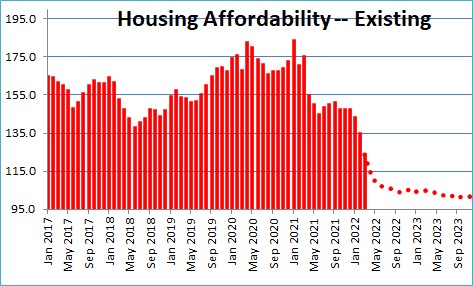 However, potential buyers at the low end of the market — typically first time home buyers — are the ones primarily getting priced out.  Higher down payments and rising monthly payments are causing potential buyers for homes priced at or below $300,000 to defer their purchase.  Their income is just not keeping pace with the dramatic price increases. Sales of homes priced between $300,000-400,000 have been fairly steady.  But homes priced above $400,000 continue to sell quickly.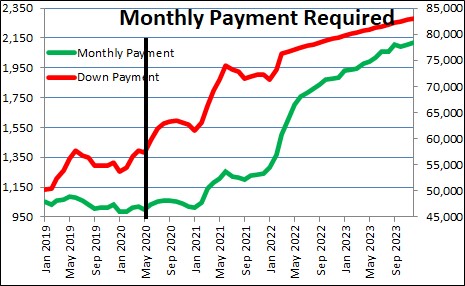 The supply of existing homes available for sale is still far too low to satisfy demand.   Builders are not starting new homes fast enough to keep pace with demand.  But if supply constraints ebb during the course of 2022 and inventories begin to climb, some of the intense price pressure will dissipate.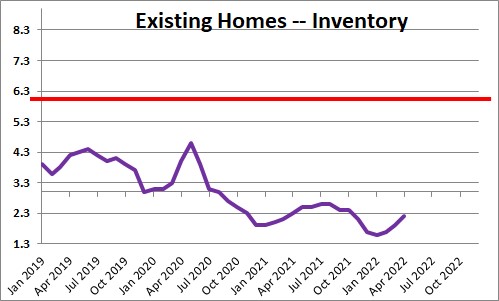 We saw  5.5% GDP growth for 2021 and we expect 2.0%% GDP growth in 2022 and 2.5% GDP growth for 2023.  .  Businesses are still hiring as rapidly as they can, but are being limited to some extent by supply side challenges which should dissipate during 2022.  Consumer net worth rose sharply last year but will take a hit in the first quarter as stock prices decline.  Their ratio of debt to income is near a record low level.  And while interest rates should rise steadily throughout 2022, real rates will remain sharply negative at the end of the year.  Hence, interest rates will not be a brake on the U.S. economy throughout 2022.
Stephen Slifer
NumberNomics
Charleston, SC