December 1, 2023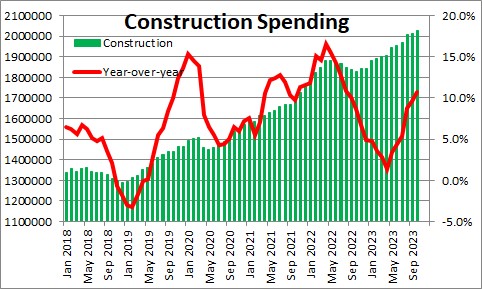 Construction spending (the green bars above) rose 0.6% in October after climbing 0.2% in September and 2.1% in August  This is the tenth consecutive increase in construction spending.   In the past 12 months it has risen 10.7%.  As indicated  below, spending on the construction of single-family housing has begun to climb after a long period of decline as the extreme shortage of available existing homes on the market has caused potential buyers to seek out new homes which are more readily available.  Nonresidential spending has been rising rapidly throughout the past twelve months.
Private construction spending (excluding the government sector) rose 0.7% in October after being unchanged in September and increasing 2.3% in August.  In the past year private construction has risen 9.2%.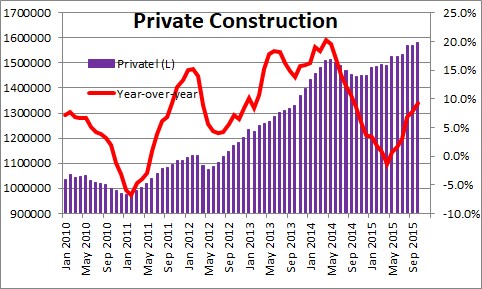 Within the private construction spending category, residential spending jumped 1.2% in October after declining 0.2% in September and climbing 2.3 in August.   Residential spending began to decline in June of last year and fell every month from then until April of this year  It has risen in four of the past six months.  In the past 12 months residential construction spending has risen 0.7%. But what is important is that the monthly declines earlier are now being replaced by some growth in this particular series.  The inventory of existing homes for sale is about one-half of what it should be.  As a result, buyers are now turning to new homes which are more readily available.  As the sale of new homes has risen, builders are beginning to boost the pace of production.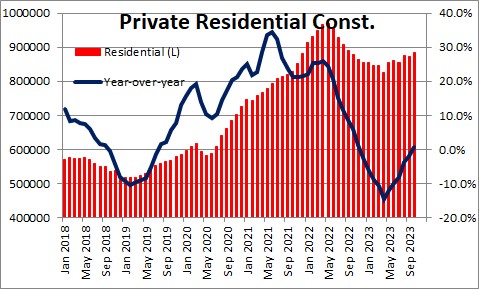 .
New home sales reached a peak of 993 thousand in January of 2021  Home sales fell sharply in the first half of last year as higher interest rates and much higher home prices cut into a potential home buyers willingness and/or ability to purchase a home.   At the same time builders grappled with an inability to find an adequate number of new workers, and the challenge of finding an adequate supply of available lots.  But currently, existing homes for sale are at a record low level and potential buyers have turned to new homes as an option.  New homes are in more ample supply.  .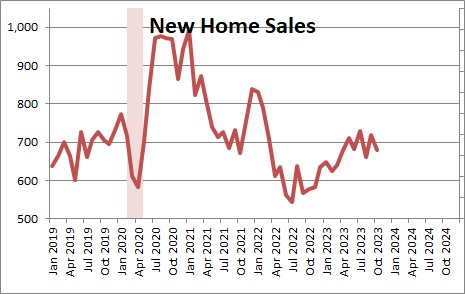 Private nonresidential construction gained 0.1% in October after rising 0.2% in September, and 2.1% in August..   In the past year nonresidential spending has risen 22.4%,.  The 12-month increase has been led  by lodging, health care, commercial space, educational, transportation, and manufacturing.  In short, the double-digit gain has been evident in many categories.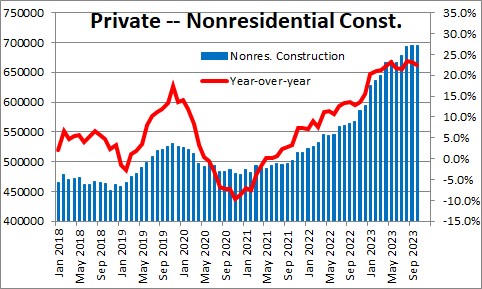 Public sector construction rose 0.2% in October after climbing 1.1% in September and 1.6% in August.  In  the past year such spending has risen 16.4%.  The increase in this category in the past year has been led by construction of offices, commercial space, health care, educational, amusement and recreation, power, highway and street, sewage and waste disposal, water supply, and conservation and development.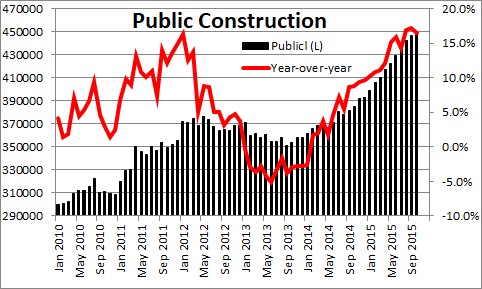 .Stephen Slifer
NumberNomics
Charleston, SC