November 1, 2022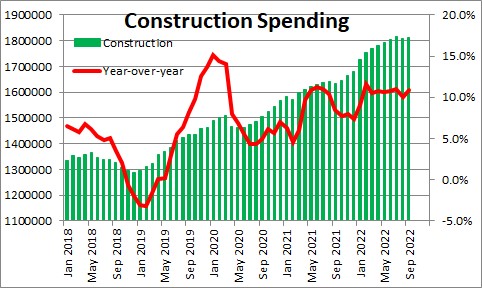 .
Construction spending (the green bars above) rose 0.2% in September after declining 0.6% in August.   In the past 12 months it has risen 10.9%.  As indicated  below, spending on the construction of single-family housing has declined sharply, but builders have ramped up the production of rental housing as well as many categories of both non-residential and government spending.
Private construction spending (excluding the government sector) rose 0.4% in September after falling 0.7% in August.  In the past year private construction has risen 11.9%.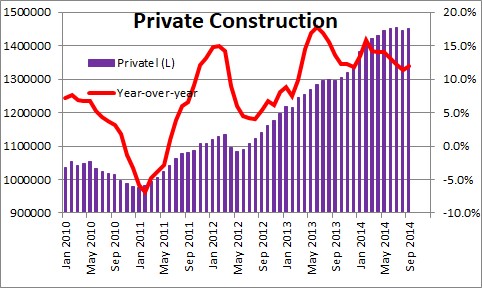 Within the private construction spending category, residential spending was unchanged in September after falling 1.0% in August, 1.1% in July and 0.8% in June.   Following 24 consecutive months of increases, residential spending declined in June and has been falling since.  In the past 12 months residential construction spending has risen 12.6%. The September decline was entirely in the construction of single-family homes.  This series had been climbing because home sales were rising rapidly.  But home sales have fallen sharply in the past several months as mortgage rates have risen rapidly to the 7.0% mark which has caused builders to slow the pace of single-family construction because they fear that by the time the house is completed the economy may be in recession.  Multi-family construction, however, has been unchanged.  There is a definite shortage of rental  housing in the U.S. as the vacancy rate is the lowest since the mid-1980's.  Builders focusing on this category could, over time, help to alleviate some of the extreme shortage of rental units.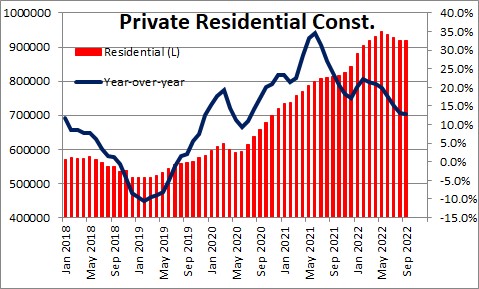 .
New home sales reached a peak of 993 thousand in January of 2021  Home sales have fallen sharply since the beginning of the year as higher interest rates and much higher home prices have cut into the potential home buyers willingness and/or ability to purchase a home.   At the same time builders grapple with an inability to find an adequate number of new workers, and the challenge of getting the construction materials they need at a reasonable price.
Private nonresidential construction rose 1.0% in September after having been unchanged in August and climbing 2.5% in July and 2.6% in June.   In the past year nonresidential spending has risen 10.5%,.  The 12-month increase has been led by factories, commercial (such as shopping malls), lodging (think hotels), schools, churches, and amusement and recreation facilities.  In short, the double-digit gain has been evident in many categories.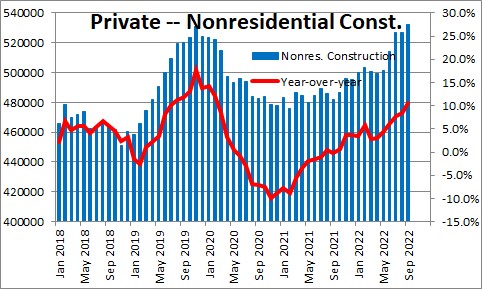 Public sector construction fell 0.4% in both August and September.   In  the past year such spending has risen 7.1%.  The increase in this category in the past year has been led by improvements in the water supply, sewage and waste disposal, conservation and development, commercial space, and amusement and recreation.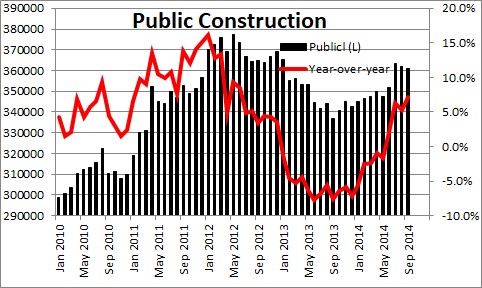 .Stephen Slifer
NumberNomics
Charleston, SC