August 1, 2019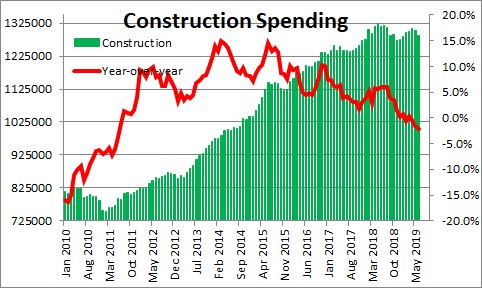 .
Construction spending (the green bars above) declined 1.3% in June after having fallen 0.5% in May after having risen in each of the previous five months.  Over the past year it has fallen 2.1%.  Not only is this a very volatile series with large swings from month to month, even the previously released data can revise substantially.  Furthermore, the series can be distorted by big swings in public construction spending.  Construction spending came to a halt last year driven largely by a drop in residential construction, single-family homes in particular.  However, with lower mortgage rates our expectation is that construction spending in general, the residential spending category in particularly, will begin to climb again in the second half of this year.
Private construction fell 0.4% in June after having declined 0.3% in May.  Over the past year private construction spending has fallen 4.6% which reflects an 8.1% decline in the private residential category and a 0.4% decline in private non-residential construction.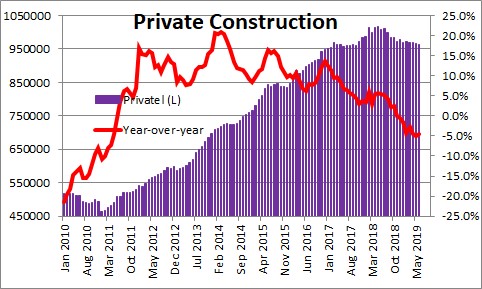 Within the private construction spending category, residential spending fell 0.5% in June after having been unchanged in May and risen 1.0% in April.   Over the course of the past year private residential construction has fallen 8.0%.  However, home sales have rebounded sharply in the past couple of months which should lead to a pickup in this category in the months ahead.  Furthermore, shortages of both single family homes available for sale and apartments will push this series higher in the months ahead.  The problem is that the scarce availability of labor will limit its rise.  Construction of private single family homes has declined 8.5% in the past year, multifamily construction has risen 11.5%.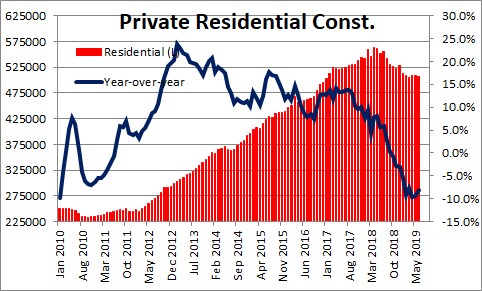 The Census Bureau tells us that on average 2.2 million new households are now being formed every year.  Those families need a place to live.  It could be a home.  It could be an apartment.  Replacement demand should add about 0.5 million unit to that for a total demand of 2.7 million or so units per year.  Currently, builders are starting about 1.2 million units per year.  But keep in mind that housing starts have fallen way short of demand for the past nine years. Thus, the demand for housing will remain strong for the foreseeable future which will keep construction workers fully employed for some time to come.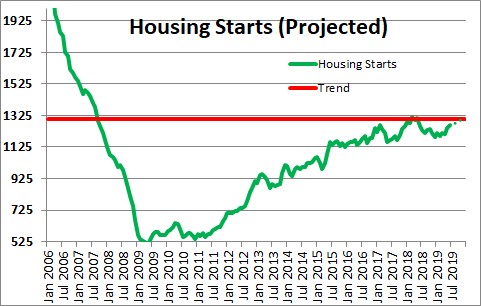 Private nonresidential construction fell 0.3% in June after having declined 0.6% in May.   During the past 12 months nonresidential construction has declined 0.4%.  To get sustained growth in the investment spending component of GDP  this component needs to turn more sharply upwards.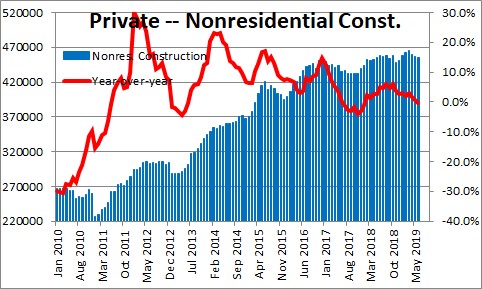 Public sector construction fell 3.7% in June after having declined 1.2% in May but having risen sharply in each of the previous four months.  While this category can be quite volatile on a month-to-month basis it has been flying since the beginning of the year.  Over the past year such spending has risen 6.1%.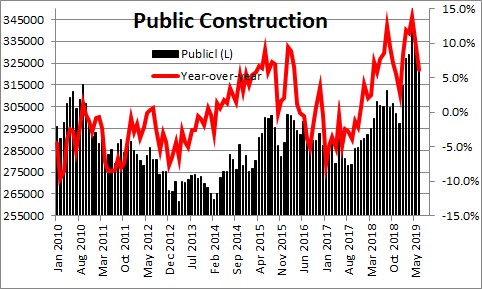 Stephen Slifer
NumberNomics
Charleston, SC