June 1, 2021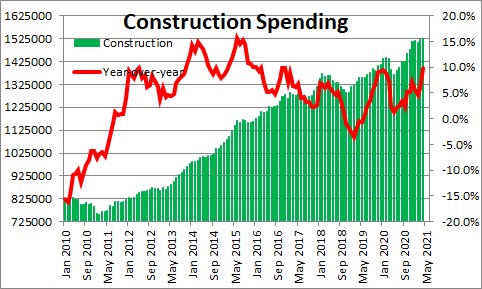 .
Construction spending (the green bars above) rose 0.2% in April after rising 1.0% in March  This series has been rising steadily since the recession ended in April of last year and is now well above to its pre-recession pace.  Indeed. it is now 5.8% higher than in was in February of last year — prior to the recession.  In the past 12 months it has risen 9.8%.
Private construction spending (excluding the government sector) rose 0.4% in April after climbing 1.5% in March. It continues to recover from the recession caused by the imposition of the nationwide quarantine to combat the spread of the corona virus.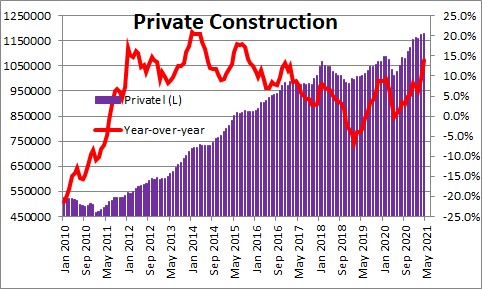 Within the private construction spending category, residential spending rose 1.0% in April after having jumped 2.6% in March..  The pace of residential construction is significantly faster now than it was prior to the recession..  In the past 12 months residential construction spending has risen 29.7%.  The housing sector is on fire as new home sales are at the fastest pace since 2006.  Mortgage rates of 3.0% certainly help.  As does the fact that renters in expensive metropolitan areas are fleeing the city and buying homes in less expensive suburbs as well as homes in resort communities in places like Lake Tahoe, the Jersey shore, and the mid-Atlantic beaches.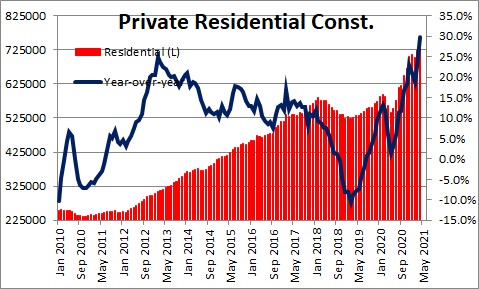 .
New home sales have fallen somewhat in recent months but the decline is not because of a drop in demand.  Rather, inventory levels have declined to record lows.  .  There is currently a 3.8 month supply of homes available to sell.  Supply and demand are relatively in balance when there is a 6.0 month supply.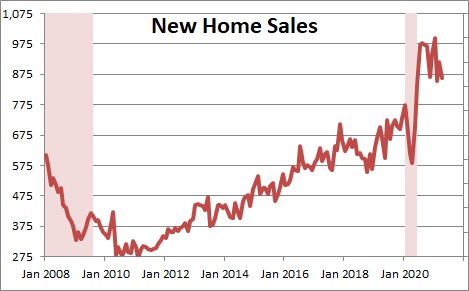 Private nonresidential construction fell 0.5% in April after having fallen 0.1% in March.  At this point we do not need new or bigger factories, there is ample office space available, as well as retail space.  This sector will eventually come back, but that is still a ways down the road.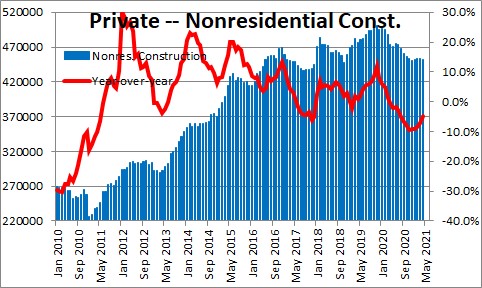 Public sector construction declined 0.6% in April after having fallen 1.0% in March and 1.6% in February.  This category can be quite volatile on a month-to-month basis.  In  the past year such spending has declined 2.2%.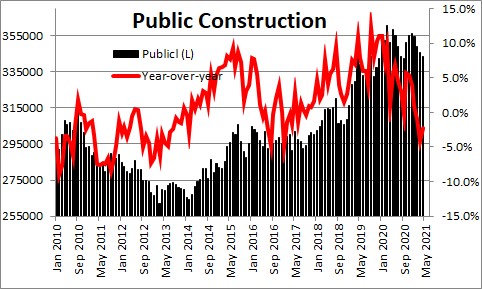 Stephen Slifer
NumberNomics
Charleston, SC