July 28, 2020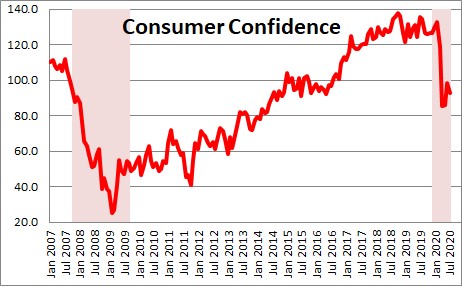 .
The Conference Board reported that consumer confidence fell 5.7 points in July from 98.3 to 92.6 after having risen 12.4 points in June and 0.2 point in May.  However this index fell 31.9 points in April and 13.8 points in March.   Both declines were triggered by the the drastic measures imposed to halt the spread of the virus.  The shelter-in-place measures have stopped the economy dead in its tracks.  As a result, second quarter GDP is projected to fall by 50%.
Lynn Franco, Director of Economic Indicators at the Conference Board said, "Consumer Confidence declined in July following a large gain in June.  The Present Situation Index improved, but the Expectations Index retreated. Large declines were experienced in Michigan, Florida, Texas and California, no doubt a result of the resurgence of COVID-19. Looking ahead, consumers have grown less optimistic about the short-term outlook for the economy and labor market and remain subdued about their financial prospects. Such uncertainty about the short-term future does not bode well for the recovery, nor for consumer spending.
However, the federal government has passed two stimulus bills of $2.0 trillion and $0.5 trillion.  Those funds have worked their way into the economy.  As a result after a 50.0% decline in Q2 we expect Q3 GDP to jump by 51.0% and Q4 to grow at a 7.0% pace..
Confidence data reported by the Conference Board are roughly matched by the University of Michigan's series on consumer sentiment.   As shown in the chart below, trends in the two series are identical but there can be month-to-month deviations.  Both series experienced very sharp declines in March and April.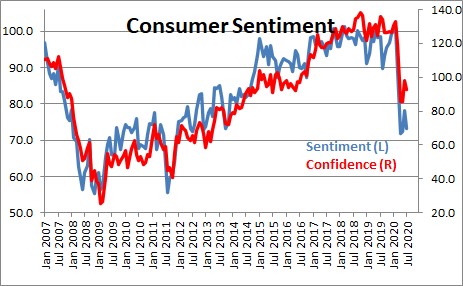 .Stephen Slifer
NumberNomics
Charleston, SC