December 22, 2020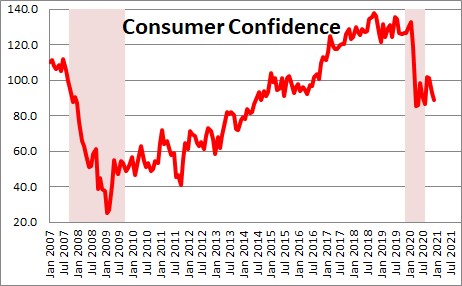 .
The Conference Board reported that consumer confidence fell 4.3 points in December to 88.6 after having fallen 8.2 points in November.  Confidence has been bouncing around in recent months and remains well below its pre-recession level.
Senior Director of Economic Indicators at the Conference Board, Lynn Franco, said: "Consumers' assessment of current conditions deteriorated sharply in December, as the resurgence of COVID-19 remains a drag on confidence.  As a result, consumers' vacation intentions, which had notably improved in October, have retreated. On the flip side, as consumers continue to hunker down at home, intentions to purchase appliances have risen. Overall, it appears that growth has weakened further in Q4, and consumers do not foresee the economy gaining any significant momentum in early 2021."
We disagree with Franco's assessment of the future path of the economy. First of all, the stock market is at a record high level.   Thus far, we have seen the recovery create 12.3 million jobs in the past seven months (after having lost 22.0 million jobs in March and April).  The unemployment rate has shrunk from a peak of 14.7% in April to 6.7% in November — faster than anyone expected.  It started at about 3.5%.  Home sales — both new and existing — are far higher now than they were before the economy dipped into recession in March and April.  In fact, they are at the highest levels since 2006.  In the past 12 months — despite a recession and a pandemic — retail sales have grown at almost exactly the same rate that they did on average during the past 10 years The consumer spent freely for the past several months despite confidence levels that had declined sharply.  Furthermore, we now we appear to have divided government which is perhaps the best election outcome we could hope for.  We have 2 vaccines that have already begun delivery.  The end of the pandemic appears in sight sometime around the middle of next year.  And now  there is a $900 billion corona virus package that is set to be distributed.  The bottom line is that the economy is recovering nicely and a vaccine, which is the best tonic available, is on its way.  Having said that, it still has a ways to go to get GDP and employment back to their pre-recession levels.  .
Confidence data reported by the Conference Board are roughly matched by the University of Michigan's series on consumer sentiment.   As shown in the chart below, trends in the two series are identical but there can be month-to-month deviations.  Both series experienced very sharp declines in March and April and have registered only a moderate rebound.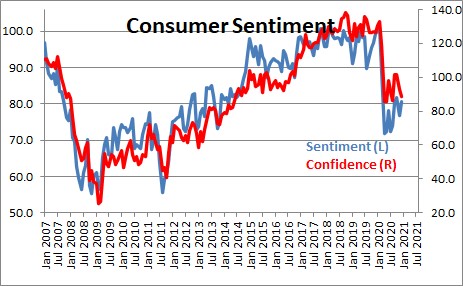 Stephen Slifer
NumberNomics
Charleston, SC