July 26, 2022
.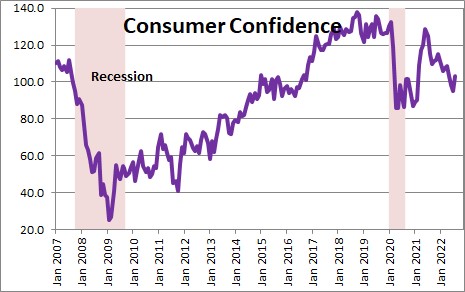 The Conference Board reported that consumer confidence rose 7.9 points in August to 103.2 after having fallen 3.1 points in July, 4.8 points in June, and 5.4 points in May.
Senior Director of Economic Indicators at the Conference Board, Lynn Franco, said,
"Consumer confidence increased in August after falling for three straight months.  The Present Situation Index recorded a gain for the first time since March. The Expectations Index likewise improved from July's 9-year low, but remains below a reading of 80, suggesting recession risks continue. Concerns about inflation continued their retreat but remained elevated."
We envision moderate economic growth in the months ahead.   The economy keeps cranking out new jobs which are showing few signs of slowing down.  Wages are growing rapidly which is boosting consumer income.   Even if the Fed boosts the funds rate to 4.0% by the end of the year and the core CPI rises 6.0% in 2022, the real funds rate at yearend would still be sharply negative at -2.0% and, therefore, will continue to stimulate the economy.  The bottom line is that the economy is likely to grow at a moderate rate in 2022 and 2023.  We expect a 0.3% pace in 2021 and 2.0% growth in 2023.
Confidence data reported by the Conference Board are roughly matched by the University of Michigan's series on consumer sentiment.   As shown in the chart below, trends in the two series are identical but there can be month-to-month deviations.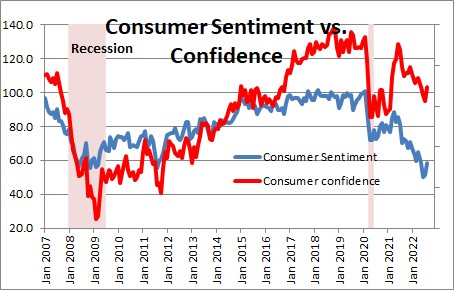 Stephen Slifer
NumberNomics
Charleston, SC