November 26, 2019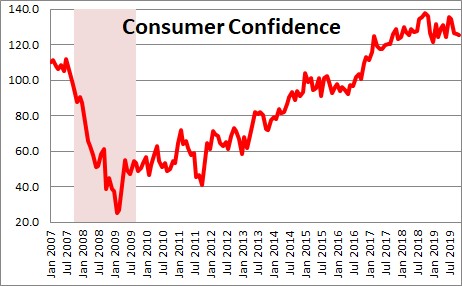 The Conference Board reported that consumer confidence for November fell 0.6 point to 125.5 after having fallen 0.2 point in October.  The naysayers point out that this is the fourth decline in a row which suggests that 2019 will go out on a weak note.  We think that is a gross misread of the situation.  This series has been bouncing around between 125 and 130 since the beginning of this year.   This series reached a cycle high of 137.9 in October of last year which also happened to be the highest level in the  past 18 years.  While somewhat lower than its perk It remains . at a very lofty level.
Lynn Franco, Director of Economic Indicators at the Conference Board said, "This suggests that economic growth in the final quarter of 2019 will remain weak.  "However, consumers' short-term expectations improved modestly, and growth in early 2020 is likely to remain at around 2%. Overall, confidence levels are still high and should support solid spending during this holiday season."
Confidence data reported by the Conference Board are roughly matched by the University of Michigan's series on consumer sentiment.   As shown in the chart below, trends in the two series are identical but there can be month-to-month deviations.  Both series remain at fairly lofty levels.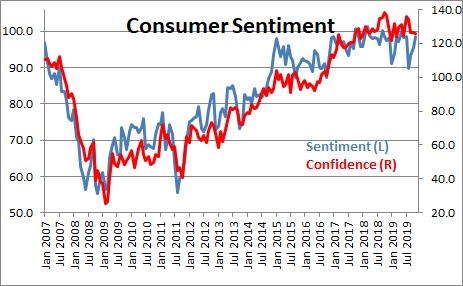 The consumer should continue to provide support for overall GDP growth in 2019.  The stock market is at a new record high level.   The economy continues to crank out 160 thousand jobs per month.  Consumer debt in relation to income remains low.  Interest rates are very low and will remain so for the foreseeable future.
We anticipate GDP growth of 2.4% in both 2019 and  2020.
Stephen Slifer
NumberNomics
Charleston, SC