June 25, 2019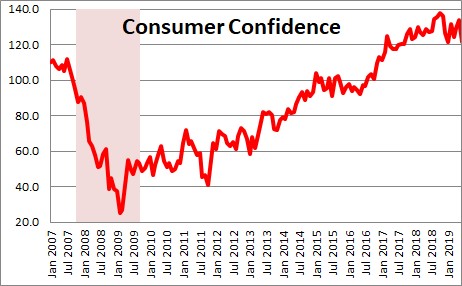 The Conference Board reported that consumer confidence fell 9.8 points in June to 121.5. after having climbed 2.1 points in May and 5.0 points in April.  This series reached a cycle high of 137.9 in October which also happened to be the highest level in the  past 18 years.  While it is well below that level currently it still remains at a very lofty level.
Lynn Franco, Director of Economic Indicators at the Conference Board said, "The escalation in trade and tariff tensions earlier this month appears to have shaken consumers' confidence.  Although the index remains at a high level, continued uncertainty could result in further volatility in the index and, at some point, could even begin to diminish consumers' confidence in the expansion,"
Confidence data reported by the Conference Board are roughly matched by the University of Michigan's series on consumer sentiment.   As shown in the chart below, trends in the two series are identical but there can be month-to-month deviations.  Both series remain at very lofty levels.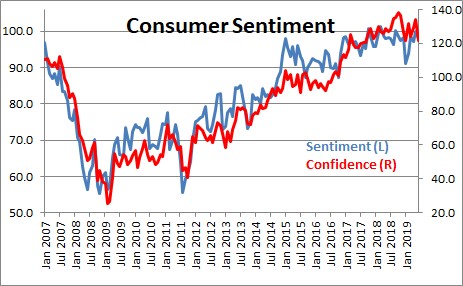 The consumer should continue to provide support for overall GDP growth in 2019.  The stock market struggled for several months late last year but has rebounded and reached a new record high level.   The economy continues to crank out 180 thousand jobs per month.  Consumer debt in relation to income remains low.  Interest rates remain low and the Fed has now ceased its series of rate hikes and is even talking about the possibility of lowering rates.
We anticipate GDP growth of 2.6% in 2019 after having risen 3.0% last year.
Stephen Slifer
NumberNomics
Charleston, SC