January 28, 2020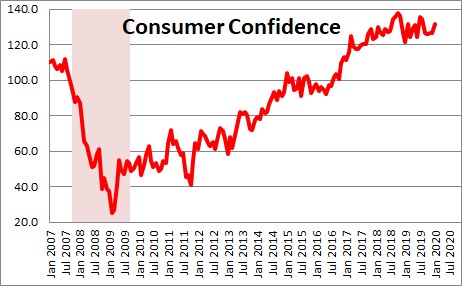 The Conference Board reported that consumer confidence for January jumped 5.1 points to 131.6 after having declined 0.3 point in December.  This series has been bouncing around between 125 and 130 since the beginning of last year.   This series reached a cycle high of 137.9 in October 2018 which also happened to be the highest level in the  past 18 years.  While somewhat lower than its perk It remains . at a very lofty level.
Lynn Franco, Director of Economic Indicators at the Conference Board said, "The upbeat sentiments were driven primarily by a more positive assessment of the current job market and increased optimism about future job prospects,  Optimism about the labor market should continue to support confidence in the short-term and, as a result, consumers will continue driving growth and prevent the economy from slowing in early 2020."
Confidence data reported by the Conference Board are roughly matched by the University of Michigan's series on consumer sentiment.   As shown in the chart below, trends in the two series are identical but there can be month-to-month deviations.  Both series remain at fairly lofty levels.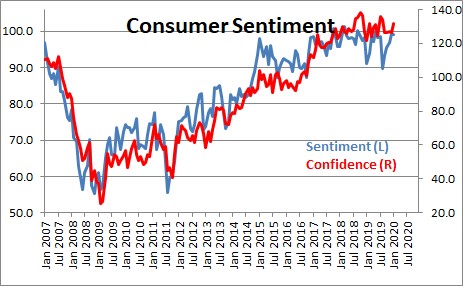 .The consumer should continue to provide support for overall GDP growth in 2020.  The stock market is at a new record high level.   The economy continues to crank out 170 thousand jobs per month.  Consumer debt in relation to income remains low.  Interest rates are very low and will remain so for the foreseeable future.
We anticipate GDP growth of 2.4% in 2020.
Stephen Slifer
NumberNomics
Charleston, SC