May 30, 2023
.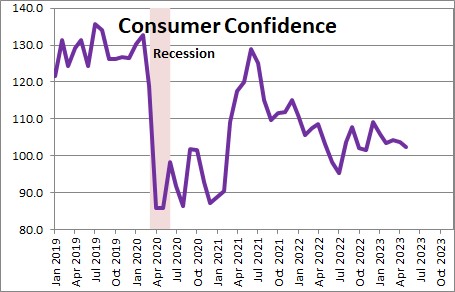 The Conference Board reported that consumer confidence fell 1.4 points in May to 102.3 after declining 0.5 point in April.
Senior Director of Economic Indicators at the Conference Board, Ataman Ozyildirum, said, "Consumer confidence declined in May as consumers' view of current conditions became somewhat less upbeat while their expectations remained gloomy,  Their assessment of current employment conditions saw the most significant deterioration, with the proportion of consumers reporting jobs are 'plentiful' falling 4 ppts from 47.5 percent in April to 43.5 percent in May. Consumers also became more downbeat about future business conditions, weighing on the expectations index. However, expectations for jobs and incomes over the next six months held relatively steady. While consumer confidence has fallen across all age and income categories over the past three months, May's decline reflects a particularly notable worsening in the outlook among consumers over 55 years of age."
We are not as pessimistic as the consumer confidence data would suggest.  Rather, we envision moderate economic growth in the months ahead.   The economy keeps cranking out new jobs which are showing few signs of slowing down   With the funds rate at 5.25% and the core CPI at 5.5% the real funds rate remains slightly negative at -0.25% and, therefore, will continue to stimulate the economy.  The bottom line is that the economy is likely to grow at a moderate rate in 2023.  We expect 1.3% growth in 2023. Wages are growing steadily which is boosting consumer income.   The Fed has boosted the funds rate to 5.25%, Given the magnitude of the declines in confidence one might have expected a sharp pullback in consumer spending.  But that has not happened.  Instead, real consumer spending has risen 2.3% in the past year.  While they say they are worried, consumers still have a job with little chance of losing it any time soon, and their balance sheets are the best they have been since the 1980's so they keep spending.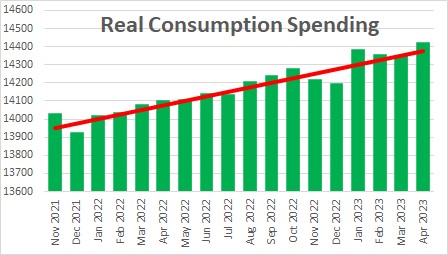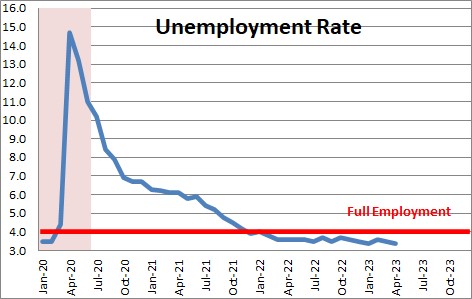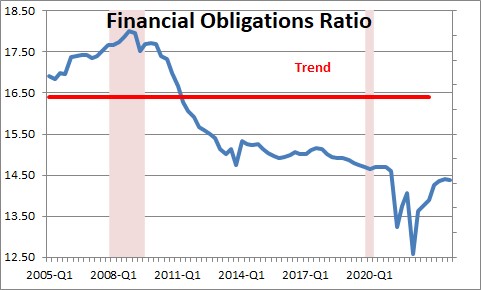 Confidence data reported by the Conference Board are roughly matched by the University of Michigan's series on consumer sentiment.   As shown in the chart below, trends in the two series are identical but there can be month-to-month deviations.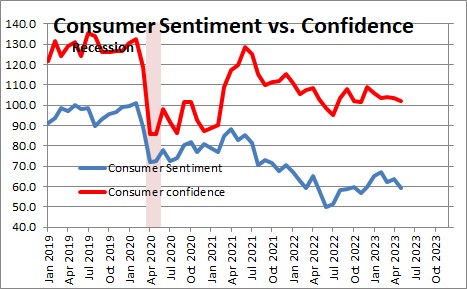 Stephen Slifer
NumberNomics
Charleston, SC