September 28, 2021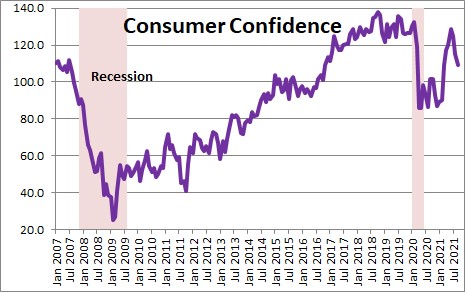 .
The Conference Board reported that consumer confidence fell 5.9 points in September to 109.3 after having declined 9.9 points in August and 3.8 points in July.  This decline mirrors the drop reported earlier by the University of Michigan sentiment data.
Senior Director of Economic Indicators at the Conference Board, Lynn Franco, said: "Consumer confidence dropped in September as the spread of the Delta variant continued to dampen optimism,  Concerns about the state of the economy and short-term growth prospects deepened, while spending intentions for homes, autos, and major appliances all retreated again. Short-term inflation concerns eased somewhat, but remain elevated. Consumer confidence is still high by historical levels—enough to support further growth in the near-term—but the Index has now fallen 19.6 points from the recent peak of 128.9 reached in June. These back-to-back declines suggest consumers have grown more cautious and are likely to curtail spending going forward."
We envision a vibrant economy continuing in the final two quarters of 2021.   First of all, the stock market remains near a record high level.   Thus far, we have seen the recovery create 17.0 million jobs since the recession ended in April of last year (after having lost 22.0 million jobs in March and April).  The unemployment rate has shrunk from a peak of 14.7% in April of last year to 5.2% — much faster than anyone expected.  Prior to the pandemic the unemployment rate was 3.5%.  Home sales have been declining as home prices have been rising.  The  higher prices are taking a toll at the low end of the market for homes priced at $300,000 or below, but elsewhere the market remains vibrant and is constrained only by the shortage of homes available for sale.   A shortage of qualified workers, higher commodity prices, and delays in receiving required building materials has put a temporary damper on the pace of both new construction and sales.  In the past 12 months — despite a recession and a pandemic — retail sales have grown even faster than they did on average during the past 10 years.    The $1,200 checks distributed as part of the recent $1.9 trillion package are boosting income.  The bottom line is that the economy is recovering nicely and likely to grow quickly as the year progresses.  We expect 8.0% GDP growth in Q3. 10.5% growth in Q4.  That will give us 7.8% GDP growth for the year and we expect a 5.1% pace in 2021..
Confidence data reported by the Conference Board are roughly matched by the University of Michigan's series on consumer sentiment.   As shown in the chart below, trends in the two series are identical but there can be month-to-month deviations.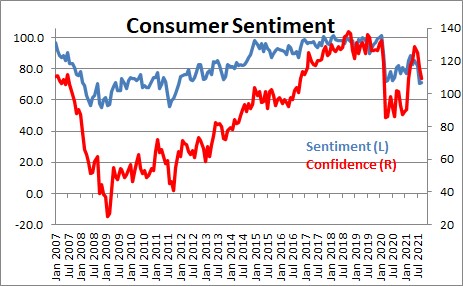 Stephen Slifer
NumberNomics
Charleston, SC