April 26, 2022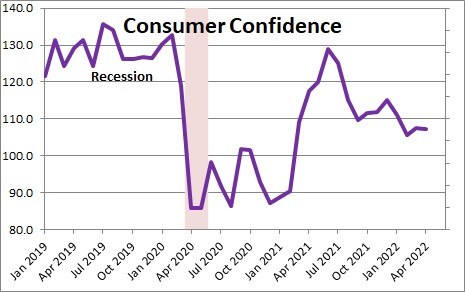 .
The Conference Board reported that consumer confidence declined 0.3 point in April to 107.3 after having risen 1.9 points in March to 107.2 after having fallen 5.4 points in February.
Senior Director of Economic Indicators at the Conference Board, Lynn Franco, said, "Consumer confidence fell slightly in April, after a modest increase in March.  The Present Situation Index declined, but remains quite high, suggesting the economy continued to expand in early Q2. Expectations, while still weak, did not deteriorate further amid high prices, especially at the gas pump, and the war in Ukraine. Vacation intentions cooled but intentions to buy big-ticket items like automobiles and many appliances rose somewhat."  He added, "Still, purchasing intentions are down overall from recent levels as interest rates have begun rising. Meanwhile, concerns about inflation retreated from an all-time high in March but remained elevated. Looking ahead, inflation and the war in Ukraine will continue to pose downside risks to confidence and may further curb consumer spending this year."
We envision a relatively vibrant economy in the months ahead.   The shortage of qualified workers, higher commodity prices, and delays in receiving required building materials are putting a temporary damper on the pace of both new construction and manufacturing.  The Fed is causing many to expect a rapid pace of tightening in 2022.  We expect a series of rate hikes in 2022, which would boost the funds rate at end the year to the 2.5% mark.  The Fed thinks its policy is neutral when the funds rate is 2.5%.  But if the CPI rises 8,4% in 2022, the real funds rate at yearend would still be sharply negative at -5.9% and, therefore, it would continue to stimulate the economy.  The Fed is likely to begin reducing its bloated balance sheet in April by an estimated $100 billion per month.  But that is a small amount relative to what it needs to do.  The bottom line is that the economy is likely to grow at a reasonably rapid rate in 2022.  We saw 5.5% GDP growth in 2021 and we expect a 3.5% pace in 2021..
Confidence data reported by the Conference Board are roughly matched by the University of Michigan's series on consumer sentiment.   As shown in the chart below, trends in the two series are identical but there can be month-to-month deviations.  Currently, the consumer confidence data (in red) seem far more friendly than the consumer sentiment data reported by the U. of Michigan (in blue).  A divergence of that magnitude is unprecedented.  The sales data we are seeing seem more consistent with the Conference Board's measure of confidence.  It is hard to believe that (as measured by the U of Michigan's sentiment data) that confidence is much lower than it was in April 2020 in the midst of the pandemic and the government imposed shutdown,  and almost as low as it was in the so-called "Great Recession in 2008-2009.  That makes no sense.  Nonetheless that is what that series shows.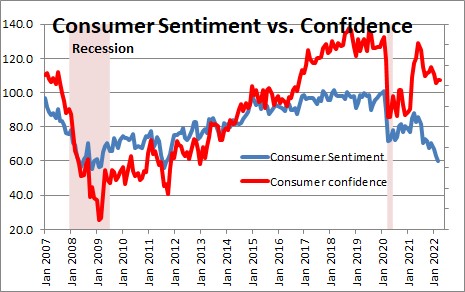 Stephen Slifer
NumberNomics
Charleston, SC