June 29, 2021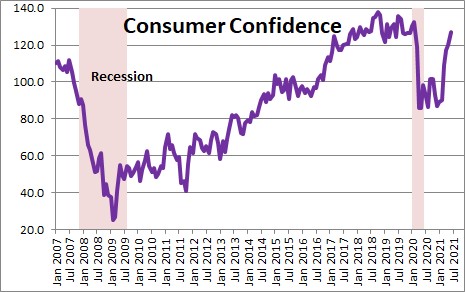 .
The Conference Board reported that consumer confidence rose 7.3 points in June to 127.3 after having climbed 2.5 points in May.  In fact, this is the sixth consecutive month of rising confidence..  The slowdown in the rate of spread of the virus combined with widespread vaccine distribution, as well as a series of tax refund checks have steadily bolstered consumer spirits.
Senior Director of Economic Indicators at the Conference Board, Lynn Franco, said:  "Consumers' assessment of current conditions improved again, suggesting economic growth has strengthened further in Q2. Consumers' short-term optimism rebounded, buoyed by expectations that business conditions and their own financial prospects will continue improving in the months ahead. While short-term inflation expectations increased, this had little impact on consumers' confidence or purchasing intentions. In fact, the proportion of consumers planning to purchase homes, automobiles, and major appliances all rose—a sign that consumer spending will continue to support economic growth in the short-term. Vacation intentions also rose, reflecting a continued increase in spending on services."
We envision a vibrant economy in 2021.   First of all, the stock market is at a record high level.   Thus far, we have seen the recovery create 14.1 million jobs in the past eleven months (after having lost 22.0 million jobs in March and April).  The unemployment rate has shrunk from a peak of 14.7% in April of last year to 5.8% — much faster than anyone expected.  Prior to the pandemic the unemployment rate was 3.5%.  Home sales — both new and existing — are at the highest levels since 2006 despite declines in the past several months as a shortage of qualified workers, higher commodity prices, and delays in receiving required building materials has put a temporary damper on the pace of both new construction and sales.  In the past 12 months — despite a recession and a pandemic — retail sales have grown even faster than they did on average during the past 10 years The end of the pandemic is in sight..    The $1,200 checks distributed as part of the recent $1.9 trillion package are boosting income.  The bottom line is that the economy is recovering nicely and likely to gather momentum as the year progresses.  We expect 10.0% GDP growth in Q2, and 8.0% GDP growth for the year.
Confidence data reported by the Conference Board are roughly matched by the University of Michigan's series on consumer sentiment.   As shown in the chart below, trends in the two series are identical but there can be month-to-month deviations.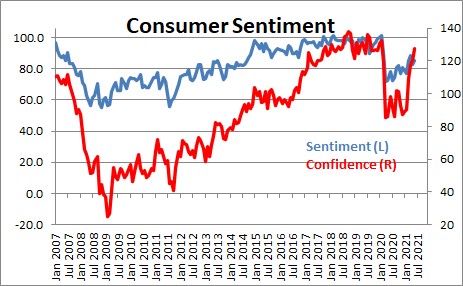 Stephen Slifer
NumberNomics
Charleston, SC