September 4, 2019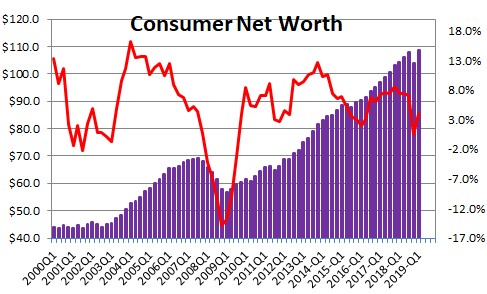 Consumer net worth jumped $4.7 trillion in the first quarter.  That works out to an annualized rate of increase of 18.0%, but that follows a 14.7% decline in the fourth quarter as stock prices collapsed late last year but then rose rapidly in Q1.  Over the past year consumer net worth has increased 4.1%.
The growth in net worth reflects both the steady increase in stock prices during the course of the past several years, and the growth in home prices.
Net worth will likely climb by 6.0% this year.  If that is the case, consumer spending is likely to continue at roughly a 2.5% pace.
Stephen Slifer
NumberNomics
Charleston, SC