February 26, 2021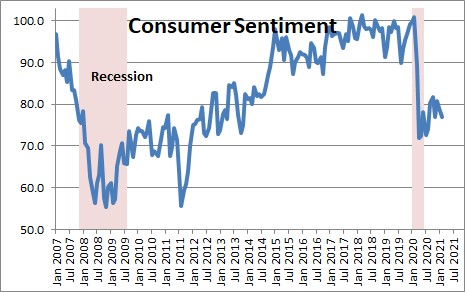 .
The final estimate for February was 76.8 compared to a preliminary estimate of 76.9.  Thus, consumer sentiment for  February fell 2.2 points.  Consumer sentiment has been flopping around in a narrow range for the past several months.  It remains well below the pre-recession 101 level for February.
Surveys of Consumers Chief Economist Richard Curtin said, "Consumer sentiment edged downward in early February, with the entire loss concentrated in the Expectation Index and among households with incomes below $75,000.   He added that, "Presumably a new round of stimulus payments will reduce financial hardships among those with the lowest incomes. More surprising was the finding that consumers, despite the expected passage of a massive stimulus bill, viewed prospects for the national economy less favorably in early February than last month. In contrast, the proposed stimulus is expected to prompt a very strong pace of economic growth, with the differences mainly about the appropriate size and pace of federal spending."
We expect sentiment to climb in the months ahead as, three vaccines are already being distributed.
And if that is not enough, a $900 billion fiscal stimulus/virus relief package was passed by Congress late last year with yet another $1.9 trillion fiscal stimulus package in the works..
Q2 GDP declined by 31.4%.  But GDP grew 33.4% in the third quarter and 4.1%  growth in the fourth quarter.  We expect that to be followed by 7.5% GDP growth in 2021.
Consumer expectations for six months from now fell 3.3 points from 74.0 to 70.7.
Consumers' assessment of current conditions declined 0.5 point from 86.7 to 86.2
Stephen Slifer
NumberNomics
Charleston, SC