November 22, 2019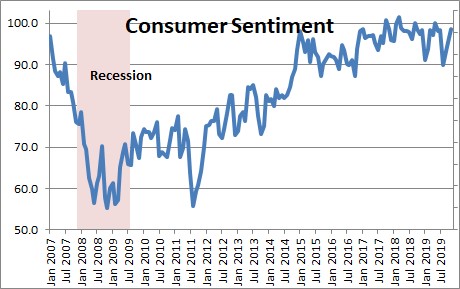 The final estimate  of consumer sentiment for November came in at 96.8 which is higher than the initial reading of 95.7 and is marginally above the October reading of 95.5.  While volatile on a month-to-month basis consumer sentiment remains at a lofty level.  The peak for the cycle was 101.4 in March of last year.  It is not far below that level currently.
Surveys of Consumers Chief Economist Richard Curtin said, "Consumer sentiment has been at 95 or higher in 30 of the past 35 months. That level of optimism has not been seen since the period between January 1998 and December 2000, Although impeachment proceedings occurred in both time periods, the current period is distinctive for the much sharper partisan divisions in the economic expectations among consumers as well as the wide gap in optimism between consumers and business firms.  One side anticipates a recession, while the other side expects an uninterrupted expansion in the year ahead."
"To be sure, there is ample reason for both optimism as well as pessimism, but not the extreme differences voiced by these groups," he added.
Our sense is confidence will continue to be relatively elevated in the months ahead.  The stock market is once again at a record high level.  The Fed has cut rates three times since June.   Bond yields remain at a very low level.  Mortgage rates have fallen from 4.9% to 3.7%.  The economy is cranking out 160 thousand jobs per  month.  Real disposable income is growing at a solid 3.0% pace.  And consumer debt levels in relation to income are near a record low level.
We expect GDP growth of 2.4% in both 2019 and 2020.  We expect the economic speed limit to be raised from 1.8% to 2.5% within a few years.  That will accelerate growth in our standard of living.
The increase in consumer sentiment in November was attributable to an increase in the current conditions component.  Expectations declined somewhat.
Consumer expectations for six months from now increased from 84.2 to 87.3.
Consumers' assessment of current conditions declined from 113.2 to 111.6.
Trends in the Conference Board measure of consumer confidence and the University of Michigan series on sentiment move in tandem, but there are often month-to-month fluctuations.  Both series remain at levels that are consistent with steady growth in consumer spending at a reasonable clip of about 2.5% in 2020.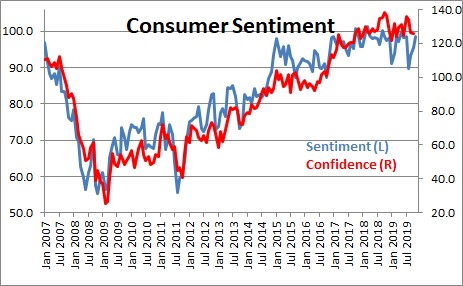 .Stephen Slifer
NumberNomics
Charleston, SC