July 31, 2020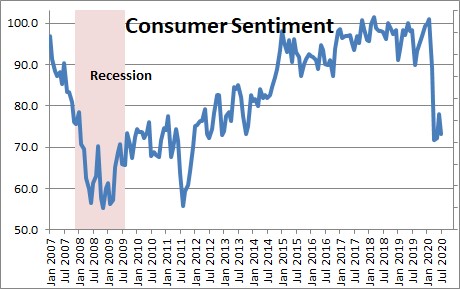 The final estimate of consumer sentiment for July fell 5.6 points in July 72.5.  That compares to an initial reading of  73.2.  Thus, sentiment appears to have declined somewhat in the second half of the month as the more rapid pace of spread of the virus has made consumers nervous..
Surveys of Consumers Chief Economist Richard Curtin had an extremely pessimistic view of the most recent drop.  He said that,  "Consumer sentiment sank further in late July due to the continued resurgence of the corona virus. In the last four months, the Sentiment Index has remained trendless, averaging 73.7, a decline of 25% from the same period in 2019. The Expectations Index fell back to 65.9 in July, tied with the six-year low recorded in May, providing no indication that consumers expect the recession to end anytime soon. While the 3rd quarter GDP is likely to improve over the record setting 2nd quarter plunge, it is unlikely that consumers will conclude that the recession is anywhere near over. The federal relief programs have prevented more substantial declines in consumer finances, partially shielding consumers from the unprecedented surge in job losses, reduced work hours, and salary cuts (see the chart). The lapse of the special jobless benefits will directly hurt the most vulnerable and spread even further by missed rent, mortgage, and other debt payments. Easing off the added jobless benefit will naturally result with job growth as well as provide for a delayed and gradual reduction in added benefits so that its eventual absence is much less disruptive.
We read the press reports like everybody else, and it is no surprise that the consumers have gotten nervous.  But we disagree about what happens next.  We have seen spending in virtually every sector of the economy rebound sooner and with more vigor than had been anticipated.  What killed the economy in March and April was our country's response to the virus rather than the virus itself.  We locked down everything.  With an election coming that is not going to happen even though some cities might have some partial closures.  Further, both Republicans and Democrats are advocating another fiscal stimulus bill which means, in our opinion, that something will be passed if there are even hints that the current rebound is losing momentum.
Q2 GDP to declined by 32.9%.  But $2.5 trillion of fiscal stimulus, and perhaps additional stimulus, should lead to an equally large 32% increase in Q3.  For what it is worth we anticipate 7.0% GDP growth in the fourth quarter.
Consumer expectations for six months from now fell 6.4 points from 72.3 to to 65.9.
Consumers' assessment of current conditions declined 4.3 points from 87.1 to 82.8.
Stephen Slifer
NumberNomics
Charleston, SC