October 30, 2020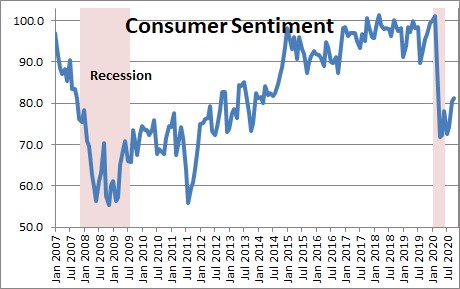 The final estimate of consumer sentiment for October rose 1.4 points to 81.8 compared to the preliminary estimate of 81.2.  It remains well below the 101 level for February.
Surveys of Consumers Chief Economist Richard Curtin said that, "Consumer sentiment remained virtually unchanged from the first half of October and was insignificantly different from last month's figure. Fear and loathing produced this false sense of stability. Fears were generated by rising covid infection and death rates, and loathing was generated by the hyper-partisanship that has driven the election to ideological extremes.
We read the press reports like everybody else, and it is no surprise that the consumers remain nervous given the election and the virus..  But we disagree about what happens next.  We have seen spending in virtually every sector of the economy rebound sooner and with more vigor than had been anticipated.  That has continued through September.  What killed the economy in March and April was our country's response to the virus rather than the virus itself.  We locked down everything.  But since then retail sales, consumer spending generally, all measures of home sales have returned to the levels that existed prior to the recession.  In five months the stock market has recovered all of what it lost during the recession and is now close to a record high level.
Q2 GDP declined by 31.4%.  But we just learned that GDP grew 33.1% in the third quarter.  For what it is worth we anticipate 10.0% GDP growth in the fourth quarter.
Consumer expectations for six months from now rose  3.6 points from 75.6 to 79.2.
Consumers' assessment of current conditions declined 1.9 points from  87.8 to 85.9..
Stephen Slifer
NumberNomics
Charleston, SC