May 15, 2020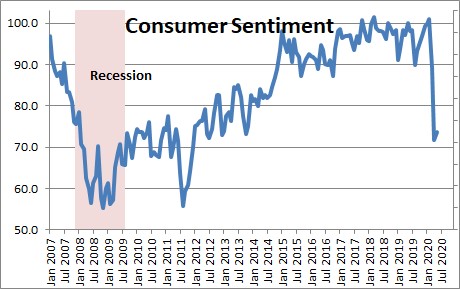 The preliminary estimate of consumer sentiment for May rose 1.9 points to 73.7 after having plunged by 17.3 points in April and 11.9 points in March.
The current conditions index rose 8.7 points from 74.3 to 83.0..  The expectations component dropped 2.4 points from 70.1 to 67.7.
Surveys of Consumers Chief Economist Richard Curtin said that "Confidence inched upward in early May as the CARES relief checks improved consumers' finances and widespread price discounting boosted their buying attitudes. He also noted that "Perhaps the most surprising finding concerned consumers' inflation expectations. The median expected inflation rate during the year ahead rose sharply,"  When asked to identify their top concerns, "Was it the threat to their health, the required social isolation, or the impact on family finances? The health threat dominated in both months."
We expect Q2 GDP to decline by 60.0%.  But a slower rate of spread of the virus combined with $2.5 trillion of fiscal stimulus should lead to an equally large 60% increase in Q3.  For what it is worth we anticipate 5.3% GDP growth in 2021.
Consumer expectations for six months from now dropped 2.4 points from 70.1 to 67.7.
Consumers' assessment of current conditions rose 8.7 points from 74.3 to 83.0.
Stephen Slifer
NumberNomics
Charleston, SC