April 30, 2021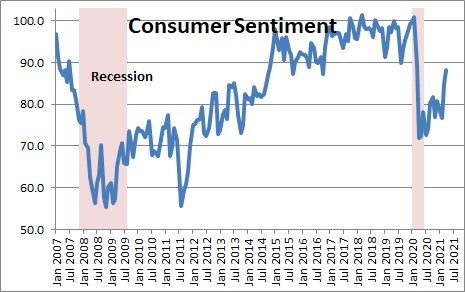 .
The final estimate of consumer sentiment for April was 88.3 compared to the preliminary estimate of 86.5.  Consumer sentiment in March was 84.9.  Thus, consumer sentiment is continuing to climb but it remains well below the pre-recession 101 level for February 2020..
Surveys of Consumers Chief Economist Richard Curtin said, "The April survey recorded continued gains in consumer confidence due to a growing sense that the upward momentum in jobs and incomes will persist. The renewed confidence is due to record federal stimulus spending, both recently passed and proposed, as well as the positive impact from a growing share of the population who are vaccinated. The largest and most important change in April was that an all-time record number of consumers expected declines in the unemployment rate during the year ahead. Even if a booming economy resulted in higher inflation, consumer optimism would not diminish since consumers have already anticipated a temporary increase. Overall, the data indicate an exceptional outlook for consumer spending through mid-2022. The size and persistence of the spending gains depend on continued job growth as well as wages that effectively draw people back into the labor force."
We expect sentiment to continue to climb in the months ahead as vaccines are being distributed at the rate of about 2.5 million per day and the rate of spread of the virus continues to slow.  As the same time economic growth is surging and monthly job gains are accelerating.  With the savings rate at 27.9% the consumer is flush with available cash to spend.
We expect 11.0% GDP growth in Q2.  We are also looking for 8.0% GDP growth in 2021.
Consumer expectations for six months from now rose from 79.7 to 82.7.
Consumers' assessment of current conditions rose 4.2 points from 93.0 to 97.2
Stephen Slifer
NumberNomics
Charleston, SC