February 14, 2020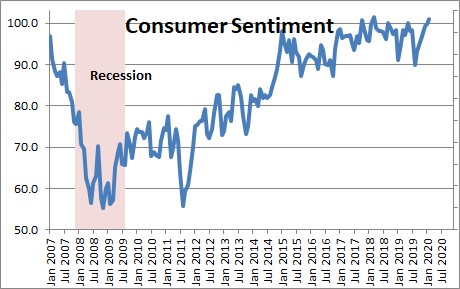 The final estimate of consumer sentiment for February rose 1.1 points to 100.9, just missing the peak level for the cycle which was 101.4 in March of 2018.
Surveys of Consumers Chief Economist Richard Curtin said, "Net gains in household income and wealth were reported more frequently in early February than at any prior time since 1960. These gains in consumers' economic assessments have also been accompanied by a faint stirring of two powerful sources of uncertainty. First, the corona virus was mentioned by just 7% when asked to explain their economic expectations in early February. Second, the run-up to the presidential election is likely to focus on the vast changes to taxes and spending programs; in early February, only 10% of all consumers mentioned some aspect of the election as having a potential impact on their economic expectations.
Our sense is confidence will continue to be elevated in the months ahead.  The stock market is once again at a record high level.  The Fed cut rates three times since June of last year.   Bond yields remain at a very low level.  Mortgage rates have fallen from 4.9% to 3.5%.  The economy is cranking out 170 thousand jobs per  month.  Real disposable income is growing at a solid 3.0% pace.  And consumer debt levels in relation to income are near a record low level.
We expect GDP growth of 2.4% in 2020.  We believe that the economic speed limit has already climbed from 1.8% to 2.2%  and should climb further to 2.5% within a few years.  That will accelerate growth in our standard of living.
The increase in consumer sentiment in February was attributable to an increase in the expectations component.
Consumer expectations for six months from now climbed from 90.5 to 92.6.
Consumers' assessment of current conditions declined from 114.4 to 113.8.
Trends in the Conference Board measure of consumer confidence and the University of Michigan series on sentiment move in tandem, but there are often month-to-month fluctuations.  Both series remain at levels that are consistent with steady growth in consumer spending at a reasonable clip of about 2.5% in 2020.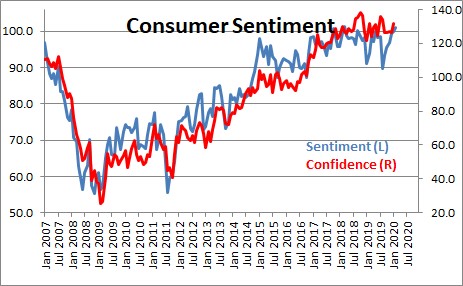 Stephen Slifer
NumberNomics
Charleston, SC