November 22,, 2023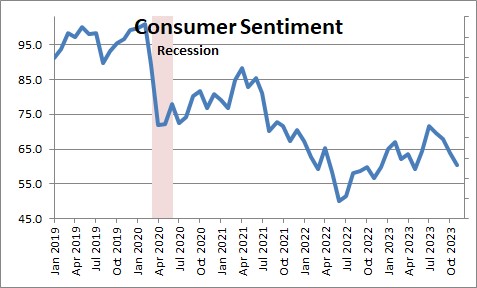 The final  estimate of consumer sentiment for November fell 2.5 points to 61.3 after declining 4.1 points in October.  In fact, this is the fourth consecutive decline in sentiment which reached a peak in July at 71.6.
Surveys of Consumers Director Joanne Hsu said, "November's reading reflects a balance of factors, some of which improved while others worsened. More-favorable current assessments and expectations of personal finances were offset by a notable deterioration in expected business conditions. In particular, long-run business conditions plunged by 15% to its lowest since July 2022. Younger and middle-aged consumers exhibited strong declines in economic attitudes this month, while sentiment of those age 55 and older improved from October.
Many consumers have been concerned by the fact that while their nominal earnings were rising, inflation is eroding their purchasing power and, as a result, wages in real terms have been declining.  In recent months they have stopped falling but they are certainly not regaining any of their lost ground.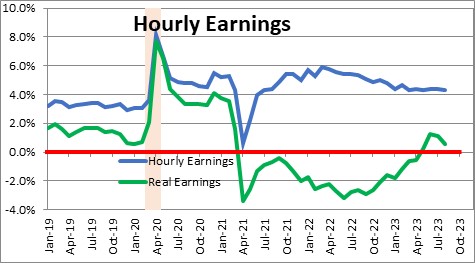 Given that sentiment is as a very low level, one might expect to see consumers cutting back sharply on their spending.  Thus far there is little evidence of that.  Consumer spending is growing steadily.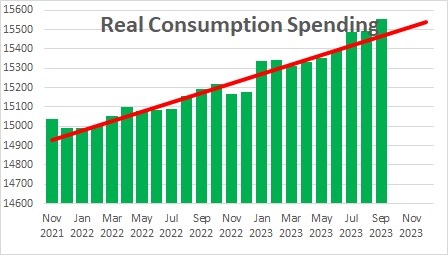 The funds rate currently stands at 5.5%,     The core inflation rate is likely to be 3.9% at yearend.  Thus, the real funds rate is +1.6%.  But 3.9% inflation is double the Fed's targeted 2.0% pace.  For this reason we expect the Fed to keep the funds rate steady until the second half of 2024.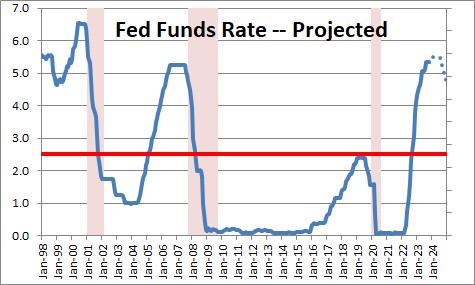 Both the University of Michigan's consumer sentiment index and the Conference Board's measure of consumer confidence show a modest rebound in the past couple of months.  The two series can diverge from one month to the next, but the trends are similar.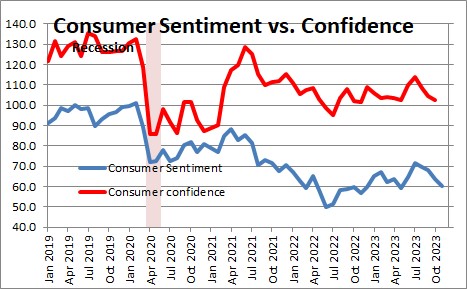 We expect GDP growth of  1.5% in the fourth quarter as the economy continues to crank out jobs and wages rise.  However, GDP growth is likely to be 0.7% or so in the first two quarters of 2024.
Consumer expectations for six months from now fell from 59.3 to 56.9.
Consumers' assessment of current conditions declined from 70.6 to 65.7.
Stephen Slifer
NumberNomics
Charleston, SC