August 16, 2019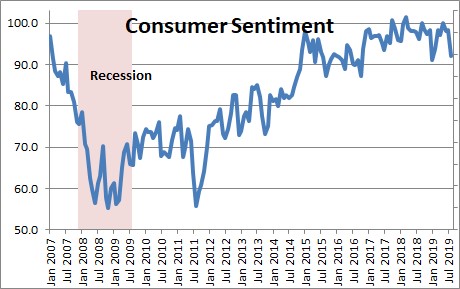 The initial estimate of consumer sentiment for August fell 6.3. points to 92.1 after having risen 0.2 point in July .  Even with the August drop sentiment  remains at a lofty level.  It has fluctuated in a range from 90.0-100.0 for the past five years.
Surveys of Consumers Chief Economist Richard Curtin said, "The main takeaway for consumers from the first cut in interest rates in a decade was to increase apprehensions about a possible recession. Consumers concluded, following the Fed's lead, that they may need to reduce spending in anticipation of a potential recession. Falling interest rates have long been associated with the start of recessions. Perhaps the most important remaining pillar of strength for consumer spending is favorable job and income prospects."
Our sense is confidence will continue to be elevated in the months ahead.  The stock market has fallen 5.0% in the past month or so, but the drop is from a record high level.  The Fed is widely expected to cut rates a second time between now and yearend   Bond yields are at a record low level.  Mortgage rates have fallen from 4.9% to 3.6%.  The economy is cranking out 170 thousand jobs per  month.  Disposable income is growing at a solid 3.3% pace.  And consumer debt levels in relation to income are near a record low level.
We expect GDP growth of 2.6% in 2019 versus 2.5% last year.  We expect the economic speed limit to be raised from 1.8% to 2.8% within a few years.  That will accelerate growth in our standard of living.
The decline in consumer sentiment in August was attributable to the expectations and current conditions components.
Consumer expectations for six months from now increased from 90.5 to 82.3.
Consumers' assessment of current conditions declined from 110.7 to 107.4..
Trends in the Conference Board measure of consumer confidence and the University of Michigan series on sentiment move in tandem, but there are often month-to-month fluctuations.  Both series remain at levels that are consistent with steady growth in consumer spending at a reasonable clip of about 2.5% in 2019.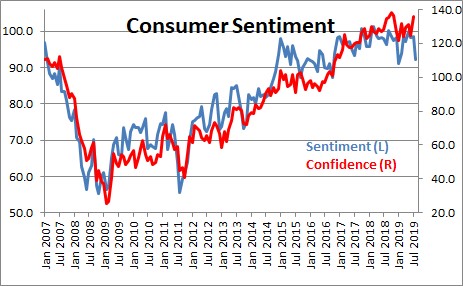 Stephen Slifer
NumberNomics
Charleston, SC