August 28, 2020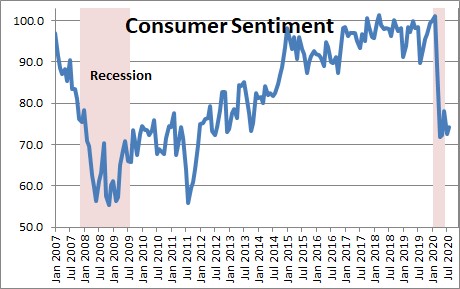 The final estimate of consumer sentiment for August rose 1.6 points to 74.1 which is slightly higher than the preliminary estimate of 72.8.  Thus, sentiment was apparently damped in the past couple months as the more rapid pace of spread of the virus has made consumers nervous..
Surveys of Consumers Chief Economist Richard Curtin said that, :Although strong gains in consumer spending from the 2nd quarter lows can be anticipated, those gains will significantly slow by year-end without some additional fiscal spending programs to diminish the hardships faced by unemployed workers, small businesses, as well as support for state and local governments."
We read the press reports like everybody else, and it is no surprise that the consumers have gotten nervous.  But we disagree about what happens next.  We have seen spending in virtually every sector of the economy rebound sooner and with more vigor than had been anticipated.  What killed the economy in March and April was our country's response to the virus rather than the virus itself.  We locked down everything.  But since then retail sales, consumer spending generally, all measures of home sales have returned to the levels that existed prior to the recession.  In five months the stock market has recovered all of what it lost during the recession and now stands at a record high level.  When asked, consumers are unenthusiastic about what might happen in the months ahead, but their spending seems to belie that pessimism.
Q2 GDP declined by 31.7%.  But $2.5 trillion of fiscal stimulus should lead to a sizable 28% increase in Q3.  For what it is worth we anticipate 7.0% GDP growth in the fourth quarter.
Consumer expectations for six months from now rose 2.6 points from 65.9 to 68,5.
Consumers' assessment of current conditions rose 0.1 point from 82.8 to 82.9.
Stephen Slifer
NumberNomics
Charleston, SC