July 16 2021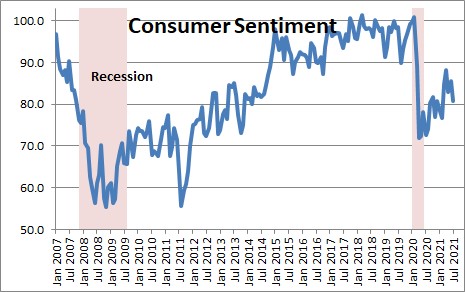 .
The preliminary estimate of consumer sentiment for July fell 4.7 points to 80.8 after rising rose 2.6 points in June.
Surveys of Consumers Chief Economist Richard Curtin said, "Consumers' complaints about rising prices on homes, vehicles, and household durables has reached an all-time record.   However, purchase rates have benefitted from record increases in accumulated savings and reserve funds."
We expect sentiment to  climb in the months ahead as vaccines continue to be distributed at a moderate pace.   As the same time economic growth is surging and monthly job gains are accelerating as the economy continues to re-open..  With the savings rate at 12,4% the consumer is flush with available cash to spend.
We expect 9.0% GDP growth in Q2.  We are also looking for 8.0% GDP growth in 2021.
Consumer expectations for six months from now fell from  83.5 to 78.6..
Consumers' assessment of current conditions  fell from 88.6 to 84.5.
Stephen Slifer
NumberNomics
Charleston, SC