November 24, 2021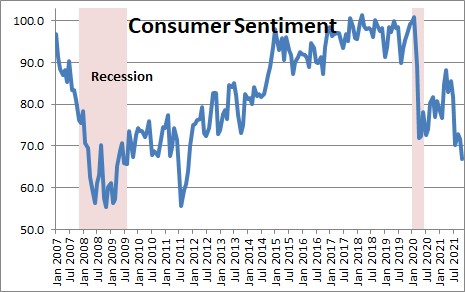 .
The final estimate of consumer sentiment for November came in at 67.4 compared to the preliminary estimate of 66.8.  Thus sentiment fell 4.3 points in November after having declined 1.1 points in October. The November level is the lowest level of confidence in a decade.
Surveys of Consumers Chief Economist Richard Curtin said, "Consumer sentiment fell in early November to its lowest level in a decade due to an escalating inflation rate and the growing belief among consumers that no effective policies have yet been developed to reduce the damage from surging inflation. One-in-four consumers cited inflationary reductions in their living standards in November, with lower income and older consumers voicing the greatest impact. Nominal income gains were widely reported but when asked about inflation-adjusted gains, half of all families anticipated reduced real incomes next year."  Curtin added that, " The reactions of consumers to surging inflation should be no surprise, as it has been reported during the past several months. The description that inflation would be "transient" has the undertone that consumers could "grin and bear it" as economic policies counted on a quick and automatic self-correction to supply and labor shortages. Instead, the pandemic caused economic dislocation unlike any prior recession, and has been intertwined with partisan interpretations of economic developments."
We respectfully disagree.  We agree that inflation has eroded wage gains and that real wages have fallen in the past year.  But we do not expect the consumer to retreat from spending during the holiday season.  Instead, we look for workers to seek even larger wage gains which will boost the inflation rate even further.  As we see it, the number of cases of the Delta variant has slowed dramatically.   And consumers continue to spend vigorously.  Furthermore, it appears that job gains are rebounding and given a huge drop in the number of people receiving unemployment benefits, we expect an increase in payroll employment of 700 thousand or so in November.  The consumer is flush with available cash to spend.  In the housing sector demand far exceeds supply.  Ditto for the manufacturing sector where manufacturers are being forced to dip into inventories in an attempt to satisfy demand.  They need to significantly boost the pace of production.
We expect 8.0% GDP growth in Q4 and 4.9% growth in 2022..
Consumer expectations for six months from now fell from 67.9 to 63.5.
Consumers' assessment of current conditions fell from 77.7 to 73.6..
Stephen Slifer
NumberNomics
Charleston, SC