November 25, 2020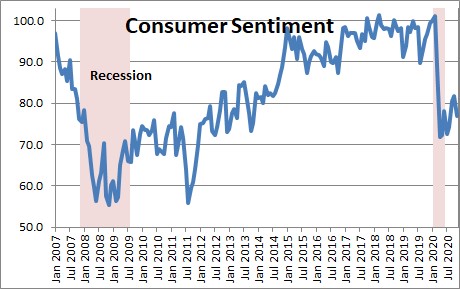 The final estimate of consumer sentiment for November came in at 76.9 which is virtually identical to the preliminary estimate of estimate of 77.0  Thus, consumer sentiment for November fell 4.9 points to 76.9 after having risen 1.4 points in October..  It remains well below the 101 level for February.
Surveys of Consumers Chief Economist Richard Curtin said that, "The November data were less optimistic than last month due to the resurgence in covid infections and deaths as well as partisan shifts due to the outcome of the presidential election."  He added that, "If infections and deaths rise as anticipated, further declines in optimism are likely. The anticipated declines, however, will be tempered by the approval of several vaccines by the end of the year. The approval of vaccines will heighten concerns about vaccination priorities, especially when accompanied by the expected increase in deaths in the next several months. These events are likely to promote more closures and stay-at-home orders in addition to mandatory masks and social distancing. Widespread closures would incur a heavy toll on the entire economy and cause escalating hardships among some households. A delay in federal aid until next year would allow great harm and permanent damage to occur to many firms, local governments, and households."
We read the press reports like everybody else, and it is no surprise that the consumers remain nervous given the faster pace of spread of the virus..  But we disagree about what happens next.  We have seen spending in virtually every sector of the economy rebound sooner and with more vigor than had been anticipated.  That has continued through November.  What killed the economy in March and April was our country's response to the virus rather than the virus itself.  We locked down everything.  But since then retail sales, consumer spending generally, all measures of home sales have returned to the levels that are higher than they were prior to the recession.  In five months the stock market recovered all of what it lost during the recession and is at a record high level.
Then, in the past couple of weeks we learned that the U.S. will probably end up with divided government which is probably the best outcome one could imagine from the election.  Three different vaccines should be ready for distribution by the end of this year.  Biden named Janet Yellen as Treasury Secretary which will surely give everyone a sign of relief that he did not pick a radical Democrat like Elizabeth Warren.  And Trump indicated that he will work with Biden on the transition which takes off the table the possibility that someone would have to drag him out of the White House.
Q2 GDP declined by 31.4%.  But GDP grew 33.1% in the third quarter.  For what it is worth we anticipate 10.0% GDP growth in the fourth quarter.  The street consensus is, in our opinion, way too low at about 3.0%.
Consumer expectations for six months from now fell  8.7 points from 79.2 to 70.5.
Consumers' assessment of current conditions rose 1.1 points  from 85.9 to 87.0.
Stephen Slifer
NumberNomics
Charleston, SC