June 27, 2019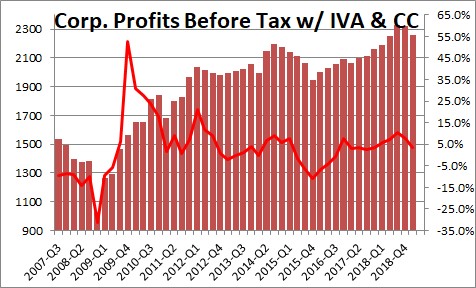 Corporate profits before tax with inventory valuation and capital consumption adjustments fell 2.6% in the first quarter to $2,251.5 billion after having fallen 0.4% in the fourth quarter.  During the last year profits on this basis have risen 3.4%.  The IVA and CC adjustment deals with the difference in depreciation allowances used for accounting and income tax purposes.  Hence, changes in tax laws impact this series and it does not accurately reflect profits from current production.
Corporate profits before tax without such adjustments, or profits from current production, were unchanged in the first quarter at $2,181.1 billion after having declined 1.9% in the fourth quarter.  Over the course of the past year such profits have risen 3.3%.  We expect this series on profits to rise at about a 7.0% pace for the year as a whole.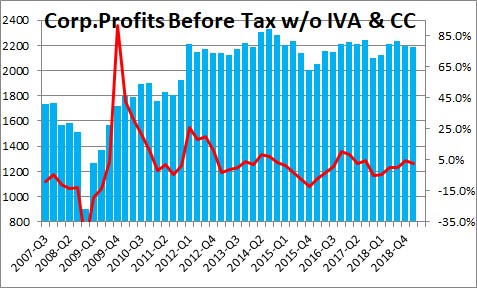 The economy climbed at a  3.0% pace in 2018 and we expect growth of 2.6% in 2019.  Inflation will rise modestly and interest rates will remain low and steady.  In addition, corporate profits will benefit from a cut in the tax rate, and by a significant reduction in their regulatory burden.  As a result, corporate profits should climb at a solid 7.0% pace in 2019.
Stephen Slifer
NumberNomics
Charleston, SC