October 8, 2021
The job gains in September were significantly small than expected.  But the rest of the employment report told a very different story.  Specifically, civilian employment – which includes self-employed workers — rose by a solid 526 thousand.  The nonfarm workweek worked surged by 0.2 hour in September to 34.8 hours.  The unemployment rate plunged by 0.4% to 4.8%.  And average hourly earnings continue to climb as employers pay up to get the workers they need.  We believe that the disappointing payroll employment gains in August and September reflect the upswing in COVID cases as workers chose to remain at home rather than risk exposing themselves to COVID by going back to work.  But if COVID cases continue to unwind, the downward bias to both employment growth and the pace of economic activity in recent months should rebound in the final three months of the year.
Payroll employment climbed by a much smaller-then-expected 194 thousand in September when an increase of about 500 thousand had been expected.  The August gain of 366 thousand was also disappointing.  But in our mind these meager employment gains were caused by the sharp runup in the number of COVID cases late in the summer.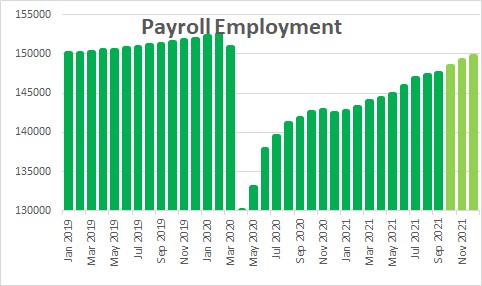 The latest surge in COVID cases reached a peak in early September.  Since then the number of new cases has shrunk 40% from a high of 156 thousand per day to 95 thousand.  If these cases continue to decline then the fear factor caused by their upswing in late summer will disappear.  If so, some of those potential employees will likely choose to return to work.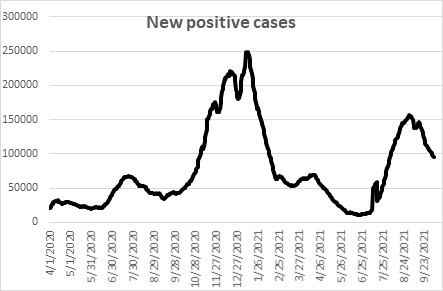 It would be a mistake to interpret the modest employment gains in August and September as a harbinger of slower GDP growth in the months ahead for several reasons.  First, in any given month employers can boost output by either hiring additional workers or lengthening the number of hours that their employees work. In September, employment rose by 194 thousand, but the nonfarm workweek surged by 0.2 hour to 34.8 hours.  That is in increase of 0.6%.  If firms had been able to find enough bodies to hire we would have seen an employment gain in September of one million workers rather than the reported increase of 194 thousand.  The demand was there for firms to hire more workers, they just could not find them.  Presumably, if COVID abates and job seekers start looking anew for employment in the final three months of this year, we should end up seeing substantial job gains in those months.
One other point worth noting is that while payroll employment rose by a miniscule 194 thousand in September, civilian employment which is derived from the data used to calculate the unemployment rate rose by 526 thousand after increasing 509 thousand in August.  How can this be?  The change in payroll employment is derived from a survey of firms who report to the BLS the number of workers on their payroll each month.  Civilian employment is calculated from a different survey which the BLS uses to calculate the unemployment rate.  It includes self-employed workers who are not included in payroll employment.  It could be that some of those currently unemployed workers have chosen to venture out on their own by starting a new business rather than going back to their previous place of employment.
The bottom line is that those self-employed workers are included in calculating the unemployment rate.  That 526 thousand increase in civilian employment combined with a 183 thousand decline in the labor force (presumably caused by workers not seeking employment in September because of COVID), produced an unexpected 0.4% drop in the unemployment rate to 4.8%.  That follows declines in the unemployment rate of 0.5% in July and 0.2% in August.  It is falling faster than anybody had expected.  In mid-September the Fed thought the unemployment rate would be 4.8% at the end of the year.  Instead, it achieved that level in September.  Once again, the Fed seems to be grossly underestimating the underlying strength in the U.S. economy and in the labor market.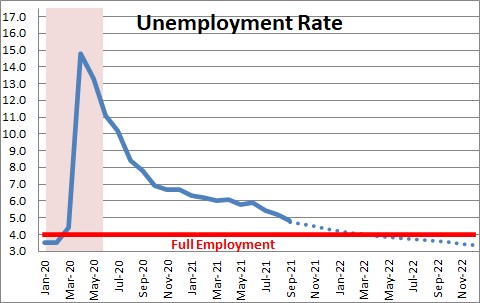 While employers fell short of hiring as many workers as they needed in August and September, it was not for a lack of trying.  They have been rapidly boosting hourly wages in an effort to attract the workers that they need.  Average hourly earnings rose 0.6% in September to $30.85 after climbing by 0.4% in each of the previous three months.  In the past year hourly earnings have risen 4.6%.  Prior to last year's recession earnings had been rising by 3.0%.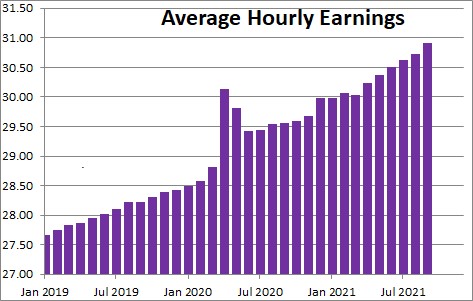 So what does all this mean?  COVID has taken a moderate toll on the pace of economic activity in the final two months of the summer.  We currently estimate GDP growth in the third quarter of 7.0%.  But a few weeks ago we were at the 9.0% mark.  But judging by the combination of a small increase in payroll employment combined with a big jump in the workweek, it appears that economic activity closed out the third quarter on a strong note.  With COVID seemingly on the downswing, we should end up seeing GDP growth of perhaps 8.0% in the fourth quarter.  The stimulus provided by the federal government in 2020 and the first quarter of 2021 has run its course but the economy still seems to be chugging along at a solid pace.  Remember, potential GDP growth – our economic speed limit – is 1.8%.
Meanwhile, the rapid gains in wages are one of many factors that are boosting inflation.  Those wage gains will not be temporary and firms seem able to pass them through to their customers by claiming they were caused by COVID.  At the same time, oil prices continue to climb and are now at the $80 per barrel mark — the highest in six years.  That is a recipe for faster inflation in the months ahead.  It is showing no sign of retreating to the 2.0% pace the Fed had in mind for 2022.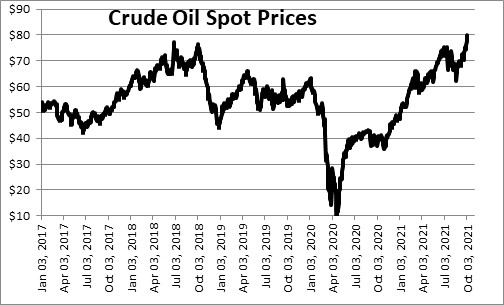 Stay tuned for solid GDP growth and rising inflation in the months ahead.  That should keep the stock market humming but also push bond yields higher.
Stephen Slifer
NumberNomics
Charleston, S.C.