April 16, 2021
There can be little doubt that the demand side of the economy is on fire.  Retail sales registered an almost double-digit gain in March.  Home sales are climbing at the fastest pace since 2006.  But the production side of the economy is struggling to keep up.  Home builders cannot find enough skilled labor and are struggling with skyrocketing prices for lumber and shortages of building materials.  Manufacturing firms are experiencing significant delays in the delivery of materials from their suppliers.  Restaurants are quickly re-opening but are challenged to find an adequate number of cooks and servers.    Between now and early May two important indicators will shed light on how this demand/supply tug of war is progressing.  On Thursday, April 29, we expect to see 7.0% GDP growth for the first quarter.  And on Friday, May 7, we look for payroll employment in April to increase by one million workers and the unemployment rate to decline 0.2% to 5.8%.  In the months ahead we believe that demand will remain robust and the supply constraints will gradually disappear.
Fueled by $1,400 fiscal stimulus checks, retail sales surged by 9.8% in March.  While growth was widespread across sectors, of particular note was a 13.4% increase in restaurant sales.  With that increase restaurant sales have closed to within 5.0% of their February 2020 pre-pandemic level.  But here in Charleston, S.C., where I live, every restaurant owner is looking for help.  New restaurants that are ready to open are unable to do so because they cannot find enough workers.  Nationally, employment in this sector is 1.8 million or 15% below its pre-pandemic level.  One wonders why.  Many restaurant workers are relatively low paid and our suspicion is that the combination of state and federal unemployment benefits are sufficiently high that many of these people are making as much money being unemployed as they were when they were working full time.  We'll see what the April employment report shows.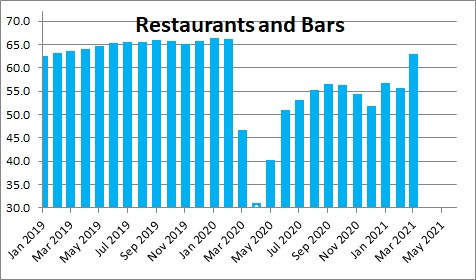 The housing sector got hit in February by the series of snow and ice storms that paralyzed much of the country but home sales will quickly rebound to the fastest pace since 2006.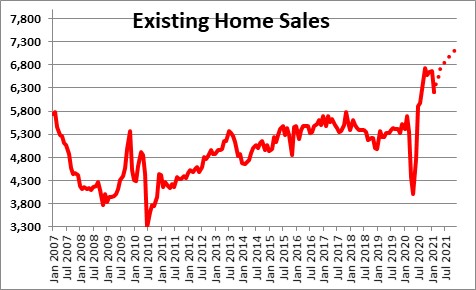 The latest round of tax refund checks is the primary contributor to the surging demand for goods and services, but with the end of the pandemic in sight confidence is climbing.  The number of new COVID cases daily has fallen 75% from its peak in early January and there is no evidence that a third wave is emerging.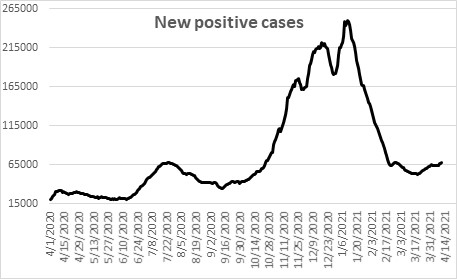 The reason why more people are not getting the virus as the economy re-opens is that vaccines are being distributed at a torrid pace of 2.9 million per day.  Thus far, 124 million people have received at last one dose.  At a vaccination rate of 2.9 million people per day an additional 130 million people will be vaccinated by the end of May for a total of 254 million.  Given a population of 330 million, 77% should be vaccinated by Memorial Day which fits almost anybody's definition of herd immunity.  No wonder consumer confidence is on the rise.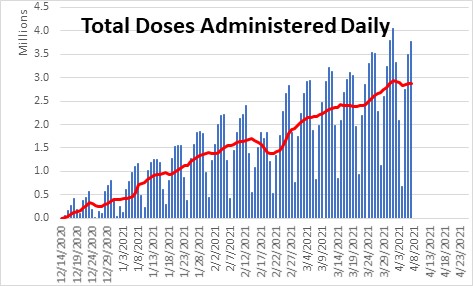 While demand is robust, the production side of the economy is lagging.  The unemployment rate has fallen to 6.0% but it remains above the 3.5% rate that existed prior to the pandemic.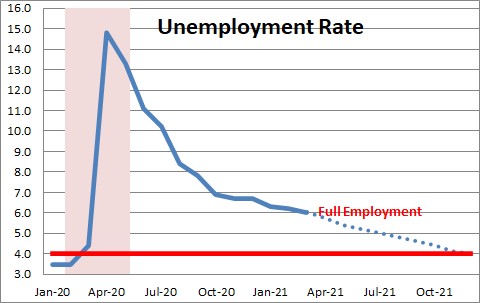 However, the latest data on initial unemployment claims (a proxy for layoffs) fell to 576 thousand in the most recent week which is the lowest level thus far in the recovery.  Prior to the pandemic claims were averaging 225 thousand.  As a result, we expect payroll employment for April to climb by 1 million workers versus an increase of 916 thousand in March.  If that happens, the unemployment rate should decline by 0.2% to 5.8%.  For what it is worth we expect job gains to average 650 thousand per month between now and yearend and the unemployment rate to shrink to 4.0% by December.  That is an important level because the Fed believes that the economy is at full employment – meaning that everybody who wants a job has one – when the unemployment rate is at the 4.0% mark.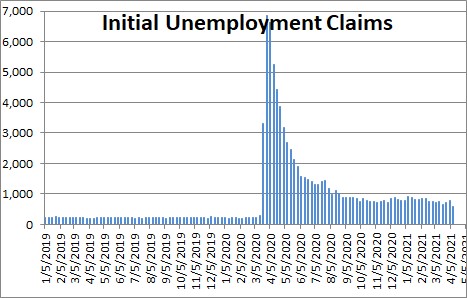 Apart from a shortage of workers, comments from manufacturing and service sector firms that participate in the Institute of Supply Management's monthly reports indicate that there are widespread problems in trying to ramp up production.  Comments from respondents include, "Business conditions are positive for our industry and company. The constraints are mainly related to parts availability.  Manpower is also a constraint; hiring new members is a challenge."  Also, "Qualified new hires are an ongoing challenge. We have had to provide better compensation to keep qualified talent. Raw-material prices are up 50 percent to 60 percent over the last six months, which results in increased prices to our customers."  And finally, "Widespread supply chain issues. Suppliers are struggling to manage demand and capacity in the face of chronic logistics and labor issues. No end in sight."
The supply difficulties reflect factory labor safety issues and transportation challenges caused by COVID. Then, the series of snow and ice storms that paralyzed much of the country in February compounded the issue.  We believe that both manufacturing and service sector firms will find ways to resolve these difficulties in the months ahead and that the production sector of the economy can, once again, put the pedal to the metal.
When we put all this together, we anticipate GDP growth of 7.0% in the first quarter followed by a 10.0% pace of production in the second quarter with slower growth in the second half.  For the year as a whole we look for GDP growth of 8.0%.  If the economy grows that quickly this year, it will have re-achieved full employment by the fourth quarter.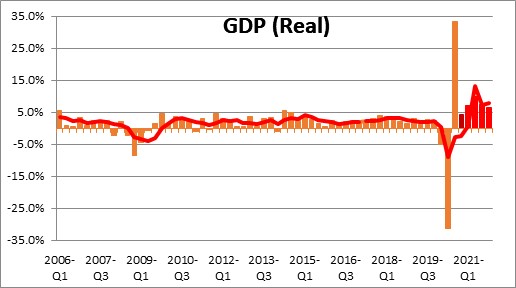 Stephen Slifer
NumberNomics
Charleston, S.C.