August 24, 2023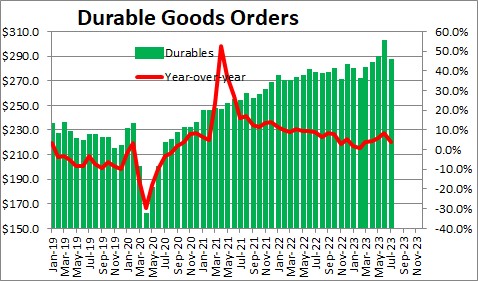 Durable goods orders plunged 5.2% in July after having jumped 4.4% in June.  However, the sizeable changes in the past few months. have been attributable to aircraft orders.  This category is very volatile on a month-to-month basis.  In the past year durable goods orders have risen 3.8%.
As noted above, much of the change in durables is frequently in the transportation sector — airplanes, cars, and trucks.  In July transportation orders dropped 14.3% after having surged 11.9% in June as nondefense aircraft orders soared and then retreated.  As a result non-transportation orders rose 0.5% in July after rising 0.2% in June and 0.7% in May.  In the past year non-transportation orders have risen 1.1%.  The manufacturing sector has been essentially unchanged for the past year..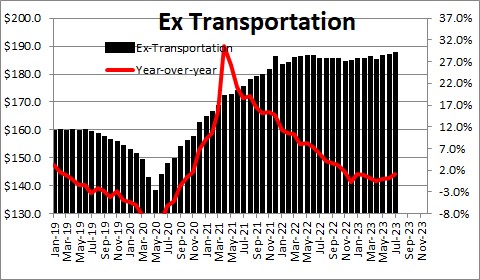 Given the results of the orders component of the Purchasing Managers Index, orders increased at progressively slower rates for more than a year, but actually began to decline in September of last year.  However, the orders component jumped sharply in July.  Orders still declined in July, but at a slower pace than in June.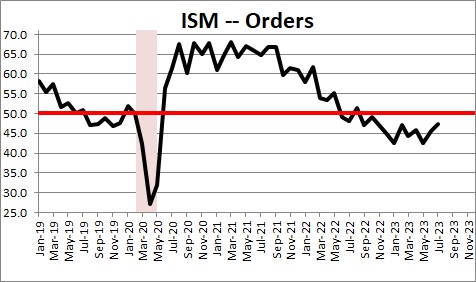 .
We  expect GDP growth of 2.7% in the third quarter and 1.6% growth in the fourth quarter.  If the Fed continues to raise the funds rate to the 6.0% mark by yearend, we should see GDP growth of about 1.0% in the first two quarters of 2024.
Stephen Slifer
NumberNomics
Charleston, SC