November 23, 2022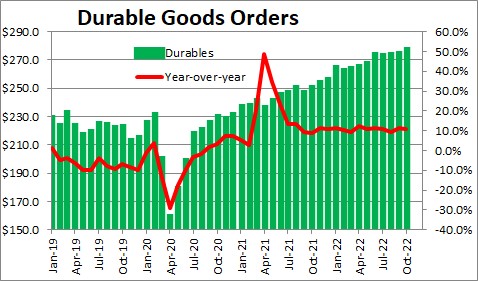 Durable goods orders rose 1.0% in October after climbing 0.3% in September and 0.2% in August.  The October data included a very large increase in non-defense aircraft orders.  This category is very volatile on a month-to-month basis.  In the past year durable goods orders have risen a steamy 10.7%.
Frequently much of the change in durables is in the transportation sector — airplanes, cars, and trucks.  In October transportation orders rose 2.1% after climbing 2.5% in September.  In the past year non-transportation orders have risen 4.9%.  The manufacturing sector has held in there well, but may be beginning to fade.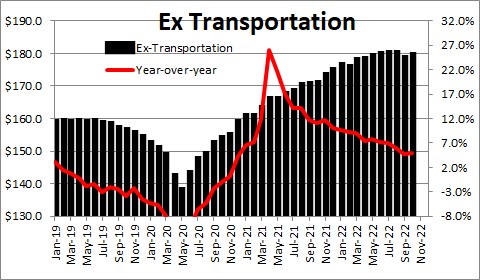 Given the results of the orders component of the Purchasing Managers Index, durable goods orders growth should slow or decline in the months ahead.
.
And also from the Purchasing Managers report the ratio of orders to inventories has fallen steadily as this year has progressed.  This ratio has now fallen back to roughly where it was prior to the recession.  Thus, we should see production slow (or decline) in the months ahead as there is no longer a need to rebuild inventories.  Manufacturers have now built up orders to a point where they are roughly in line with the inflow of orders.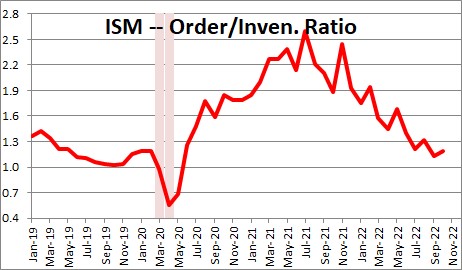 Following declines in the first two quarters of this year and a 2.6% growth rate in the third quarter, we expect GDP growth to climb at a 2.0% pace in the final quarter of this year .  We expect GDP growth of about 1.0% in 2023.
Stephen Slifer
NumberNomics
Charleston, SC