July 25, 2019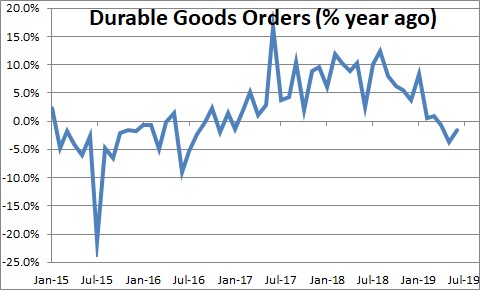 Durable goods orders rose 2.0% in June after having declined 2.3% in May.   As always this is a very volatile series.  Over the course of the past year durable goods orders have fallen 1.6%. Clearly, trade is taking a toll on the manufacturing sector.  That said, our sense is that orders will grow slowly in the months ahead.
In most  months transportation orders are the biggest category contributing to that month's change  — both to the upside and downside.  That was  the case in both May and June as transportation orders  fell 7.5% in May and rose 3.8% in June.  This means that orders for durables ex transportation rose 0.5% in May and 1.2% in June.  These orders rose steadily at rates generally between 7.0-9.0% (red line) for most of last year, but have slipped in recent months to a year-over-year increase currently of 0.4%.  Higher tariffs are clearly taking a toll on the factory sector.  Having said all of that the worst may be over.  The June increase was the largest since April of last year.  The back-to-back increases in May and June mean that in the last three months this category has risen at a 5.9% pace.  It is far too early to be jumping to conclusions but the May and June gains are encouraging.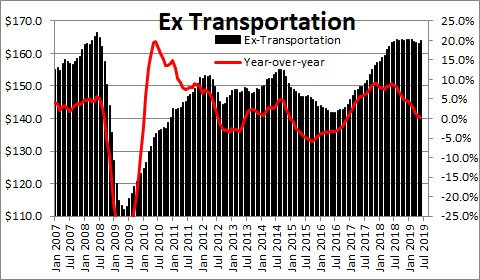 Economists are also interested in capital goods orders so we can get some sort of a handle on the investment spending portion of GDP.  But even capital goods orders can get blown around from one month to the next if there is a huge defense order or if there is a big airline order.  Orders will rise very sharply one month, only to decline almost as sharply in the subsequent month.  Thus, the focus is typically on non-defense capital goods orders ex air.  These orders rose 1.9% in June after having risen 0.3% in May.  Over the course of the past year such orders have risen 2.0 but in the last three months had climbed at a 4.3% pace%.  We expected growth to pick up somewhat as the year progresses so that we can see continued rapid growth in investment spending and positive growth in productivity and now there is some evidence suggesting that may be starting.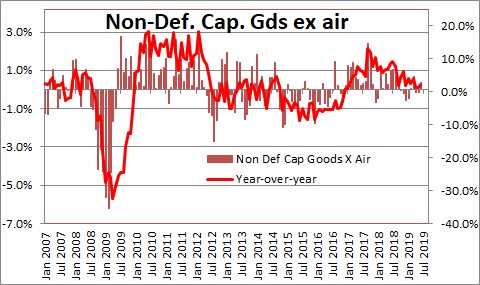 The backlog of orders fell 0.7% in June, 0.5% in May, and 0.5% in April.  Basically the backlog has begun to shrink.  This means that manufacturers are filling orders at a faster pace than orders come in so the backlog declines.   If, as described above, orders begin to climb consistently the backlog will climb as well, which will point towards a faster pace of production going forward.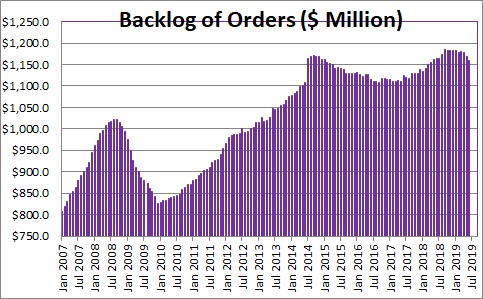 We think that the manufacturing sector is on a slow but steady uptrend.  The economy is cranking out 180 thousand jobs per month.    The tight labor market should induce firms to spend money on technology in 2019 to boost output.  The rate of capacity utilization in the manufacturing sector suggests a need fairly soon to either re-furbish the assembly line and/or invest in new technology.  Corporations are making solid profits.  Interest rates remain low.  Inflation remains close to the Fed's target.  The  underpinnings of the economy remain firm.
We expect investment spending to climb  5.7% in 2019.
Stephen Slifer
NumberNomics
Charleston, SC