August 25, 2021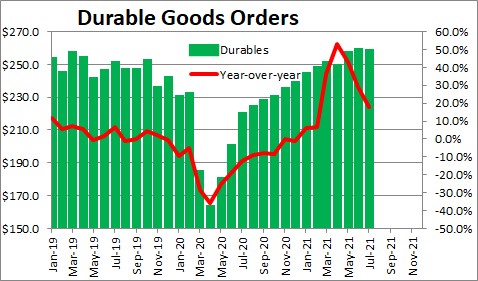 Durable goods orders fell 0.1% in July after rising 0.8% in June.  The decline in July was civilian aircraft orders which fell $7.0 billion or 48.9%, but these orders are notoriously volatile.  Further, orders generally are growing steadily but the shortage of silicon chips is curtailing automobile production.
Frequently much of the change in durables is in the transportation sector — airplanes, cars, and trucks.  In July transportation orders fell 2.2% after rising 1.4% in June.  The drop this month was in civilian aircraft orders which fell $7.0 billion or 48.9%.   Some of the weakness in aircraft orders was offset by motor vehicle orders which rose by $3.0 billion of 5.8%.  Excluding the volatile transportation sector durable goods orders rose 0.7% in July after climbing 0.6% in both May and June.  Orders are bouncing back quickly and are far higher now than the were prior to the recession.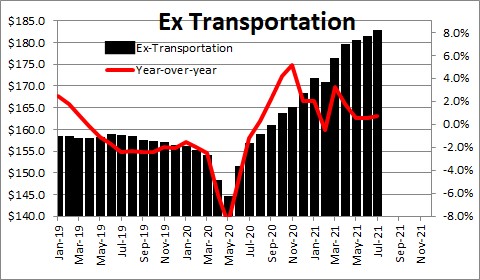 Given the results of the orders component of the Purchasing Managers Index durable goods orders will continue to climb.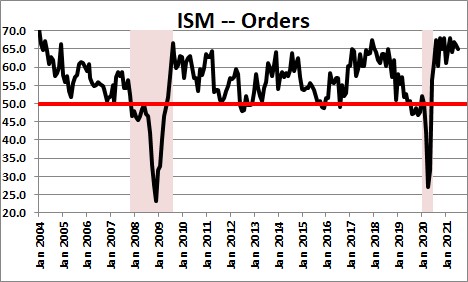 .
And also from the Purchasing Managers report the ratio of orders to inventories is the highest it has been in a decade.  Manufacturers need to step up the pace of production to satisfy demand.  Their problems will be finding an adequate supply of skilled labor, coping with shortages of materials arriving from suppliers, and complying with social distancing requirements on the factory floor.  Production is not being constrained by a shortage of demand. Orders are robust.   Instead, manufacturers are having to deal with very evident supply constraints.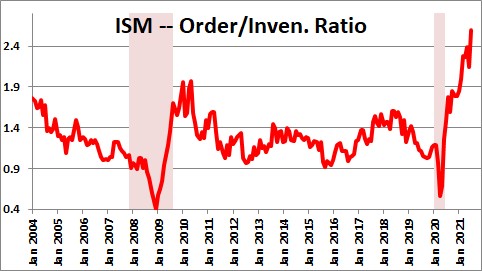 We expect  8.9% GDP growth in Q3 and 10.5% in the fourth quarter.  Look for 8.1% GDP growth in 2021 and 5.1% in 2022..
Stephen Slifer
NumberNomics
Charleston, SC