August 26, 2020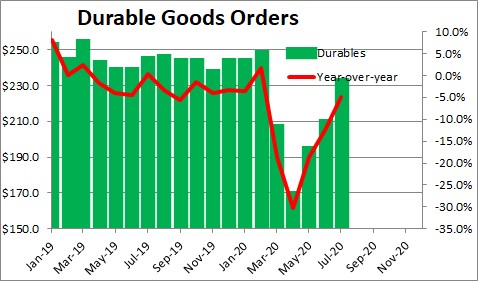 Durable goods orders jumped 11.2% in July after rising 7.7% in June and 15.0% in May.  However durables plunged by 18.3% in April and 16.7% in March.  The imposition of the stringent measures put into place in mid-March to stop the spread of the corona virus took a serious toll on the manufacturing sector.  But given the gradual re-opening of the country the manufacturing sector is bouncing back.and orders are now approaching the level where they were prior to the recession in March and April.
Much of the decline in both months was in the transportation sector — airplanes, cars, and trucks — which rose 35.6% in July (mostly cars)  after climbing 19.7% in June and 78.8% in May.  Excluding the volatile transportation sector durable goods orders rose 2.4% in July, 4.0% in June and 3.4% in May, after having fallen by 8.3% in April.  Orders are bouncing back quickly.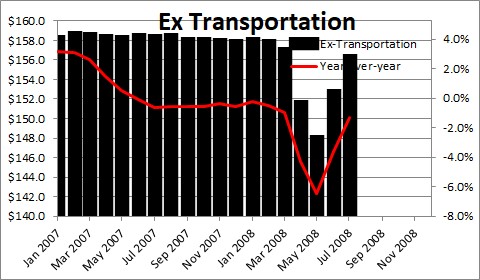 Given the results of the orders component of the Purchasing Managers Index durable goods orders should continue to climb.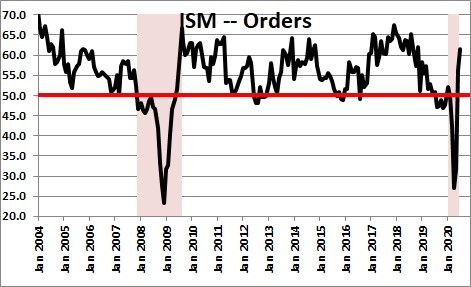 Second quarter GDP declined 32.9%.  But then, the two fiscal stimulus packages totaling $2.5 trillion distributed money to consumers and businesses.  As a result, we expect Q3 GDP to climb by 28.0% followed by 7.0% growth in Q4.
Stephen Slifer
NumberNomics
Charleston, SC