April 28, 2023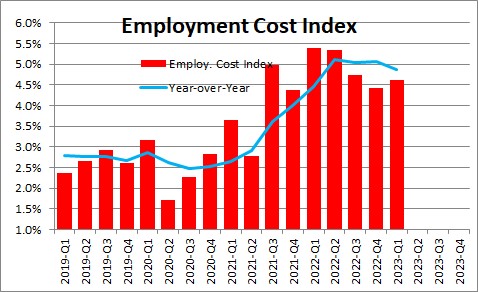 The employment cost index for civilian workers climbed at a 4.6% rate in the first quarter following a 4.4% rate of increase in the fourth quarter   Over the course of the past year it has risen 4.9%.
With the unemployment rate currently at 3.5% and full employment presumably about 4.0%, upward pressure on wages and benefits has begun to emerge because of a very tight labor market.  An increasing number of firms of all sorts are boosting  compensation of all types to get enough bodies to boost production.  This series dates back to 2001 and this is, by far, the most upward pressure on labor costs that we have seen in the past 22 years.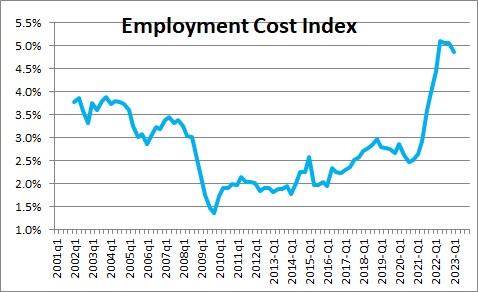 Wages climbed at a  4.6% pace in the first quarter after rising 4.7% in the fourth quarter.  Wages have risen 5.0% in the past year which is the fastest growth rate in 22 years.  This accelerated rate of increase in wages should continue in the quarters ahead.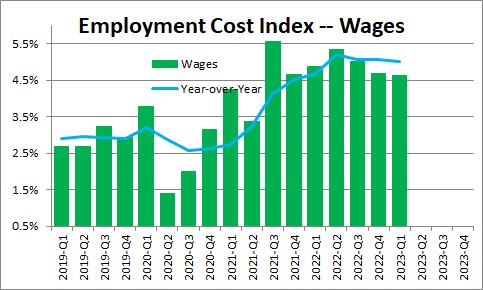 Benefits climbed at 4.9% pace in the first quarter after rising 3.9% rate in the fourth quarter.  Over the past year benefits have risen 4.5%.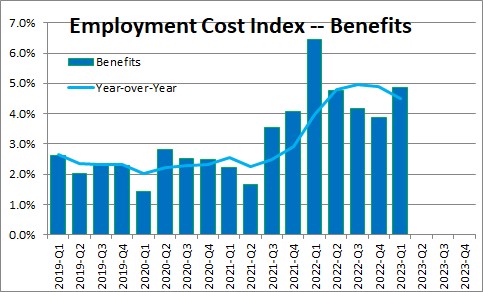 Labbor costs have risen 4.9% in the past year and are trending higher, but they are still exceeded by inflation.  The BLS reports that real wages have fallen 0.7% in that period of time.  This will cause workers in general, as well as unions, to seek sizable wage gains in the quarters ahead which will, in turn, keep upward pressure on inflation.  A 4,9%  increase in wages is totally inconsistent with the desired 2.0% inflation rate.
Stephen Slifer
NumberNomics
Charleston, SC