July 31, 2019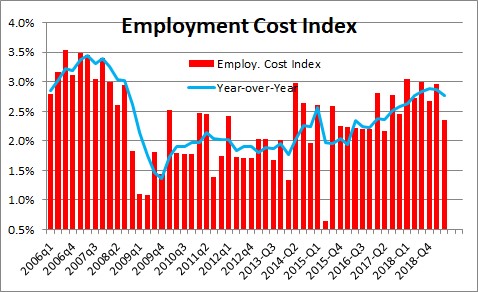 The employment cost index for civilian workers climbed at a 2.3% rate in the second quarter after risen 3.0% in the first quarter   Over the course of the past year it has risen 2.8%.  Thus, the labor market continues to gradually get tighter, and to attract the workers that they want firms are having to work employees longer hours, and offer higher wages and/or more attractive benefits packages.
With the unemployment rate at 3.7% and full employment presumably at 4.5%, it is not surprising that we are beginning to see a hint of upward pressure on compensation.
Wages climbed at a 2.7% pace in both the first and second quarters.  Over the course of the past year wages have been rising  at a 3.0% pace.  Wage pressures are beginning to accelerate gradually.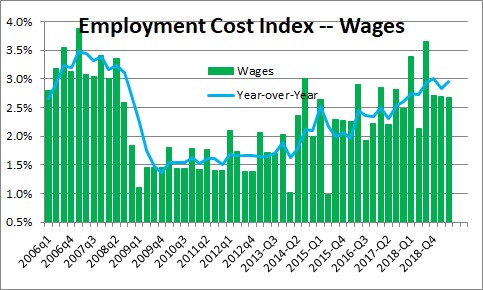 Benefits climbed at a 2.0% rate in the second quarter after rising 2.6% pace in the first quarter of 2019.   As a result, the yearly increase in benefits is now 2.3%.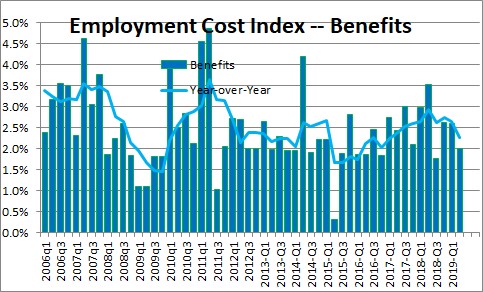 What happens to labor costs is important, but what we really want to know is how those labor costs compare to the gains in productivity.  If I pay you 3.0% more money but you are 3.0% more productive, I really don't care.  In that case, "unit labor costs"  — labor costs adjusted for the change in productivity — were unchanged.
Currently, unit labor costs  have declined 0.8%% in the past year as compensation rose 1.5% while productivity increased by 2.4%.    We expect compensation to climb to about the 2.5% mark this year, but at the same time we expect productivity to rise by 2.4%.  Thus, unit labor costs at the end of 2019 should be rising at a 0.2% rate which means that there will be little if any upward pressure on the inflation rate in 2019 stemming from the tight labor market.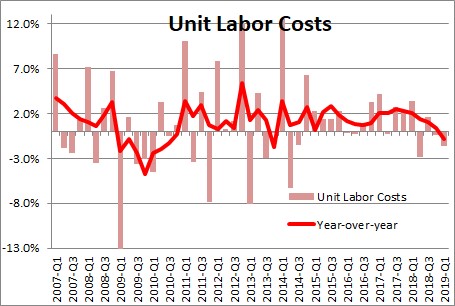 Stephen Slifer
NumberNomics
Charleston, SC