October 22, 2020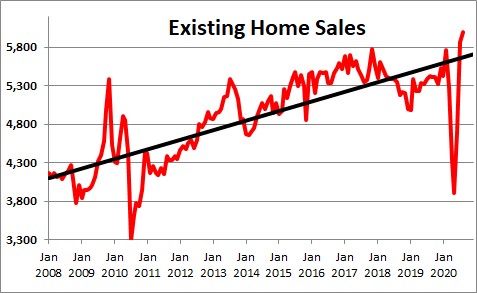 Existing home sales jumped 9.4% in September to 6,540 thousand after having climbed 2.0% in August  after having surged by 24.7% in July and 20.2% in June.  The 6,000 thousand pace was the fastest pace of sales since 2006.  In the midst of a pandemic buyers are lining up to purchase homes as the pace of sales climbed to the fastest rate in 14 years.
Lawrence Yun, NAR chief economist said that "Home sales traditionally taper off toward the end of the year, but in September they surged beyond what we normally see during this season.  I would attribute this jump to record-low interest rates and an abundance of buyers in the marketplace, including buyers of vacation homes given the greater flexibility to work from home."
The $3.0 trillion of fiscal stimulus has dramatically boosted real disposable income so potential home buyers have the money to spend.  Initially the economy essentially locked down and consumers had nowhere to spend the additional income so, the savings rate surged to 33.7% in April.  It has since declined somewhat but remains high at 14.1%.  The consumer still has ample funds to spend on housing or anything else if he or she chooses to do so.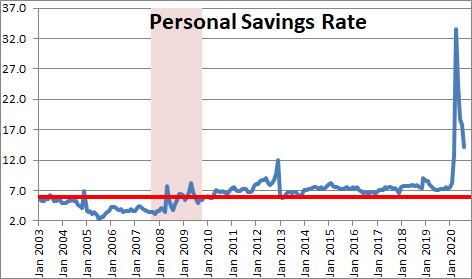 Meanwhile, mortgage rates are at a record low level of 2.9%.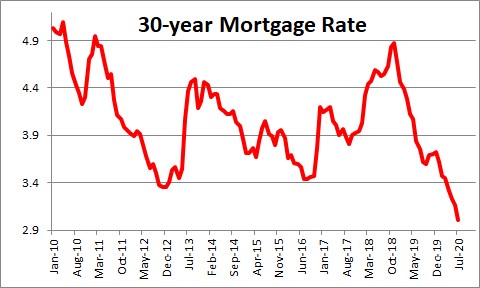 The  biggest flaw in this otherwise very rosy scenario is that there are very few homes available for sale.  With little change in the number of homes on the market but a big jump in the pace of sales, housing inventory slipped to a 2.7 month supply in September which is less than one-half of the 6.0 month supply that is required to balance the demand for and supply of homes.  Yun added, ""There is no shortage of hopeful, potential buyers, but inventory is historically low.  To their credit, we have seen some homebuilders move to ramp up supply, but a need for even more production still exists."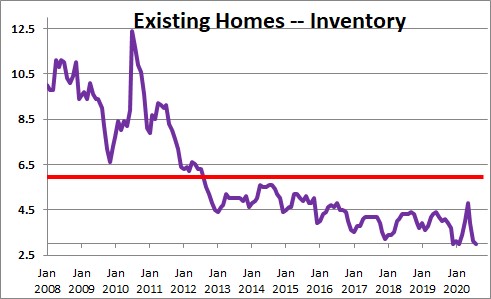 As the result of strong demand and little supply, the average home was on the market for just 21 days in September..  That is the shortest amount of time between listing and sale on record for a series that dates back to 2011.  Indeed, 71% of home sales sold in September were on the market for less than a month.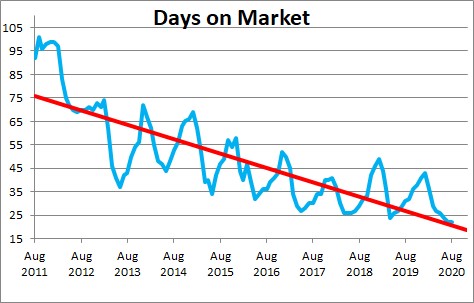 In addition, with so few homes on the market and record demand for housing, home prices rose 0.5% in September to $311,800.  This means that the year-over-year increase is now 14.8%.  That shows what can happen to prices when there is such a severe shortage of available homes available for sale.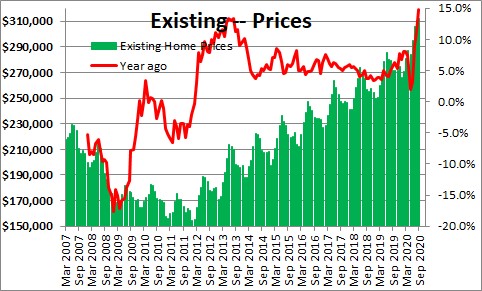 With income surging, and interest rates falling, but home prices beginning to rise quickly, housing affordability has dropped from 170 in early summer to 158 in September.  This means that potential home buyers had 63% more income than required to purchase a median-priced home.  In the go-go days in 2007 just prior to the so-called "Great Recession" this index stood at 115.  So while housing may be somewhat less affordable that it has been, it still remains extremely affordable.  Having said that, Yun noted that, "Housing demand is robust but supply is not, and this imbalance will inevitably harm affordability and hinder ownership opportunities.  To assure broad gains in homeownership, more new homes need to be constructed."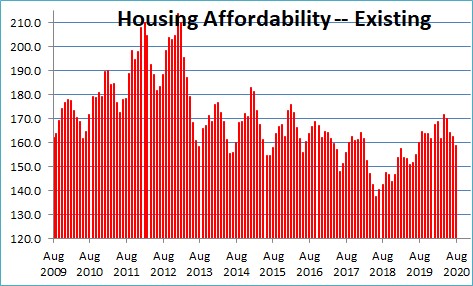 Look for a vigorous rebound in housing to continue through the first half of next year.  Expect GDP to rise about 28.0% in the third quarter, an additional 7.0% in Q4, followed by 5.5% growth in 2021.
Stephen Slifer
NumberNomics
Charleston, S.C.