March 22, 2021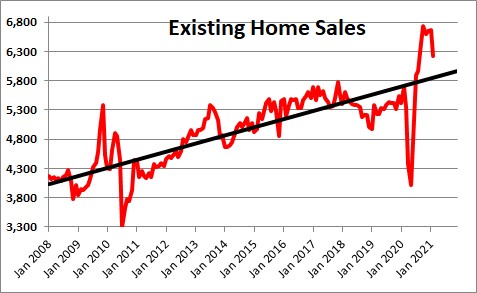 Existing home sales fell 6.6% in February to 6,220 thousand after having risen 0.2% in January. However, the February reading was almost certainly caused by the series of snow and ice storms that paralyzed economic activity in a large part of the Midwest during the month.   Sales will rebound in March and April.
Lawrence Yun, NAR chief economist said that "Despite the drop in home sales for February – which I would attribute to historically-low inventory – the market is still outperforming pre-pandemic levels,"  He added that, "I still expect this year's sales to be ahead of last year's, and with more COVID-19 vaccinations being distributed and available to larger shares of the population, the nation is on the cusp of returning to a sense of normalcy.  Many Americans have been saving money and there's a strong possibility that once the country fully reopens, those reserves will be unleashed on the economy."
The $3.0 trillion of fiscal stimulus in the spring of last year dramatically boosted real disposable income so the savings rate surged to 33.7% in April.  It  declined somewhat in subsequent months but got another shot in January when the second $900 billion corona virus relief package sent out $600 tax refund checks to consumers  The savings rate now stands at 20.5%.  And yet another fiscal stimulus round is coming in March which should push it even higher.  The consumer still has ample funds to spend on housing or anything else if he or she chooses to do so.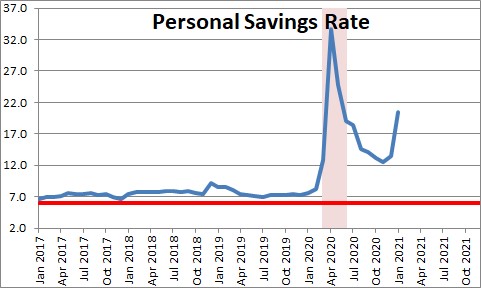 Meanwhile, mortgage rates hit a record low level of 2.7% but have since risen by about 0.25% to 3.0%.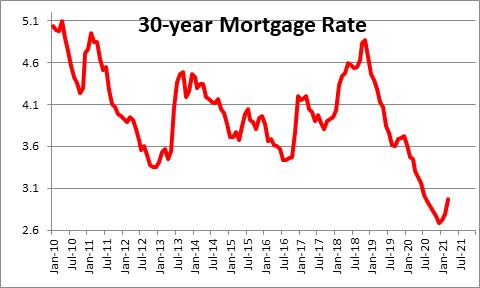 The biggest flaw in this otherwise very rosy scenario is that there are very few homes available for sale.  With no change in the number of homes on the market and a big drop in the pace of sales, housing inventory edged upwards to a 2.0 month supply in February which is near is near the record low level of inventory (1.9 months) and  one-third  of the 6.0 month supply that is required to balance the demand for and supply of homes.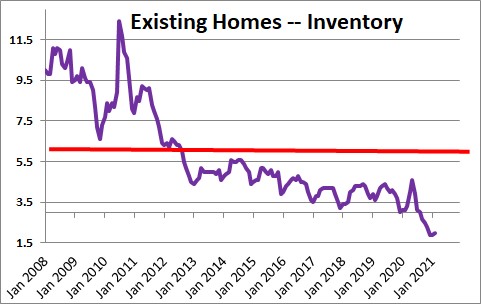 As the result of strong demand and little supply, the average home was on the market for just 20 days in February  That is the shortest amount of time between listing and sale on record for a series that dates back to 2011.  Indeed, 74% of home sales sold in February were on the market for less than a month.
Home prices rose 3.1% in February to $313,000 after falling 1.8% in January.  This means that the year-over-year increase is now 15.8%. It shows what can happen to prices when there is such a severe shortage of available homes available for sale.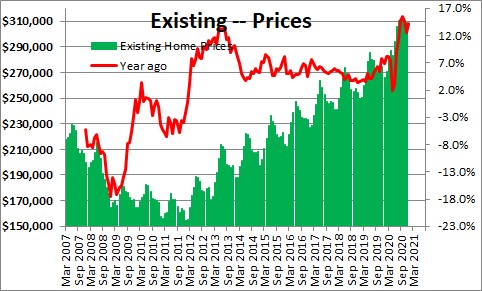 Interest rates are edging upwards. and home prices beginning to rise quickly.  One might think that housing affordability is dropping.  But there is one more part of that equation — income.  And income has been surging as a result of these tax refund checks being send to consumers as part of the COVID relief packages.  As a result  housing affordability has surged to 187 in January.  This means that potential home buyers had 87% more income than required to purchase a median-priced home.  In the go-go days in 2007 just prior to the so-called "Great Recession" this index stood at  115.  So despite rising prices and somewhat high mortgage rates, the consumer is easily able to afford a median priced home.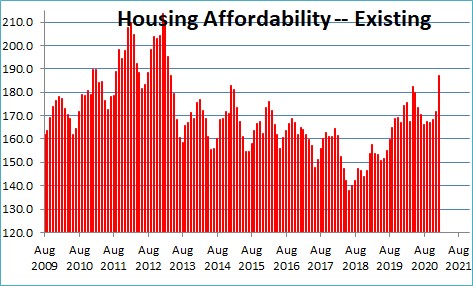 Given all of the above we expect home sales to rise 7.5% in 2021 to 7,150 thousand.
.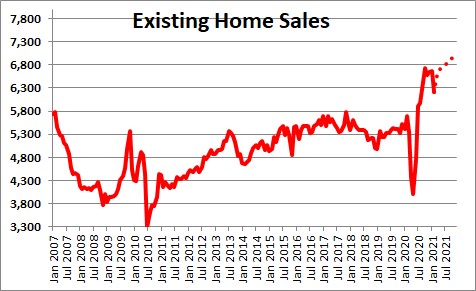 Expect GDP to rise 6.0% in the first quarter and 9.0% in the second quarter.  We expect GDP to grow by 7.5% for 2021 as a whole.
Stephen Slifer
NumberNomics
Charleston, S.C.