January 20, 2023
.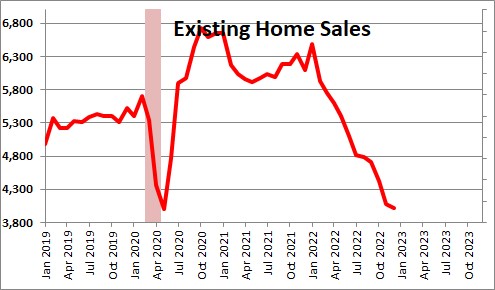 Existing home sales fell 1.5% in December to 4,020 thousand after declining 7.9% in November .  In fact, this is the eleventh consecutive decline in sales since reaching a peak in January at 6,490 thousand.  Clearly home sales are being impacted by the dramatic increase in mortgage rates since the beginning of the year.  While demand has clearly dropped, the picture is accentuated by the fact that very few homes are available for realtors to sell.   Home sales would be considerably faster if there were more homes available.  But what is important right now is that home prices are falling quickly.  Going forward a small increase in mortgage rates in the spring will be more than offset by the rapid decline in home prices.  As a result, housing affordability should increase in the first half of next year which means that home sales should also begin to rebound.
Lawrence Yun, NAR chief economist said that, "December was another difficult month for buyers, who continue to face limited inventory and high mortgage rates,  However, expect sales to pick up again soon since mortgage rates have markedly declined after peaking late last year."
Mortgage rates have recent risen from 3.1% at the end of 2021 almost to the 7.0% mark, but have now declined to 6.1%  With inflation showing some signs of abating and the Fed likely to boost the funds rate further in the months ahead although at a slower pace,  Mortgage rates are likely to climb from 6.1% today to 6.5% or so during the spring.  They should begin to fall once the economy slips into recession in the first few months of 2024.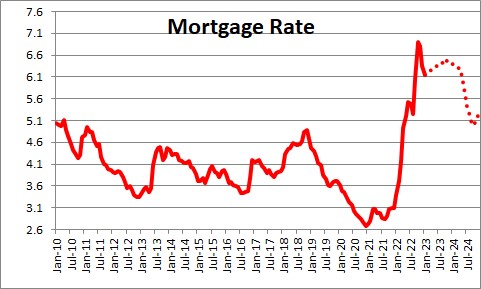 Despite sharply higher prices and mortgage rates, the demand for existing home remains relatively strong as evidenced by the fact that the average home sits on the market for just 26 days.  That is still a very short period of time between listing and sale, but it is quite a bit longer than the 14 days we saw earlier this year.  In fact, demand is still sufficiently strong that 57% of the homes that came onto the market during December sold within a month.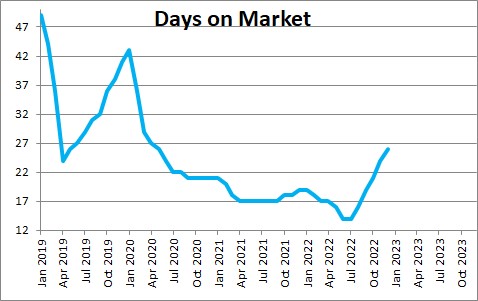 As has been the case for a long time, there are very few homes available for sale.  With a decline in the number of homes sold and little change in the number of homes available, housing inventory fell 0.2 month in December to 3.2 months which is about one-half of the 6.0 month supply that is required to balance the demand for and supply of homes.  When the housing market collapsed in the 2008-09 recession this number peaked at about 11.0 months as many homeowners had adjustable rate mortgages which re-priced upwards and were unable to afford the new, substantially higher monthly payments.  Foreclosures were common.  The situation today is completely unlike that troubled period.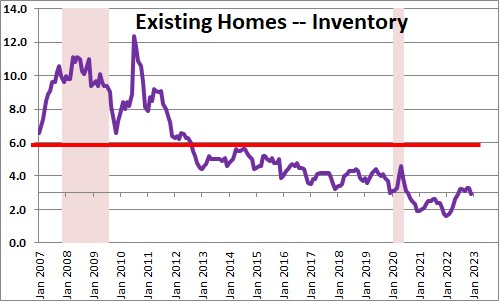 As demand eases, home prices fell 1.5% in December to $366,900 after declining 1.6% in November,  This is the sixth consecutive decline in  home prices.  The year-over-year increase is 2.3%. That is down from a 25% year-over-year gain in the spring of 2021. The upward pressure on prices has gone.  Home prices are now declining and should fall every month for many months to come.  By the middle of the year we think that home prices will have fallen to about $350,000 which is where they were at the end of 2021.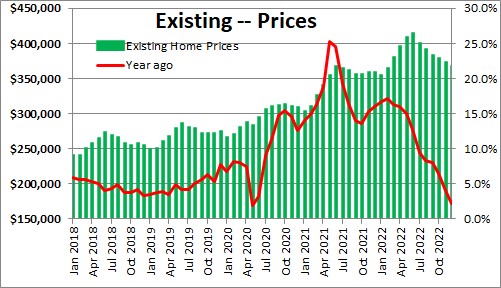 Housing affordability has dropped from where it was earlier in the year as home prices rose sharply and mortgage rates climbed from 3.0% to 7.0% before retreating to 6.1% currently.   Housing affordability has fallen from a peak of 170 in the early part of last year to 95.5.  This means that potential home buyers had 4.5% less income than required to purchase a median-priced home.  Going forward mortgage rates are likely to rise somewhat further, but home prices are almost certain to fall quickly.  If so, housing affordability should increase in the the months ahead to 114 or so which should, in turn, cause the pace of home sales to quicken in the first half of the year.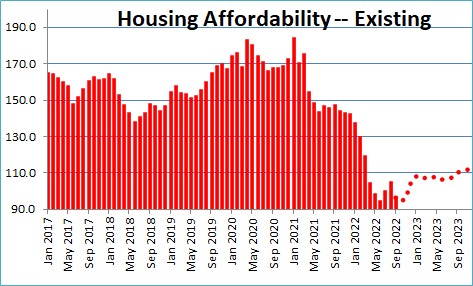 Clearly, some buyers are being shut out by the rapid price acceleration.  For example, the required down payment has risen from $54.600 in February of 2020 — just prior to the recession to $77,000. The monthly payment has risen from $984 to $2044  Potential first-time home buyers are having a tough time qualifying for a loan.  However, the drop in home prices in the past six months is likely to be the beginning of a downward trend.   Thus, affordability may climb slightly in the months ahead.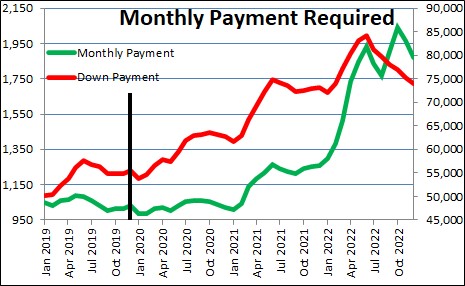 Given all of the above we expect home sales to turn  upwards early this year.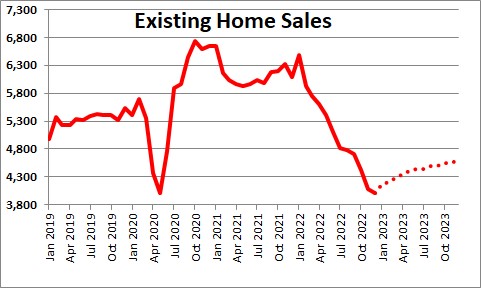 Expect GDP to rise 2.0% in the fourth quarter of 2022 followed by 1.0% GDP growth in 2023.
Stephen Slifer
NumberNomics
Charleston, S.C.