September 21, 2022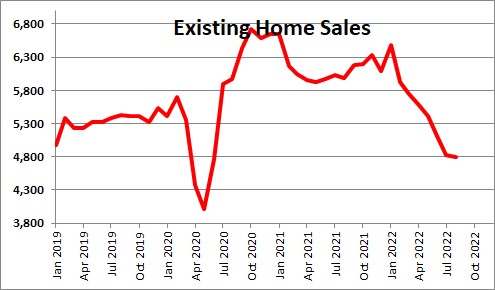 Existing home sales fell 0.4% in August to 4,800 thousand after declining 5.7% in July.  In fact, this is the seventh consecutive decline in sales since reaching a peak in January.  Clearly home sales are being impacted by the combination of rapidly rising home prices and the impressive increase in mortgage rates since the beginning of the year.  However, the picture is muddied by the fact that still very few homes are available for realtors to sell.   Home sales would be considerably faster if there were more homes available for sale.  At the same time, houses are selling on average in just 16 days which is a very short length of time between listing and sale, although slightly longer than the 14 days where it has been in recent months.  Going forward mortgage rates should continue to climb slowly, but home prices are just beginning to fall.
Lawrence Yun, NAR chief economist said that "The housing sector is the most sensitive to and experiences the most immediate impacts from the Federal Reserve's interest rate policy changes.  The softness in home sales reflects this year's escalating mortgage rates. Nonetheless, homeowners are doing well with near nonexistent distressed property sales and home prices still higher than a year ago."  He added that, "Inventory will remain tight in the coming months and even for the next couple of years.  Some homeowners are unwilling to trade up or trade down after locking in historically-low mortgage rates in recent years, increasing the need for more new-home construction to boost supply."
Mortgage rates have recent risen from 3.1% at the end of last year to 6.0%.  With inflation on the rise then mortgage rates are likely to climb from 6.0% today to 6.2% or so by the end of 2022 and to perhaps 6.5% by the end of 2023..  They are headed higher.  The .question is exactly how quickly they will climb.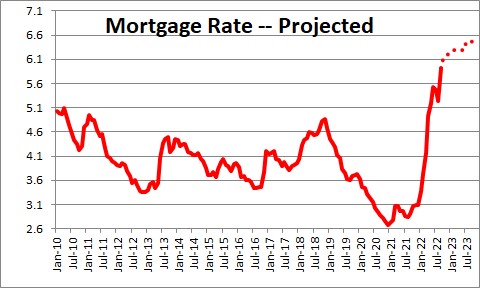 Despite sharply higher prices and mortgage rates, the demand for existing home remains strong as evidenced by the fact that the average home sits on the market for just 16 days.  That is a very short period of time between listing and sale, but it is longer than the 14 days we have seen in other recent months.  In fact, demand is still so strong that 81% of the homes that came onto the market during August sold within a month.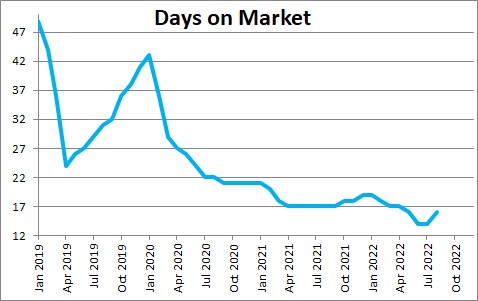 As has been the case for a long time, there are very few homes available for sale.  With a small decline in the number of homes sold and little change in the number of homes available, housing inventory  fell 0.1 month in August to 3.2 months which is about one-half of the 6.0 month supply that is required to balance the demand for and supply of homes.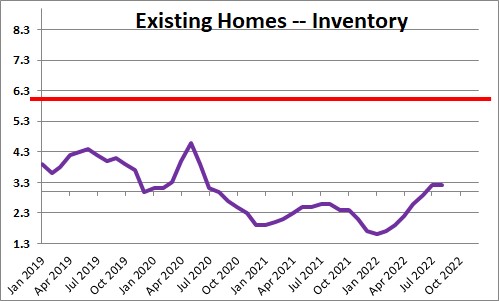 As demand eases, home prices fell 2.4% in August to $389,500 after declining 3.5% in July.   The intense upward pressure on prices is at last showing signs of abating.  Prices should continue to decline as the year progresses.  The year-over-year increase is 7.7%. That is down from a 25% year-over-year gain in the spring of last year.   The July and August declines in prices are a hint of what is to come.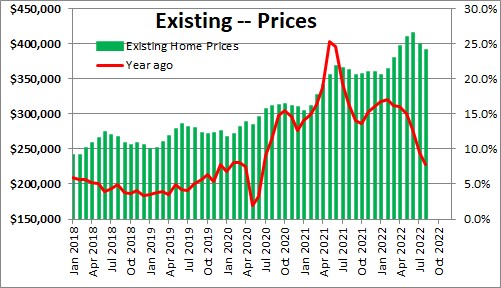 Housing affordability has dropped from where it was earlier in the year as home prices have risen sharply in the past year and mortgage rates have climbed from 3.0% to 6.0% in just a few months.   Meanwhile, income has been climbing in nominal terms  It has been rising recently because of strong growth in employment and higher wages.  A a result  housing affordability has fallen from where it was earlier this year and stands at 102.5.  This means that potential home buyers had 2.5% more income than required to purchase a median-priced home.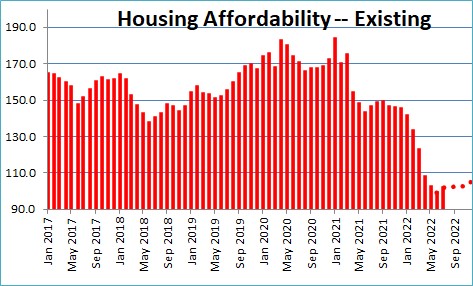 Clearly, some buyers are being shut out by the rapid price acceleration.  For example, the required down payment has risen from $54.600 in February of 2020 — just prior to the recession to $81,000. The monthly payment has risen from $984 to $1,880  Potential first-time home buyers are having a tough time qualifying for a loan.  However, the drop in home prices in July and August is likely to be the beginning of a downward trend.   Thus, it seems likely that affordability may climb slightly in the months ahead.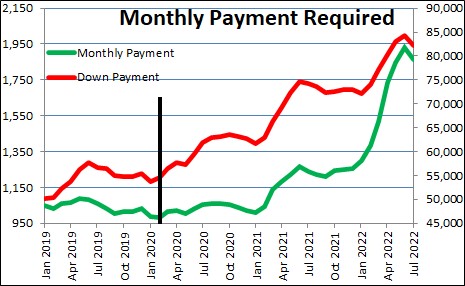 Given all of the above we expect home sales to be essentially unchanged between now and  yearend, but that would still mean that home sales declined 21% or so in 2022 to 4,800 thousand.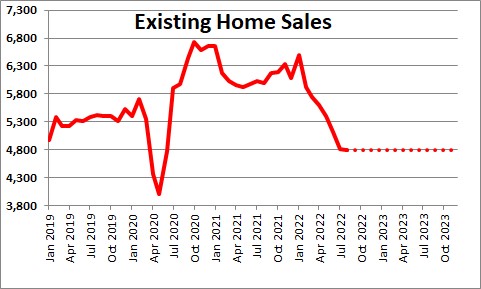 Expect GDP to rise 1.5% in the third quarter and climb by 0.3% in 2022 followed by 1.5% GDP growth in 2023.
Stephen Slifer
NumberNomics
Charleston, S.C.