June 21, 2022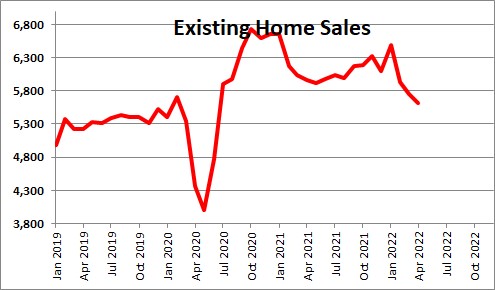 Existing home sales fell 3.4% in May to 5,410 thousand after declining 2.6% in April, 3.0% in March and 8.6% in February, after rising by 6.6% in January.  It appears that potential buyers rushed to buy in January before mortgage rates and home prices rose even further.  As buyers snapped up available homes, the supply of homes still on the market fell to a record low level.  Potential home buyers simply do not have many houses to choose from, and of the ones available some will be too expensive, too big, too small, not in the right location, etc.  Home sales would be considerably faster if there were more home available for sale.  At the same time rapidly escalating prices and mortgage rates are negatively impacting buyers especially at the low end of the market.  Higher down payments combined with higher monthly payments are pricing some of the potential buyers for inexpensively priced housing out of the market.  Sales should continue to decline slowly in the months ahead as higher prices and higher mortgage rates negatively impact the ability of an increasingly large number of potential buyers to purchase a home.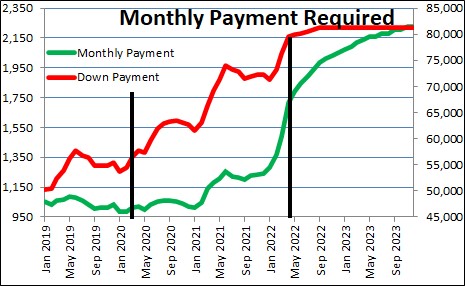 Lawrence Yun, NAR chief economist said that "Home sales have essentially returned to the levels seen in 2019 – prior to the pandemic – after two years of gangbuster performance.  Also, the market movements of single-family and condominium sales are nearly equal, possibly implying that the preference towards suburban living over city life that had been present over the past two years is fading with a return to pre-pandemic conditions."  He added that, "Further sales declines should be expected in the upcoming months given housing affordability challenges from the sharp rise in mortgage rates this year," Yun added. "Nonetheless, homes priced appropriately are selling quickly and inventory levels still need to rise substantially – almost doubling – to cool home price appreciation and provide more options for home buyers."
Mortgage rates have recent risen from 3.1% at the end of last year to 5.8%.  With inflation on the rise the 10-year U.S. Treasury note is  likely to rise from 3.3% today to 5.4% by the end of this year.  If that is true, then mortgage rates are likely to climb from 5.8% today to 6.8% by the end of 2022 and to perhaps 7.6% by the end of next year.  They are headed higher.  The only question is exactly how quickly they will climb.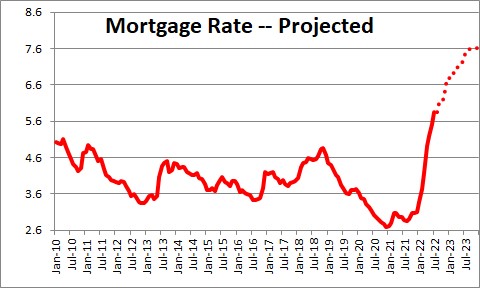 Despite sharply higher prices and mortgage rates, the demand for existing home remains strong as evidenced by the fact that the average home sits on the market for just 16 days.  That is the shortest period of time between listing and sale ever recorded.  In fact, demand is so strong that 88% of the homes that came onto the market during May sold within a month.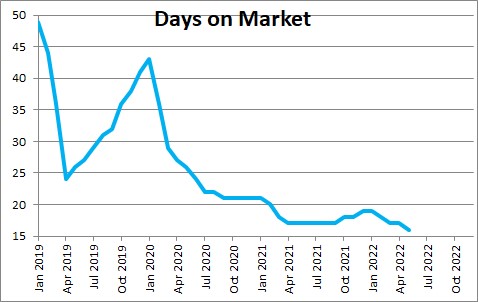 As has been the case for a long time, there are very few homes available for sale.  With a big decline in the number of homes sold and a small increase in the number of homes available, housing inventory  rose  0.4 month in May to 2.6 months which is close to a record low level of inventory and is far short  of the 6.0 month supply that is required to balance the demand for and supply of homes.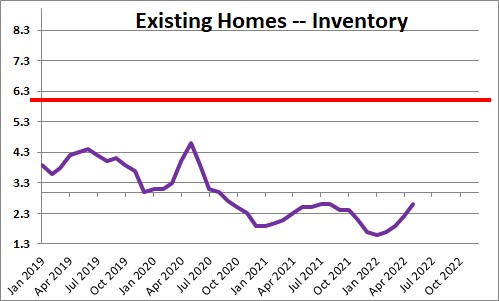 Home prices rose 3.1% in May to $407,600 after rising 4.3% in both March and April.  The intense upward pressure on prices is showing few signs of abating.  However, prices should begin to ease as the year progresses.  The year-over-year increase is 14.8%. It shows what can happen to prices when there is a severe shortage of homes available for sale.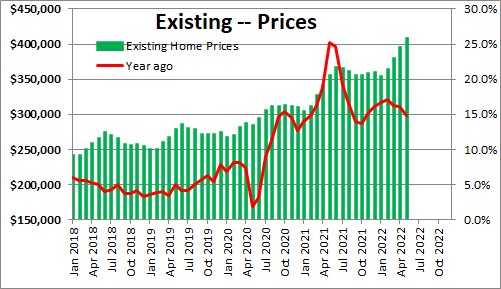 Housing affordability has dropped from where it was in the spring as home prices have risen sharply in the past year and mortgage rates have climbed from 3.0% to 5.8% in just a few months.   Meanwhile, income has been climbing in nominal terms  It has been rising recently because of strong growth in employment and higher wages.  A a result  housing affordability has fallen from where it was earlier this year, but came in at 109.2 in April.  This means that potential home buyers had 9.2% more income than required to purchase a median-priced home. Thus, the affordability index shows that housing remains affordable.   So despite rapidly rising prices, most consumers are still able to afford a median priced home.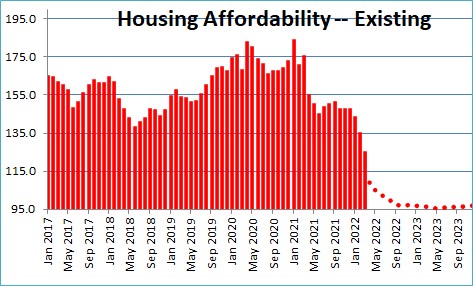 Having said that, some first time buyers are being shut out by the rapid price acceleration.  For example, the required down payment has risen from $54.600 in February of 2020 — just prior to the recession to $79,500. The monthly payment has risen from $984 to $1,717.  As a result, first time homebuyers accounted for 27% of sales in May which is down from 31% in May of last year.  Furthermore, even if the rate of increase in home prices slows, they will still be rising.  Meanwhile, mortgage rates will continue to climb.  It is likely that housing affordability will decline to about 95 by the end of this year.  But, to counter some of the sting of a higher 30-year mortgage rate some buyers could switch to a 5-year adjustable.
Given all of the above we expect home sales to decline 17% or so in 2022 to 5,060 thousand.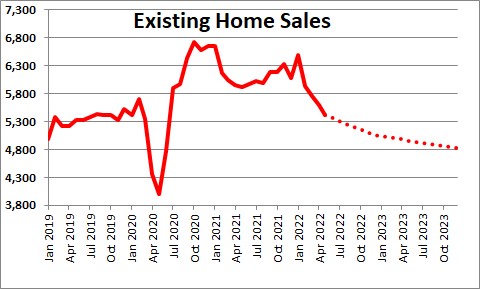 Expect GDP to rise 2.0% in the first quarter and climb by 2.0% in 2022.
Stephen Slifer
NumberNomics
Charleston, S.C.