May 18, 2023
.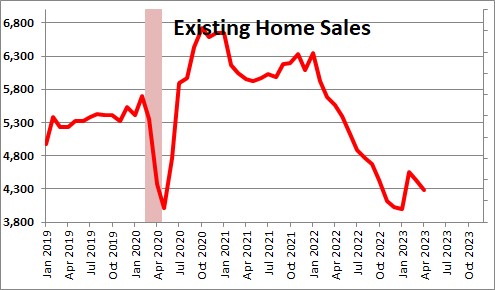 Existing home sales fell 3.4% in April to 4,280 thousand aftering declining 2.6% in March. Home sales have begun to turn upwards after having declined for twelve consecutive months.
Lawrence Yun, NAR chief economist said that, "Home sales are bouncing back and forth but remain above recent cyclical lows.  The combination of job gains, limited inventory and fluctuating mortgage rates over the last several months have created an environment of push-pull housing demand."  He added that, "Roughly half of the country is experiencing price gains.  Even in markets with lower prices, primarily the expensive West region, multiple-offer situations have returned in the spring buying season following the calmer winter market. Distressed and forced property sales are virtually nonexistent."
Mortgage rates rose from 3.1% at the end of 2021 almost to the 7.0% mark, but have now declined to 6.5%  With inflation showing some signs of abating but the Fed likely to boost the funds rate further in the months ahead (although at a slower pace) mortgage rates are likely to climb from 6.5% today to 7.0% or so during the summer.  They should begin to fall once the economy slips into recession in the first few months of 2024.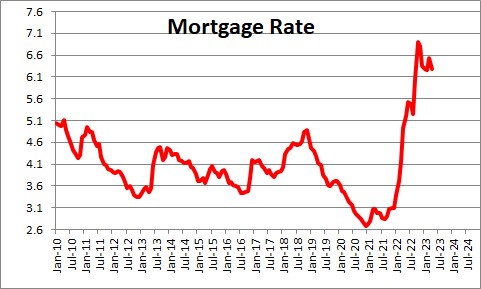 The average home sits on the market for 22 days in April compared to 29 days in March and 14 days last summer.  That is a sign to us that the  housing market is still relatively robust despite the Fed's tightening initiative.  Demand is still sufficiently strong that 73% of the homes that came onto the market during April sold within a month.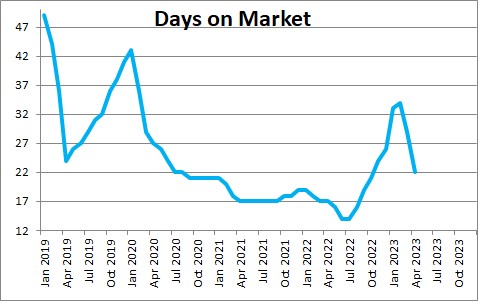 As has been the case for a long time, there are very few homes available for sale.  With a small decline in the number of homes sold and an increase in the number of homes available, housing inventory was rose 0.3 month in April to 2.9 months  which is less than one-half of the 6.0 month supply that is required to balance the demand for and supply of homes.  When the housing market collapsed in the 2008-09 recession this number peaked at about 11.0 months as many homeowners had adjustable rate mortgages which re-priced upwards and were unable to afford the new, substantially higher monthly payments.  Foreclosures were common.  The situation today is completely unlike that troubled period.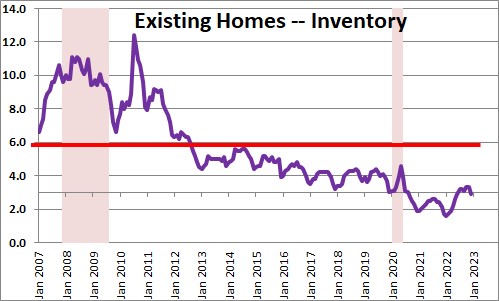 Home prices rose3.6% in April to $388,800 after climbing 3.2% in March to $375,700 and 0.7% in February.,  The year-over-year change is now a decline of 1.7%. That is down from a 25% year-over-year gain in the spring of 2021. The significant upward pressure on prices has gone.  But prices seem unlikely to fall quickly either.  Sellers today are unwilling to put their house on the market when they will be forced to take their 3% mortgage rate and trade it in for a much more expensive 6.5% one.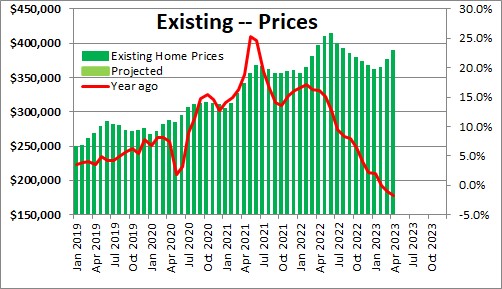 Housing affordability has dropped from where it was at the end of 2021 as home prices rose sharply and mortgage rates climbed from 3.0% to 7.0% before retreating to 6.5% currently.   Housing affordability fell from a peak of 170 in the early part of last year to 91.3 in October  This means that potential home buyers had 8.7% less income than required to purchase a median-priced home.  However the recent drop in mortgage rates and the substantial drop in prices has boosted affordability to 98.6 in April which means that potential buyers had 1.4% less income than required to purchase that median-priced home.  We expect that number to continue to climb to perhaps 105 or so by the end of the year.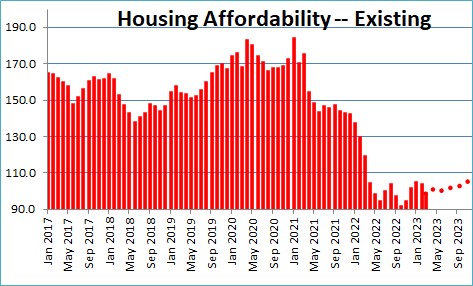 Clearly, some buyers were shut out by the rapid price acceleration.  For example, the required down payment rose from $54.600 in February of 2020 — just prior to the recession to a peak of $84,200 in June. The monthly payment rose from $984 to $2,043.  Potential first-time home buyers were having a tough time qualifying for a loan.  But already the down payment has shrunk to $76,000 and the monthly payment has fallen to $1,929.   These declines should entice some first-time home buyers back into the market.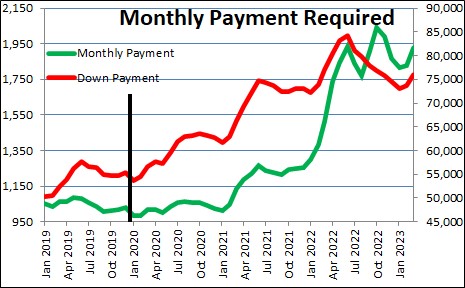 Given all of the above we expect home sales to climb somewhat further as the year progresses.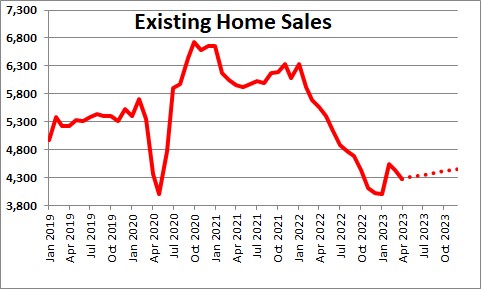 Expect GDP to rise 2.0% in the second quarter of 2023 followed by 1.3% GDP growth in 2023.
Stephen Slifer
NumberNomics
Charleston, S.C.