May 21, 2021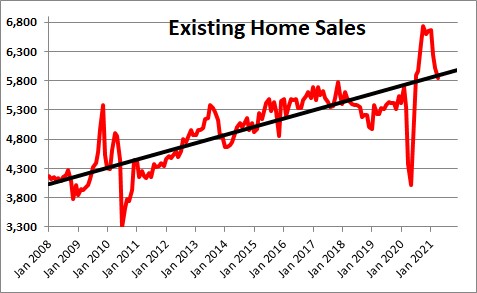 Existing home sales fell 2.7% in April to 5,850 thousand after declining 3.7% in March and 6.3% in February. However, the three consecutive declines were almost certainly caused by the  the lack of supply which is currently at 2.4 months which is near a record low level.  Potential home buyers simply do not have many houses to choose from, and of the ones available some will be too expensive, too big, too small, not in the right location, etc.  Sales will rebound in the months ahead as builders step up the pace of production.
Lawrence Yun, NAR chief economist said that "Home sales were down again in April from the prior month, as housing supply continues to fall short of demand," said Lawrence Yun, NAR's chief economist. "We'll see more inventory come to the market later this year as further COVID-19 vaccinations are administered and potential home sellers become more comfortable listing and showing their homes. The falling number of homeowners in mortgage forbearance will also bring about more inventory."  He added that, ""Despite the decline, housing demand is still strong compared to one year ago, evidenced by home sales from this January to April, which are up 20% compared to 2020,"
The series of fiscal stimulus checks has boosted the savings rate to 27.8% in March.  The consumer has ample funds to spend on housing or anything else if he or she chooses to do so.
Meanwhile, mortgage rates hit a record low level of 2.7% but have since risen by about 0.25% to 3.0%.  Despite the increase they remain very low.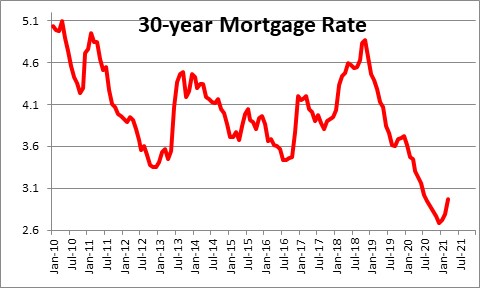 As further evidence of the strong demand, the average home sits on the market for a record short 17 days.  That is the shortest period of time between listing and sale ever recorded.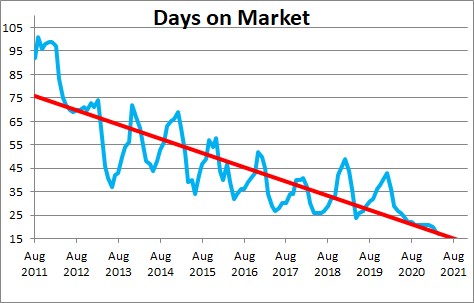 The biggest flaw in this otherwise very rosy scenario is that there are very few homes available for sale.  With a small increase in the number of homes on the market and a sizable drop in the pace of sales, housing inventory edged upwards to a 2.4-month supply in April which is near is near the record low level of inventory (1.9 months) and far short  of the 6.0 month supply that is required to balance the demand for and supply of homes.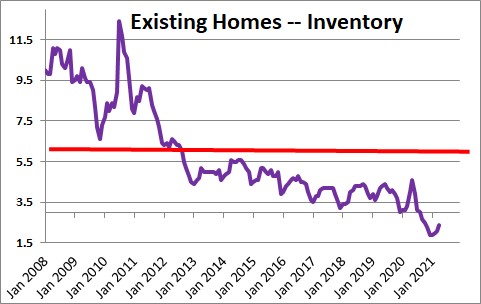 Home prices climbed 4.7% in April to $341,600 — a record high level — after having jumped 5.0% in March and 2.3% in February..  This means that the year-over-year increase is now 19.1%. It shows what can happen to prices when there is such a severe shortage of available homes available for sale.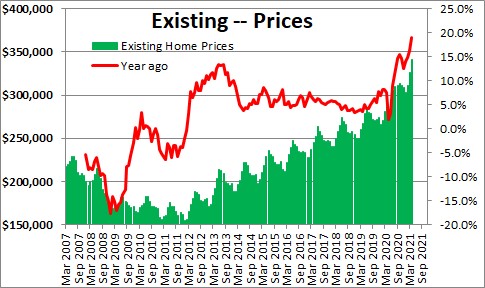 Interest rates are edging upwards. and home prices beginning to rise quickly.  One might think that housing affordability is dropping.  But there is one more part of that equation — income.  And income has been surging as a result of these tax refund checks being send to consumers as part of the COVID relief packages.  As a result  housing affordability is 173 in February which is an elevated level.  This means that potential home buyers had 73% more income than required to purchase a median-priced home.  In the go-go days in 2007 just prior to the so-called "Great Recession" this index stood at  115.  So despite rising prices and somewhat high mortgage rates, the consumer is easily able to afford a median priced home.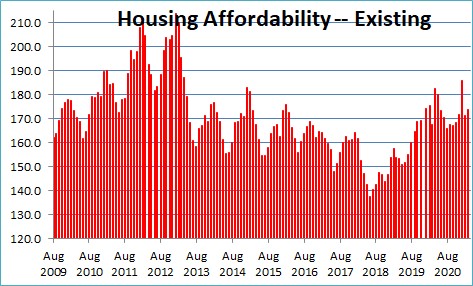 Given all of the above we expect home sales to rise 0.8% in 2021 to 6,700 thousand.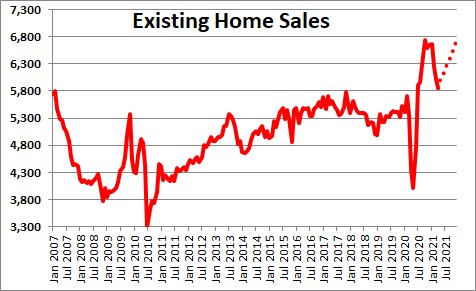 .Expect GDP to rise 10.0% in the second quarter.  We expect GDP to grow by 8.0% for 2021 as a whole.
Stephen Slifer
NumberNomics
Charleston, S.C.