July 23, 2019
Existing home sales felll 1.7% in June to 5,270 thousand after having risen 2.9% in May.  Sales currently are 1.7% below where they were at this time last year.
Lawrence Yun, NAR chief economist said that "Home sales are running at a pace similar to 2015 levels – even with exceptionally low mortgage rates, a record number of jobs and a record high net worth in the country."  He added that the nation is in the midst of a housing shortage and much more inventory is needed. "Imbalance persists for mid-to-lower priced homes with solid demand and insufficient supply, which is consequently pushing up home prices."  Yun also pointed out that "Either a strong pent-up demand will show in the upcoming months, or there is a lack of confidence that is keeping buyers from this major expenditure. It's too soon to know how much of a pullback is related to the reduction in the homeowner tax incentive."
With a modest decline in sales  and a moderate increase in the available inventory, the month's supply of available homes rose from 4.3 to 4.4 months.  Realtors consider a 6.0 month supply as  the point at which demand for and supply of homes are roughly in balance.  Thus, housing remains in very short supply.  Given the low inventory of homes available for sale Yun continues his call for new construction. "More new homes need to be built.  Otherwise, we risk worsening the housing shortage, and an increasing number of middle-class families will be unable to achieve homeownership."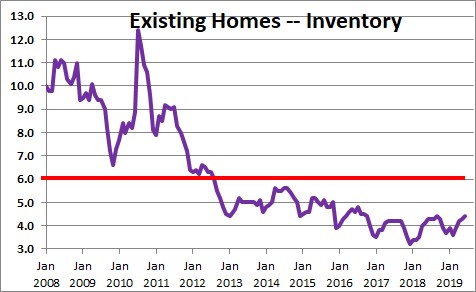 If one looks at the actual number of homes available for sale, it has been steadily declining for a decade although with an encouraging uptick in recent months.  Realtors cannot sell what is not available for sale.  If sales were not being constrained by the limited supply they would almost certainly be at a 5,800 thousand pace rather than the current 5,300 thousand and we would not be talking about weakness in home sales.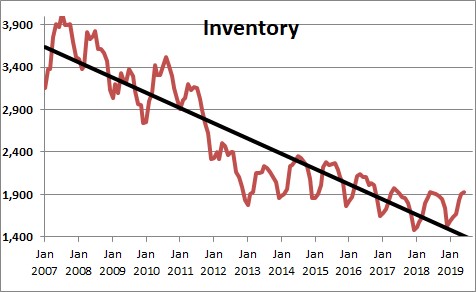 Meanwhile, properties stayed on the market for just 27 days in June.  Fifty-six percent of homes that sold in June were on the market less than a month.  The 27-day length of time between listing and sale is close to the shortest on record.  Back in 2011 homes remained on the market for 100 days.  Thus, the demand for housing still seems to be quite solid.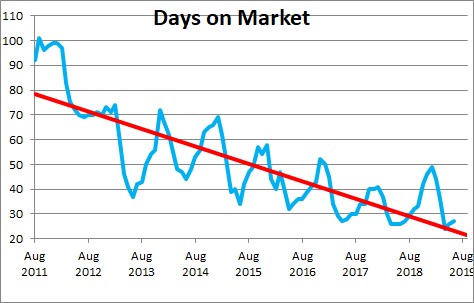 The National Association of Realtors series on affordability now stands at about 150.  At that level  it means that a household earning the median income has 50.0% more income than is necessary to get a mortgage for a median priced house.  Going into the recession consumers had only 14% more money than was required to purchase that median priced home.  Thus, housing remains quite affordable and should continue to remain affordable throughout 2019 because sizable job gains are boosting income almost as fast as mortgage rates and home prices have been rising.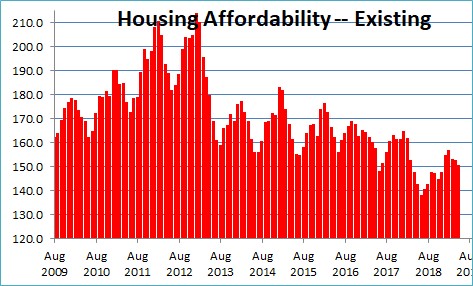 Existing home prices rose 2.7% in June to $285,700 after having jumped 4.2% in May to $277,700 after having risen 2.9% in April.  Because this is a relatively volatile series we tend to focus on the 3-month average of prices which now stands at $276,900.  Over the course of the past year existing home prices have risen 4.3% which is below the 4.0-5.0% range that we saw throughout 2018 .  Yun pointed out that "Solid demand along with inadequate inventory of affordable homes have pushed the median home price to a new record high."
At the same time mortgage rates are declining.  they reached a peak of 4.9% a couple of months ago, but with global GDP growth slowing, the likelihood of lower rates by the Fed in the second half of this year, and some softness in the housing sector, mortgage races have dropped to 3.8%.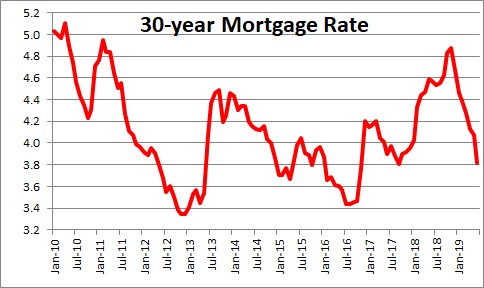 The housing sector will continue to climb in the quarters ahead.   Jobs growth is expected to remain solid which should boost  income. Home prices have been rising at a moderate pace.  And mortgage rates have worked their way lower to 3.8%.
 Stephen Slifer
NumberNomics
Charleston, SC