November 21, 2019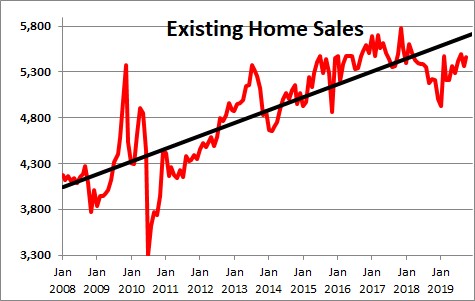 Existing home sales rose 1.9% in October to 5,460 thousand after having fallen 2.5% in September.  Sales currently are 4.6% higher than where they were at this time last year.
Lawrence Yun, NAR chief economist said that "Historically-low interest rates, continuing job expansion, higher weekly earnings and low mortgage rates are undoubtedly contributing to these higher numbers.  "We will likely continue to see sales climb as long as potential buyers are presented with an adequate supply of inventory."
With a small increase in sales  and a drop in the available inventory, the month's supply of available homes fell from 4.1 to 3.9 months.  Realtors consider a 6.0 month supply as  the point at which demand for and supply of homes are roughly in balance.  Thus, housing remains in very short supply.  Given the low inventory of homes available for sale Yun continues his call for new construction. "The issuance of more housing permits is a very positive sign and a good step toward more inventory," said Yun, citing the latest data for housing starts. "In order to better counter and even slow the increase in housing prices, home builders will have to bring additional homes on the market."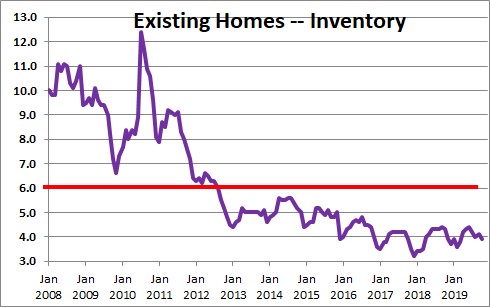 If one looks at the actual number of homes available for sale, it has been steadily declining for a decade although with an encouraging uptick in recent months.  Realtors cannot sell what is not available for sale.  If sales were not being constrained by the limited supply they would almost certainly be at a 5,800 thousand pace rather than the current 5,450 thousand and we would not be talking about weakness in home sales.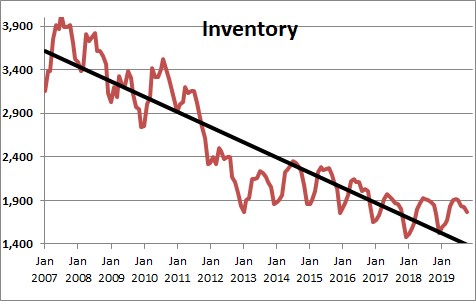 Meanwhile, properties stayed on the market for just 36 days in October.  Forty-six percent of homes that sold in October were on the market less than a month.  The 36-day length of time between listing and sale is close to the shortest on record.  Back in 2011 homes remained on the market for 100 days.  Thus, the demand for housing still seems to be quite solid.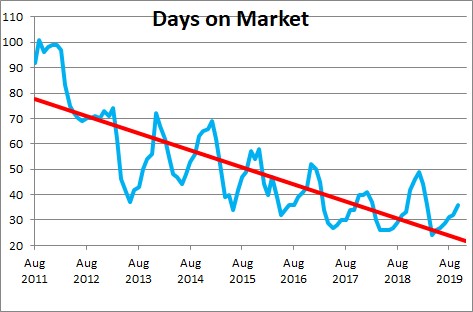 The National Association of Realtors series on affordability now stands at about 165.  While Yun is concerned that housing will become less affordable if prices rise at a faster rate than income, that simply is not happening.  At its current level  a household earning the median income has 65% more income than is necessary to get a mortgage for a median priced house.  Going into the recession consumers had only 14% more money than was required to purchase that median priced home.  Thus, housing remains quite affordable and should continue to remain affordable throughout the rest of 2019 and 2020 because sizable job gains and rising wages are boosting income, mortgage rates have fallen, and that combination is more offsetting the increase in home prices.  As a result, housing affordability has risen considerably in the past few months.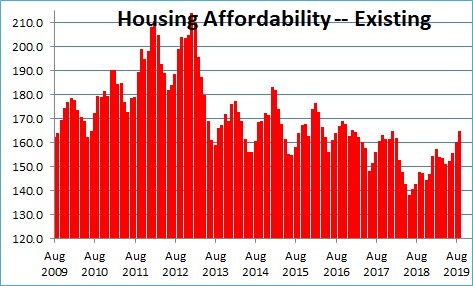 Existing home prices fell 0.2% in October to $270,900 in October after having fallen 2..7% in September.  Because this is a relatively volatile series we tend to focus on the 3-month average of prices which now stands at $273,800.  Over the course of the past year existing home prices have risen 6.2% which is a bit higher the 4.0-5.0% range that we have seen for the past year or so.  The shortage of homes available for sale finally seems to be putting some upward pressure on prices.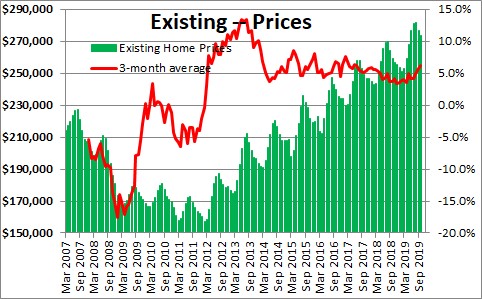 At the same time mortgage rates are declining.  they reached a peak of 4.9% but with global GDP growth slowing and economic uncertainty rising, mortgage rates have fallen steadily since the beginning of the year. to 3.7%  At the same time, and for the same reasons, the Fed cut rates three times this year.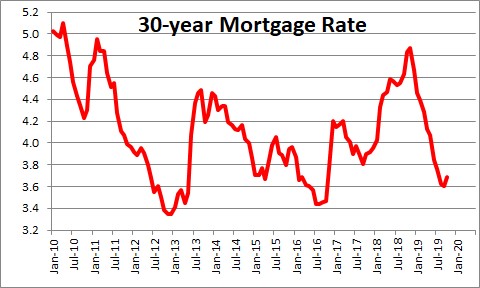 The housing sector will continue to climb in the quarters ahead.   Jobs growth is expected to remain solid which should boost  income. Wage growth has begun to accelerate.  Home prices have been rising at a moderate pace.  And mortgage rates have worked their way lower to 3.7%.
 Stephen Slifer
NumberNomics
Charleston, SC