January 30, 2020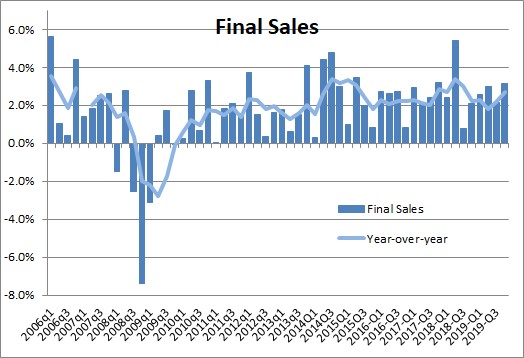 When the economy is slowing down, firms will accumulate unwanted inventories.   Those inventories still show up in GDP, but they are unsold.  Hence, GDP will be biased upwards.  Similarly, in good times businesses will reduce inventory levels to satisfy demand.  In this case, GDP growth will be understated.
To get a sense of the underlying pace of sales, economists will look at final sales which is GDP less the change  in business inventories.  Final sales, which is GDP excluding the change in business inventories rose 3.2% in the fourth quarter compared to 2.1% in the third quarter   This more rapid growth rate for final sales was caused by the sharp drop in inventories in the fourth quarter.  Once they are eliminated the growth rate for final sales is relatively robust.  Over the past year final sales have risen 2.7%.  In the fourth quarter inventories rose $6.5 billion compared to a $69.4 billion run up in the third quarter. Thus, inventories  subtracted 1.1% from GDP growth in the fourth quarter.  Inventories are expected to rise $60.0 billion quarterly in  2020.
We believe that GDP growth will be 2.4% in 2020 after having risen 2.3% last year.  Consumers are confident.  The stock market is at a record high level.  Home prices are rising very slowly.  Job growth continues to climb by 170 thousand per month.  The unemployment rate is steady at a 50-year low.  Corporations are making steady profits.   Short-term Interest rates have declined 0.75% since June of last year and mortgage rates have dropped 1.2%.
Stephen Slifer
NumberNomics
Charleston, SC