January 30, 2020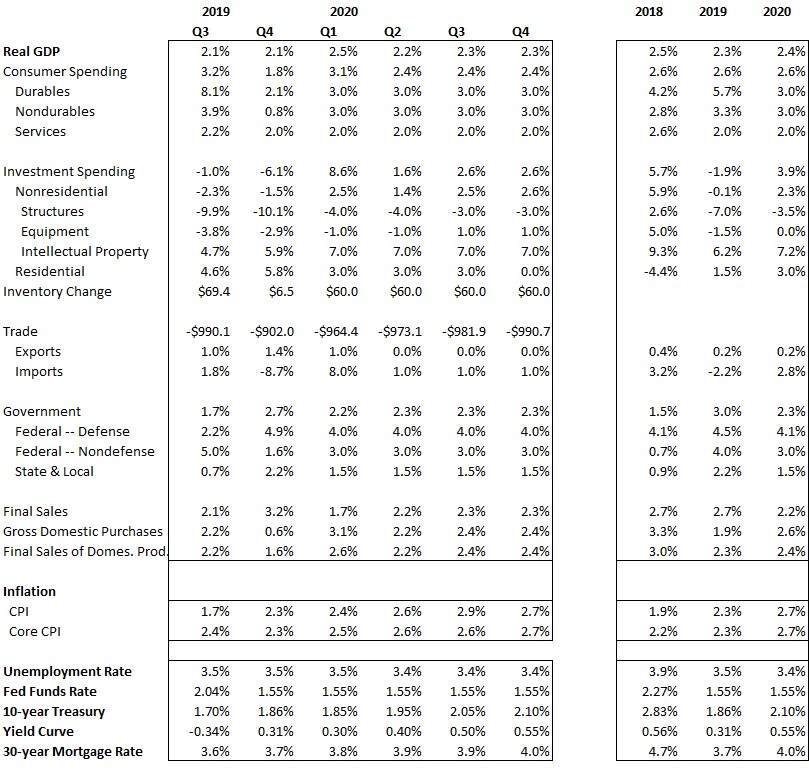 The preliminary estimate of Q4 GDP growth came in at 2.1% which is exactly the same as the 2.1% third quarter pace.  For  2019 GDP rose 2.3%.  For 2020 we anticipate 2.4% GDP growth.
Consumer spending rose by 1.8% in the fourth quarter after having jumped 3.2% in the third quarter.  Employment gains of 170 thousand per month are generating income which gives consumers the ability to spend.  Consumer debt is very low in relation to income.  Short-term Interest rates  are very  low.  Bond yields are at a near record low level of 1.7%.  Mortgage rates have fallen 1.2% since the beginning of last year and are now close to a record low level of 3.7%.  Real disposable income is expanding at a solid 3.0% pace.  For 2019 we saw growth in consumer spending of 2.6% and expect a 2.6% increase in 2020..
Nonresidential investment fell 1.5% in the fourth quarter after having dropped 2.3% in the third quarter.  For 2019 nonresidential investment fell 0.1%   But the various components of investment spending tell different stories.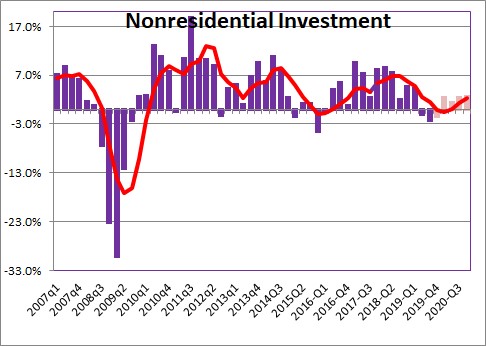 The structures and equipment spending categories both declined sharply in the fourth quarter as the manufacturing sector continues to be hit by the tariffs.  In contrast, intellectual property jumped 5.9% in the fourth quarter and rose 6.2% in 2019.  This category includes spending on computer hardware and software.  In extremely tight labor market conditions firms are turning to technology to make their existing employees more productive.  They can thereby boost output without increasing headcount.  Because of the strength in this category we expect nonresidential spending to increase 2.3% in 2020.  .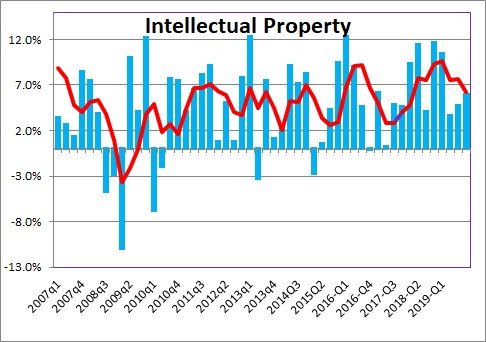 Residential investment jumped 5.8% in the fourth quarter having having risen 4.6% in the third quarter as lower mortgage rates stimulated the growth in sales.   While demand for housing remains robust,  builders are having a difficult time finding qualified workers which curtails growth in this category.   As the result, we expect residential investment to increase a moderate 3.0% in 2020..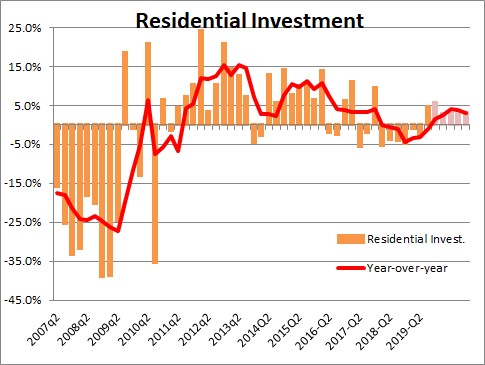 The foreign sector as measured by the deficit for real net exports In the fourth  quarter narrowed by $88.1 billion from $980,7 billion to $902 billion.   In that quarter exports rose 1.4% while imports plunged by 8.7%.  .  We expect the deficit reverse  much of that drop in imports in the first quarter.  While this component bounces around from quarter to quarter, it turns out that trade added 0.4% to GDP growth last year and we expect it to subtract about 0.2% from GDP growth in 2020.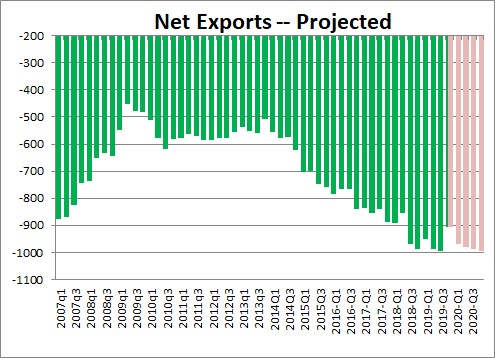 Federal government spending rose 3.6% in the fourth quarter after having climbed 3.3% in the third quarter.  We expect Federal government spending to rise 3.6% this year as both defense  and non-defense spending climb by a moderate amount.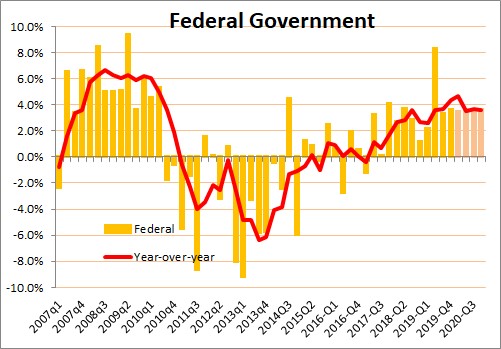 Following GDP growth of  2.3% in 2019 we expect growth of  2.4% in 2020.
Stephen Slifer
NumberNomics
Charleston, SC