July 24, 2020
Our policy makers in Washington are talking about another stimulus bill of $1.0-3.0 trillion.  But the economy does not need the help.   Every economic indicator has rebounded vigorously.  Third quarter GDP growth should be roughly the same magnitude as the decline in the second quarter. The stock market is within 3% of its pre-recession record.  The budget deficit has already surged from $1.0 trillion last year to $4.0 trillion in fiscal 2020.  Do not needlessly inflate it.
In mid-March, the virus was spreading rapidly.  The S&P 500 stock market fell 32% in 22 business days.  Every monthly economic indicator turned south in March and it became clear that second quarter GDP was going to fall by a record-breaking amount.  The economy was on the brink of plunging into a 1930's like depression.  That was a situation that required fiscal assistance.  Two fiscal stimulus bills followed and the Fed flooded the banking system with liquidity by aggressively purchasing U.S. Treasury and mortgage-backed securities.
Four months later every economic indicator is back to where it was prior to the recession as is the stock market.  Third quarter GDP will increase by as much as it declined in the second quarter. This is not a situation that requires fiscal assistance.
But yet, Congress and the president seem poised for a repeat.  The only question is over how big the bill will be and its composition.  House Democrats are talking about a $3.0 trillion package.  Senate Republicans would like to limit it to $1.0 trillion.  Shouldn't we ask whether the economy actually needs help?
Our sense is that most economists anticipate a second quarter decline of 30-35%, followed by a third quarter rebound of just 15%.  We think that is far too pessimistic.
Jobs are being created at a surprisingly brisk pace.  The number of people receiving unemployment insurance benefits has fallen sharply between mid-June and mid-July.  People are getting hired.  The unemployment rate is falling quickly.  Following an increase in payroll employment in June of 4.8 million, we expect additional job creation of 4.0 million in July.  The unemployment rate should drop from 11.1% to 9.4%.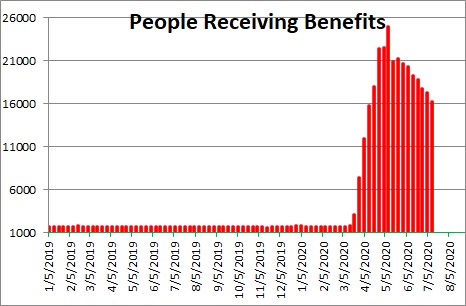 A July increase in employment will further boost consumer income which is already high.  Fueled by the first round of $1,200 stimulus checks, the savings rate has soared to 23.0%.  There is no reason to think that Americans will hoard that additional income.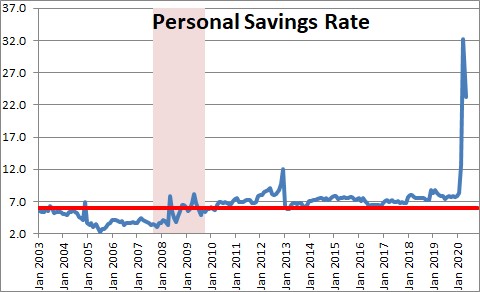 Retail sales jumped 18.2% in May and an additional 7.5% in June.  As a result, the level of sales for June is back to where it was prior to the recession.  And with a further increase in employment in July sales will climb higher.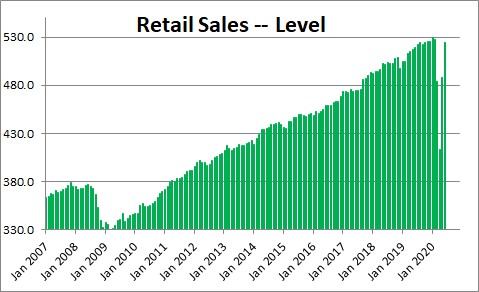 The housing sector is hot.  Based on rising consumer income, record low 3.0% mortgage rates, and an extremely limited number of homes available for sale, new home sales are as robust today as they were in January.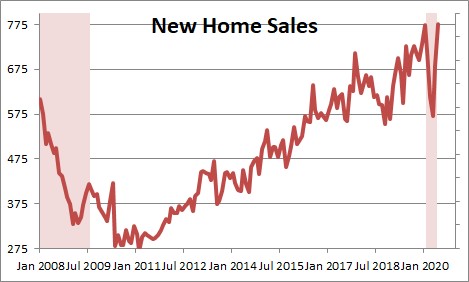 These indicators suggest that consumers are very willing to spend.  The economy is in no danger of slipping back into recession.  Quite the opposite.  With every monthly indicator close to the level prior to the recession, it is difficult for us to imagine a third quarter GDP growth rate that is not roughly comparable in magnitude to its drop in the second quarter.
Mid-July is not mid-April.  There was a need for fiscal stimulus in April.  That is not the case today.  Our hope is that these stimulus proposals get bogged down in the political process and that no additional spending is forthcoming.  But the reality is that this is an election year.  Both sides agree that there is a need for such a bill.  Something is going to happen.
Two pieces that we do not want to see in any such package.  First, eliminate those $1,200 refund checks.  Many Americans simply do not need it.  If they choose to do it, send checks only to those individuals who adjusted gross income is below, say, $30,000.  Given that the poverty level for a family of four in the U.S. is $25,500, the refunds would be sent only to those truly in need of assistance.
Second, going forward, eliminate or sharply curtail the $600 weekly federal unemployment benefits which are scheduled to expire at the end of July.  As we see it, $600 of weekly federal unemployment benefits coupled with an average of about $400 in state benefits, works out to annual income of $52,000.  That is almost double what many unemployed workers were making prior to losing their jobs.  They have absolutely no incentive to return to work.  Unemployment insurance is supposed to be a safety net to help unemployed workers pay for food and rent.  It should not be a windfall for getting laid off.  In our opinion, eliminate benefits if last year's adjusted gross income was above $30,000.  For lower income individuals cap federal benefits at $100 per week.   Combining $100 in federal benefits with $400 per week from state benefits works out to annual income of $26,0000.
The economy is not in need of additional fiscal stimulus.  But if our leaders in Washington are going to do something, make sure that the assistance is going to those who need it.
Finally, keep in mind that the medical experts still believe a vaccine will be widely available by the end of the year.  Once that happens the stock market will soar as will consumer and business confidence.  The economy still has considerable momentum at the end of July.  Yearend is only five months away.
Stephen Slifer
NumberNomics
Charleston, S.C.