October 29, 2021
Third quarter GDP growth came in at a disappointing 2.0% rate as COVID ripped through the unvaccinated world, and supply chain interruptions curtailed production.  The pessimists quickly emerged.  One economist wondered how close the economy might be to a recession.  Another sounded a warning about stagflation.  But it is important to remember two things.  First, potential GDP growth is currently 1.8%.  A 2.0% growth rate in the third quarter can hardly be characterized as problematical.  Second, third quarter GDP is history.  Forward looking indicators suggest that economic growth is poised to rebound in the fourth quarter and continue to expand in 2022 at the fastest pace in 40 years.
There can be little doubt that the sharp upswing in the number of new COVID cases negatively impacted economic activity in the third quarter.  But new COVID cases have dropped 55% since reaching a peak in early September of 156 thousand per day to 68 thousand currently.  When COVID cases rise the economy slows.  When they drop the economy takes off.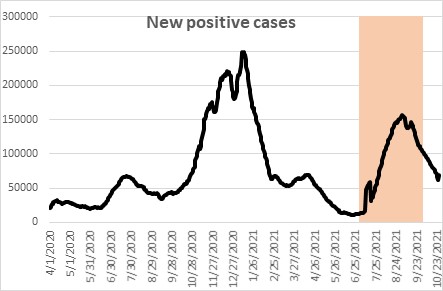 Third quarter growth was also negatively impacted by widespread interruptions in the supply chain.  Consumers were willing to spend in that quarter as evidenced by the 7.9% increase in spending on services.  But spending on durable goods like autos, appliances, and home furnishings (where supply constraints were most evident) declined 26.2% and shaved 2.7% from GDP growth in the third quarter.  Similarly, residential construction fell 7.7% in the third quarter as builders were unable to get an adequate supply of lumber and materials.  That category reduced growth by an additional 0.4%.  But supply constraints do not last forever.  They will eventually end and, when they do, they will boost GDP growth by as much as they dragged down growth in the third quarter.
Given the delays in getting the required materials for production firms hired fewer workers.  Payroll employment in June and July surged by 962 thousand and 1,091 thousand, respectively.  But job growth slipped to 366 thousand in August and an even less impressive 194 thousand in September.  However, initial unemployment claims, which is a measure of layoffs, has fallen from 350 thousand in early September to 281 thousand in late October.  The number of people receiving unemployment benefits has declined by 600 thousand in that same period of time.  Some of those 300 thousand workers still missing from the labor force appear to once again be looking for – and finding — a job. We anticipate a 700 thousand increase in payroll employment in October and a decline in the unemployment rate of 0.2% to 4.6%.  That report will be released on Friday, November 5.  The employment picture is improving and, with it, the likelihood that GDP growth in the fourth quarter will rebound.  More jobs generates more income and encourages spending.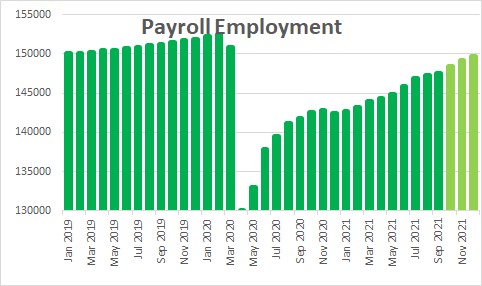 In the factory sector, demand remains strong as evidenced by the near-record level of the orders component of the monthly purchasing manager's report.  To satisfy as much demand as possible firms have been depleting inventories.  As a result, the ratio of the orders to inventories is near an all-time high.  As supply constraints fade in 2022 businesses across the board will quickly boost production to bring inventories back into closer alignment with sales.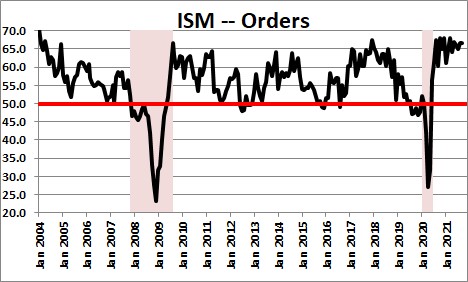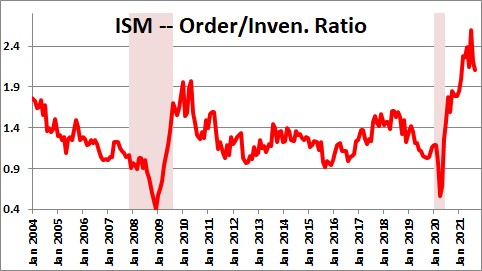 Nonresidential investment growth slowed in the third quarter to 1.8% from 9.2% in the second quarter as spending on both structures and equipment declined sharply.  But the silver lining is that firms spent money on intellectual property products like software and research.  Specifically, intellectual property grew at a 12.2% pace in the third quarter which is the fourth consecutive quarter of double-digit growth.  Firms have had to spend money on technology to survive during the pandemic and they will continue to do so to adapt to the still-evolving economy and make their firms more productive in the future.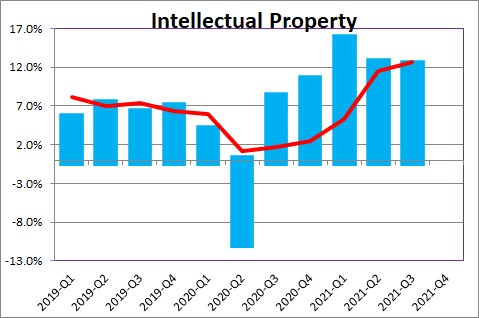 We have not incorporated any of Bidens's infrastructure and social spending proposals which are being hotly debated in Congress.  But the scaled down version of $1.75 trillion is still enormous and will, almost certainly, not be fully paid for via tax hikes.  It is impossible at this point to gauge the impact on GDP growth in 2022 but, if anything, it will boost growth not reduce it.
Given all of the factors cited above we estimate GDP growth in the fourth quarter of 6.5%.  But that depends to a large extent on the wobbly labor market registering an impressive gain in October.  We currently expect 5.4% GDP growth in 2021 and 5.5% for 2022.  Those would be the fastest growth rates since 1984 when the economy grew at an 8.0% pace as it was emerging from a double-dip recession.  While other economists seem to worry about slower growth in 2022 and 2023, we see things differently.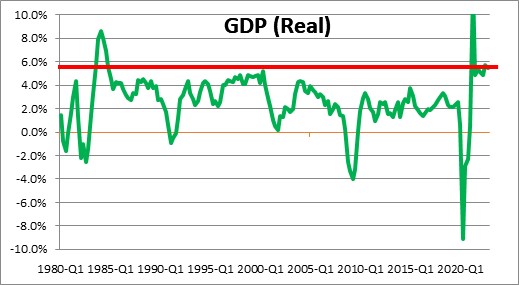 If growth comes in as expected, the economy will have exhausted any remaining slack by the middle of next year.  With no slack remaining, and the economy growing at a 5.5% pace versus potential growth of 1.8%, it is hard to see how inflation will retreat to the 2.0% pace the Fed envisions.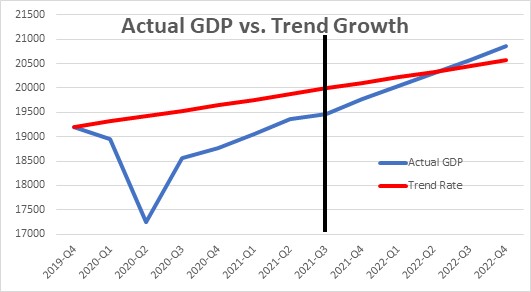 We currently expect the core CPI to rise 4.8% this year and 3.7% in 2022.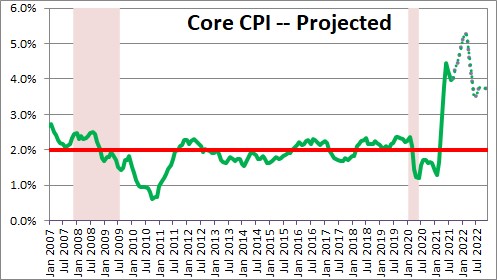 The combination of 5.5% GDP growth with inflation still far above its target, will force the Fed to become just a bit more aggressive in its monetary policy stance.  But it is important to remember that it will be tapering its monthly purchases of securities through mid-2022.  It will not simultaneously raise the funds rate and trim its monthly securities purchases.  So whatever rate hikes are going to occur will be in the second half of the year.  The Fed looks for one 0.25% increase in the funds rate next year.  We expect two hikes which would boost the funds rate to a still very low 0.5% by yearend.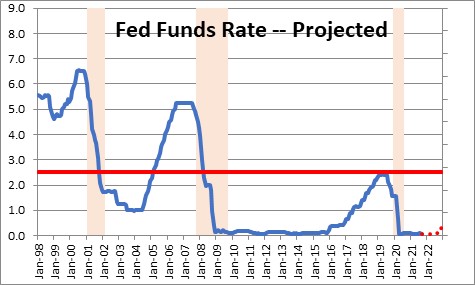 The point of all this is that the slower-than-expected 2.0% pace of GDP growth in the third quarter should be viewed as a one-time event on the way to robust growth for the foreseeable future.  From a bust to a boom.
Stephen Slifer
NumberNomics
Charleston, S.C.