January 8, 2020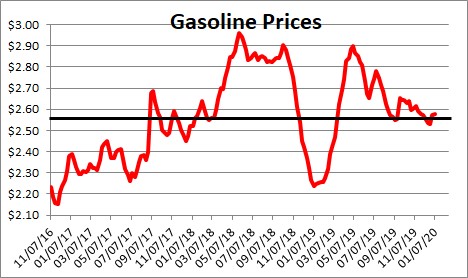 .Gasoline prices at the retail level  rose $0.01 in the week ending January 6 to $2.58 per gallon.  In South Carolina gasoline prices tend to about $0.25 below the national average or about $2.33. The Department of Energy expects national gasoline prices to average $2.56 in 2020, roughly where they are currently.  Pump prices a year ago were averaging about $2.25 per gallon.
Crude prices rose about $2.00 last week t0 about $63 per barrel.  But last year at this time crude prices were $52 per barrel so we are looking at crude prices currently that are 21% higher than where they were at this time last year.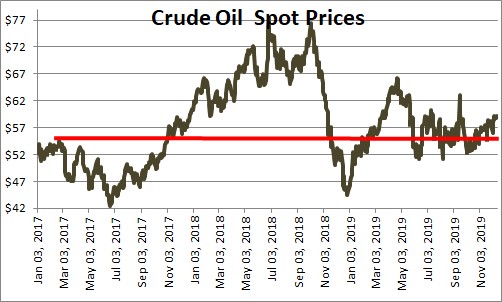 Crude oil output in both Venezuela and Iran has been steadily declining for  more than a year.  Venezuela's oil output has been fallen steadily but finally appears to have stabilized.   The Iranian sanctions went into effect in early November of last year.  Iranian production has since fallen sharply.  The U.S.'s  goal is to reduce exports (and, hence, production) close to zero.  That isn't happening, but Iranian production has still fallen sharply.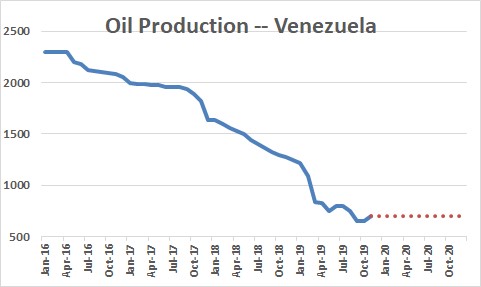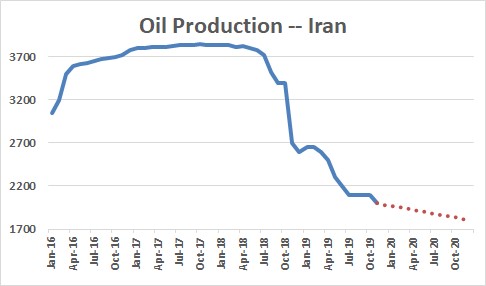 Meanwhile, U.S. production  has surged from 10,900 thousand barrels to 12,900 thousand barrels per day.  Almost certainly U.S. production will continue to climb in the months ahead.  The EIA projects it will average 13,300 thousand barrels per day in 2020.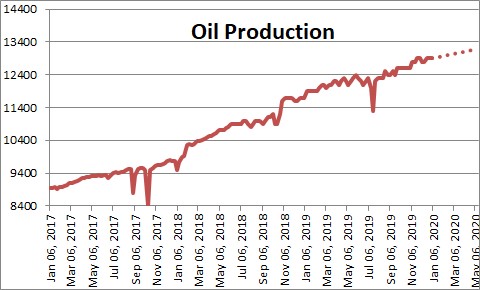 A cut in oil production by the Saudi's this year combined with reduced production in Venezuela and Iran has boosted the  price of oil  somewhat.  The Saudi's would like it to climb to $90, or at least $85, per barrel to ensure that their budget deficit remains in balance.  That is not going to happen.  As prices rise U.S. drillers will quickly boost production.  At the moment the impressive increase in U.S. production is countering the cutbacks from Venezuela and Iran.  The Saudi's share of global production has been falling steadily for the past couple of years.  However, the Saudis cannot allow its market share to continue to slide.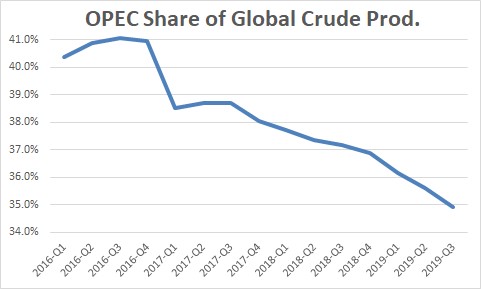 The Department of Energy expects U.S. production to climb 13% from 11.0 million barrels last year to 12.3 million barrels this year and  to 13.3 million barrels per day in 2020.  The U.S. became the world's largest oil producer in March of l2018 and the gap between U.S. production and that of Russia, and Saudi Arabia will widen in 2019 and 2020.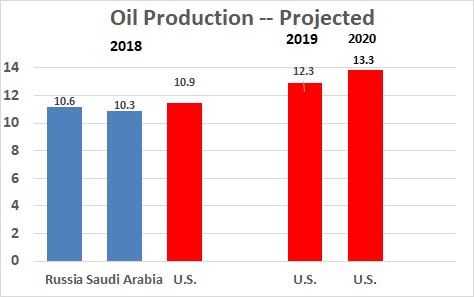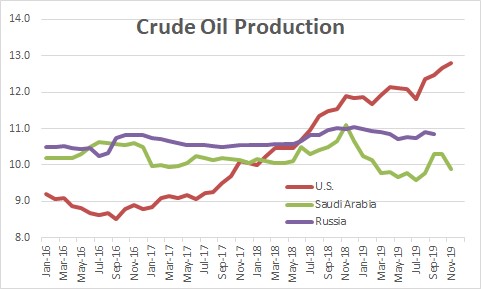 The cut in Saudi production combined with reduced production in Venezuela and Iran  appears to have  created a bit of an inventory shortfall.    At 1,066 million barrels crude inventories are a bit below the 5-year average of 1,116 million barrels.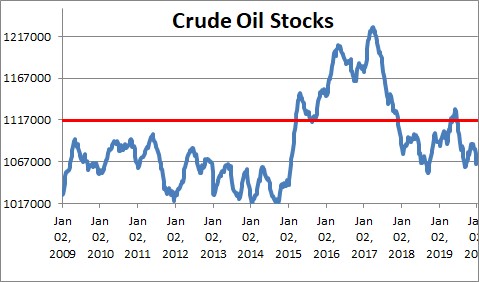 Stephen Slifer
NumberNomics
Charleston, SC