September 15, 2021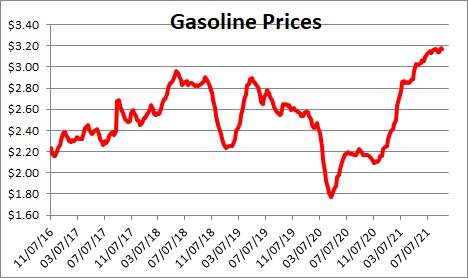 Gasoline prices fell  $0.01 in the week ending September 13 .to $3.17 per gallon.  In South Carolina gasoline prices tend to about $0.25 below the national average or about $2.92.  The EIA expect gasoline prices nationally to average $2.87 per gallon this year and $2.73 next year..
Crude prices were about unchanged in this past week at $72 per barrel.  Hurricane Ida which slammed the Gulf Coast last week may have boosted crude prices to some extent as production in the Gulf of Mexico was curtail.  But at the same time there is a sense that the rapid spread of the virus in China and associated lockdowns that are being imposed will curtail weaker demand for oil in China and throughout Southeast Asia.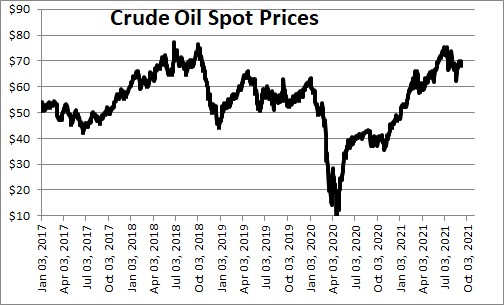 During the March and April recession last year  global economic activity came to a screeching halt.  The EIA expects demand to exceed supply through the end of this year as the global economy gathers steam.  Both U.S. and global supply is increasing, but not as quickly as demand is expected to climb.  If so, crude prices could climb somewhat now and yearend.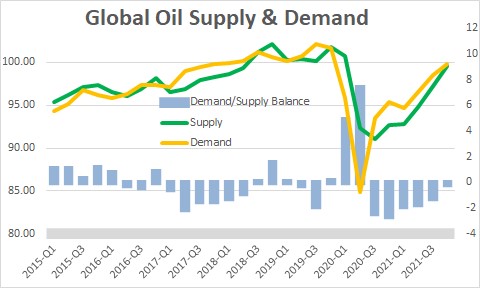 Last year's recession caused oil production in the  U.S. to decline from about 13.0 millions barrels per day to about 11.0 million.  It has gradually rebounded to about 11.5 million barrels per day but Hurricane Ida curtailed production in the Gulf of Mexico in the past two weeks.  That is obviously a temporary drop-off and production should rebound fairly quickly.   As the recovery gathers steam globally this year and next, production is expected to edge upwards and average 11.1 million barrels per day in 2021 and then climb to 11.8 million barrels per day next year which is still well below its pre-recession peak. But given that excessive demand globally is likely to persist through the end of this year, it appears that U.S. and global producers need to step up the pace of production.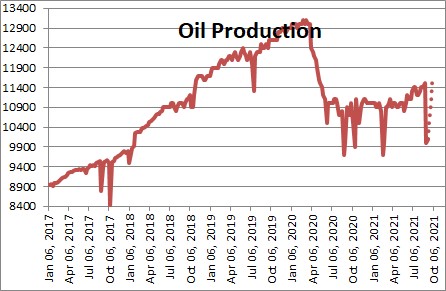 In the U.S. inventory levels have been falling sharply in recent weeks as the global economy has begun to climb and, in the past couple of weeks, because of Hurricane Ida which crippled production in the Gulf of Mexico.  Those inventory levels have fallen well below their 5-year average which is why the EIA expects U.S. production to climb somewhat (see above) in the months head.  If they do not significantly boost production, prices are heading higher.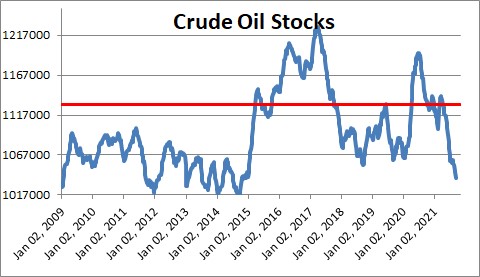 .
Stephen Slifer
NumberNomics
Charleston, SC