May 11, 2022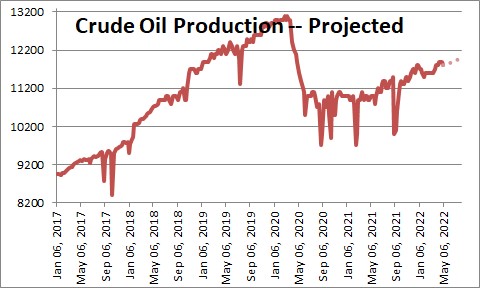 Gasoline prices jumped $0.15 cents in the week ending May 9 to $4.33 after having fallen $0.09 in the previous week.  In South Carolina gasoline prices tend to about $0.25 below the national average or $4.08.  The EIA currently expects gasoline prices nationally to average $3.82 per gallon this year and $3.51 next year.
Crude prices fell $2 in the week ending May 9 to $103 per barrel after having risen $6 in the previous week   Global demand for oil has been impressive as the global economy continues to recover, but the recent surge has been caused by the outlook for the war between Ukraine and Russia and market participants concern about an interruption in the supply of oil coming out of Russia.  Biden released some oil from the strategic petroleum reserve which has brought prices down slightly, but relative to the demand for oil the price drop will not be large and it will not last long.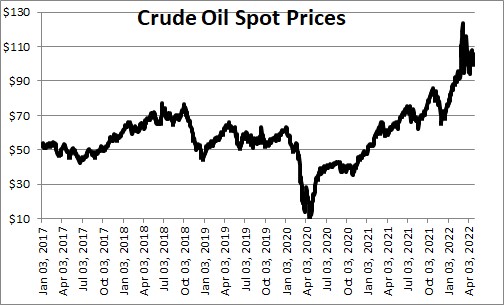 During the March and April recession in 2020  global economic activity came to a screeching halt.  The demand for oil exceeded supply throughout  2021 as the global economy gathered steam.  Both U.S. and global supply have been increasing, and right now for the first time in a while, demand and supply are about in balance.  But given the war it is likely that Russia's oil exports to the rest of the world may decline as the year progresses and that, once again, demand will exceed supply.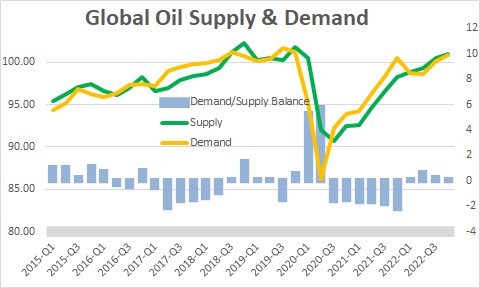 Last year's recession caused oil production in the  U.S. to decline from about 13.0 million barrels per day to about 11.0 million.  Production has rebounded but to only 11.9 million barrels per day which is well below its pre-recession peak. One of the problems is that the current administration is doing everything in its power to drive the fossil-fuel industry out of business which is curtailing the willingness and ability of oil producers to significantly boost production.  The EIA currently expects production to remain below its pre-pandemic peak of 13.0 million barrels per day until the end of 2023 when production is expected to finally return to 13.0 million bpd.  Given the war one hopes that oil companies in the U.S. will quickly ramp up production.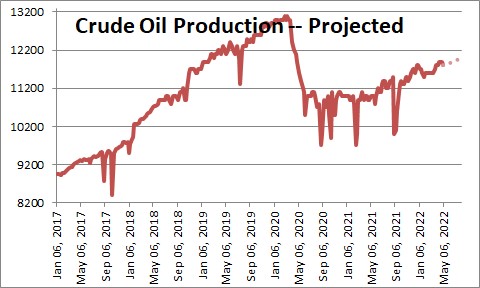 One of the consequences of closing down some oil pipelines and not approving others is that the U.S. is, once again, dependent upon imported oil — from OPEC in particular.  Beginning in 2017 or so as fracking and horizontal drilling began to take off, the U.S. gradually shifted from a monthly oil trade deficit shortfall of $6.0 billion to a modest oil trade surplus of about $1.0 billion per month by the end of 2019.   However, that deficit has once again shifted into deficit mode of about $1.0 billion per month.  Green energy sources like wind and power are fine when there is plenty of wind and water, but when the wind dies countries need alternative energy sources like coal and natural gas.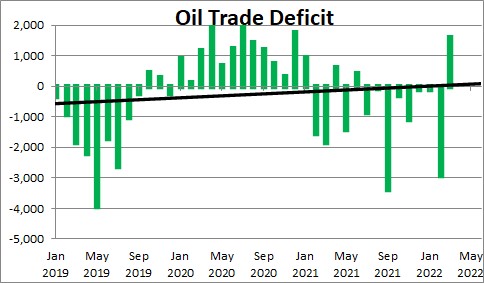 In the U.S. inventory levels have been falling sharply in recent months as the global economy has begun to climb.  Those inventory levels have fallen well below their 5-year average which is why U.S. production needs to climb in the months ahead.  Indeed, inventory levels are the lowest they have been since 2008.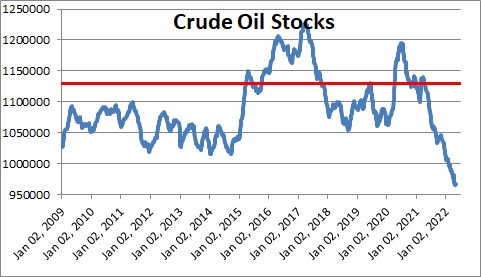 .
Stephen Slifer
NumberNomics
Charleston, SC