August 10, 2022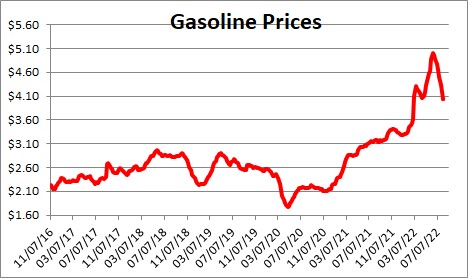 Gasoline prices fell $0.15 in the week ending August 8 to $4.04 after having fallen $0.14 in the previous week. Prices have now fallen $0.97 since reaching a peak in mid-June.   In South Carolina gasoline prices tend to about $0.25 below the national average or $3.79.  The EIA currently expects gasoline prices nationally to average $4.07 per gallon this year and $3.57 next year.  
Crude prices fell $3 per barrel in the week ending August 8 to $94 per barrel after having fallen $3 in the previous week.   Global demand for oil has been climbing as the global economy continues to recover.  The war caused it to jump to a high of $121 in mid-June.  As the war slogs on with little progress by either side the market's worst fears have not come to pass and oil prices have declined sharply.  If the economy does not slip into recession it is hard to imagine oil prices falling below their current level for an extended period of time.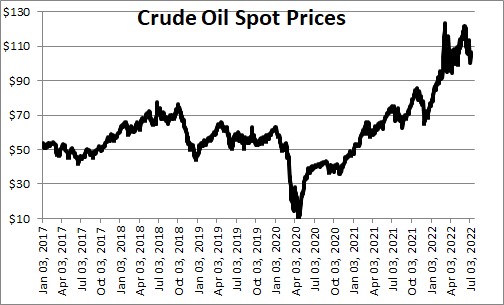 Once the recession ended in April 2020 the demand for oil exceeded supply for the rest of 2021 as the global economy gathered steam.  Both U.S. and global supply have been increasing,  and now slightly exceeds demand which seems to be the cause of the recent drop.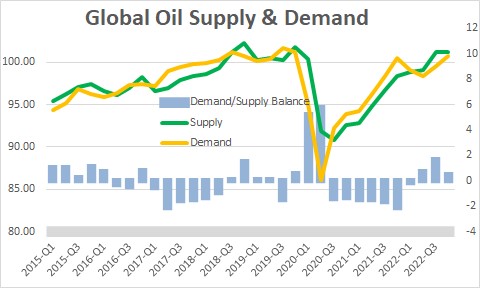 Since the war between Ukraine and Russia began, sanctions initially reduced the  output of Russian by about 1 million barrels per day but Russian output has recently risen almost back to where it started.  Saudi Arabia has picked up the pace of production slightly.  The same is true in the U.S.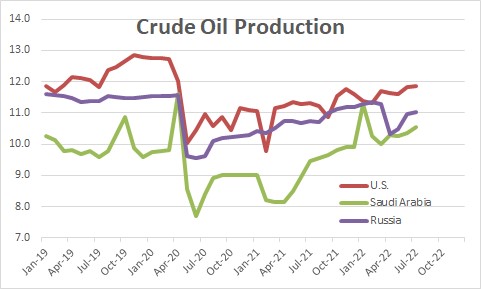 Last year's recession caused oil production in the  U.S. to decline from about 13.0 million barrels per day to about 11.0 million.  Production has rebounded but to only 12.2 million barrels per day which is well below its pre-recession peak. One of the problems is that the current administration is doing everything in its power to drive the fossil-fuel industry out of business which is curtailing the willingness and ability of oil producers to significantly boost production.  The EIA currently expects production to remain below its pre-pandemic peak of 13.0 million barrels per day until the end of 2023.  Given the war one hopes that oil companies in the U.S. will quickly ramp up production but that seems unlikely.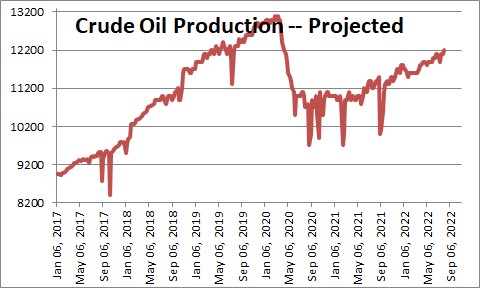 In the U.S. inventory levels have been falling sharply in recent months as the global economy has begun to climb and U.S. output has not increased commensurately.  Those inventory levels have fallen well below their 5-year average which is why U.S. production needs to climb in the months ahead.  Indeed, inventory levels are the lowest they have been since October 2004.  With crude oil inventories the lowest they have been in 17 years it is hard to see how crude prices are going to decline any time soon.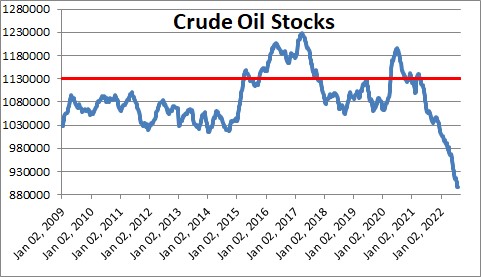 .
Stephen Slifer
NumberNomics
Charleston, SC