October 21, 2020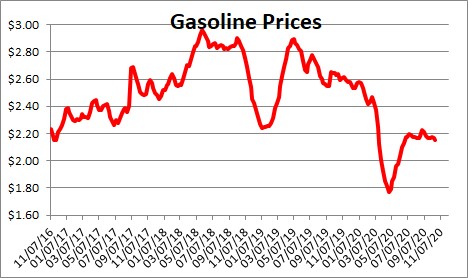 Gasoline prices at the retail level declined $0.02 in the week ending October 19 to 2.15 per gallon.  After hitting bottom at $1.77 in the week of April 27, gasoline prices have been rising steadily.  In South Carolina gasoline prices tend to about $0.25 below the national average or about $1.92  The EIA expect gasoline prices to average $2.15 per gallon this year so, if they are right, prices should be relatively unchanged in the final two months of this year.
Crude prices were about unchanged in this past week at $41 per barrel.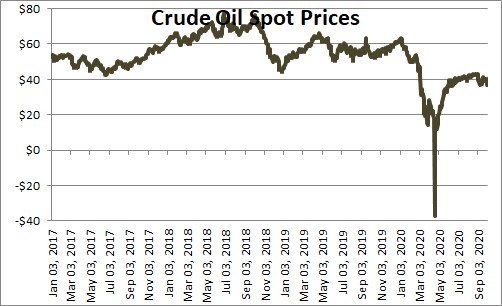 The reason prices fell in March and April is primarily because the corona virus caused global economic activity to come to a screeching halt.  Demand dropped abruptly (the yellow line below), but production did not decline as quickly (the green line).   As a result, supply exceeded demand by about 7.0 million barrels per day in the second quarter (the blue bars).  However, in the third and fourth quarters global production should rebound but by less the increase in demand, which means that those inventory levels will get reduced.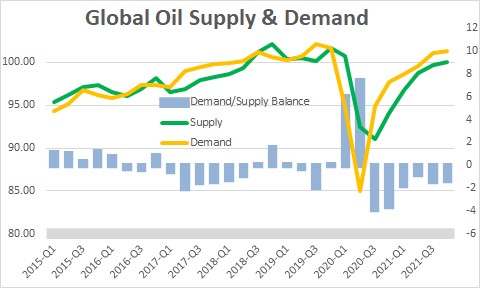 In recent years fracking and horizontal drilling have dramatically boosted U.S. production to 13,100 thousand barrels per day.  But given the drop in the global economy and in the demand for oil, production fell sharply and inventory levels rose.  But now inventory levels are back roughly in line with their 5-year average (see below), so production should gradually rise between now and yearend.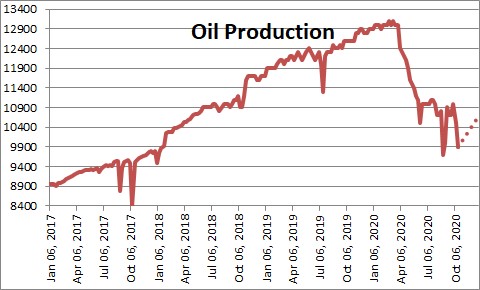 In the U.S. inventory levels rose sharply during the recession which is why U.S. producers have been sharply curtailing production.  But now as the global economy has begun to climb those inventory levels are roughly in line with where they should be.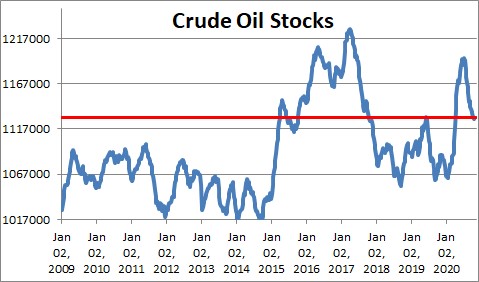 .
Stephen Slifer
NumberNomics
Charleston, SC