May 20, 2020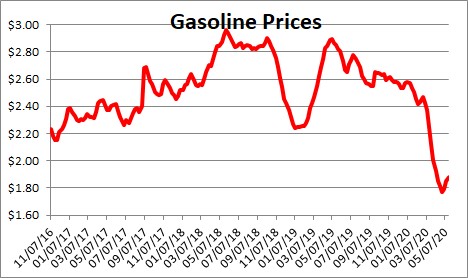 Gasoline prices at the retail level rose $0.03 in the week ending May 18 to $1.88 per gallon.  After hitting bottom at $1.77 in the week of April 27, this is the third consecutive weekly increase in gas prices.  In South Carolina gasoline prices tend to about $0.25 below the national average or about $1.63.   The EIA expect gasoline prices to average $2.00 per gallon this year so, if they are right, prices should climb by another $0.12 or so in the second half of this year.
Crude prices rose $8 per barrel in this past week from $24 per barrel to $32  as the global economy begins to reopen which should boost the demand for both crude oil and gasoline.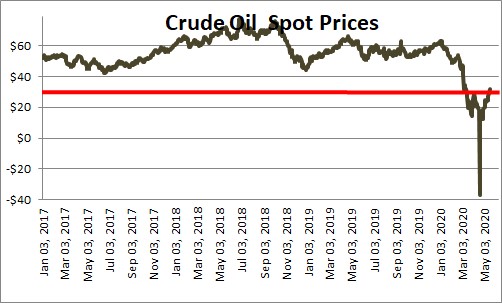 In recent years fracking and horizontal drilling have dramatically boosted U.S. production from 10,900 thousand barrels to 13,100 thousand barrels per day.  But given the drop in the global economy and in the demand for oil, it has finally begun to drop and in the most recent week it slowed to 11,500 thousand barrels per day.  The EIA expects drillers to shrink production to 11.7 million barrels per day in 2020.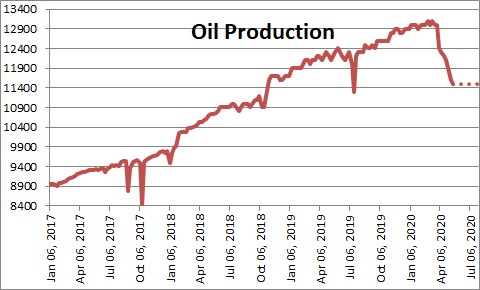 The reason prices have been falling is primarily because the corona virus has caused global economic activity to come to a screeching halt.  Demand dropped abruptly (the yellow line below), but production did not (the green line).   As a result, supply exceeds demand by about 11.5 million barrels per day currently.  The world is awash in surplus oil and producers and tradings are seeking storage anywhere they can find it.  Indeed,oil  tankers are being filled but with nowhere to go.  This cannot continue.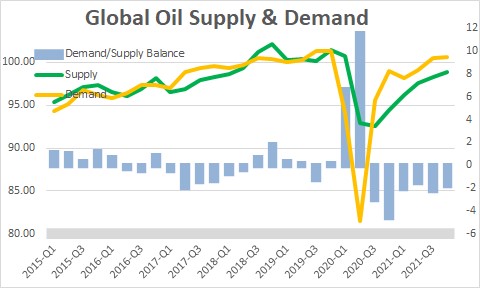 In the U.S. inventory levels have risen sharply but finally edged lower in the  most recent week as demand seems to be picking up amidst dramatic production cuts around the globe.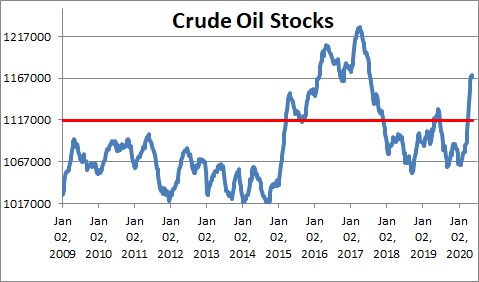 Stephen Slifer
NumberNomics
Charleston, SC