November 24, 2021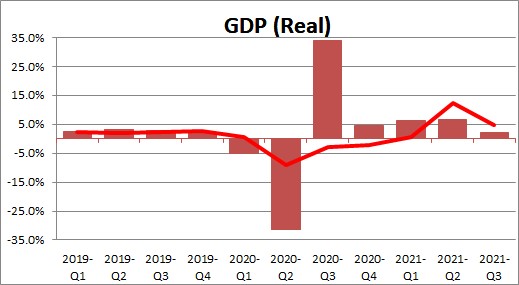 The first revision to third quarter GDP was 2.1% versus a preliminary estimate of 2.0%.  Second quarter growth was 6.7%.  In the third quarter GDP growth was hit by a combination of a rising number of COVID cases, and significant supply constraints — particularly in the motor vehicle industry.  But now COVID cases have fallen sharply. That should bolster consumer confidence as well as spending in the fourth quarter.  Initial unemployment claims and the number of people receiving benefits have fallen sharply in the past three or four weeks.  That implies a significant increase in payroll employment in November.  That, in turn, means more jobs, which means more income, which means more spending.  All of this implies faster growth in the final quarter of this year and the first half of 2022.  We currently expect 8.0% GDP growth in the fourth quarter and 4.9% GDP growth in 2022.
Final sales, which is GDP excluding the change in business inventories, was unchanged in the third quarter after rising 8.1% in the second quarter,  Given GDP growth of 2.1% and no change in final sales implies that a slower pace of inventory decline added 2.0% to GDP growth in that quarter.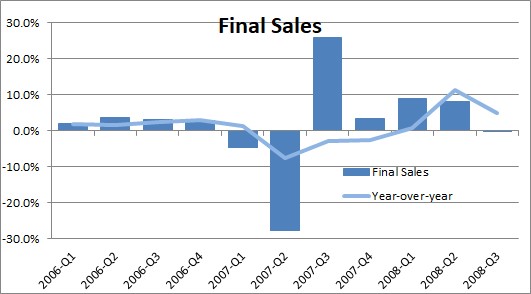 Final sales to domestic purchasers excludes both the change in inventories and trade rose 1.1% in the third quarter after climbing 8.0% in the second quarter.  Given that final sales were unchanged, then trade subtracted 1.1% from GDP growth in the third quarter.as the deficit for net exports widened slightly..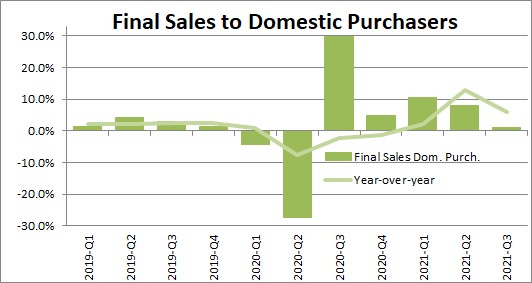 Consumption spending rose 1.7% in the third quarter after having jumped by 12.0% in the second quarter.  The sharply slower pace of spending was led by durable goods spending which fell 24.4%.  The bulk of that decline was in the motor vehicles category which shows the extent of the supply constraints, and the inability of automobile manufacturers to get the silicon chips that they need to complete the production of an otherwise finished vehicle.  But at some point those vehicles will be completed and consumption spending will soar.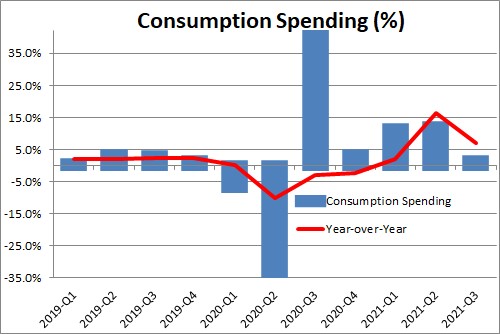 `
Nonresidential investment rose 1.5% in the third quarter after rising 9.2% in the second quarter. The slowdown was partly attributable to equipment spending which fell 2.4% and spending on structures which  plunged by 5.0%. .    Some of the drop in those two categories may also reflect supply constraints.  But in today's world firms need to invest in technology that will allow them to survive difficult times, and/or help them expand their production and delivery functions to meet surging demand.  Intellectual property climbed 9.2% in the third quarter — its fourth consecutive of essentially double-digit increase.  We suspect that, as  noted earlier, supply constraints will gradually diminish, intellectual property should continue to climb rapidly, and nonresidential investment will resume a much more rapid pace of growth..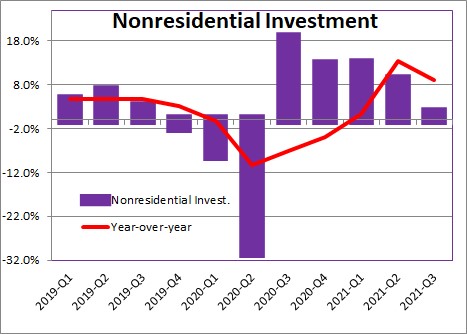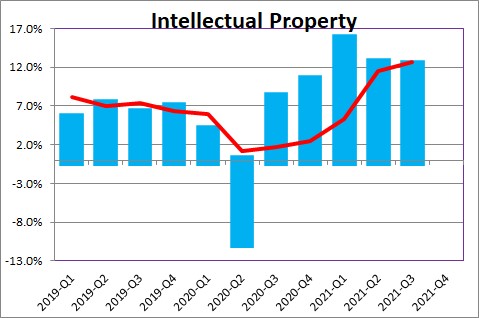 Residential investment fell  8.3% in the third quarter after having plunged by 11.7% in the second quarter.  It appears that the dramatic increase in home prices is curtailing sales of homes prices at $300,000 or below.  At the same time builders are experiencing a shortage of workers, higher commodity prices, and difficulty in getting necessary materials in a timely matter.  But as more labor becomes available and supply constraints disappear, residential investment should resume its climb in the fourth quarter and beyond..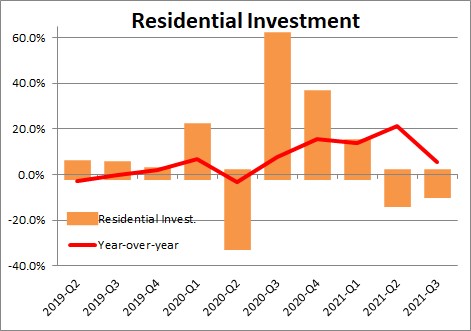 The foreign sector as measured by the deficit for real net exports In the second  quarter widened by $67.7 billion to $1,312.2 billion after widening by $18.4 billion in the second quarter.  Exports fell 3.0% in the third quarter after having risen 7.6% in the second quarter, while imports rose 5.8% after climbing by 7.1% in the second quarter.  These results suggest that the rebound in the U.S. economy is continuing to outpace the pickup in growth overseas.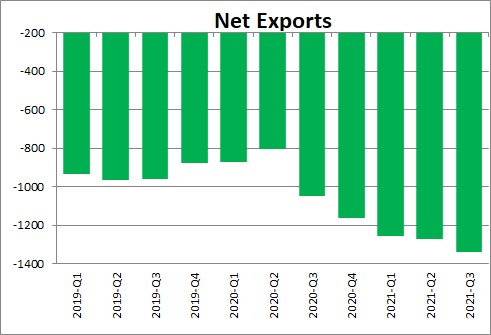 .Federal government spending declined 5.0% in the third quarter after falling 5.2% in the second quarter.  After a big jump in the first quarter as the final round of stimulus checks was disbursed, government spending is dropping back to a more normal pace.  Defense spending fell 1.6%, but non-defense spending plunged by 9.3% in the third quarter after declining 10.7% in the second quarter.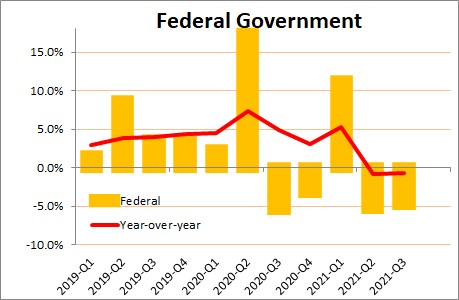 We expect  GDP to rise by 8.0% in the fourth quarter and grow at a 4.9% pace in 2022.
Stephen Slifer
NumberNomics
Charleston, SC