May 26, 2022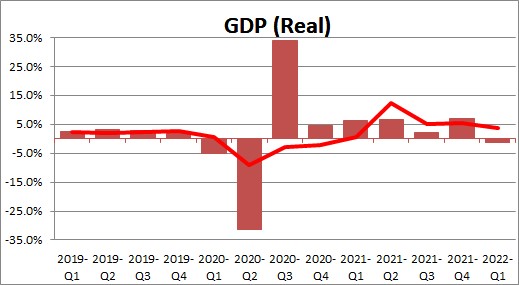 The revised estimate of first quarter 2022 GDP is -1.5% compared to a preliminary estimate of -1.4% after expanding at a steamy 6.9% pace in the fourth quarter.  It would be a serious mistake to view the single-quarter decline in GDP as a harbinger of recession.  Recessions begin when consumers pull back and cut spending.  They did not.  Recessions begin when orders shrink and businesses curtail investment spending and begin to lay off people.  They did not.  Consumers and businesses continued to spend, but when domestic sources for their purchases dried up they turned to imported products.
The economy- has been buffeted by a series of shocks from a variety of sources.  COVID has distorted growth patterns of growth for the past two years.  In the early stages the quarantine caused a sharp contraction in GDP growth in the second quarter of 2020.  A dramatic rescue package caused an almost equally robust surge in growth in the third quarter of that year.  Additional government spending fueled the pace of spending in the second half of 2020 and first half of 2021 even though the economy was well past the danger stage.  That dramatic rebound in spending created supply shortages as the pickup in demand far outstripped manufacturers ability to step up the pace of production.  That supply/demand imbalance then generated a dramatic surge in inflation.  Now, the Federal Reserve has begun what is expected to be series of rate hikes and shrinkage of its balance sheet to counter the pickup in inflation.  And if all of that weren't enough to deal with, Russia invades Ukraine which has raised the specter of a war that expands well beyond the borders of the two countries.  Being buffeted by this series of factors has created GDP growth distortions which makes getting a firm read on the pace of economic activity challenging for consumers, investors, and policy makers.  So while the first quarter GDP decline was surprising, it should not be interpreted as a sign of an impending recession.  As long as spending holds up, the economy will be fine.
Final sales, which is GDP excluding the change in business inventories, fell 0.4% in the first quarter after having risen 1.5% in the fourth quarter.  Given a GDP decline of 1.5% and a 0.4% decline in final sales, it means that the increase in inventories subtracted 1.1% from GDP growth in that quarter.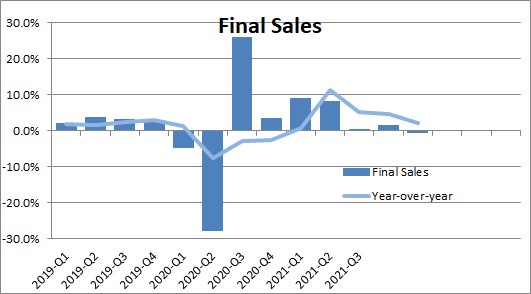 Final sales to domestic purchasers which excludes both the change in inventories and trade rose 2.7% in the first quarter after climbing by 1.7% in the fourth quarter.  Given that final sales declined 0.4% in the fourth quarter while final sales to domestic  purchasers rose 2.6%, then trade subtracted 3.1% from GDP growth in the first quarter.as the deficit for net exports widened with exports declining and imports surging.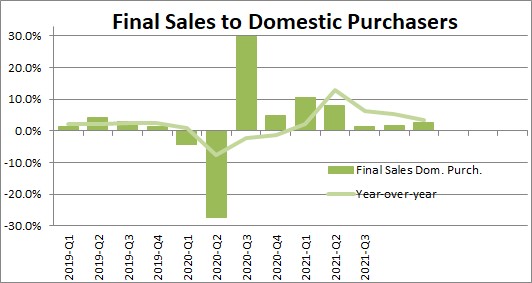 Consumption spending rose 3.1% in the first quarter after climbing 2.5% in the fourth quarter.  Spending on goods was unchanged in the first quarter.  .Nondurables fell 3.7% as clothing and energy products (principally gasoline) fell.  Spending on services climbed by a solid 4.8% as noteworthy gains were reported in numerous categories — housing and utilities, health care,  restaurant dining, recreation and financial services.  With service sector spending continuing to climb more rapidly than goods purchases, it is clear that supply constraints are curtailing the pace of economic activity in the economy across a wide spectrum of goods.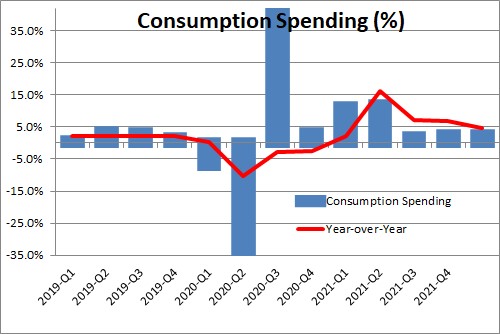 Nonresidential investment rose at a steamy 9.2% pace in the first quarter after climbing 2.9% in the fourth quarter. Spending on structures declined 3.6%.  Equipment spending jumped by 13.2%.   In today's world firms need to invest in technology that will allow them to survive difficult times, and/or help them expand their production and delivery functions to meet surging demand.  Intellectual property climbed 11.6% in the first quarter after an 8.9% gain in the fourth quarter  In the past four quarters spending on intellectual property has risen 10.5%.  We suspect that, as  noted earlier, supply constraints will gradually diminish, intellectual property should continue to climb rapidly, and nonresidential investment will continue at a rapid pace of growth..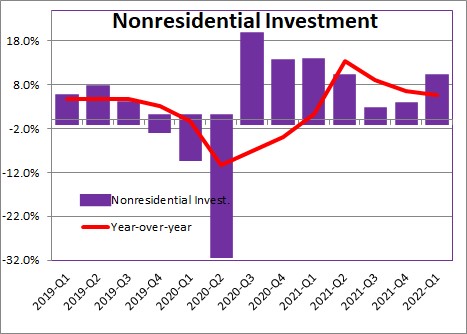 Residential investment rose 0.4% in the first quarter after climbing 2.2% in the fourth quarter.  The demand for housing remains robust despite higher prices and mortgage rates.  The problem is that builders are experiencing a significant shortage of workers, higher commodity prices, and difficulty in getting necessary materials in a timely matter.  As more labor becomes available and supply constraints disappear, residential investment should continue to climb slowly in the quarters ahead.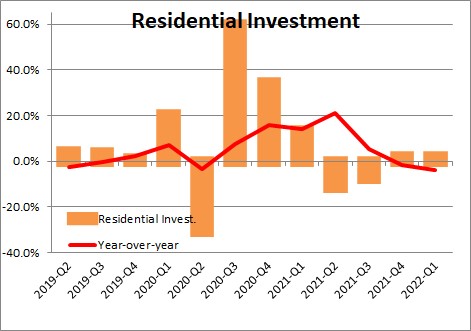 The foreign sector as measured by the deficit for real net exports widened by $193 billion in the first quarter to $1,543.5 billion after widening by $34 billion in the fourth quarter.  Exports declined 5.4% in the first quarter after having risen 22.4% in the fourth quarter.  Imports jumped by 18.3% in the first quarter after having risen by 17.9% in the fourth quarter.  These results suggest that the global economy is expanding but with the rebound in the U.S. economy continuing to outpace the pickup in growth overseas.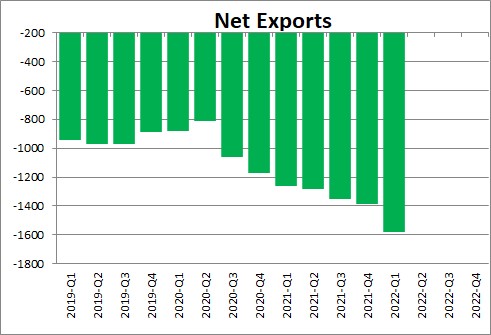 .Federal government spending fell 6.1% in the first quarter after declining 4.3% in the fourth quarter.  Defense spending fell 8.5%, while non-defense spending declined by 2.6%.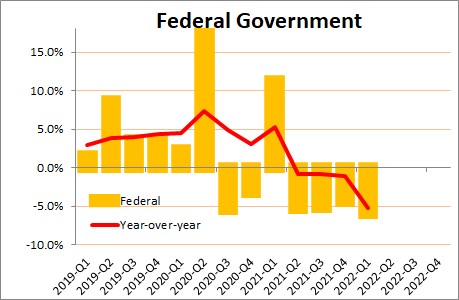 After having risen 5.5% in 2021 we expect GDP to expand at a 2.0% pace in 2022 as supply constraints continue to take a toll on growth.  But eventually those supply constraints will end.  The bulk of the improvement in deliveries now seems likely to be in 2023 rather than 2022.
Stephen Slifer
NumberNomics
Charleston, SC