April 29, 2021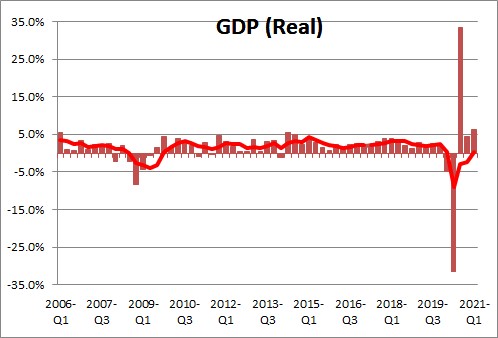 The preliminary estimate of first quarter GDP growth came in at 6.4% compared to a fourth quarter growth rate of 4.3%.  In the first quarter GDP growth was bolstered by a continuing rebound from the GDP slump in the second quarter of last year as more and more businesses re-opened.  The number of new COVID infections daily has declined significantly as the vaccination process is having an  impact, and the $1,400 tax refund checks bolstered consumer spending.  This lists both consumer and business confidence.
The $900 billion fiscal stimulus bill and its $600 tax refund checks approved in late December bolstered growth in January  And then the $1.9 trillion stimulus plan with even larger $1,400 checks to most taxpayers bolstered growth in March..  We currently look for 10.0% growth in Q2.  We also look for 8.0% GDP growth for 2021 followed by GDP growth of 4.8% in 2022..
Final sales, which is GDP excluding the change in business inventories, jumped by 9.2% in the first quarter quarter after having risen 2.9% in the fourth quarter.  Given GDP growth of 6.4% and growth in final sales of 9.2%, inventory accumulation subtracted 2.8% from GDP growth in that quarter.  Basically, the government put money in consumers pockets in the first quarter but manufacturers couldn't keep pace because of supply constraints and had to draw down inventory levels.  As the year progresses those inventory levels will need to be restored which will boost GDP growth in subsequent quarters.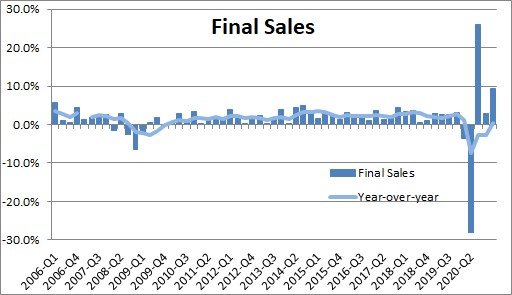 Final sales to domestic purchasers excludes both the change in inventories and trade rose 9.8% in the first quarter.  Given that final sales rose 9.2%, then trade subtracted 0.6% from GDP growth in the first quarter.as the deficit for net exports widened in Q1.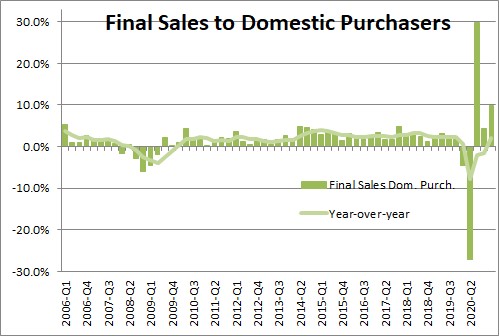 Consumption spending jumped by 10.7% in the first quarter as the government distributed two fiscal stimulus checks in that quarter.  That compared to modest 2.3% growth in the fourth quarter.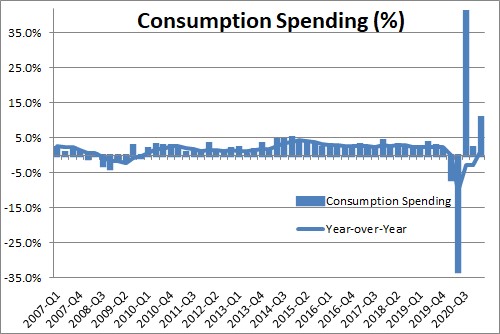 `
Nonresidential investment rose 9.9% in the first quarter after having risen 13.1% in the fourth quarter. The increase was largely attributable to equipment spending which surged by 16.7%.  Spending on structures fell 4.8% in the first quarter.  Spending on intellectual property rose 10.1%.  Firms need to invest in technology that will allow them to survive difficult times, and/or help them expand their production and delivery functions to meet surging demand.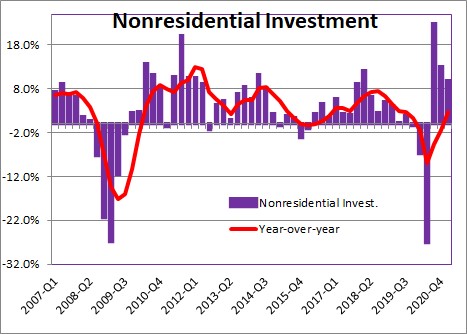 Residential investment continued to climb at a 10.8% pace in the first quarter after growing 36.6% in the fourth quarter.  Housing is hot.  First quarter growth in housing was slowed by the series of snow and ice storms that shut down much of the country in February (think Texas).   Certainly a near record low level of 3.1% mortgage rates is a large reason why.  Also renters in expensive metropolitan areas like New York, Chicago, and San Francisco are abandoning the city for more affordable housing in the suburbs.  Sales in resort communities like Lake Tahoe, the Jersey shore, and the mid-Atlantic beaches are booming.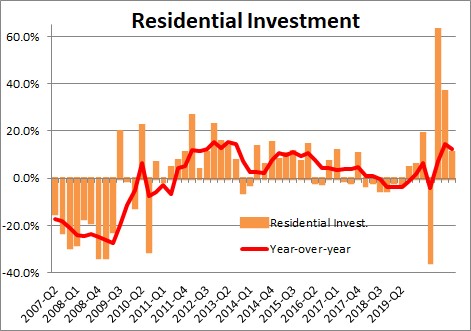 The foreign sector as measured by the deficit for real net exports In the first  quarter widened by $53 billion to $1,175.5 billion.   Exports fell 1.1% in the first quarter while imports rose 5,7%.  These results suggest that the rebound in the U.S. economy is continuing to outpace the pickup in growth overseas.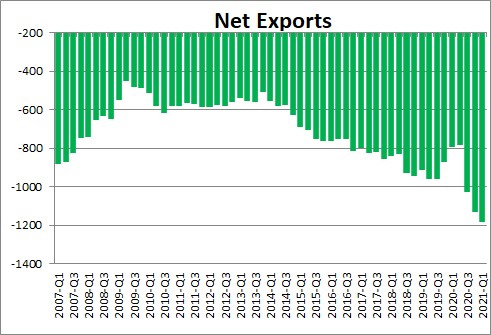 Federal government spending jumped 13.9% in the first quarter as transfer payments to consumers rose sharply — $600 checks in January and $1,400 checks in March.  In the fourth quarter federal government spending fell 0.9%  Defense spending fell 3.4%, but non-defense spending surged by 44.8% in the first quarter.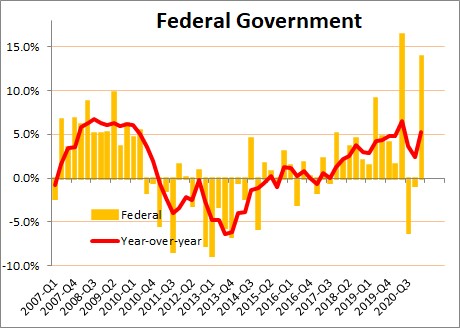 GDP climbed by 6.4% in Q4.  We expect  GDP to rise by11.0% in the second quarter.  We anticipate GDP growth of 8.0% for 2021 as the vaccines bolster growth in the second half of the year at the same time as additional more government spending further lifts growth.
Stephen Slifer
NumberNomics
Charleston, SC