June 25, 2020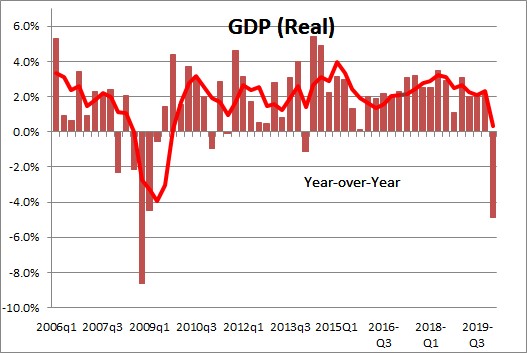 The final estimate of first quarter GDP growth came in a -5.0% which is the same as the preliminary estimate, and compares to an advance estimate of -4.8%.  January and February were relatively strong months and were consistent with a first quarter GDP growth rate of 2.0-2.5%.  But in the second half of March when drastic measures were taken to halt the spread of the corona virus the economy stopped dead in its tracks and turned a respectable growth rate into a 5.0% decline
Final sales, which is GDP excluding the change in business inventories fell 3.5% in the first quarter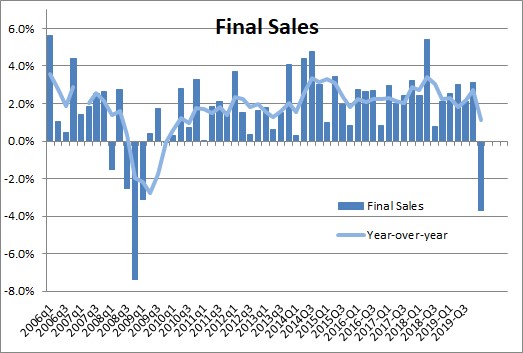 Final sales to domestic purchasers excludes both the change in inventories and trade fell 4.6% in the first quarter.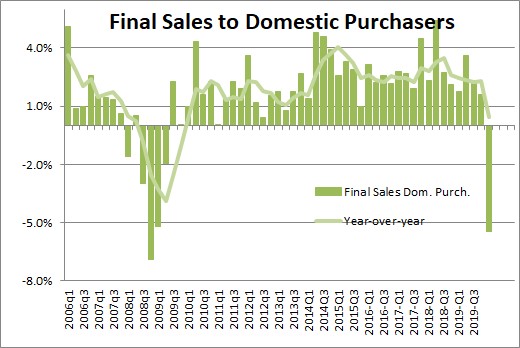 Consumption spending plunged by 6.8% in the first quarter and accounted for all of the GDP decline in that quarter.  Indeed, health care by itself accounted for one-half of the GDP decline as elective surgeries were halted and hospitals turned their attention to treating corona virus patients..  Food and services and accommodations accounted for another 33% or so.  Recreation services accounted for another 20%.  We expect consumer spending to decline 36% in the second quarter..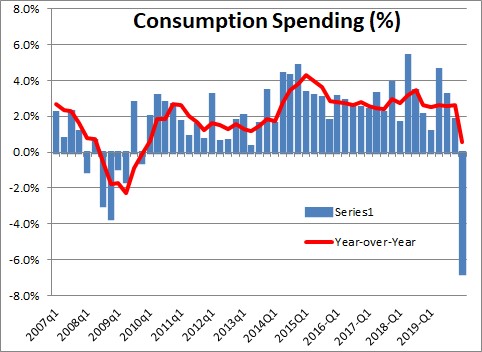 `
Nonresidential investment fell 6.4% in the first quarter.  Not surprisingly spending on structures (factories, offices, etc.) and equipment spending declined by 7.9% and 16.7% respectively.  But intellectual property which includes spending on computer hardware and software actually rose 1.0% in the first quarter.  Businesses are counting on technology to help them weather this brutal period.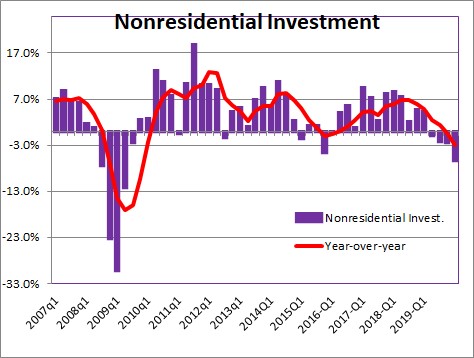 Residential investment jumped 18.2% in the first quarter.  While at first blush that seems astounding, remember that the pace of construction in the first quarter was largely depending on the steady pickup in home sales early in the year.  We look for residential investment to fall 30% in the second quarter.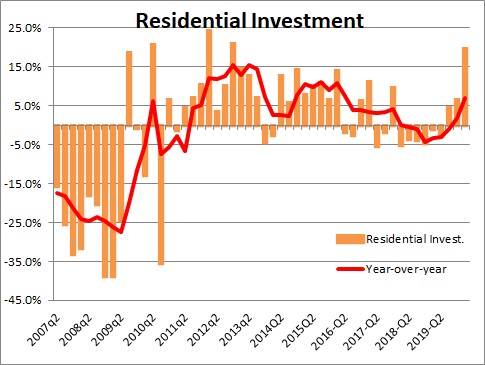 The foreign sector as measured by the deficit for real net exports In the first  quarter narrowed by $83 billion from $900 billion to $816.6 billion.   But that result came about because of the lousy combination of a 9.0% decline in exports combined with a 15.7% decline in imports. Growth around the world came tumbling down in the first quarter.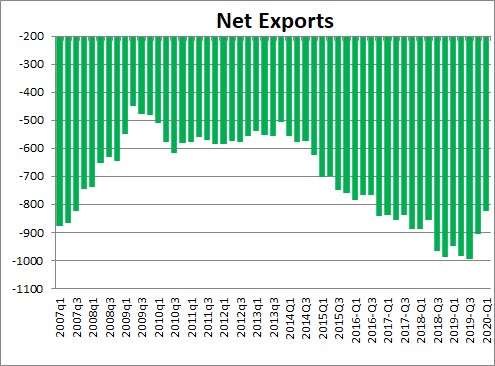 Federal government spending rose 2.0% in the first quarter.  We expect Federal government spending to rise 6.0% this year as both defense  and non-defense spending climb.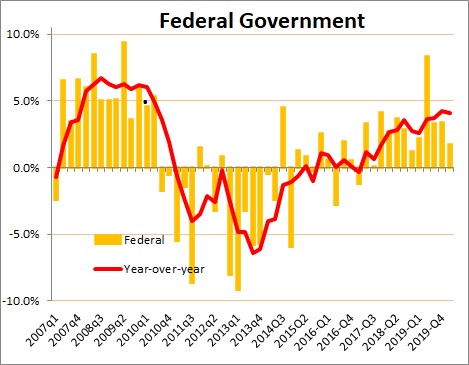 Following the 5.0% GDP drop in the first quarter, we expect second quarter GDP to plunge by 50%, but then as federal government stimulus checks work their way into the hands of consumers and businesses, we expect GDP growth to rebound by 51% in the third quarter and an additional 7.0% in Q4.
Stephen Slifer
NumberNomics
Charleston, SC