July 28, 2017
Second quarter GDP growth came in at 2.6% which was roughly in line with what had been expected.  More importantly, the mix of spending was positive and portends a solid pace of expansion in the quarters ahead.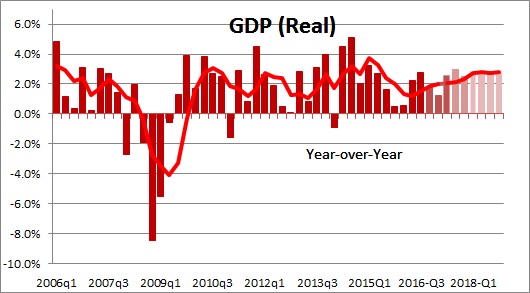 Consumer spending which is about two-thirds of the GDP pie climbed by a robust 2.8% rate in the second quarter.  Looking ahead, the outlook for consumer spending seems solid.  Fueled by a steadily rising stock market and increases in home prices, net worth is at a record high level.  Consumer confidence is the highest it has been thus far in the cycle.  The economy continues to crank out 170 thousand jobs per month which boosts growth in consumer income.    Interest rates remain low with mortgage rates at the 4.0% mark.  It is hard to see how consumer spending is going to slow down in the second half of this year.  We expect this spending category to climb 2.6% both this year and next.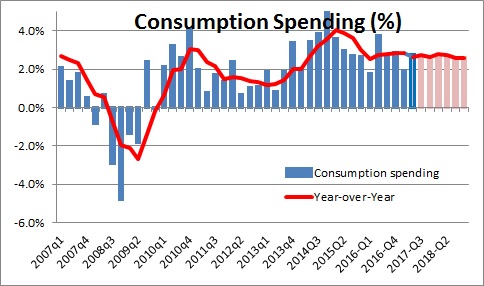 Another GDP component that needs to be highlighted is nonresidential investment.  After having been essentially unchanged in 2015 and 2016, corporate spending jumped 7.0% in the first quarter and continued at a solid 5.1% pace in the second quarter.  Those are the fastest back-to-back growth rates in three years.  We had hoped that the prospect of corporate tax cuts, a reduced regulatory burden, and the ability to repatriate corporate earnings at a favorable tax rate would boost business confidence and enhance their willingness to spend on additional equipment and technology.  We are clearly encouraged by the first half results.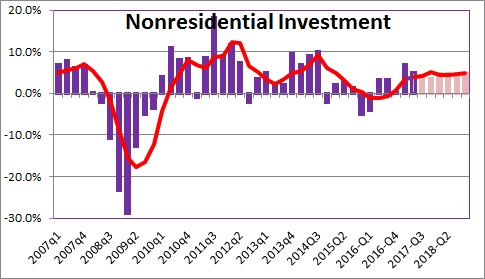 Because investment spending is a primary determinant of growth in productivity, our hope is that renewed vigor in the pace of investment spending will boost productivity growth from 0.8% currently to 1.8% or so by the end of the decade.  The additional 1.0% increase in productivity growth should boost potential GDP growth for the U.S. from 1.8% today to 2.8% by the end of the decade.  A fastest potential growth rate means faster growth in our standard of living.
The other category we would like to highlight is net exports.  The net exports deficit narrowed slightly in each of the past two quarters.  When it narrows it adds to GDP growth in that quarter.  As shown below, we expect this category to be essentially unchanged between now and yearend and in 2018.  What happens in this category is determined, to a large extent, by what happens to the dollar.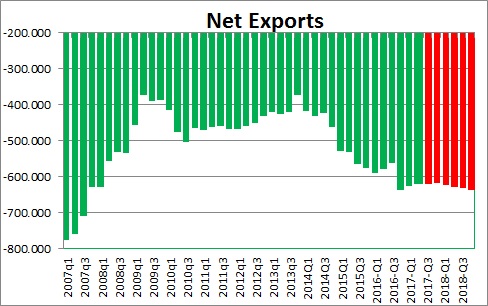 As oil prices plunged in the second half of 2014 and 2015 the dollar strengthened by more than 20%.  When that happens U.S. goods are more expensive for foreigners to purchase.  Foreign goods are cheaper for Americans to purchase.  As a result, the trade gap widened considerably during that period of time and subtracted about 0.5% from GDP growth in those two years.  Following the election the dollar initially rose sharply as foreign investors believed that the tax cuts, repatriation of earnings, and a reduced regulatory burden would substantially boost GDP growth.  But now those expectations have been curtailed and the dollar has fallen 5% in the past six months.  Initially, it looked like the dollar might strengthen this year and trade would subtract a modest amount from GDP growth in 2017.  But now the dollar is likely to change very little and trade should not subtract anything.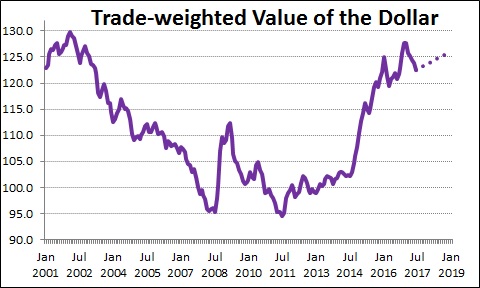 Putting all of this together we conclude that GDP growth in the second half of this year should climb by 2.7% and expand at roughly that same pace in 2018.  Keep in mind that GDP growth was stuck around the 2.0% mark in 2015 and 2016.
For the Fed faster GDP growth is part of the equation that will determine what they are going to do in the months and quarters ahead, the other part is inflation which has been extremely well-behaved in the first half of this year.  The core CPI rose 2.2% in 2017.  It has since backtracked and is now climbing at a modest 1.7% pace.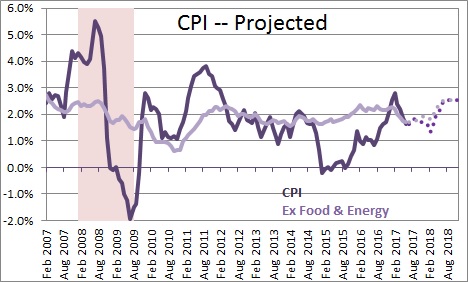 However, it has been distorted by changes in wireless phone and prescription drug categories.  There is currently a bidding war amongst wireless phone providers and, as a result, phone prices have declined 13% in the past year.  This will not continue forever.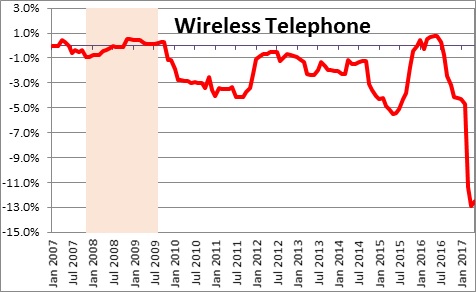 At the same time prescription drug prices have declined since the election.  In October of last year prices were rising at a 7.0% pace.  Since the election prescription drug prices have fallen at a 1.0% rate.  During the election campaign Trump promised to drive down drug prices by allowing consumers to import prescription drug medicines from abroad, and having Medicare negotiate prices directly with pharmaceutical companies.  Thus far he has been quite successful.  However, this category is unlikely to remain constrained for a protracted period of time.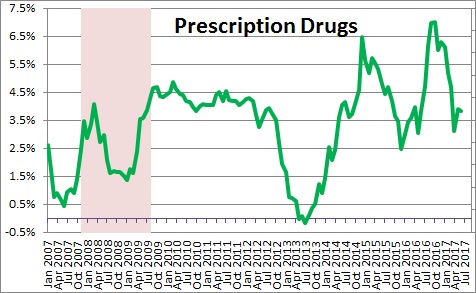 Thus we remain convinced that the tightness in the labor market will boost wages, and the shortage of available housing will put upward pressure on rents.  For that reason, we expect the overall CPI and the core inflation rate to increase 2.5% in 2018 which is slightly above the Fed's target.
In short, we were pleased with the composition of the second quarter GDP report and think it bodes well for GDP growth both in the near-term and in the longer-term.  Over time the inflation rate will move above the Fed's target.  This scenario will keep interest rates on a gradual upward trajectory and, in a new wrinkle, the Fed will start running off some its security holdings by the end of the year.
Stephen Slifer
NumberNomics
Charleston, SC