April 28, 2022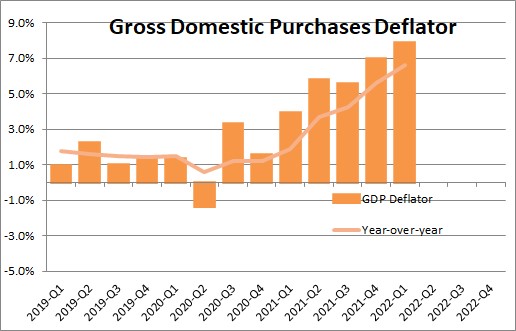 There are many different deflators that are available.  This one is for gross domestic purchases which measures prices paid by U.S. residents.  It is the one measure of inflation that the Commerce Department talks about when it releases the GDP report.   It is our broadest measure of inflation and contains more than 5,000 goods and services.
The gross domestic purchases deflator jumped 7.8% in the first quarter after having risen by 7.0% in the fourth quarter  During the past year this measure of inflation has risen 6.6% but it is clearly accelerating..
Excluding the volatile food and energy components this index climbed by 6.7% after rising 6.2% in the fourth quarter  In the past year it has risen 5.9%.  It, too, is accelerating.
Stephen Slifer
NumberNomics
Charleston, SC