July 26, 2019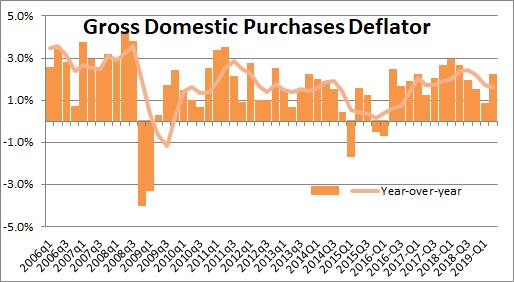 There are many different deflators that are available.  This one is for gross domestic purchases which measures prices paid by U.S. residents.  It is the one measure of inflation that the Commerce Department talks about when it releases the GDP report.   It is our broadest measure of inflation and contains more than 5,000 goods and services.
The gross domestic purchases deflator rose 2.2% in the second quarter after having risen 0.8% in the first quarter. Over the past year this index has risen 1.6%.
Excluding the volatile food and energy components this index rose 1.8% in the second quarter after having risen 1.2% in the first quarter.
Remember that these deflators are weighted measures of inflation.  That means that when a builder switches from using copper pipe to PVC to save money, it registers as a price decline in these particular inflation measures.  Or when a consumer switches from buying butter to less expensive margarine the result is the same.  Thus, the deflator represents a combination of price changes and changes in consumer and business behavior.
The CPI, however, is a fixed basket of goods and services.  So what it shows are price changes only which, to us, is what inflation is all about.   We believe that the inflation rate will inch upwards in 2019.  With the unemployment rate at 3.8% the economy is at full employment which should boost wages.  However, much of the upward pressure on wages is being offset by an increase in productivity.  A very short supply of available rental properties is boosting rents and helping to push inflation higher.  Oil prices fell sharply in the fourth quarter and have rebounded, but should be fairly steady for the balance of the year.    One other thing that is keeping the inflation rate in check is technology.  People are able to search the internet and find the lowest price available from Amazon or some other on-line website.  Thus, sellers of goods have absolutely no pricing power.  Prices of goods have declined 0.2% in the past year while prices for services have risen 2.8%.  Hence we expect  the core CPI to climb  2.3% this year after having risen 2.2% in 2018.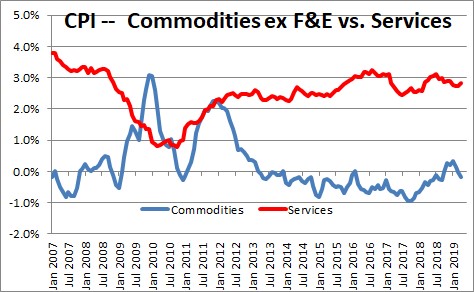 Stephen Slifer
NumberNomics
Charleston, SC