March 26, 2021
Mortgage rates have risen 0.25% to 3.0% and are likely to climb further as the year progresses.  At the same time home prices have been rising rapidly.  But housing affordability is dependent upon three factors – home prices, mortgage rates, and family income.  The first two parts of this equation have been rising and act as a brake on sales, but family income is going to surge as tax refund checks will stimulate consumer spending on housing and all sorts of other goods and services for months to come.  At the same time as the rate of spread of the corona virus continues to slow and vaccines become more widely distributed, consumers will feel more willing to spend in the months ahead.  The government is flooding consumers with money that is almost certain to be spent between now and yearend.
The first part of the three-part equation that determines housing affordability is mortgage rates.  In the past couple of months those rates have risen from a record low level of 2.7% to 3.0%.  With the economy likely to increase 7.5% this year as government stimulus checks boost consumer income and spending and money supply growth soaring, the inflation rate should also climb.  If that is the case, the yield on the 10-year note should rise which will, in turn, lift mortgage rates to the 3.7% mark.  Without a doubt, higher mortgage rates will act as a brake on sales in the second half of the year.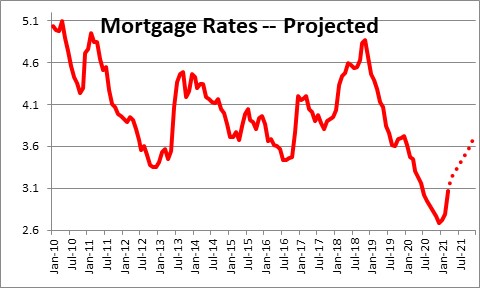 The second piece that will also curtail home sales in the months ahead is the recent rapid increase in home prices.  The Case Shiller National Home Price Index has risen 10.4% in the past twelve months.  However, sharp increases in each of the past five months are consistent with prices rising 15% this year.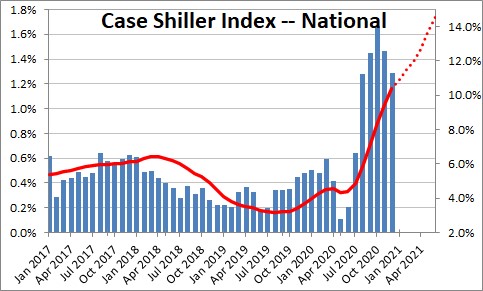 Why are home prices rising?  Two reasons.  Demand is strong.  Supply is limited.  On the demand side, existing home sales have been extraordinarily robust ever since the recession ended in April of last year.  Record low mortgage rates encouraged potential home buyers to take the plunge.  At the same time some big city dwellers are choosing to abandon expensive big city home prices and rents and purchase a more affordable home in suburban communities.  In January home sales had risen 23.0% above their year ago level.  That slipped in February because a series of snow and ice storms paralyzed most of the Midwest and the Northeast in that month.  Sales will undoubtedly rebound because the housing market is hot.  For example, the average home solid in just 20 days in January which is the shortest length of time between listing and sale ever.  We expect existing home sales to climb 7.5% from 6.7 million at the end of last year to 7.2 million by yearend.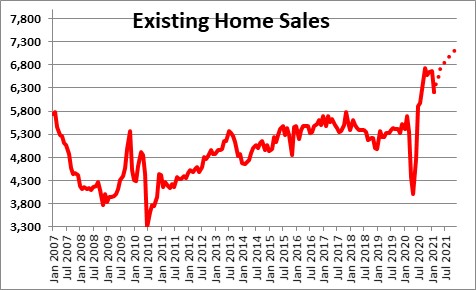 At the same time builders' ability to keep up with demand is curtailed by a number of factors.  First, they cannot get enough skilled workers to sharply boost production.  At its peak construction employment was 7.6 million workers.  It quickly fell by 1.0 million workers during the two-month recession.  Since the recession about 0.8 million of those workers are back on the job.  There are only 0.2 million others that still have not returned to work.  In good times construction employment rises by about 50 thousand per month.  Thus, there is only about a four-month supply of available workers.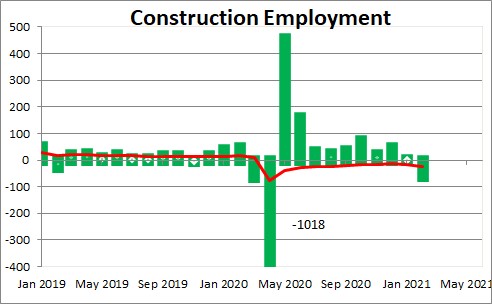 At the same time builders' cost of materials has risen dramatically.  For example, lumber prices have risen 25% in the past year as fires in the West last year curtailed the supply and as noted earlier, the demand for housing has risen dramatically.  As their costs have risen so have their prices.  We anticipate a further 15% increase in home prices this year.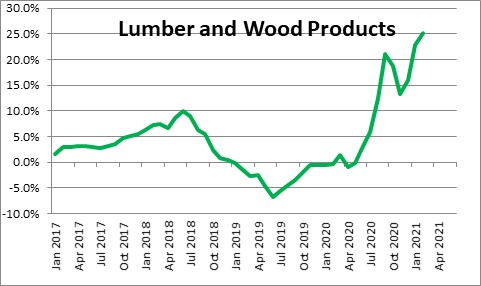 The last piece of the equation is consumer income.  The latest round of $1,400 stimulus checks is going to dramatically boost consumer income, spending, and the savings rate.  The savings rate slipped in February to 13.5%.  But the $1,400 checks should push that rate back up to the 30% mark in March.  Typically, the savings rate averages about 6.0%.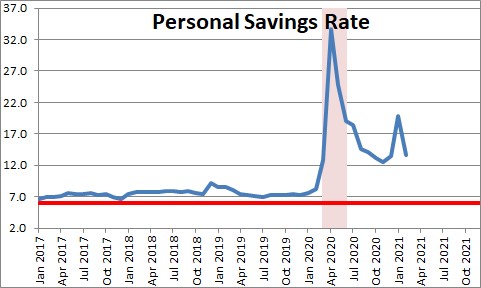 If the savings rate jumps to 30.0% in March there will be $6.6 trillion of consumer savings.  If consumers were to save 6.0% of their income savings would be $1.3 trillion.  That means that in the wake of the final round of virus relief checks, there will be $5.3 trillion of surplus savings in the economy.  In 2019 consumer spending rose 4.7% or $0.7 trillion.  Thus, the current level of savings could fuel seven years of moderate consumer spending.  So what will consumers do with all of that money?  They will almost certainly use some of those surplus funds to buy houses.  They will buy other goods and services.  And they will probably invest some of that money in the stock market.  Consumers have a ton of money available to do whatever they want for the foreseeable future.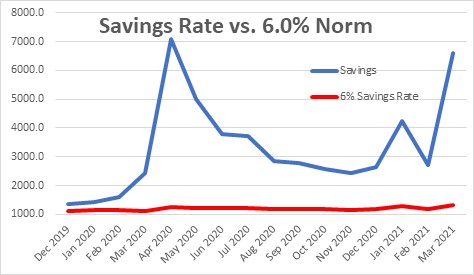 The National Association of Realtors produces a series on housing affordability which takes into account changes in mortgage rates, home prices, and consumer income.  In January (benefiting from the $600 stimulus checks that were sent out in that month) this index jumped to 187.  This means that potential home buyers had 87% more income than is necessary to purchase a median-priced house.  To put that number in perspective, prior to the 2008-09 recession this index was 115 meaning that consumers had just 15% more income than required to purchase a median-priced house.  Housing was expensive then.  It is readily affordable today.  We have made an estimate of housing affordability to incorporate a further increase in mortgage rates to 3.7% by yearend, a 15% increase in home prices, and a 9.0% increase in consumer income.  If those estimates are accurate, potential home buyers would still have 54% more income than required to purchase a median-priced home at the end of the year.  Less affordable than today to be sure, but still easily affordable.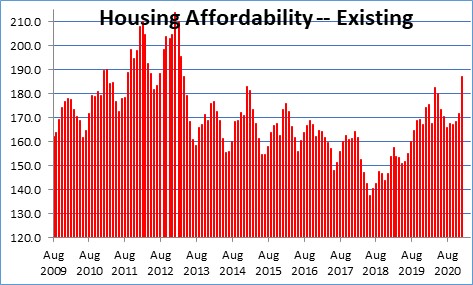 The bottom line is that the government has put so much money into consumers' hands that we have the ability to spend money on anything we want.  And if the rate of spread of COVID continues to decline and the economy reaches something close to herd immunity by the end of April, consumers will feel comfortable spending on everything.  Given all of this we feel quite comfortable projecting 7.5% GDP growth in 2021 which would be the fastest growth rate in 40 years and a 7.5% increase in existing home sales..
Stephen Slifer
NumberNomics
Charleston, S.C.