June 25, 2021
New home sales peaked in January and have dropped sharply in each of the past four months.  It is tempting to conclude that the rapid increase in home prices is beginning to take a toll on the red hot housing sector.  That would be the wrong conclusion.  By almost any measure, the demand for housing still far exceeds supply and the vast majority of potential buyers can easily afford today's inflated prices.  Having said that. the rapid price appreciation has squeezed some lower-income families and first-time buyers out of the market.  But, hopefully, as the economy continues to open up and more workers become available once federal unemployment benefits expire after Labor Day, builders can significantly step up the pace of production which will reduce some of the extreme shortage of housing units and put a damper on the pace of price appreciation.
The pandemic caused an explosion in the demand for houses in part because of extremely low 3.0% mortgage rates.  In addition, workers living in very expensive metropolitan areas like New York, Chicago, San Francisco, and Los Angeles discovered that they can just as easily work from home in an affordable suburban community.  They are ditching their downtown digs and moving to the burbs.  As a result, home sales exploded during the pandemic.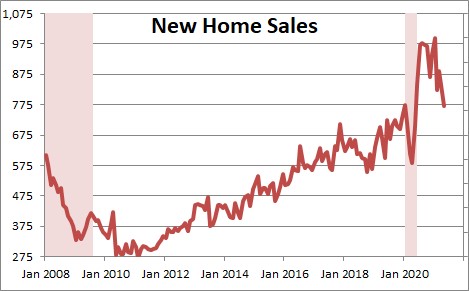 As sales skyrocketed realtors were initially delighted.  But suddenly there were fewer homes available for realtors to show their clients. Demand and supply are roughly in balance when there is 6.0-month supply of homes available.  But today there is a 2.5 month supply.  The pickings are slim and fewer homes are being sold because of that shortage.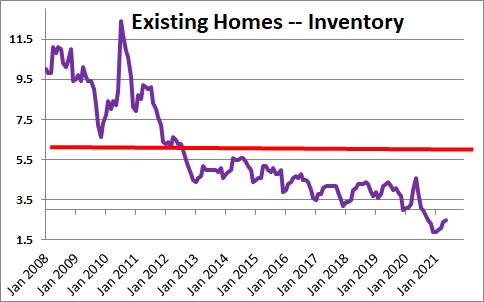 New homes on the market tend to disappear quickly.  The length of time between listing and sale has steadily declined to a record short 17-day time period.  No sign of any slowing in the housing market from these data.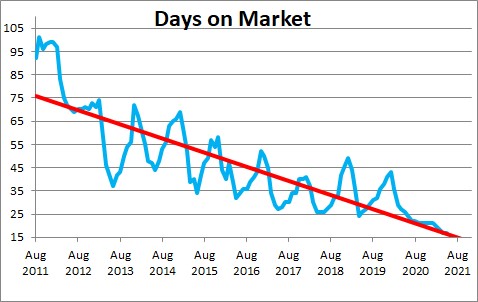 Sensing a gold mine sellers are listing their homes at grossly inflated prices.  Flush with cash and limited choices, many buyers continue to bite despite the lofty prices.  As a result, home prices have skyrocketed.  Existing home sales have risen 23% in the past year to a record high level of $350,000.
A price gain of that magnitude is going make housing generally less affordable.  But be careful.  Housing remains quite affordable for most potential buyers.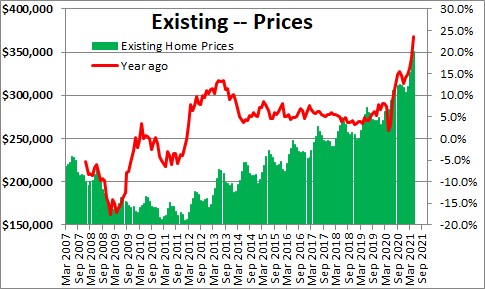 The National Association of Realtors has created an index of housing affordability which is based on three variables – the price of the house, mortgage rates, and consumer income.  Using the median price for a single-family home, assuming a 20% down payment and the prevailing mortgage rate, it calculates the monthly payment.  The NAR then expects that monthly payment to be no more than 25% of the household's family income.  It compares the required level of income to the actual level of family income.  In April, a median income-earning family had 56% more income than required to purchase a median-priced home.  What does that mean?  Average affordability over the past ten years is 68%.  The low was in 2007 – at the peak of the housing bubble –when consumers had just 15% more income than required.  Housing was expensive then.  That is not the case today.  Housing remains quite affordable for most – but not all – potential home buyers.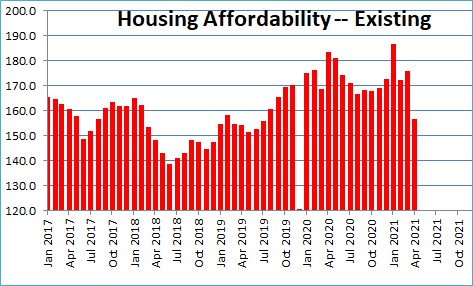 The exception seems to be lower income-earning households.  In April when the median-priced home was $346,000 and mortgage rates were 3.1%. family income needed to be $56,800 to qualify for a mortgage.  Clearly, lower income families cannot qualify.  From the end of 2019 (prior to the recession) to April 2021 the down payment on that median priced home has climbed from $55,400 to $69,300.  The monthly payment has risen from $1,030 to $1,184.  Home ownership is out of reach for many lower income earning families.
The reduced affordability amongst lower income families is evident in the new home sales data sorted by price during the past year.  For example, the percentage of homes selling for less than $200,000 has shrunk from 12% in May of last year to 2%.  For homes between $200,000 and $300,000 the share has slipped from 32% to 24%.  Thus, the share of these lower priced homes combined has fallen 18% in the past year.  Conversely, the share of homes priced above the $300,000 mark have increased by 18% with most of the increased share for homes priced above $400,000.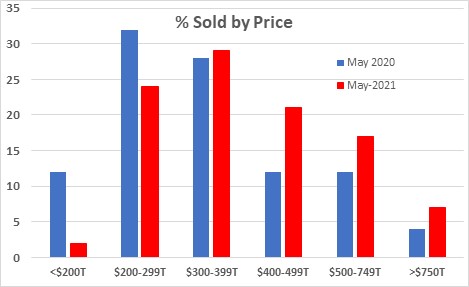 A continuation of the current double-digit pace of home price acceleration could eventually impact the entire housing sector.  But that is not going to happen.  With a 3.0% mortgage rate the demand for housing remains solid with the exception of lower-income families.  There are simply not enough homes on the market to satisfy demand.  Thus, the solution is for builders to crank up the pace of production.  They are trying.  Housing starts peaked at 1.6 million just prior to the recession, got hit sharply in March and April of last year, and have been climbing steadily since.  Starts have now recovered to the 1.6 million mark.  Building permits (which are a precursor of starts) have climbed to 1.7 million.  Thus, starts should continue to climb in the months ahead.  But how many housing units do we need to satisfy demand?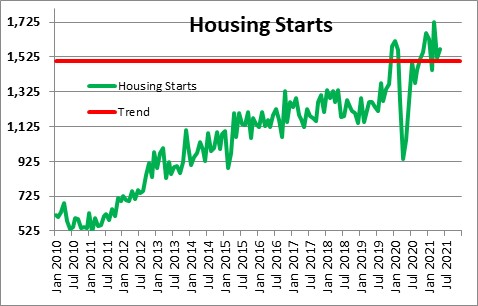 The Census Bureau can shed some light on that question.  Not so long ago there were roughly 1.2 million households formed every year and, hence, builders needed to produce 1.2 million new housing units to keep pace.  But the chart below indicates that in the past five years household formation has picked up to about 1.5 million.  Only recently has the pace of starts reached that mark.  It has fallen well short of what was needed for years so there is a considerable backlog of demand.  Picking up the pace of starts to 2.0 million or so should help.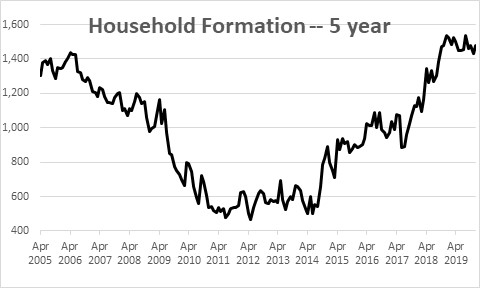 Builders have been hiring workers as quickly as they can.  The industry lost one million workers during the recession.  About 800 thousand workers have been hired since, so the industry is still not back to where it started.  Builders desperately need more bodies.  Our hope is that once federal unemployment benefits expire after Labor Day that builders will be able to hire more workers and the pace of starts will continue to climb.  At the same time some of the delays in receiving required materials and steadily rising commodity prices will abate.  As that occurs, the extreme shortage of homes available will shrink and the rate of increase in home prices will slow.  Time will tell.
Stephen Slifer
NumberNomics
Charleston, S.C.