January 24, 2019
Existing home sales continued to climb in December to 5,540 thousand which is 10.8% higher than they were in December a year ago.  Rising consumer income and low mortgage rates are bringing potential buyers back into the market.  That is good.  But, unfortunately the number of homes available for sale have declined 8.5% in that same period of time and are the lowest they have been since the National Association of Realtors began tracking this series in 1982.  With a dramatic imbalance between demand and supply, prices have jumped 7.8%.  This is not a sustainable situation.  Something has to give.
Existing home sales have been steadily rising for a year.  After having reached a low point of 4,930 thousand in January 2019, sales have risen fairly steadily since then to 5,540 thousand.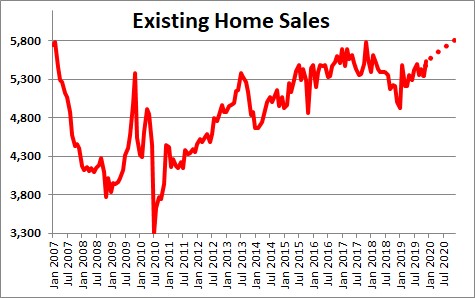 Payroll employment on average rose a solid 176 per month in 2019.  The jobs creation is boosting consumer income which after inflation and taxes rose 3.0%.  That has stimulated home sales.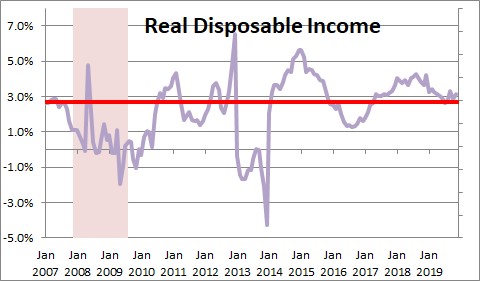 At the same time mortgage rates have taken a dive from 4.9% at this time last year to a near record low level of 3.7%.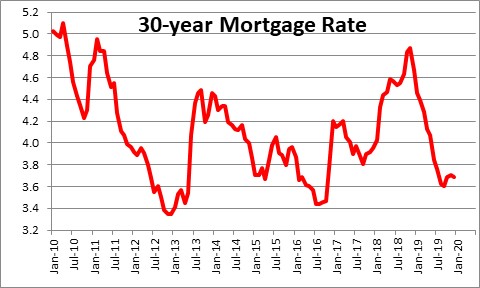 This combination of rising consumer income, mortgage rates at a near-record low level, and a 5.4% increase in the median price of a single-family home, means that housing remains quite affordable.  The NAR's index of housing affordability stands at 145 which means that a median-income family has 45% more income than required to purchase a median-priced home.  To put that in context, prior to the recession in 2007 consumers had just 14% more income than required to purchase that median-priced home.  So far, so good.  Homes were expensive 13 years ago.  That is not the case today.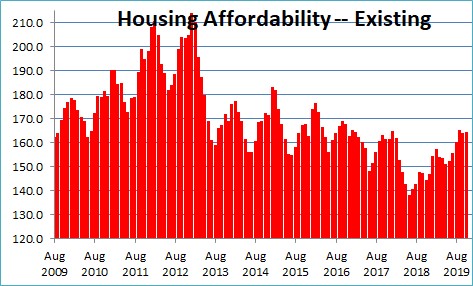 The problem is that potential buyers are finding increasingly slim pickings.  The inventory of homes available for sale has fallen 8.5% in the past year to 1,400 thousand.  That is the smallest number of homes on the market since the NAR began collecting these data in 1982.  Potential home buyers are motivated, but they are being thwarted by the lack of supply.  Realtors cannot sell what is not on the market.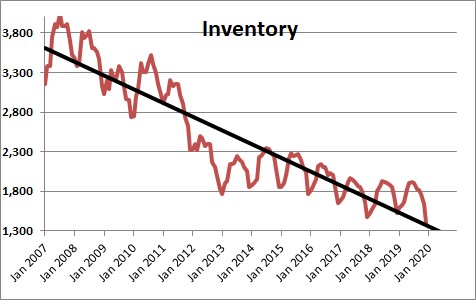 The huge imbalance between supply and demand is boosting prices which for all types of existing homes –single-family homes, condos- and coops combined — have risen 7.8% in the past year.  The biggest inventory shortfall is in the lowest end of the market which is where price appreciation has been most rapid.  If this continues, it will not be long before higher prices choke off sales and drive potential buyers to the sidelines.
But that is the key question – will this inventory shortfall continue?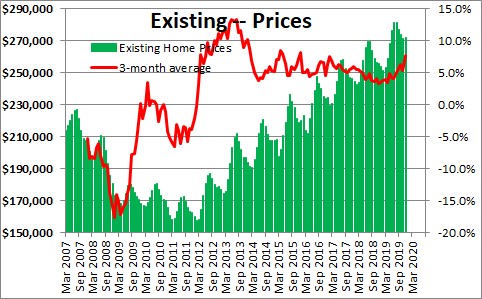 In the end it comes down to a question of new construction.  Housing starts have been risen steadily in the past year and have now reached 1,440 thousand.  The Census Bureau tells us that there are on average 1,200 thousand new households formed every year.  Housing starts need to rise at least that quickly to keep pace with population growth.  Unfortunately, housing starts have not risen at that pace since the recession began in December 2007.  Thus, the cumulative housing shortfall has been growing steadily for a decade.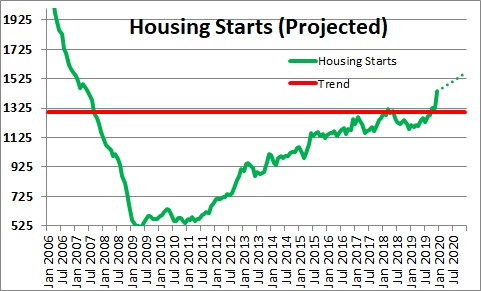 The recent acceleration in starts is obviously welcome news.  But builders are having a difficult time finding an adequate number of workers, skilled or otherwise.  Construction employment has risen by only about 15 thousand per month during the past year.  A few years ago when the labor market was less tight, construction employment was climbing by 30 thousand monthly.  However, with jobs that on average pay $31 per hour, builders may be able to attract workers from other lower paying jobs.  They could also perhaps offer unskilled labor some sort of on-the-job training.  A prime candidate could be workers in the retail industry where the job pool is gradually shrinking and workers earn roughly half that of a construction worker.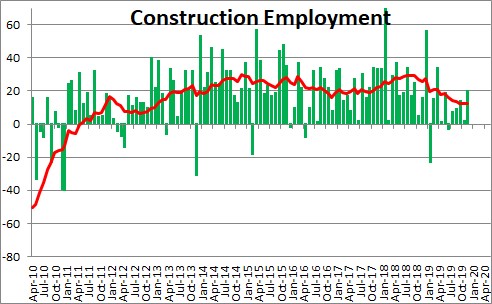 The bottom line is, if the economy can continue to generate 170 thousand jobs per month and mortgage rates remain close to their current level of 3.7%, starts should continue to climb and reach 1.6 million on average for the year.  However, it is hard to envision starts climbing much more rapidly than that given the very tight labor market conditions.
Stephen Slifer
NumberNomics
Charleston, S.C.