September 18, 2023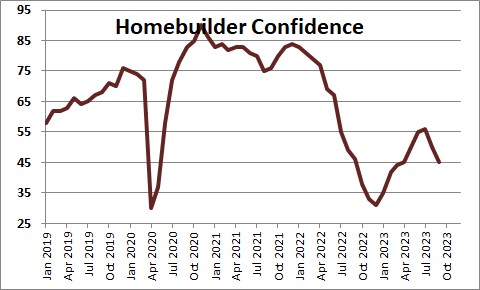 Homebuilder confidence fell 5 points in September to 45 after having declined 6 points in August.  This series hit bottom in December 2022 at 31. Rising mortgage rates which have climbed to the 7.2% mark has spooked builders.
NAHB Chairman Alicia Huey, a custom home builder and developer from Birmingham, Alabama  said, "The two-month decline in builder sentiment coincides with when mortgage rates jumped above 7% and significantly eroded buyer purchasing power.  And on the supply-side front, builders continue to grapple with shortages of construction workers, buildable lots and distribution transformers, which is further adding to housing affordability woes. Insurance cost and availability is also a growing concern for the housing sector."
Chief Economist Robert Dietz said, "High mortgage rates are clearly taking a toll on builder confidence and consumer demand, as a growing number of buyers are electing to defer a home purchase until long-term rates move lower.  Putting into place policies that will allow builders to increase the housing supply is the best remedy to ease the nation's housing affordability crisis and curb shelter inflation. Shelter inflation posted a 7.3% year-over-year gain in August, compared to an overall 3.7% consumer inflation reading."
Traffic through the model homes fell 5 points in September to 30 after having dropped 6 points in August.  The increase in mortgage rates in the past month has negatively impacted housing affordability and potential buyers interest in purchasing a new home.
.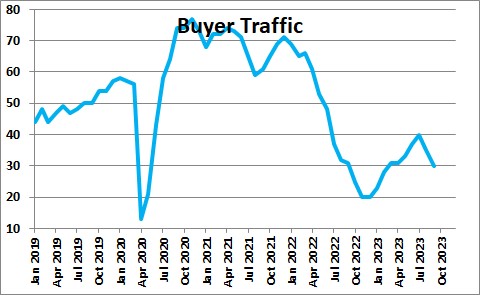 The homebuilders expectations index fell 6 points in September to 49 after  having declined 4 points.  Higher mortgage rates as well as worker shortages and limited supplies of some building materials have dampened builders enthusiasm.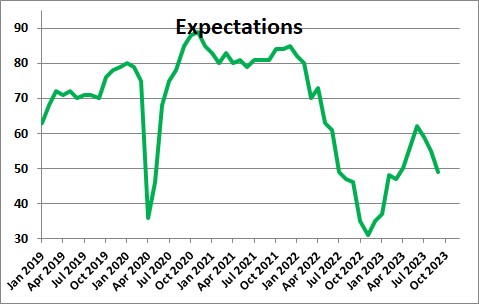 Mortgage rates rose sharply last year from 3.1% at the end of 2021 to 7.2%.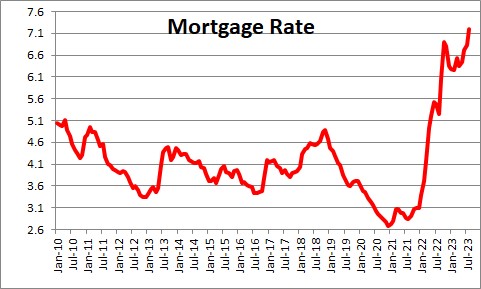 Home prices rose sharply for almost two years from mid-2020 through the spring of last year.  They then fell for eight consecutive months.  But a pickup in demand and an acute shortage of homes available for sale caused prices to climb again in recent months  We expect prices to rise slowly from now through the end of the year.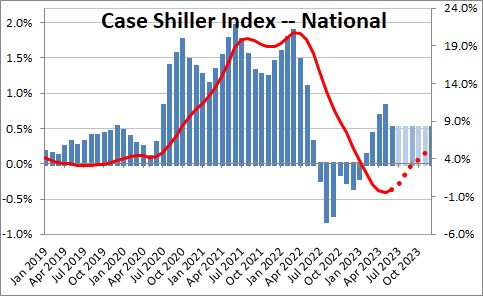 If home prices remain steady, and mortgage rates hang around the 7.2% mark, housing affordability will change very little between now and the end of this year.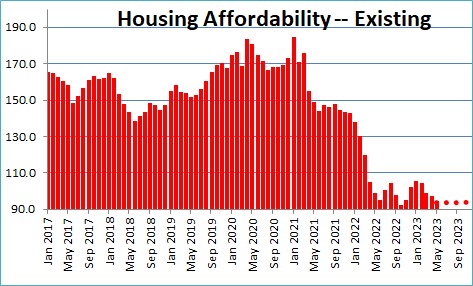 We expect GDP to rise 3.5% in the third quarter and 1.7% in the fourth quarter as real interest rates remain relatively low, firms keep hiring new workers at a steady pace,and  the unemployment rate remains close to its near 50-year low at 3.8%,
Stephen Slifer
NumberNomics
Charleston, SC