November 16, 2022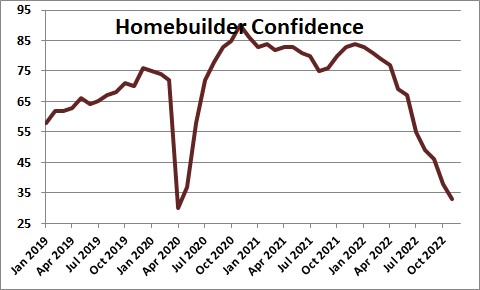 Homebuilder confidence fell 5 points in November to 33 after having plunged by 8 points in October, 3 points in September, and 6 points in August.  That is the eleventh consecutive decline in this series which peaked at 84 in December.  This is the lowest reading since April 2020 .  Clearly builders are very concerned by the combination of higher interest rates and higher inflation and are seeing a dramatic decline in both sales and buyer traffic.
NAHB Chairman Jerry Konter, a builder and developer from Savannah, Ga. said, "Higher interest rates have significantly weakened demand for new homes as buyer traffic is becoming increasingly scarce.  With the housing sector in a recession, the Biden administration and new Congress must turn their focus to policies that lower the cost of building and allow the nation's home builders to expand housing production."
NAHB Chief Economist Robert Dietz added, "Even as home prices moderate, building costs, labor and materials — particularly for concrete — have yet to follow.  To ease the worsening housing affordability crisis, policymakers must seek solutions that create more affordable and attainable housing. With inflation showing signs of moderating, this includes a reduction in the pace of the Federal Reserve's rate hikes and reducing regulatory costs associated with land development and home construction."
Traffic through the model homes fell 4 points in November to 31 after declining 6 points in October, 1 point in September and 5 points in August.  An increasing segment of home buyers are finding the higher prices unreachable.   Less traffic will encourage builders to start cutting prices.
.
The homebuilders expectations index fell 4 points in November to 31 after declining 11 points in October, 1 point in September and 2 points in August.  Mortgage rates have risen sharply in recent months from 3.1% at the end of last year to 7.0% with perhaps even higher mortgage rates likely in 2023.    That is justifiably concerning to the builder community.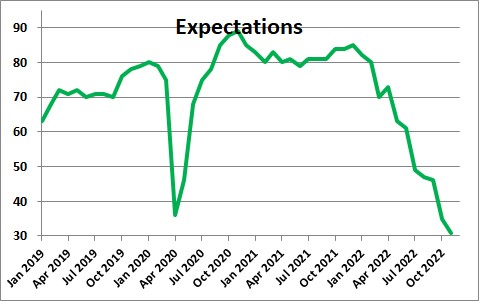 To bring more buyers into the marketplace, 59% of builders report using incentives, with a big increase in usage in the past two months. For example, in November, 25% of builders say they are paying points for buyers.. Mortgage rate buy-downs rose over the same time frame. And 37% of builders cut prices in November with an average price of reduction of 6%. This is still far below the 10%-12% price cuts seen during the Great Recession in 2008.
If the Fed continues to tighten at the pace it has described, mortgage rates are likely to climb to 7.5% early next year.  Home prices continued to rise rapidly early in the year , but this survey from homebuilders suggests that they should decline sharply every month for the foreseeable future.  If home prices begin to fall sharply while mortgage rates increase a bit further, housing affordability will rise somewhat in 2023 .  This should soon put a floor under how much farther home sales and starts will fall.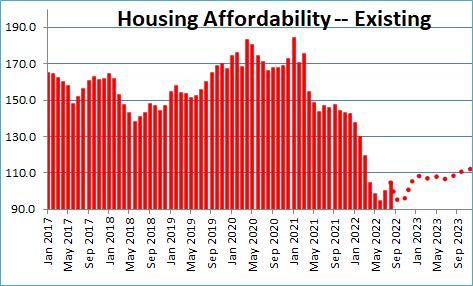 We expect GDP to see GDP rise 1.5% or so in the second half of this year.  We also expect GDP growth of 1.0% in 2022 as supply chain difficulties continue to diminish and real interest rates remain negative for most of next year.
Stephen Slifer
NumberNomics
Charleston, SC