March 17, 2020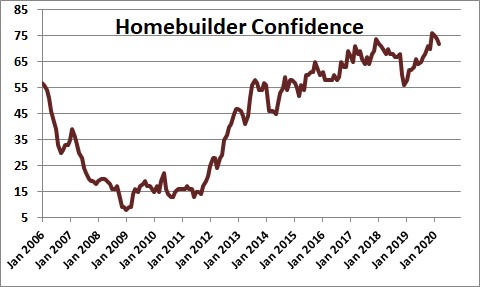 Homebuilder confidence declined 2 points in March to 72 after falling 1 point in February to 74 after having declined 1 point in January.  The December level of 76 was the highest reading since June 1999.
NAHB Chairman Dean Mon said that, "Steady job growth, rising wages and low interest rates are fueling demand but builders are still grappling with increasing construction and development costs,"
NAHB Chief Economist Robert Dietz said "Builder confidence remains solid, although sales expectations for the next six months dropped four points on economic uncertainty stemming from the corona virus. Interest rates remain low, and a lack of inventory creates market opportunities for single-family builders. However, down-payment requirements are a limiting factor amid lower mortgage interest rates."  Dietz added that, "More fundamentally, half of the builder responses in the March HMI were collected prior to March 4, so the recent stock market declines and the rising economic impact of the corona virus will be reflected more in next month's report.
Traffic through the model homes declined 1 point in March to 56 after having fallen 1 point in February.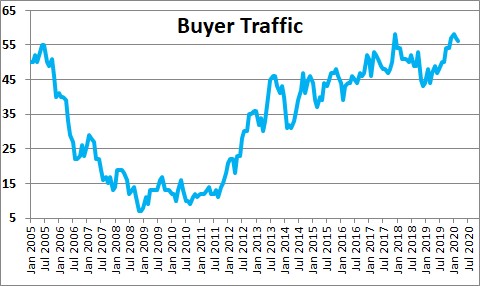 Reflecting a slight drop optimism about the future, the homebuilders expectations index declined 4 points in March to 75 after falling 1 point in February.  The index remains at a very lofty level close to its high for the cycle of 80 set in February 2018 and again in January 2020.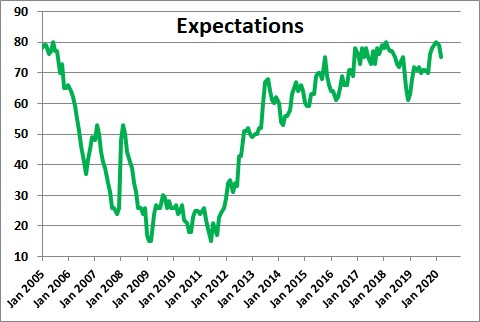 .
Our sense is that in April we will see a much more substantial drop in homebuilder confidence of 7-12 points to perhaps 60-65 as fear about the impact of the corona virus and the sharp drop in stock prices begin to take their toll.
Stephen Slifer
NumberNomics
Charleston, SC