February 17, 2021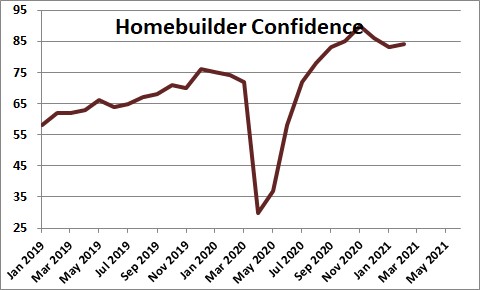 .Homebuilder confidence rose 1 point in February to 84 after having declined 3 points in January.  But the last three months it has fallen slightly from a 35-year old record high level of 90 set in November.  It was at 74 in February prior to the recession..
NAHB Chief Economist Robert Dietz said, "Demand conditions remain solid due to demographics, low mortgage rates and the suburban shift to lower cost markets, but we expect to see some cooling in growth rates for residential construction in 2021 due to cost factors, supply chain issues and regulatory risks,  Some builders are at capacity and may not be able to expand production due to these headwinds."
NAHB Chairman Chuck Fowke noted that "Lumber prices have been steadily rising this year and hit a record high in mid-February, adding thousands of dollars to the cost of a new home and causing some builders to abruptly halt projects at a time when inventories are already at all-time lows.  Builders remain very focused on regulatory and other policy issues that could price out households seeking new homes in a tight market this year."
Traffic through the model homes rose 4 points in February to 72 after having fallen 5 points in January.  This component has risen 59 points since reaching a low of 13 in April and  is still essentially at its highest level in the history of the survey.    As the stock market continues to climb, firms continue to hire, and mortgage rates remain at 2.7%, the interest in purchasing a new home will remain strong in 2021.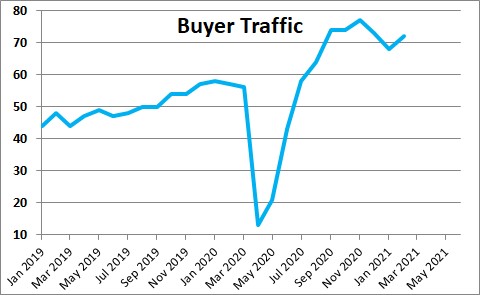 The homebuilders expectations index fell 3 points in February after having declined 2 points in January..
GDP declined 2.5% in 2020.  However, the vaccine has begun to be distributed and the pace is accelerating.  At the same time the rate of spread of the virus has slowed considerably.  We had another dose of $900 billion of fiscal stimulus in December and yet another stimulus package of $1.9 trillion is in the works.    As a result, we expect the economy to grow at about a 6.2% rate in 2021.
Stephen Slifer
NumberNomics
Charleston, SC