October 19, 2020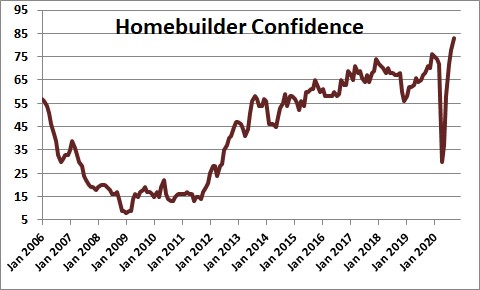 Homebuilder confidence climbed 2 points in October to 85 further surpassing the previous record high level that was set in September when it jumped 5 points to 83.  These are the first two months this index has ever surpassed the 80.0 level.  At its current level of 85 homebuilder confidence is far higher than where it was prior to the recession.  It was at 74 in February.
NAHB Chairman Chuck Fowke said that, "Historic traffic numbers have builders seeing positive market conditions, but many in the industry are worried about rising costs and delays for building materials, especially lumber,  More domestic lumber production or tariff relief is needed to avoid a slowdown in the market in the coming months."
NAHB Chief Economist Robert Dietz said "The housing market continues to be a bright spot for the economy, supported by increased buyer interest in the suburbs, exurbs and small towns.  NAHB analysis published last week showed that new single-family home sales are outpacing starts by a historic margin. Bridging this gap will require either a gain in construction volume or reductions in available inventory, which is already at a historic low in terms of month's supply."
Traffic through the model homes was unchanged in October at 74 after having climbed 10 points in September.  Indeed, the traffic component has risen 61 points since reaching a lot of 13 in April and at is now at its highest level in the history of the survey.    As stimulus checks have found their way into consumers' mailboxes, the stock market continues to climb, and mortgage rates remain below 3.0%, the interest in purchasing a new home will remain strong as we  move through the rest of the summer and into the fall.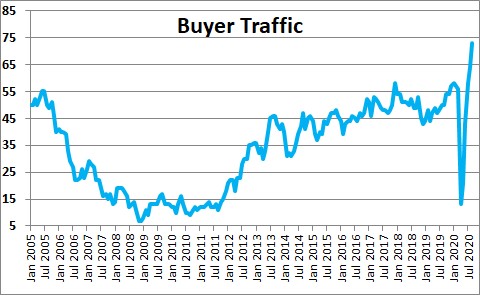 The homebuilders expectations index rose 3 points in October to 88 after having climbed 6 points in September.
GDP declined 31.4% in the second quarter.  However, as workers gradually return to work GDP began to climb again in May.  Clearly checks for the $3. trillion stimulus plan have bolstered consumer income.  At the same time the Fed is providing $2.3 trillion of credit to make sure that the credit markets are able to access whatever funds they may require to get the economy back on track.  For this reason, we expect GDP to rebound by 28% in the third quarter.  Once we get to the fourth quarter and into next year, the economy that emerges from recession will not look at all like the economy that went into it.  We believe that technology will continue to help keep the economy growing at about a 5.5% rate in 2021.
Stephen Slifer
NumberNomics
Charleston, SC