November 16, 2021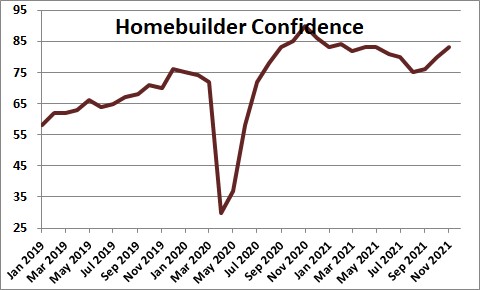 Homebuilder confidence climbed 3 points in November to 83 after having jumped 4 points in October.  The index fell from a 35-year old record high level of 90 set in November of last year to a low of 75 in August as COVID cases surged and supply constraints damped builder enthusiasm.  However, it appears to have hit bottom and is once again on the rebound.  The recent upswing seems to coincide with the drop in COVID cases.  It is important to keep in mind that this index was at 74 in February of last year prior to the recession.
NAHB Chairman Chuck Fowke said, "The solid market for home building continued in November despite ongoing supply-side challenges.  Lack of resale inventory combined with strong consumer demand continues to boost single-family home building."
NAHB Chief Economist Robert Dietz added, "In addition to well publicized concerns over building materials and the national supply chain, labor and building lot access are key constraints for housing supply.  Lot availability is at multi-decade lows and the construction industry currently has more than 330,000 open positions. Policymakers need to focus on resolving these issues to help builders produce more housing to meet strong market demand."
Traffic through the model homes rose 3 points in November to 68 after having climbed 4 points in October.  Some buyers, particularly those looking at homes priced below $400,000 are finding the higher prices unreachable.  But for the median-income and higher-income potential buyers that is not as much of an issue.    As the stock market continues to climb, firms accelerate their pace of hiring now that federal unemployment benefits have disappeared, and mortgage rates edge up only slightly during the course of the year, the interest in purchasing a new home will remain solid in the months ahead.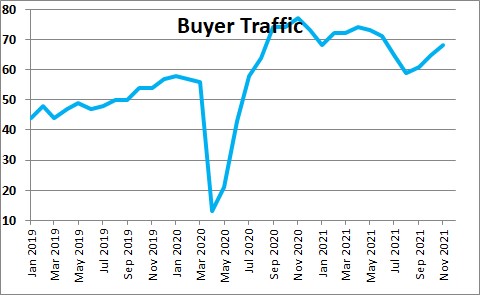 The homebuilders expectations index was unchanged in November at 84 after having jumped 3 points in October.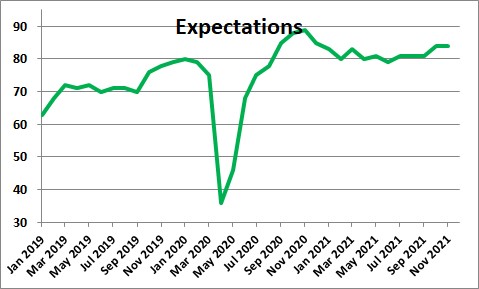 We expect GDP to rise 8.0% in Q4.  That will give us 5.7% for the  year and we expect 4.9% GDP growth in 2022..
Stephen Slifer
NumberNomics
Charleston, SC