August 15, 2022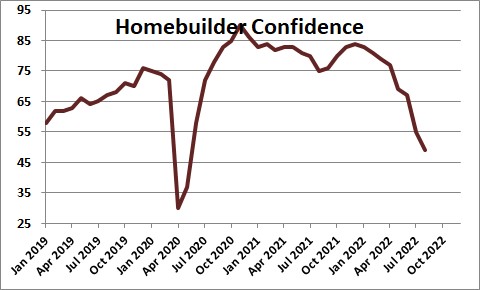 Homebuilder confidence fell 6 points in August to 49 after having plunged 12 points in July and 2 points in June.  That is the eighth consecutive decline in this series which peaked at 84 in December.  This is the lowest reading since May 2020.  Clearly builders are getting concerned by the combination of higher interest rates and higher inflation and are seeing a dramatic decline in both sales and buyer traffic.
NAHB Chairman Jerry Konter, a builder and developer from Savannah, Ga. said, "Ongoing growth in construction costs and high mortgage rates continue to weaken market sentiment for single-family home builders.  And in a troubling sign that consumers are now sitting on the sidelines due to higher housing costs, the August buyer traffic number in our builder survey was 32, the lowest level since April 2014 with the exception of the spring of 2020 when the pandemic first hit."
NAHB Chief Economist Robert Dietz added, "Tighter monetary policy from the Federal Reserve and persistently elevated construction costs have brought on a housing recession.  The total volume of single-family starts will post a decline in 2022, the first such decrease since 2011. However, as signs grow that the rate of inflation is near peaking, long-term interest rates have stabilized, which will provide some stability for the demand-side of the market in the coming months."
Traffic through the model homes fell 5 points in August to 32 after having declined 11 points in July, 5 points in June, 8 points in May and 5 points in April  An increasing segment of home buyers are finding the higher prices unreachable.   Less traffic will encourage builders to start cutting prices.
.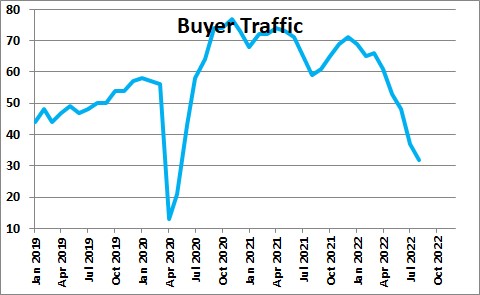 The homebuilders expectations index fell 2 points in August to 47 after have declined 11 points in July,  2 points in June, and 8 points in May.  Mortgage rates have risen sharply in recent months from 3.1% at the end of last year to 5.2% and are likely to climb to 5.8% or so by yearend.    That is justifiably concerning to the builder community.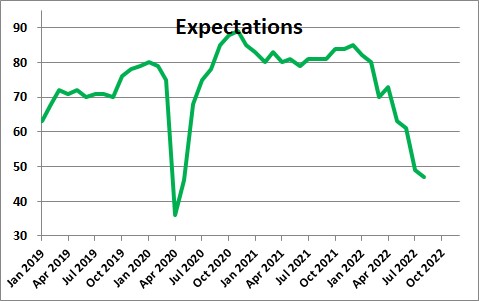 If the Fed continues to tighten at the pace it has described, mortgage rates are likely to climb to 5.8% by the end of this year.  Home prices continued to rise rapidly early in the year , but this survey from homebuilders suggests that they should level off between now and yearend..  If we assume that home prices level off in the second half of this year and the mortgage rate climbs to 6.0% as the Fed continues to tighten, housing affordability will level off at about 100 compared to a 102.5 reading currently.  This means that the median wage earning potential homebuyer will have just enough income to qualify for the purchase a median-priced home.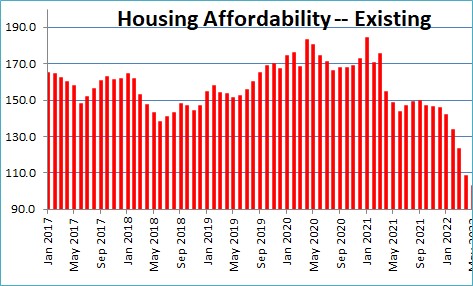 We expect GDP to rise 0.3% in Q2 2022.  We also expect GDP growth of 2.1% in 2022 as supply chain difficulties continue to diminish and real interest rates negative through the end of 2022.
Stephen Slifer
NumberNomics
Charleston, SC