March 15, 2023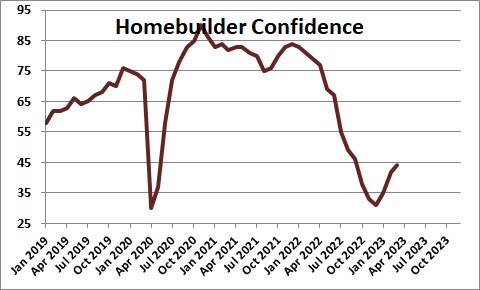 Homebuilder confidence rose 2 points in March to 44 after jumping 7 points in February and 4 points in January.  These consecutive increases are the first in this series since December 2021 when this series peaked at 84.  The combination of a drop in mortgage rates in the past few months and steadily declining home prices for the past six months has increased affordability and lured some potential buyers back into the model homes.
NAHB Chairman Alicia Huey, a custom home builder and developer from Birmingham, Alabama  said, "Even as builders continue to deal with stubbornly high construction costs and material supply chain disruptions, they continue to report strong pent-up demand as buyers are waiting for interest rates to drop and turning more to the new home market due to a shortage of existing inventory.  But given recent instability concerns in the banking system and volatility in interest rates, builders are highly uncertain about the near- and medium-term outlook."
NAHB Chief Economist Robert Dietz added,  "While financial system stress has recently reduced long-term interest rates, which will help housing demand in the coming weeks, the cost and availability of housing inventory remains a critical constraint for prospective home buyers.  For example, 40% of builders in our March HMI survey currently cite lot availability as poor. And a follow-on effect of the pressure on regional banks, as well as continued Fed tightening, will be further constraints for acquisition, development and construction (AD&C) loans for builders across the nation. When AD&C loan conditions are tight, lot inventory constricts and adds an additional hurdle to housing affordability."
Traffic through the model homes climbed 3 points in March to 31 after climbing 5 points in February and 3 points in January.
.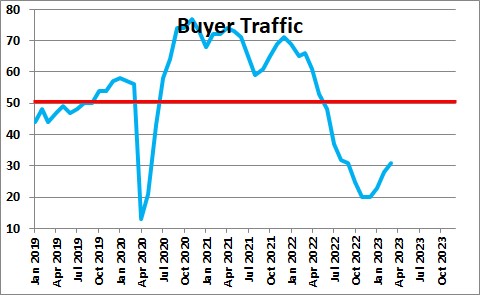 The homebuilders expectations index fell 1 point in March to 47 after surging 11 points in January and 2 points in January.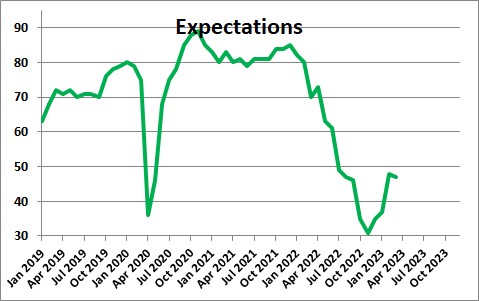 Mortgage rates rose sharply last year from 3.1% at the end of 2021 to 7.0% but have since retreated to the 6.5% mark   That is a favorable development for the builder community.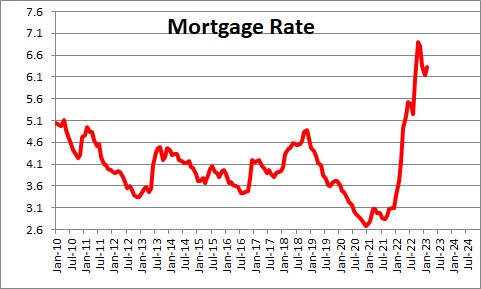 Home prices have fallen every month for the past five months.  They should decline sharply every month for the foreseeable future.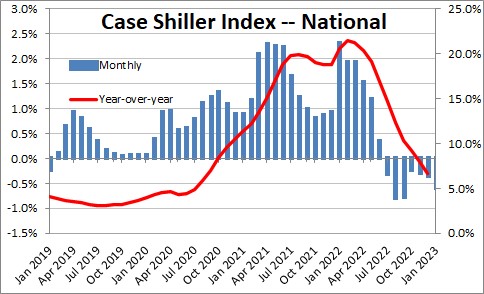 If home prices continue  to fall sharply while mortgage rates remain around 6.5%, housing affordability will rise somewhat in 2023 .  Home sales, housing starts and building permits should all soon begin to climb.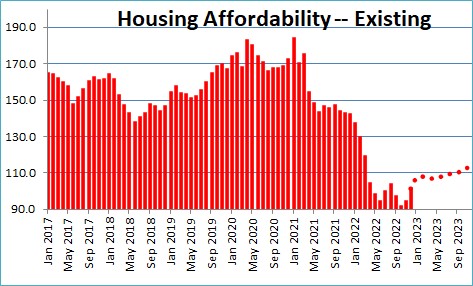 We expect GDP to rise 2.0% in the first quarter of this year.  We also expect GDP growth of 1.5% in 2023 as real interest rates remain negative through the spring, firms keep hiring new workers at a brisk pace, the unemployment rate rises only slightly from its 50-year low of 3.4%, and as the  housing sector begins to rebound.
Stephen Slifer
NumberNomics
Charleston, SC