June 15, 2022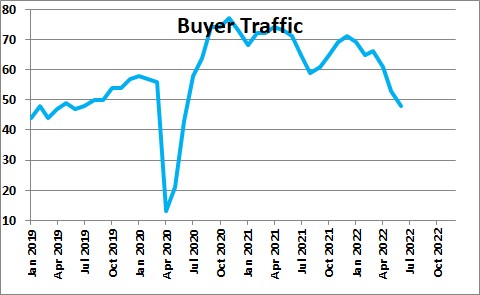 Homebuilder confidence fell 2 points in June to 67 after having declined 8 points in May, 2 points in April, 2 points in March, 2 in February, and 1 point in January.  That is six consecutive declines in this series which peaked at 84 in December.  Clearly builders are getting concerned by the combination of higher interest rates and higher inflation.  Despite the consecutive declines, it is important to keep in mind that the index remains at a fairly lofty level.  Keep in mind that any number over 50 indicates that more builders view conditions as good than poor.  Indeed, its current level if roughly where it was just prior to the recession when the housing market was viewed as hot.  Indeed, some cooling in the housing market should be viewed as a positive.  Somehow emerging softness in housing has to cool the 20% increase in home prices to something more manageable like 5%.
NAHB Chairman Jerry Konter, a builder and developer from Savannah, Ga. said, "Six consecutive monthly declines for the HMI is a clear sign of a slowing housing market in a high inflation, slow growth economic environment.  The entry-level market has been particularly affected by declines for housing affordability and builders are adopting a more cautious stance as demand softens with higher mortgage rates. Government officials need to enact policies that will support the supply-side of the housing market as costs continue to climb."
NAHB Chief Economist Robert Dietz added, "The housing market faces both demand-side and supply-side challenge.  Residential construction material costs are up 19% year-over-year with cost increases for a variety of building inputs, except for lumber, which has experienced recent declines due to a housing slowdown. On the demand-side of the market, the increase for mortgage rates for the first half of 2022 has priced out a significant number of prospective home buyers, as reflected by the decline for the traffic measure of the HMI."
Traffic through the model homes fell 5 points in June to 48 after having declined 8 points in May and 5 points in April  Some buyers, particularly those looking at homes priced below $400,000 are finding the higher prices unreachable.  But for the median-income and higher-income potential buyers that is not as much of an issue — yet.  Again, buyer traffic near the breakeven point of 50 is just somewhat lower than it was prior to the recession.  Less traffic will encourage builders to stop raising prices so quickly.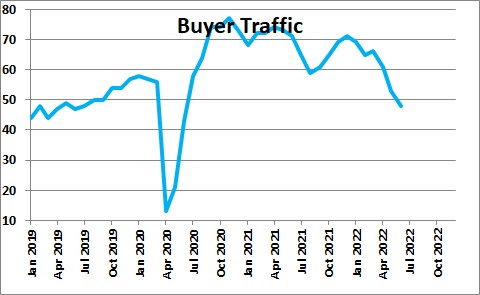 The homebuilders expectations index fell 2 points in June to 61 after having declined 8 points in May, after having risen 3 points in April..  Mortgage rates have risen sharply in recent months from 3.1% at the end of last year to 5.2% and are bound to climb to 6.0% or so by yearend.    That is justifiably concerning to the builder community, but they are hardly pessimistic.  63 remains a positive reading.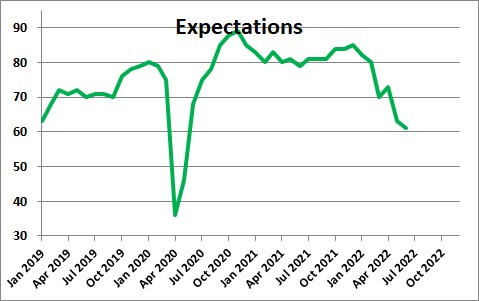 As home prices continue to rise as well as mortgage rates, housing affordability will be talked about a lot as the year progresses.  It will decline but by how much.  If we assume an 8.5% increase in home prices this year and a 6.0% mortgage rate by the end of the year, housing affordability will decline to 108 or so which means that the median wage earning potential homebuyer will have 8% more income than is required to purchase a median-priced home. .Clearly, that is reduced affordability, but even with significantly higher prices and mortgage rates housing will remain relatively affordable for a while longer although its affordability will gradually diminish as the year progresses.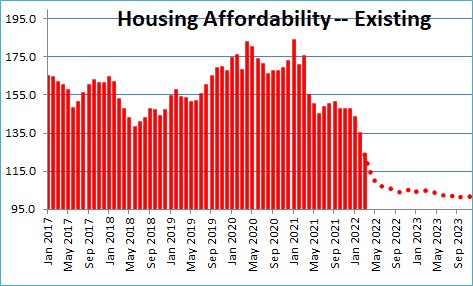 We expect GDP to rise 2.0% in Q2 2022.  We also expect GDP growth of 2.0% in 2022.
Stephen Slifer
NumberNomics
Charleston, SC