July 19, 2021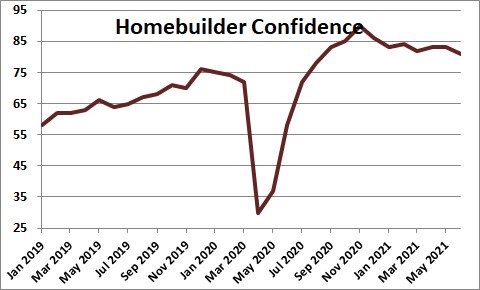 .Homebuilder confidence fell 1 point in July to 80 after having declined 2 points in June.  The last several months the index has fallen slightly from a 35-year old record high level of 90 set in November of last year.  It was at 74 in February of last year prior to the recession.
NAHB Chairman Chuck Fowke said, "Strong buyer demand helped to offset ongoing supply-side challenges of labor shortages, regulatory costs, and rising prices of materials as builder confidence in the market for newly built single-family homes inched down one point to 80 in July".  He added that, "the price of OSB (oriented strand board) has been a particular problem lately.  As of July 8, the price of OSB has skyrocketed to more than 500% above its January 2020 level.  Such cost increases are putting upward pressure on home prices and sidelining many prospective home buyers.
As shown below, all umber products have risen 50% in the past year which makes it difficult for a builder to construct an affordable home.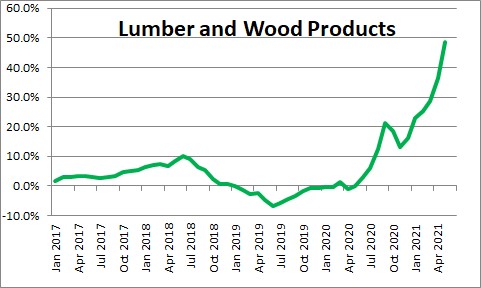 Traffic through the model homes fell  6 points in July to 65 after declining 2 points in June and1 point in May.  This component  is still essentially at its highest level in the history of the survey.    As the stock market continues to climb, firms accelerate their pace of hiring, and mortgage rates edge up only slightly during the course of the year, the interest in purchasing a new home will remain strong in 2021.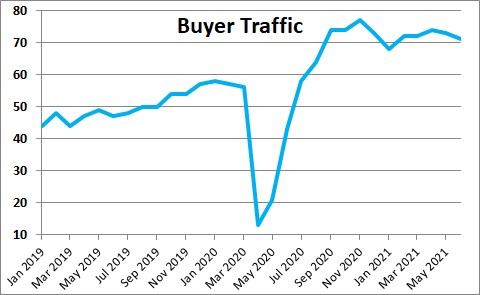 The homebuilders expectations index rose 2 points in July to 81 after having declined 2 points in June.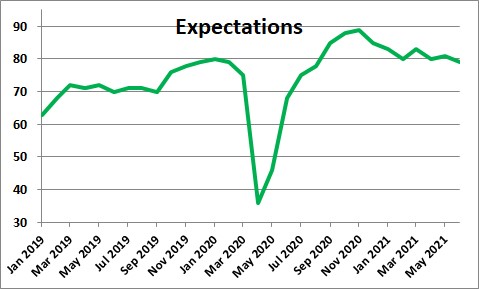 We expect GDP to rise 9.0% in Q2, and 8.0% for the  year.
Stephen Slifer
NumberNomics
Charleston, SC