April 15, 2022
Housing Is Still Relatively Affordable
Home prices having been rising rapidly and mortgage rates have surged in the first few  months of this year.  Clearly, housing has become less affordable than it was previously.  The impact has been felt largely on homes priced at or below $300,000 which are typically purchased by first-time homebuyers.  However, housing remains affordable for the vast majority of purchasers.  This may seem surprising.  But there is one piece of the affordability equation that people seem to forget.  Consumer income is rising rapidly which counters a portion of the negative impact from higher prices and mortgage rates.  Furthermore, one must consider the fact that consumer net worth has increased substantially in the past year, and consumer debt in relation to income is at a 40-year low.  So while affordability may decline in the months ahead, sales are still likely to increase between now and the end of the year.
Home prices have jumped nearly 20% in the past year.  Why?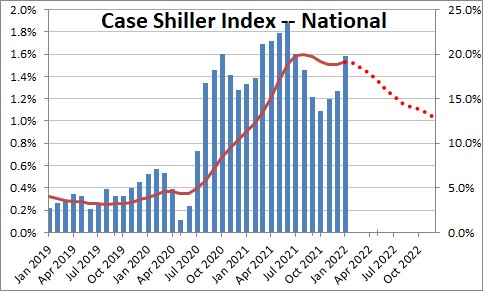 The biggest factor is probably the lack of supply.  There is currently a 1.7-month supply of homes available.  Realtors say that they need a 6.0-month supply for demand and supply to be roughly in balance.  We are not even close and have not been close for several years.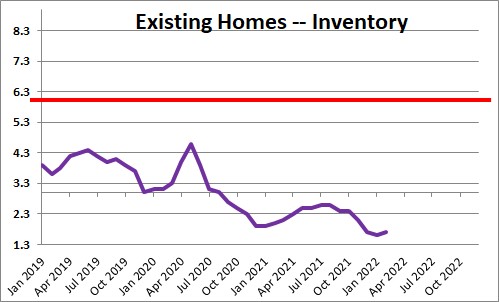 Because demand so far exceeds supply the typical home sells in just 18 days.  That is essentially the shortest length of time between listing and sale ever for a series which dates back to 2011.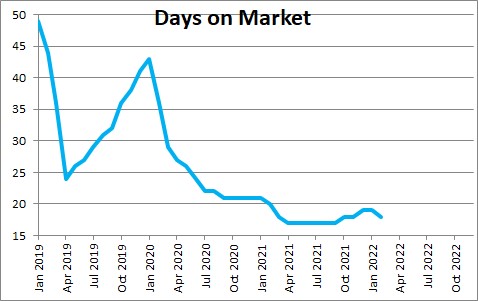 While home prices have risen, the other negative factor for housing is mortgage rates which have climbed from 3.0% at the end of last year to 5.0% in just three months.  That is a dramatic, eye-popping development and one might think that the combination of rapidly rising home prices and an impressive increase in mortgage rates would significantly reduce the affordability of housing.  That is true to some extent, but housing is still relatively affordable for most purchasers.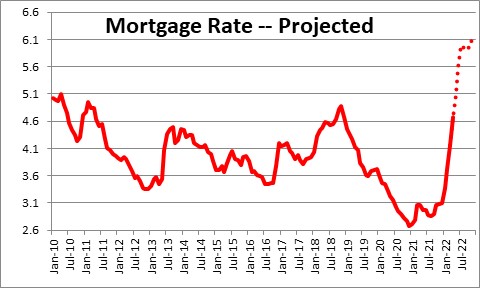 The National Association of Realtors publishes a monthly series on housing affordability.  It has declined in recent months to 143 which means that a median-income family has 43% more income than is required to purchase a median-priced home.  Thus, housing remains affordable for a median-income family.  Having said that, affordability has become a problem for some buyers.  Consider the following.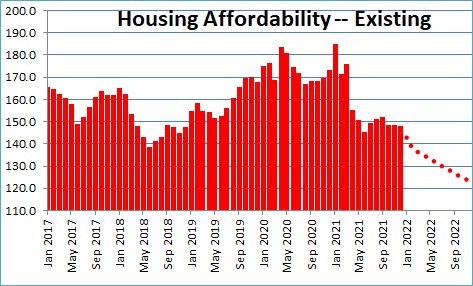 As home prices and mortgage rates have climbed the required down payment has risen from $54,500 in February 2020 to $71,400.  The monthly payment has risen from $975 to nearly $1,300.  That has changed the game for lower income families.  Many can no longer afford to purchase a home.  As a result, the proportion of homes sold at prices below $300,000 has fallen 35% from what it was prior to the recession.  The share for homes priced higher than $300,000 has risen by a comparable amount.  Many lower-income-earning families, most likely first time buyers, have been priced out of the market.  As prices and mortgage rates continue to climb the impact will be felt progressively on higher income families.
However, there is one piece of the affordability equation that most people do not take into consideration  – consumer income.  Jobs growth and higher wages have boosted compensation by 10.4% in the past year.  That counters some of the sting from big increases in prices and mortgage rates.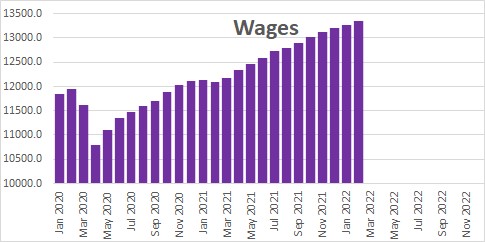 Make no mistake, higher prices and higher mortgage rates will further reduce affordability, but the increase in income will slow its rate of descent.  If home prices climb 8.0% this year  and mortgage rates rise from 5.0% today to 6.0% by the end of the year we believe that housing affordability will fall from 143 to 105 or so by yearend.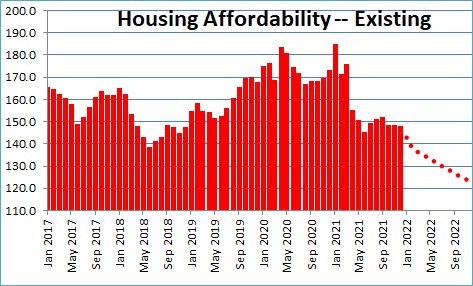 But two other pieces of information need to be taken income consideration as well.  Consumer net worth has risen 24% in the past year to a record high level.  That will help some of those potential home buyers find the necessary down payment for their home purchase.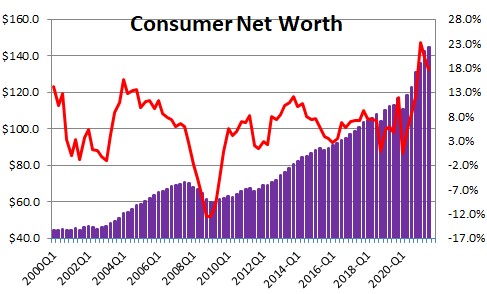 And consumer debt in relation to income is the lowest it has been since the early 1980's.  Reduced debt obligations have boosted consumer credit ratings which should cause lenders to look favorably on the loan application from some families to purchase a home.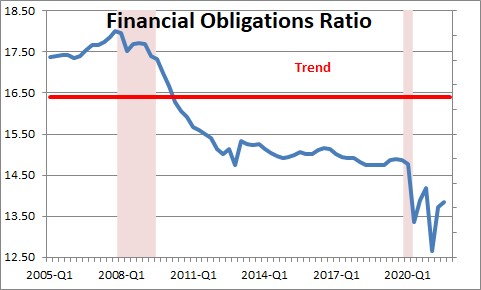 What all this means is that further increases in home prices and mortgage rates will dampen the enthusiasm for purchasing a home, but rising income, higher net worth, and record low levels of debt should keep the housing market on track.  We expect home sales to rise 3.5% this year from a 6.0 million pace currently to 6.3 million by yearend.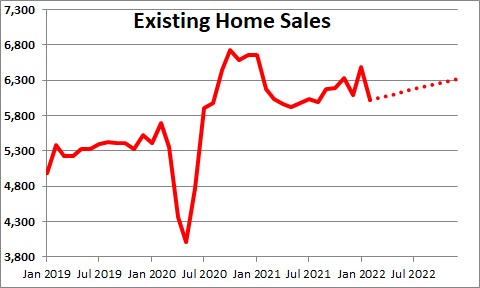 Stephen Slifer
NumberNomics
Charleston, S.C.