September 27, 2019
There is ample evidence that the housing sector is on the mend following its steady slide over the course of the past year.   The improvement reflects a drop to near-record-low mortgage rates of 3.6%.  That has given a temporary boost to the beleaguered housing sector, but it cannot go far because builders are constrained in their effort to build more houses primarily by a lack of skilled workers, but also by a shortage of available lots on which to build, and enhanced regulatory constraints imposed by local authorities.
Long-term interest rates have fallen steadily throughout the year.  That drop reflects an expectation that GDP growth in the U.S. will slow in the quarters ahead as slower growth overseas spills over into the U.S.  This same fear has caused the Fed to trim short-term interest rates by 0.5% thus far this year and it could cut rates one more time by yearend.  This combination of factors has caused all long-term interest rates to fall sharply.  The yield on the 10-year note, for example, has declined from a high of 3.2% in late last year to 1.7% currently.  Mortgage rates have fallen from 4.9% to 3.6%.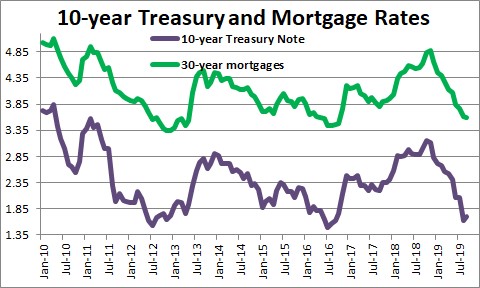 The drop in mortgage rates to a near-record-low level of 3.6% has provided a shot in the arm for the beleaguered housing sector.  Existing home sales, for example, have jumped 11% from low of 4,930 thousand in January to 5,490 thousand in August.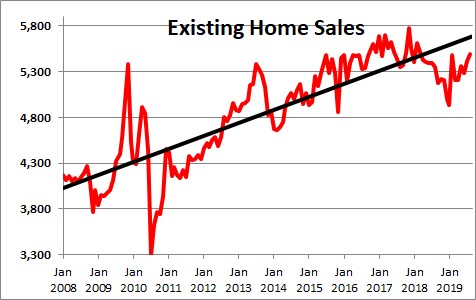 New home sales have registered a similar jump and have climbed to a high-for-the-cycle pace of 713 thousand.  The current pace of both new and existing sales would be even higher if there were more homes available for sale.  That brings us to the first of several problems that will put a lid on the extent of the rebound in housing.
There is currently a 4.1 month supply of existing homes available for sale.  Realtors suggest that a 6.0 month supply is required for demand and supply in the housing sector to be in balance.  We are not even close.  Keep in mind that realtors cannot sell a home that is not on the market.   Thus, demand for homes far outpaces the supply.  Potential buyers are looking but, in many cases, cannot find a home that fills their needs.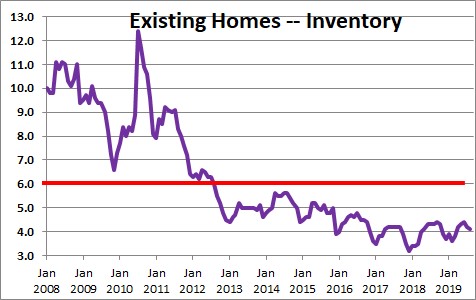 Further evidence of the solid demand for housing is reflected in the fact that a home offered for sale today will likely be sold within a month.  That compares to an average of 90-100 days back in 2011 when this series began.  That is as short a time period between listing and sale as we have seen in the past eight years.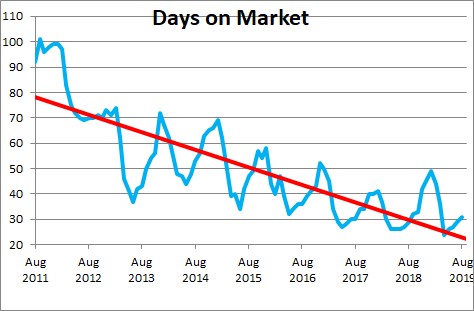 The drop in mortgage rates and renewed interest on the part of buyers has caused builders to become relatively optimistic about the outlook for the housing sector in the months and quarters ahead.  The chart on homebuilder confidence looks very much like the ones for both new and existing sales.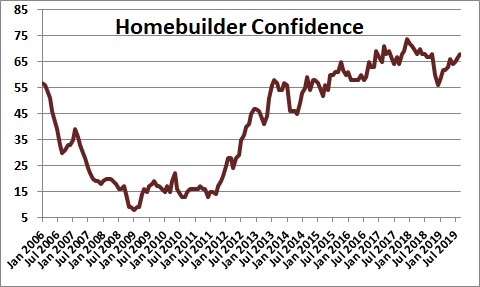 Renewed confidence on the part of builders has triggered a pickup in the pace of housing starts.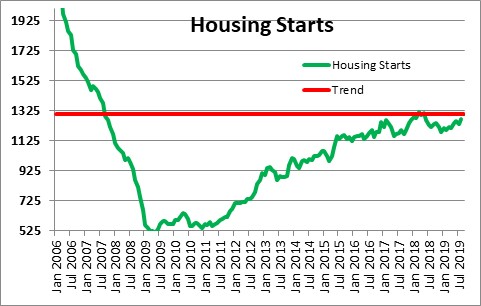 Builders might like to further boost the pace of production, but there are simply not enough skilled construction workers available.  A year ago builders could find perhaps 30 thousand new workers each month.  But as the labor market has become progressively tighter, they can now find only about 15 thousand new workers monthly.  Builders are going to need more workers if they are going to accelerate the pace of starts.  That is not likely to happen.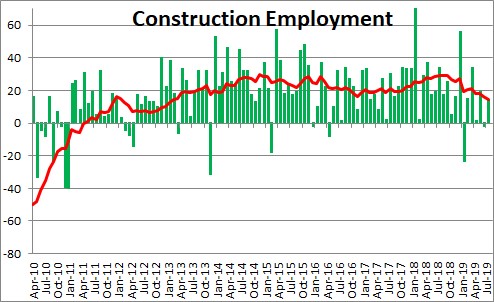 At the same time builders are running into additional constraints.  In many areas the number of lots available is steadily dwindling, and the lots that are available are considerably more expensive.  Meanwhile, local governments are imposing higher impact fees on builders.  Given these higher costs it is a challenge for builders to build low cost, affordable housing.
Meanwhile, the inflation rate has begun to rise more rapidly.  The core CPI, for example, has risen at a 2.4% pace in the past year compared to a 2.2% increase in 2018.  But in the most recent 3-month period the core CPI has risen at a 3.4% pace.  Thus, it seems increasingly likely that the core CPI will rise by something like 2.9% in 2020.  As inflation accelerates, mortgage rates should also climb.  While comfortably at 3.6% today, we believe that by the end of 2020 the 30-year mortgage rate will have risen to 4.2%.  That is still low, but not nearly as low as it is currently.
f the shortage of available housing causes home prices to rise more rapidly and mortgage rates to climb, housing affordability will decline.  It currently stands at 159 which means that the potential home buyer today has 59% more income than is required to purchase a median-priced home.  To put that in context, just prior to the onset of the 2008-2009 recession the average buyer had just 14% more income than was required.  Housing was expensive at that time.  Housing is quite affordable today.  We suggest that by the end of next year given somewhat faster growth in home prices and the increase in mortgage rates to 4.2%, this index will drop and buyers will have just 48% more income than required.  Thus, even in our world of higher inflation and higher mortgage rates, housing will remain affordable for the foreseeable future but slightly less affordable than it is currently.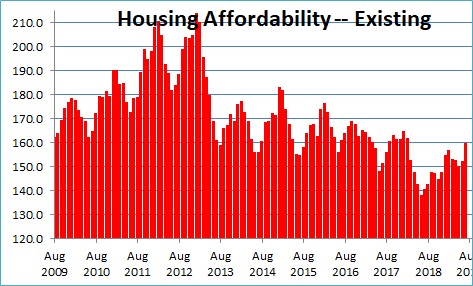 As we see it, lower mortgage rates have triggered an upswing in home sales and builder confidence in the past few months.  But this is about as good as it gets.  Surely, mortgage rates are not going to fall further if the pace of economic activity is sustained at a 2.4% pace next year, if inflation begins to inch its way higher, and long-term interest rates follow suit.  So while the housing sector may shrug off higher home  prices and higher mortgage rates and continue to climb in 2020, it will encounter some headwinds and a rapid rate of increase is not in the cards.
Stephen Slifer
NumberNomics
Charleston, S.C.