January 19, 2022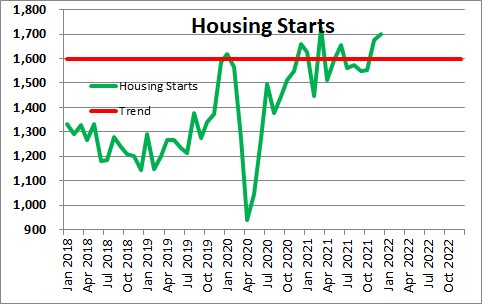 Housing starts climbed 1.4% in December to 1,702 thousand after having jumped 8.1% in November   Starts continue to climb.   The recent run-up in COVID cases does not appear to have affected the starts data in December.  January should register a significant decline but mostly because of extremely  bad weather rather than COVID.  Starts have far surpassed the levels where they were in February of last year — prior to the recession.  Starts would be at an even faster pace but builders are having difficulty finding lumber at a reasonable price, qualified workers, and a lot shortage.  Indeed, the elevated price of lumber is adding approximately $24,000 to the price of a new home.  There is demand for a faster pace of construction, but supply constraints are curtailing how quickly starts can rise.
Single-family starts are 13.3% higher than they were in February of last year (just prior to the onset of the recession) while multi-family units are 1.9% higher than their February 2020 pace.  Home buyers and renters are taking advantage of near record low mortgage rates to purchase new homes in the suburbs.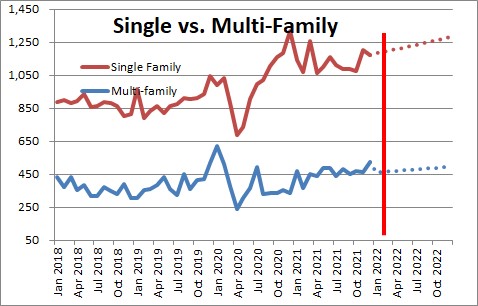 Builders certainly expect the housing market to continue to do well in the months ahead.  The homebuilders confidence index for November now stands at 83.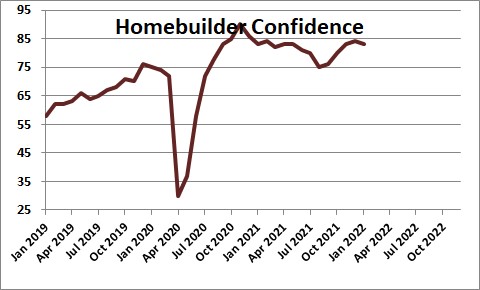 One of the factors boosting homebuilders confidence is the fact that mortgage rates remain at a near-record low level of 3.1%.  But as inflation continues to climb and the Fed stops purchasing long-dated Treasury securities and mortgages, long-term interest rates — including mortgage rates — will rise in 2022.  We expect mortgage rates to be 4.1% at the end of thist year.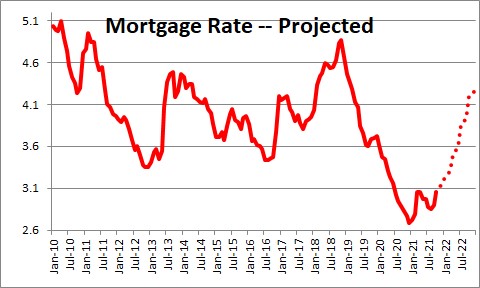 As mortgage rates and home prices continue to climb housing affordability is likely to decline to 128 or so by yearend which means that the median-income earning family has 28% more income than is necessary to purchase a median-priced home.  At the end of the housing boom in 2007 this index stood at 115.  Housing was expensive today.  It should remain affordable for most families at least through the end of this year.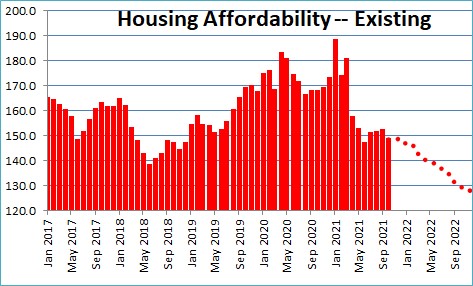 Building permits jumped 9.1% in December to 1,873 thousand after rising 3.9% in November   The December level of permits is virtually identical to the January level of last year which was 1,883 thousand — the highest level for permits since May 2006.  The rising cost of materials and lack of skilled workers seems to be causing builders to curtail the pace of construction slightly.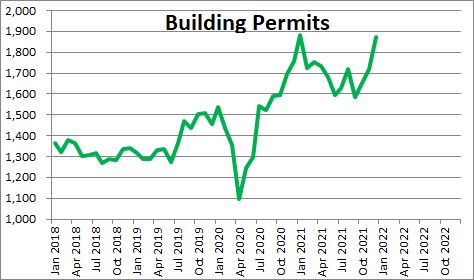 Builders have an increasing number of units for which permits have been issued but construction has not yet begun.  That will ensure that builders remain busy from now through the end of the year.  Builders report that their costs are rising faster than prices, so they are holding off beginning construction until either their costs decline somewhat or prices rise farther.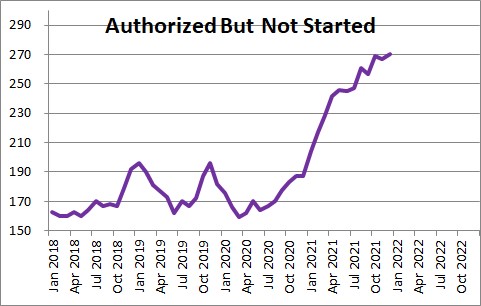 At the same time the number of new homes under construction keeps rising so there should be more homes completed in the first half of this year which will reduce some of the extreme shortage of available homes for sale as 2022 progresses.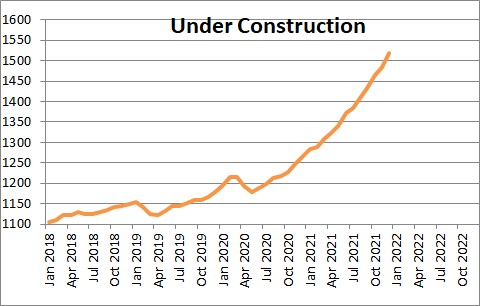 The economy continues to open up.  Construction workers return to their jobs.  Given that federal unemployment benefits have now expired more workers should become available and the pace of construction will pick up.  Mortgage rates have remained affordable at 3.1% although they are on the way up.    The problem is that builders need more bodies.  Our sense is that starts will  continue to climb to 1,800 by the end of 2022.  But with net housing formation annually of 1,600 thousand or so, that pace of construction will not be fast enough to eliminate much of current backlog of demand.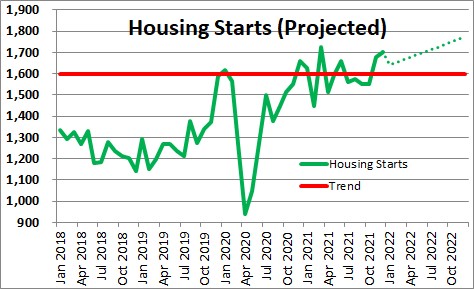 And, for what it is worth, we expect Q4 GDP to climb by 5.5% in Q4.  That will give us 5.2% GDP growth for 2021 and we anticipate 4.9% growth in 2022..
Stephen Slifer
NumberNomics
Charleston, SC