May 19, 2020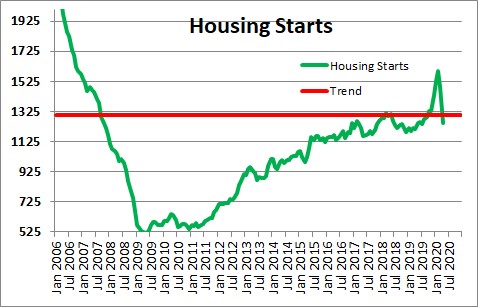 Housing starts .plunged 30.2% in April to 891 thousand after having fallen 18.6% in March,   Because these data are particularly volatile on a month-to-month basis, it is best to look at a 3-month moving average of starts (which is the series shown above).   That 3-month average now stands at 1,234 thousand but, clearly, that average will droop to about 1,000 in May.  Thehe stay-at-home orders are affecting builders ability to build new homes.
The April decline represents a 25% drop in the construction of single-family homes combined with a 40% drop in multi-family construction.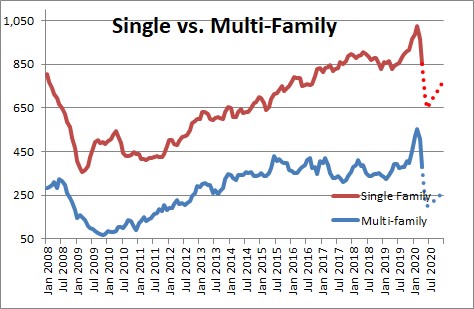 .Building permits fell 20.8% in April to 1,074 after having fallen 5.7% in March and 6.4% in February.  Because  permits are another volatile  indicator it is best to look at a 3-month average (which is shown below).  That 3-month moving average now stands at 1,289 thousand but it should decline to about 1,150 thousand in May.  .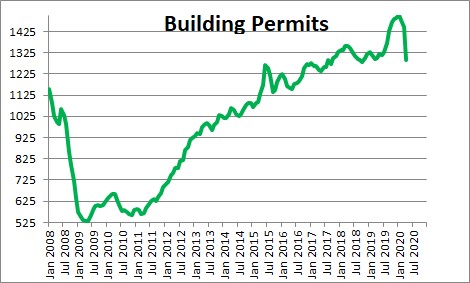 The virtual lock-down of the country in an effort to combat the corona virus has caused a sharp contraction in home sales and construction.
However, the economy is beginning to gradually open up.  As construction workers return to their jobs starts should pick up by June.  Home builders have already begun to see traffic pick up somewhat in May.  Mortgage rates remain low at about 3.5%.  Applications for mortgage refinancing have risen in each of the past four weeks.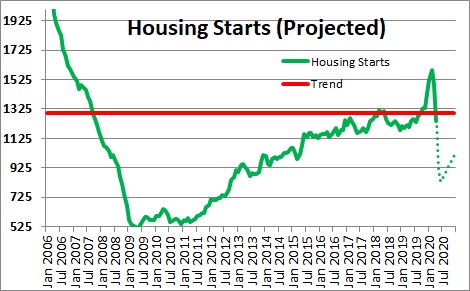 Our sense is that starts will remain at about 900 thousand or so in May, but begin to turn upwards by June or July but remain well below year-ago levels through the end of this year.
Stephen Slifer
NumberNomics
Charleston, SC