March 17, 2021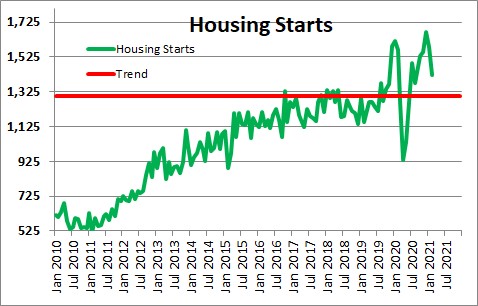 Housing starts fell 10.3% in February to 1,421 thousand after declining 6.1% in January.  However, the declines in starts in January and particularly February should be discounted for two reasons.  First, the weather was atrocious in February as a series of snow and ice storms rolled across the country disrupting economic activity for the entire month.  Think Texas..  Second, permits fell 10.8% in February to 1,682 thousand after having risen 10.7% in January  Starts and permits should be at roughly comparable levels so, given the increase in permits, housing starts will rebound as we move through the spring.  Like every other economic indicator, starts have rebounded sharply since the recession ended last April and have now surpassed the levels where they were in January and February of last year.  Starts would be at an even faster pace but builders have having difficulty finding lumber at a reasonable price given the fires in the West, qualified workers, and a lot shortage.  Indeed, the elevated price of lumber is adding approximately $24,000 to the price of a new home. And mortgage interest rates, while historically low, have increased about 30 basis points over the last month.  Permits are also climbing higher and higher, but builders currently are unable to keep up.  There is demand for a faster pace of construction, but supply constraints are curtailing how quickly starts can rise.
One interesting point is that the recent growth in starts has all been in single-family homes.  In the past year single-family starts have risen 0.6% while multi-family units have declined by 27.6%.  Home buyers and renters are taking advantage of record low mortgage rates to purchase new homes in the suburbs.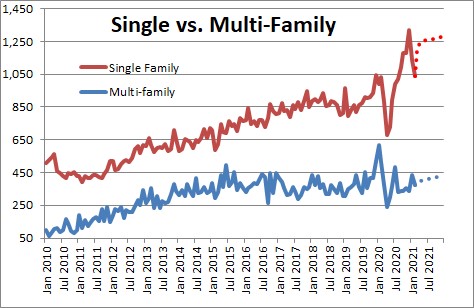 Builders certainly expect the housing market to continue to do extremely well in the months ahead.  The homebuilders confidence index for February now stands at 82 which remains close to the October level which was a record breaking, 35-year high of 90.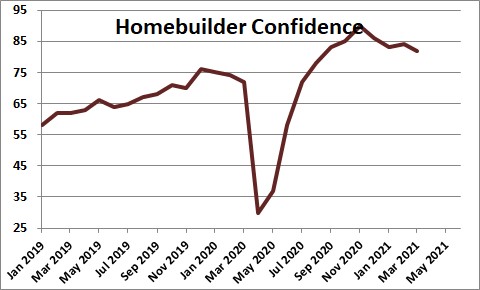 One of the factors boosting homebuilders confidence is the fact that mortgage rates fell to a record low level of 2.7%.  They have risen 30 basis points in the past month or two and now stand at 3.0% which is still extremely low.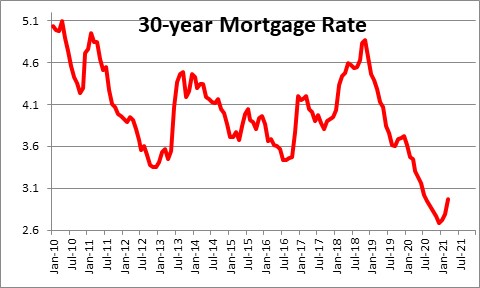 Building permits declined by 10.8% to 1,682 thousand in February after rising 10.7% in January.  January was the highest level for permits since May 2006.  As noted earlier, starts and permits should be at roughly comparable levels, which suggest that  starts should rebound quickly from 1,421 thousand currently to 1,600 thousand within a couple of months.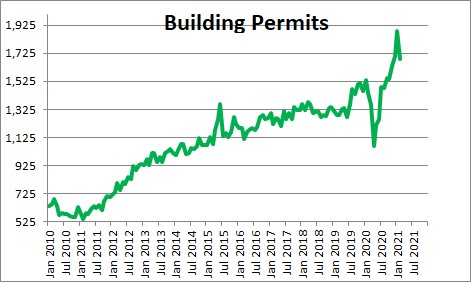 The economy continues to open up.  Construction workers return to their jobs.  Home builders have already seen traffic through their model homes pick up to where it was prior to the recession.  Their confidence is high..  Mortgage rates have edged upwards to the 3.0% mark but remain low.    Our sense is that starts will  continue to climb to 1,700 thousand by the end of this year.  And, for what it is worth, we expect Q1 GDP to climb by 6.5%, Q2 growth of 8.5% and 7.5% GDP growth for  2021.
Stephen Slifer
NumberNomics
Charleston, SC