October 20, 2020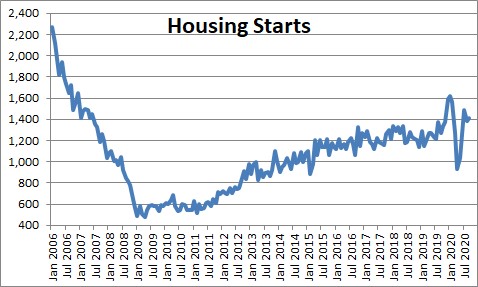 Housing starts rose 1.9% in September to 1,415 thousand after having fallen 6.7% in August.  Like every other economic indicator, starts have rebounded sharply in the past five months and are now essentially  back to the levels where they were in January and February.  Starts would be at an even faster pace but builders have having difficulty finding lumber given the fires in the West, qualified workers, and a lot shortage.  Permits keep climbing higher and higher, but builders currently are unable to keep up.  The demand is there for a faster pace of construction, but supply constraints are curtailing how quickly it can rise.
But builders certainly expect the housing market to continue to do extremely well in the months ahead.  The homebuilders confidence index for September now stands at a 35-year record high level of 85.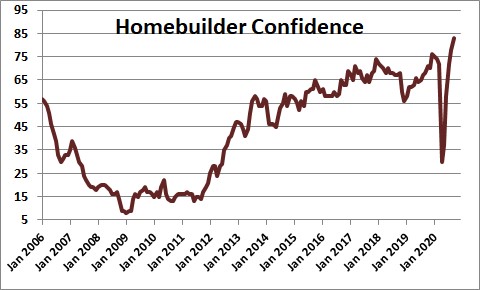 One of the factors boosting homebuilders confidence is the fact that mortgage rates have fallen to a record low level of 2.9%.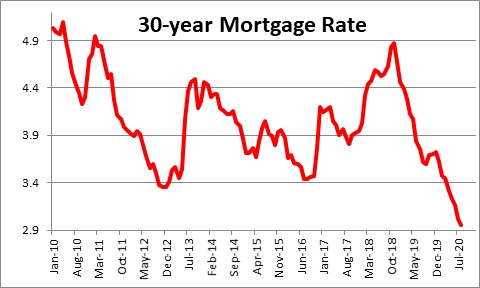 .Building permits jumped 5.2% in September to 1,553 thousand after having fallen by 0.5% in August.  With permits at 1,553 thousand starts should be at a comparable level.  They are not.  They are currently at 1,415 thousand.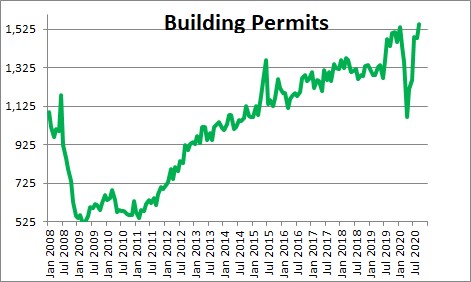 The virtual lock-down of the country in an effort to combat the corona virus caused a sharp contraction in home sales and construction and triggered a 31.4% drop in second quarter GDP.
However, the economy continues to open up.  Construction workers return to their jobs.  Home builders have already seen traffic through their model homes pick up to where it was prior to the recession.  Their confidence is high..  Mortgage rates have dipped to a record low level of 2.9%.  Applications for mortgage refinancing have been rising steadily.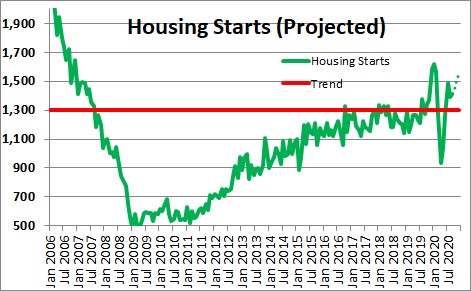 .Our sense is that starts will  continue to climb and keep the economy cruising between now and the middle of next year.  And, for what it is worth, we expect GDP to rise 28.0% in Q3 which we will see next week, and grow at a 5.5% pace in 2021.
Stephen Slifer
NumberNomics
Charleston, SC