August 16, 2019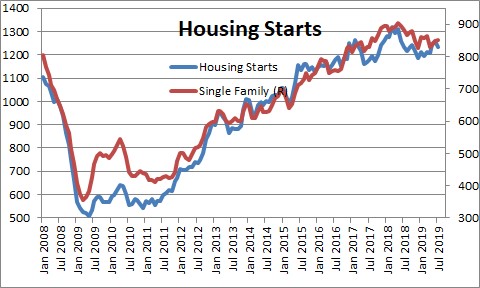 Housing starts fell 4.0% in July to 1,191 thousand after having declined 1.8% in June and 0.5% in May.   Because these data are particularly volatile on a month-to-month basis, it is best to look at a 3-month moving average of starts (which is the series shown above).   That 3-month average now stands at 1,232 thousand.  Housing starts are now identical to where they were one year ago.
The June decline reflected  a 1.3% increase in single-family starts which was more than offset by a 6.8% decline in multi-family construction.  Looking at the 3-month average of single- and multi-family starts it appears that both categories of starts have leveled off while multi-family starts have begun to climb.  We expect both categories to rise slowly in the second half of the year.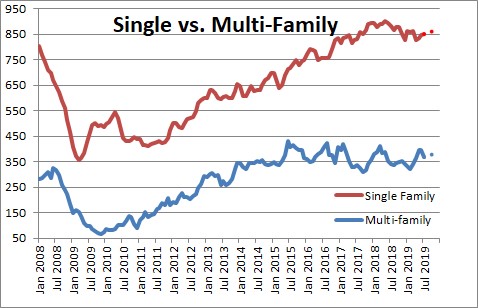 While the  housing sector has cooled during the past year,  is that because demand has declined?  Or are constraints on production like a labor shortage and rising costs of materials the more likely cause?  We believe it is primarily the latter.
Both new and existing home sales have rebounded in recent months which is obviously good.
But sales are being constrained by a dramatic lack of supply.  Realtors simply cannot sell what is not available for sale.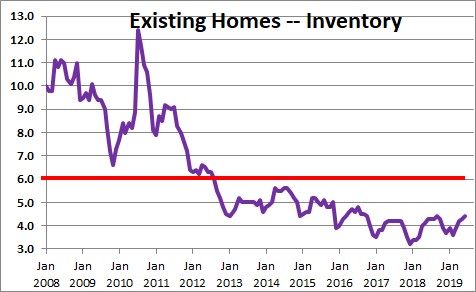 The average home stays on the market for 27 days currently which is down from 100 days a few years ago.  More than 50% of the homes coming to market sell within one month.  This statistic provides compelling evidence that the demand for housing remains robust.
Monthly  employment gains are about 180 thousand per month which is boosting income.  As a result, real disposable income (what is left after inflation and taxes) is growing at a 3.3% pace which is  slightly above its long-term average of 2.7%.  That will  provide the fuel for additional spending on housing as the year progresses.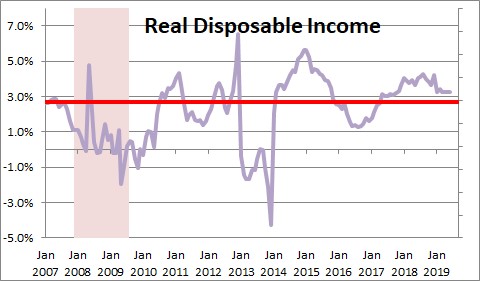 Mortgage rates have recently declined by 1.3% to 3.6% which is the lowest mortgage rate since the summer of 2017.  That should provide some  lift to the housing sector in the months ahead.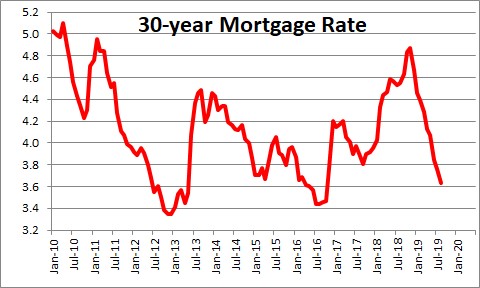 Housing remains affordable for the median-price home buyer.  Mortgage rates may have risen, but income has been rising almost as quickly, hence affordability has not dropped much.  At 150.0 the index  indicates that a median-income buyer has 50.0% more income than is necessary to purchase a median-priced house.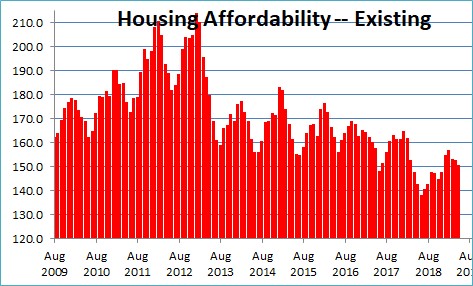 The problem in housing is not a lack of demand.  Rather it is a constraint on the production side.  Builders have had difficulty finding an adequate supply of both skilled and unskilled labor.  Construction employment has been growing by about 20 thousand per month but it will be difficult for it to grow any faster.  At the same time tariffs on lumber, steel and aluminum  are driving up the cost of production.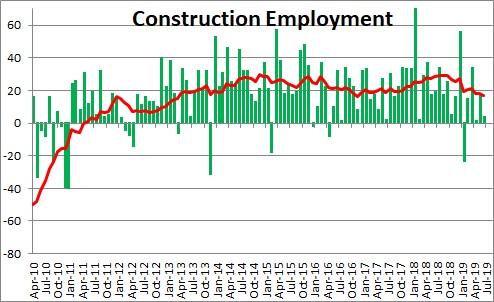 There are plenty of homes that have already been authorized but construction has not yet begun because of builders inability to find workers, and because the cost of materials has risen so sharply in the wake of tariffs on steel, aluminum, and lumber.  Once supply constraints begin to abate we will see starts climb at a somewhat more robust pace as builders begin construction on these previously authorized houses.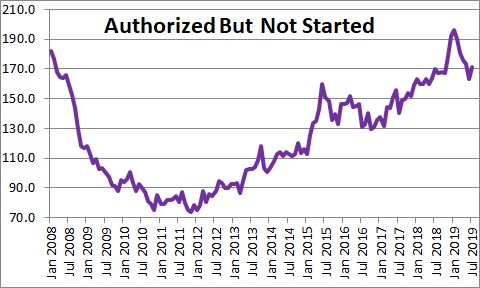 Given the continuing strength in demand we expect starts to climb 12.0% this year and reach 1,290 thousand by the end of 2019.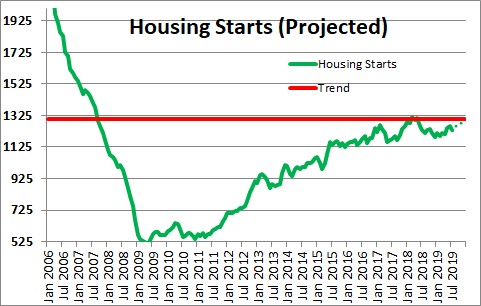 Building permits jumped 8.4% in July to 1,336 thousand after having fallen 5,2% in June.  Because  permits are another volatile  indicator it is best to look at a 3-month average (which is shown below).  That 3-month moving average now stands at 1,289 thousand.   The reason people look at permits is because a builder must first attain a permit before beginning construction.  Thus, it is a leading indicator of what is likely to happen to starts several months down the road.  If permits are at 1,289 thousand, housing starts should be at roughly that same level by yearend.  Thus, our forecast for starts to be 1,290 thousand by yearend seems about right.  However, keep in mind that builders continue to have difficulty finding enough workers.  The demand for  housing is solid, but can builders get enough workers to push them sharply higher?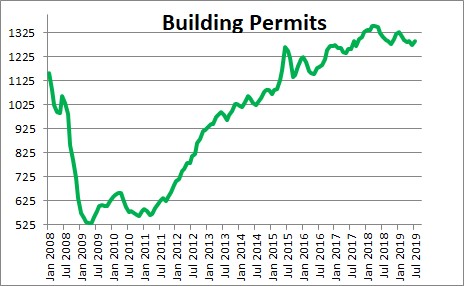 Stephen Slifer
NumberNomics
Charleston, SC