March 18, 2020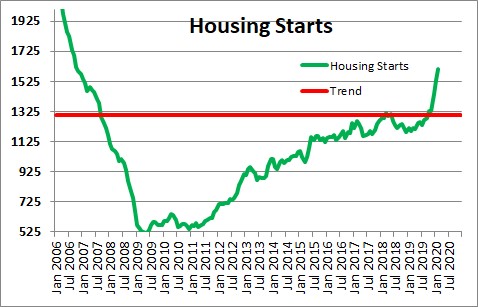 Housing starts fell 1.5% in February to 1,599 thousand after having risen 1.4% in January,   Because these data are particularly volatile on a month-to-month basis, it is best to look at a 3-month moving average of starts (which is the series shown above).   That 3-month average now stands at 1,608 thousand.  Housing starts are now 34.7% higher than where they were one year ago.
The February decline represents a 6.7% increase in the construction of single-family homes combined with a 17% drop in multi-family construction.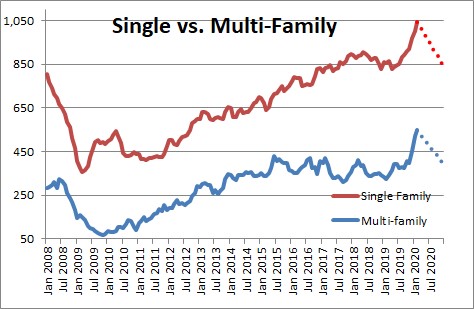 .Building permits fell 5.5% in February to 1,464 thousand after having  jumped 9.2% in January.  Because  permits are another volatile  indicator it is best to look at a 3-month average (which is shown below).  That 3-month moving average now stands at 1,464 thousand.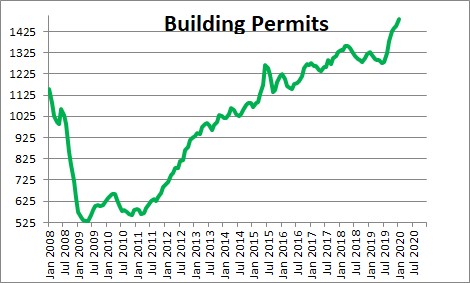 Thus, the housing sector was on a roll through February with steady sales gains throughout the second half of last  year.  But all of that is about to change.  The virtual lockdown of the country in an effort to combat the corona virus is going to cause a sharp contraction in home sales and construction in the months ahead.
How sharply consumer and business confidence drops and when it turns upward will be determined by how quickly the virus gets under control.  We are encouraged that in the epicenter of the crisis, China, the virus is now well under control. The virus became evident in China in late December.  China took draconian measures to corral the virus and it has worked.  It became clear that it was getting under control by mid-February when the number active cases peaked at 58,000.  This number is important because it measures the number of people that can transmit the virus.  People who have died or have gotten over the virus, cannot pass it to someone else.  From that mid-February peak of 58,000 the number of active cases has fallen to just 8,000 by mid-March..  Given that China-type draconian measures have now been adopted by the rest of the world, we are hopeful that we will see signs that the virus is getting under control in the rest of the world by mid-April.  Once that happens and stock market investors recognize that the worst is not going to happen, the stock market will regain its footing, confidence will once again begin to rise, and the economy will begin its recovery..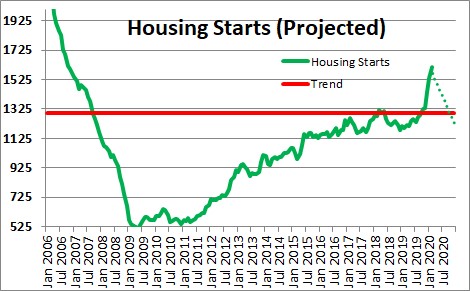 Our sense is that starts will shrink to 1,250 thousand or so during the next several months.
Stephen Slifer
NumberNomics
Charleston, SC