March 3, 2023
The  housing sector was a major drag on the economy in 2022, particularly in the second half of the year when it subtracted 1.2% from GDP growth.  But that headwind will disappear in 2023 as steadily falling home prices boost affordability.  Home sales have already begun to turn upwards.  Home builders are more optimistic and should soon boost the pace of production.  With mortgage rates likely to return to 7.0%, housing will not be a vibrant source of growth this year.  But the very fact that it will stop acting as a brake will keep the economy chugging along at a moderate pace in 2023 even if the Fed raises the funds rate to 6.0%.
The housing component of GDP was crushed last year as mortgage rates and home prices skyrocketed.  Mortgage rates, for example, climbed from 3.0% at the end of 2021 to 6.5% by the end of last year.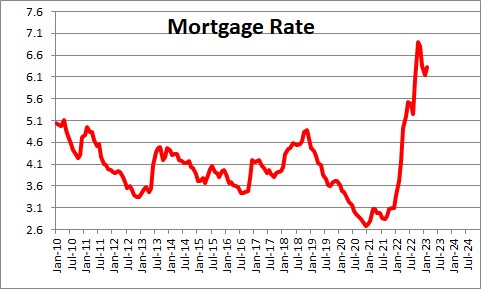 Home prices climbed by 1.5-2.0% per month in the first half of last year before finally beginning to turn downwards after midyear.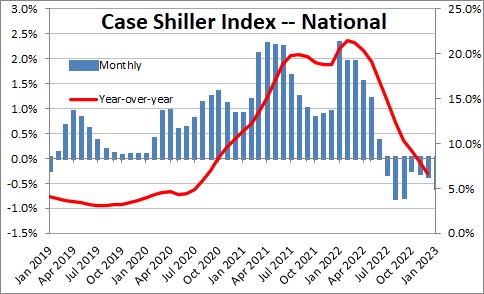 The higher mortgage rate/ higher price combo caused housing affordability to plummet.  A median-income earning family went from having 40% more income than required to purchase a median-priced house, to having 5% less money than required.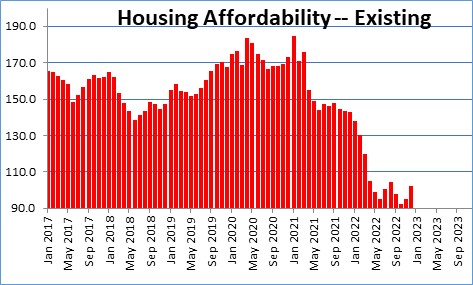 From the time the recession began in March 2020 until the middle of last year the down payment required to purchase a median-priced home soared from $54,000 to $84,000.  The monthly payment climbed from $1,400 to $2,000.  Many lower-income families, especially first-time buyers, could no longer afford to buy.
As a result, the housing component of GDP collapsed in the second half of last year with an average drop of 25% per quarter which knocked 1.2% off GDP growth during that period of time.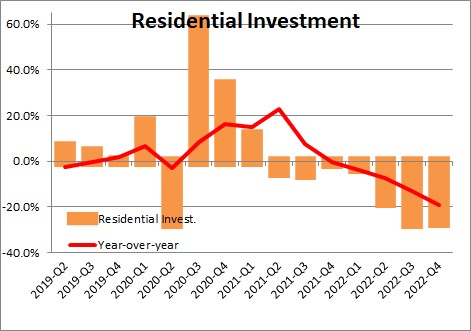 That was then.  This is now.  The housing market in 2023 will look very different from the one that existed in 2022 because housing affordability will increase steadily throughout the year.
Housing affordability is determined by three factors – consumer income, mortgage rates, and home prices.
For the foreseeable future consumer income will continue to climb.  Payroll employment gains are averaging 350 thousand per month and should continue to rise.  Average  hourly earnings are increasing at a 4.7% pace.  With more people working and salaries on the rise, real disposable consumer income is expected to climb at a 2.5% pace in 2023.
The second factor, mortgage rates, climbed from 3.0% to 6.5% last year.  If inflation slows this year mortgage rates may peak at about 7.0%.  An additional 0.5% increase in mortgage rates will be only a minor negative factor in the affordability equation.
The third piece of the affordability index, home prices, will be the driving force behind an increase in affordability in 2023.  Home prices peaked in June of last year and have fallen every month since. Our sense is that prices will continue to fall steadily through the middle of this year as the dramatic price gains caused by panic buying in first half of last year are reversed.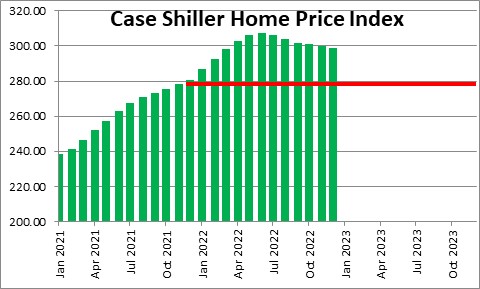 When we combine these three factors, we expect housing affordability to increase steadily as the year progresses.  By yearend a median-income family purchasing a median-priced house will have about 14% more income than required to make that purchase, compared to having about 5% less money than necessary late last year.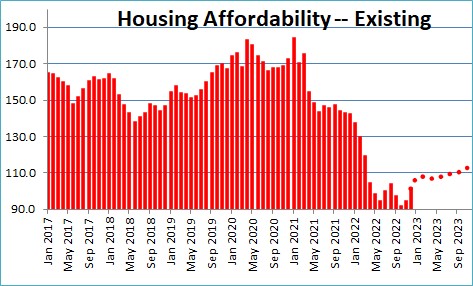 This means that the down payment for that median-priced home will have declined from a peak of $84,000 in June of last year to $70,000 by June 2023.  The monthly payment will have fallen from a peak of $2,000 per month to $1,800.  More lower income families and first-time buyers will likely resume their home search.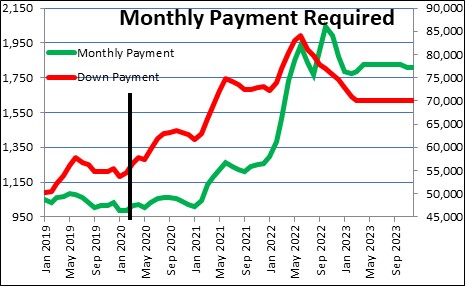 Already the prospect of some stabilization in mortgage rates and increased foot traffic through model homes boosted homebuilder confidence in each of the first two months of the year which should translate into increased production as building permits and housing starts turn upwards.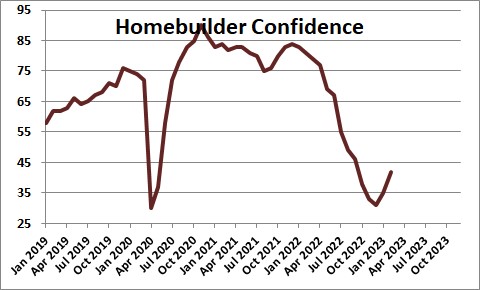 From the demand side, new home sales have already begun to climb.  Pending home sales rose 8.0% in January which means that existing home sales should follow in February.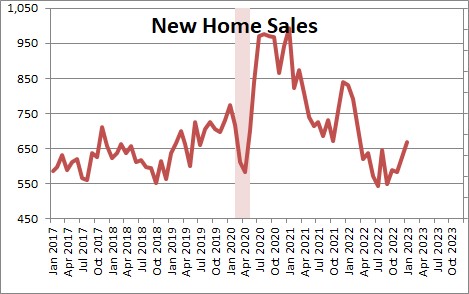 It seems fairly clear that the housing market hit bottom late last year and is poised for at least a moderate rebound in 2023.  If all of that is true, then the  housing sector which subtracted 1.2% from GDP growth in the second half of last year will no longer be a drag on the economy and could even provide a mild stimulus.  With a turnaround in housing, it will be even more difficult for the Fed to slow growth enough to reduce inflation.
Stephen Slifer
NumberNomics
Charleston. S.C.