March 17, 2020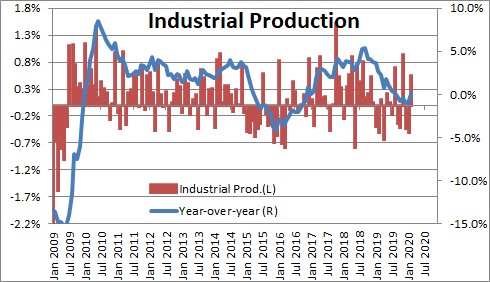 Industrial production rose 0.6% in February after having fallen 0.5% in January.   During the past year industrial production has been unchanged, but one year ago it was climbing at a 3.0% pace.
Breaking industrial production down into its three major sub-components,  the Fed indicated that manufacturing production (which represents 75% of the index) ropse 0.1% in February after having declined 0.2% in January.  During the past year factory production has declined 0.4%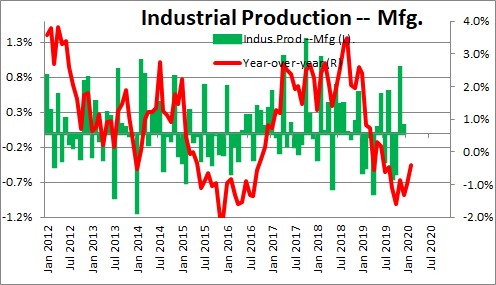 To a large extent the prolonged drop in factory production has being curtailed by the trade sector and the impact of tariffs on both manufacturing firms that import components used in the production process from overseas, as well as firms that export goods to other countries because of their tit-for-tat increase in tariffs.  The ISM exports index plunged to the same basic level that we saw in the midst of the recession.  However, export orders have rebounded in recent months which suggests that most of the trade-related impact on growth is behind us.  Boeing's continuing woes with its 787-MAX jet are contributing to the softness in the manufacturing sector.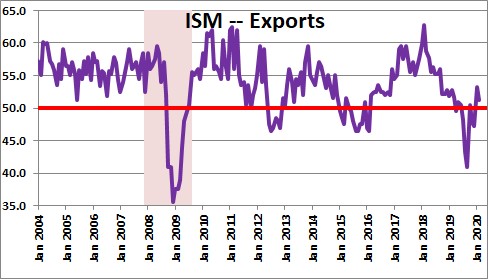 Mining (14%) output fell 1.5% in February after having risen 1.0% in January.  Over the past year mining production has risen 2.1%.
However, over the last year oil and gas well drilling activity has fallen 23.0%. But a year ago drilling activity had risen 10.0%. .  Despite the drop-off in drilling activity crude oil output has surged in the past year.  The implication is that productivity in that sector continues to climb.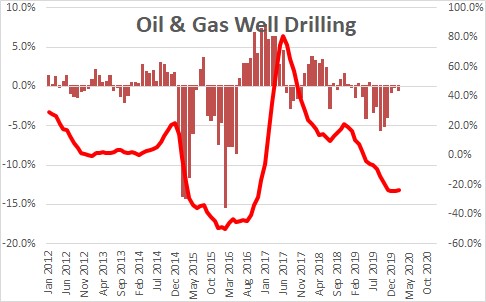 Utilities output jumped 7.1% in February after having fallen 4.9% in January. The decline in January was almost certainly attributable to unusually warm weather in that month  which reduced the need for electricity.  The February increase represents a return to more normal temperatures.   This component of industrial production is always volatile.  During the past year utility output has rose 0.4%.
Production of high tech equipment declined 0.2% in February after having risen 0.6% in January. Over the past year high tech has risen 7.0%.  This series has still been climbing at a respectable rate probably because the tight labor market  is encouraging firms to spend money on technology to boost output without adding to headcount.  T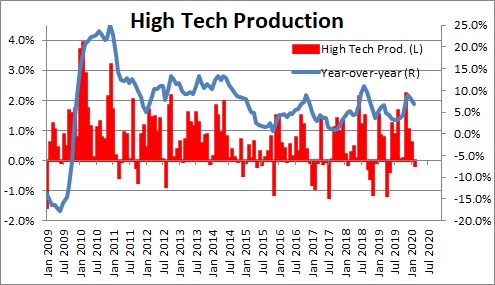 Capacity utilization in the manufacturing sector was unchanged at 75.0%.  It remains below the 77.4% level that is generally regarded as effective peak capacity.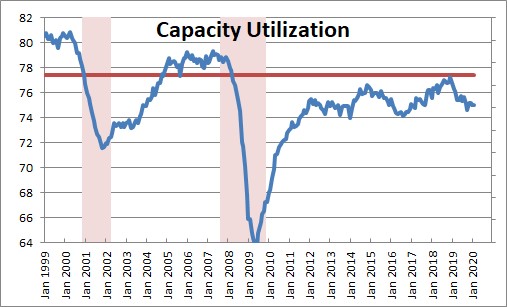 While industrial production has been about flat for some time, that is about to change.  The corona virus has clobbered the stock market.  Consumer spending is sure to fall sharply for the next couple of months.  As inventories accumulate manufacturers are bound to slow the pace of production.
How long this softness continues will be determined by how quickly the virus gets under control.  We are encouraged that in the epicenter of the crisis, China, the virus is now well under control. The virus became evident in China in late December.  China took draconian measures to corral the virus and it has worked.  It became clear that it was getting under control by mid-February when the number active cases peaked at 58,000.  This number is important because it measures the number of people that can transmit the virus.  People who have died or have gotten over the virus, cannot pass it to someone else.  From that mid-February peak of 58,000 the number of active cases has fallen to just 8,000 by mid-March..  Given that China-type draconian measures have now been adopted by the rest of the world, we are hopeful that we will see signs that the virus is getting under control in the rest of the world by mid-April.  Once that happens and stock market investors recognize that the worst is not going to happen, the stock market will regain its footing, consumer confidence will once again begin to rise, and factory output will rebound.
Stephen Slifer
NumberNomics
Charleston, SC