November 16, 2023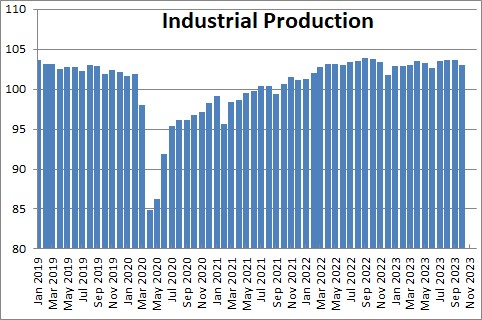 Industrial production fell 0.6% in October after having risen 0.1% in September.  While the October decline is large, it reflects the sharp curtailment in automobile production caused by the UAW strike.  It will rebound in November.   In the past year industrial production has fallen 0.7%.  On balance, the manufacturing sector remains relatively flat.
Breaking industrial production down into its three basic categories — manufacturing, mining, and utilities –the Fed reported that manufacturing production fell 0.7% in October after having risen 0.2% in September.  LIke the overall index this series was pulled down by the sharp drop in motor vehicle production.  In the past year manufacturing output has declined 1.7%.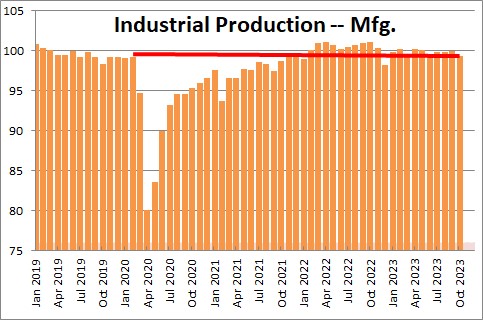 In the motor vehicle sector production fell a whopping 10.0%.  This was the result of the UAW strike on auto production in that month.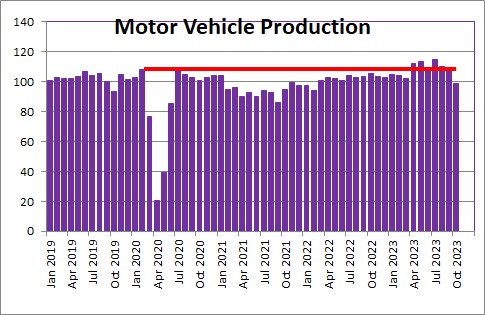 Excluding the motor vehicle sector, manufacturing output rose 0.1% in October after climbing 0.2% in September and 0.4% in August.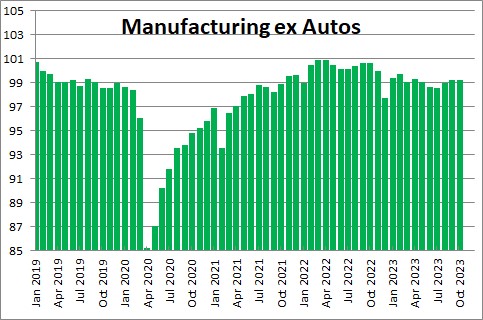 The bright spot in this report is that high tech production climbed 1,4% in both September and October after gaining 1.6% in August and 2.3% in July.  In fact this is ninth straight month that high tech production has increased.   High tech production has risen 14.4% in the past year.  We would suggest that if firms are unable to find an adequate supply of workers, and when they can find them the workers demand significantly higher wages, they will turn to technology in an effort to boost production and satisfy the demand for their products.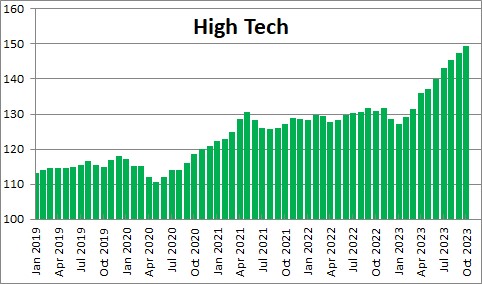 Mining (14%) output rose 0.4% in October after having been unchanged in September.   Mining has risen 2.2% in the past year.  Within the mining category, oil drilling activity fell 1.6% in October after declining 0.6% in September.  However, it has risen 2.9% in the past year and production has climbed from 12.2 million barrels per day at the end of July to  13.2 mbpd by mid-November.  That is why crude and gasoline prices have been falling.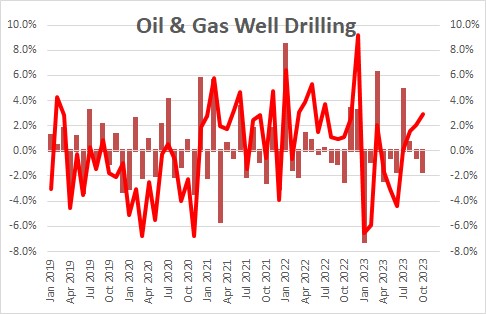 Utilities output declined 1.6% in October after falling 0.6% in September. .  Over the past year utility output has risen 2.9%.  This component is extremely volatile from month-to-month as the weather fluctuates.
Capacity utilization in the manufacturing sector declined 0.6% in October to 77.2% after having risen 0.1% in September.   It is essentially the same as the 77.4% level that is generally regarded as effective full capacity utilization.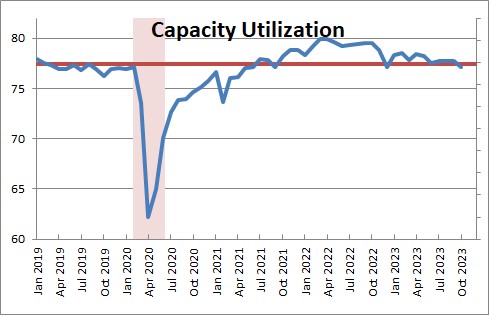 GDP appears to be on track to grow at a 1.5% pace in the fourth quarter as firms keep hiring at a relatively rapid pace, the unemployment rate remains steady at a near 50-year low of 3.9%, and the housing sector begins to edge upwards.  However, we expect GDP to slip to 0.7% or so in the first two quarters of next year as the real funds rate climbs toward the 2.0% mark.
Stephen Slifer
NumberNomics
Charleston, SC