November 17, 2020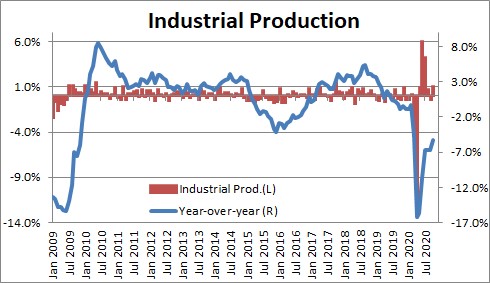 Industrial production jumped by 1.1% in October after having declined 0.4% in September and risen 0.7% in August.  The nations production sector continues to recover.  However, as shown below, production is still 5.5% below where it was in February — prior to the recession.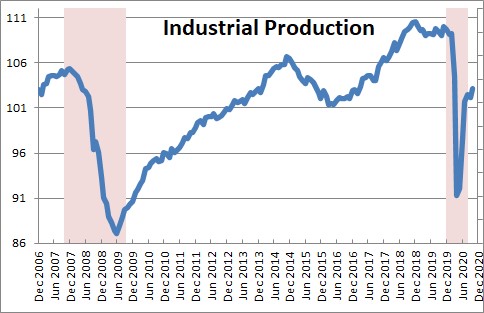 Breaking industrial production down into its three major sub-components,  the Fed indicated that manufacturing production (which represents 75% of the index) rose 1.0% in October after having risen 0.1% in September and 1.4% in August.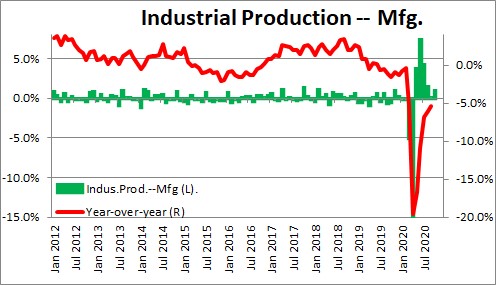 During the spring the decline in factory production was largely attributable to a slowdown in the pace of motor vehicle production.  However, automobile production has soared in the past six months.  As a result, the level of auto production is back to where it was prior to the recession.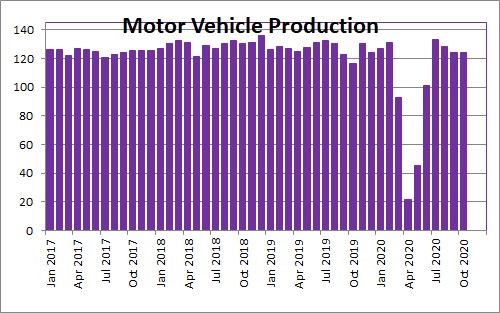 High tech production was hit less sharply than most other sectors of the economy as business people turned to technology to help them cope with the fallout from the virus.  As a result high tech fell only slightly during the recession, and has now surpassed its pre-recession high.  In the past year high tech production has risen 6.2%.  In the past three months the annualized gain is double that.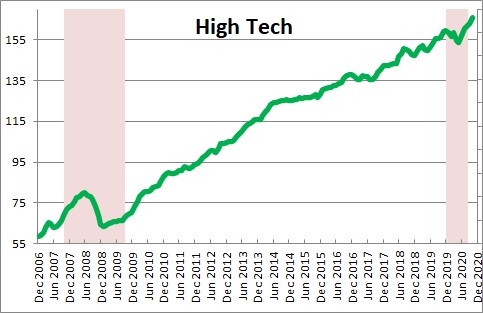 Mining (14%) output fell 0.6% in October after having risen 1.2% in September and having fallen 1.2% in August.  Mining has fallen 14.4% in the past year.
Part of the drop in mining earlier in the year was attributable to oil and gas well drilling which plunged in the spring.    As economic activity collapsed in response to the global shutdown caused by the corona virus, the demand for oil plunged and prices fell from $63 at the end of last year to a brief low of about $13 per barrel before rebounding to about $41 per barrel currently.  However, during the recession demand fell far more sharply than production.  As a result, oil inventories were excessively high.  Drillers have sharply curtailed production and now the excessive level of inventories is depleted.  They are back to normal which means that oil production should continue to rise as the economy recovers.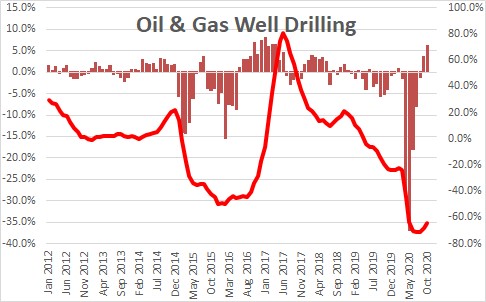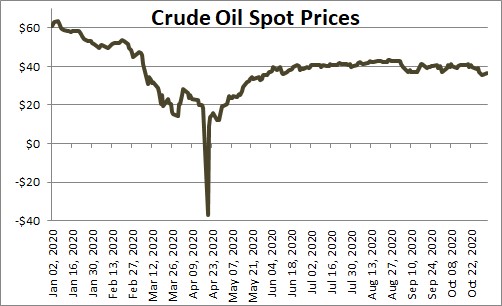 Utilities output rose 3.9% in October after having fallen 5.2% in September.  Over the past year utility output has declined 3.0%.
Capacity utilization in the manufacturing sector rose 0.7% in October to 71.7% after having risen 0.1% in September.  That is now about 6 percentage points below its long term average.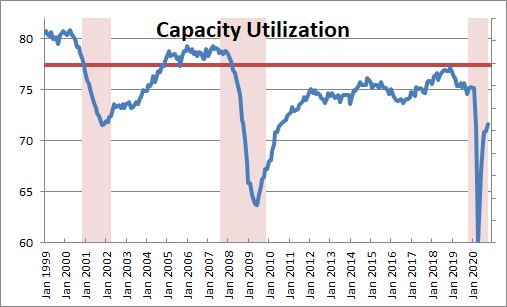 Second quarter GDP declined 31.4% — the biggest single-quarter drop in history.  However, the combination of the economy gradually re-opening and fiscal stimulus caused GDP to increase 33.1% in the third quarter, which we think will be followed by 10.0% growth in Q4.
Stephen Slifer
NumberNomics
Charleston, SC