June 10, 2021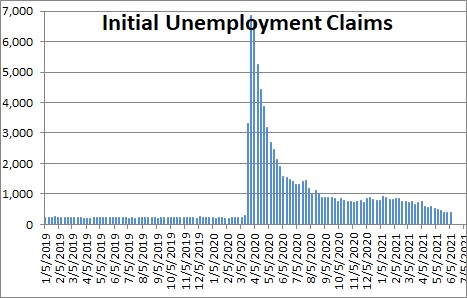 Initial unemployment claims for the week of June 5 fell 9 thousand to 376 thousand after having declined 20 thousand in the previous week. In fact this is the sixth consecutive decline in claims and the eighth decline in the past 9 weeks.  The June 5 level is the lowest level of claims since March 14, 2020 when it was 256 thousand.   After reaching a peak of 6,867 thousand at the end of March of last year initial claims had been steadily declining.  Initial claims leveled off in December and the first three months of this year, but perhaps the much lower level of claims in recent weeks suggests a somewhat faster pace of descent  is underway as the number of corona virus cases shrinks dramatically, the steady pace of vaccine distribution continues, and another round of stimulus checks has provided the consumer with plenty of ammo to spend.
The number of people receiving unemployment benefits fell 256 thousand in the week ending May 29 to 3,499 thousand after having risen 146 thousand in the previous week.  This series had been falling steadily for months but its rate of descent has slowed in recent weeks.  Prior to the recession roughly 1,725 thousand people were receiving benefits.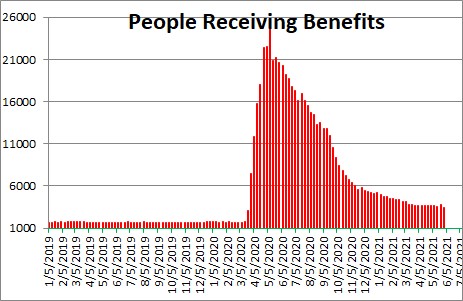 Given the drop in the number of people receiving unemployment benefits  the insured unemployment rate fell 0.2% to 2.5% in the week ending May 29 after having risen 0.1% in the previous week.  Before the shutdown started it was steady at 1.2% so it is still high.  This series reached a peak of 17.1% in the week of May 9.  Its rate of declined has slowed in recent weeks but continues to decline by about 0.1% every week or two.  It could be that some lower income workers are weighing their options and perhaps deciding to permanently leave their industry.  That is an easy decision to make as long as somebody is paying you not to work. But when generous Federal unemployment benefits expire after Labor Day we will see if those people become much more willing to take a job.  That could happen even sooner because 25 states have already refused to accept the additional federal unemployment benefits so some of those people may return to work in the summer months.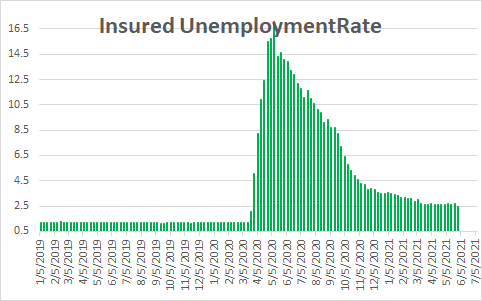 The insured unemployment rate tracks closely  the unemployment rate.   Given the level of  the insured unemployment rate we expect the unemployment rate to decline 0.2% in June to 5.6%.  We also expect payroll employment in increase by 600 thousand workers in June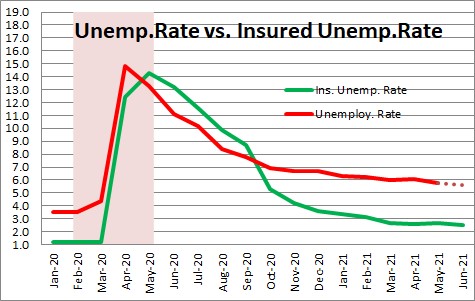 The fiscal stimulus money is pushing consumer spending and with the savings rate still at 14.9% the consumer has plenty of ammo to spend on whatever he or she wants for months to come.  As a result, we  expect to see 10.0% growth in the second quarter, and 8.0% GDP growth for 2021.
Stephen Slifer
NumberNomics
Charleston, SC