July 30, 2020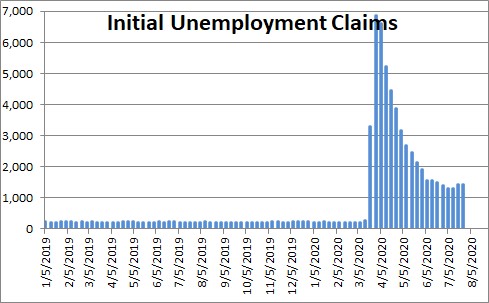 .Initial unemployment claims for the week of July 25 rose 12 thousand  to 1,434 thousand after having risen 114 thousand in the previous week, but having decline declined in each of the previous 15 weeks.  Claims have fallen steadily since reaching a peak of 6,867 thousand in the week ending April 25.  The spreading corona virus seems to have prevented a further drop in claims for now.
The number of people receiving unemployment benefits rose 867 thousand in the week ending July 18 to 17,018 thousand.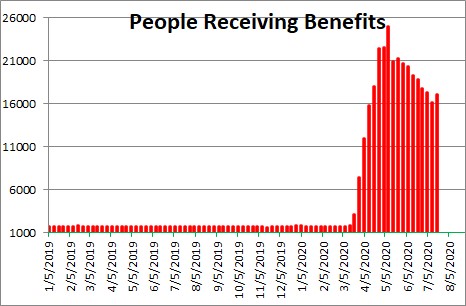 Given the increase in the number of people receiving unemployment benefits the insured unemployment rate rose 0.5% from 11.1% TO 11.6%.  Before the shutdown started it was steady at 1.2% so it is still very high.  This week's increase clearly reflects the impact of the rapid spread in the virus.  But it is only a single week.  Let's wait and see what happens in the weeks beyond.  A rising trend in the insured unemployment rate would clearly trim our projected Q4 GDP growth rate of 7.0%.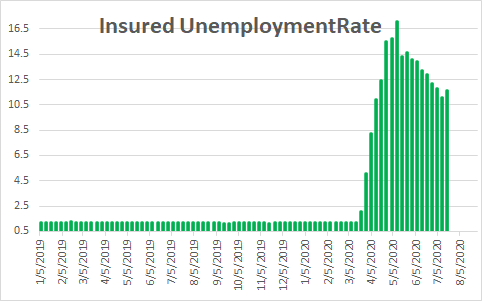 Following the 32.9% GDP drop in the second quarter, the $2.5 trillion of stimulus money will provide a dramatic boost to growth in the third quarter.  We current expect third quarter GDP growth to rebound by 32.0% with an additional 7.0% gain in Q4.
The economy fell into recession in March with a further decline in April.  But with the fiscal stimulus money being disbursed the economy probably turned upwards in May.  As a result, the recession that lasted just 2 months — one-quarter of the 8-month duration of the average recession.
Stephen Slifer
NumberNomics
Charleston, SC