May 6, 2021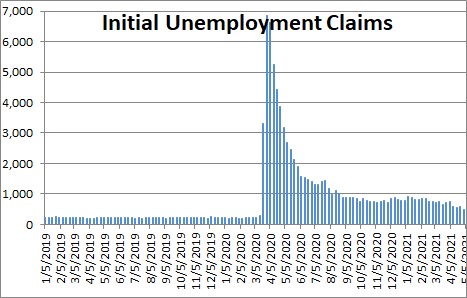 Initial unemployment claims for the week of May 1 fell 92 thousand to 498 thousand after having risen 24 thousand in the previous week.  The May 1 level is the lowest level of claims since March 14, 2020 when it was 256 thousand.   After reaching a peak of 6,867 thousand at the end of March of last year initial claims had been steadily declining.  Initial claims leveled off in December and the first three months of this year, but perhaps the much lower level of claims in recent weeks suggests a somewhat faster pace of descent  is underway as the number of corona virus cases shrinks dramatically, the pace of vaccine distribution accelerates, and another round of stimulus checks reinvigorates the consumer.
The number of people receiving unemployment benefits rose 37 thousand to 3,690 thousand in the week ending April 24 after having risen 1 thousand in the previous week.  This series has been falling steadily for months.  Prior to the recession roughly 1,725 thousand people were receiving benefits.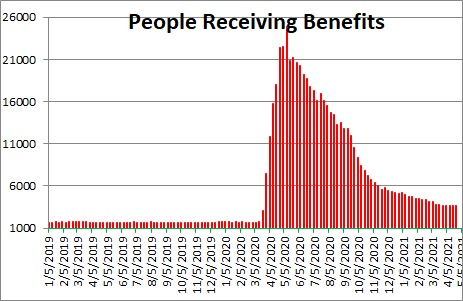 Given the small increase in the number of people receiving unemployment benefits  the insured unemployment rate was unchanged at 2.6% after having been unchanged  in the previous week.  Before the shutdown started it was steady at 1.2% so it is still high.  This series reached a peak of 17.1% in the week of May 9.  Its rate of declined has slowed in recent weeks but continues to decline by about 0.1% per week.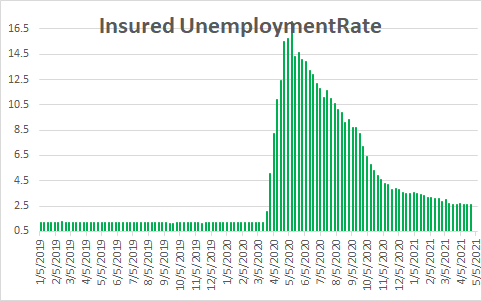 The insured unemployment rate tracks closely  the unemployment rate.   Given the level of  the insured unemployment rate we expect the unemployment rate to decline 0.2% in April to 5.8%.  We also expect payroll employment in increase by 1 million workers in April.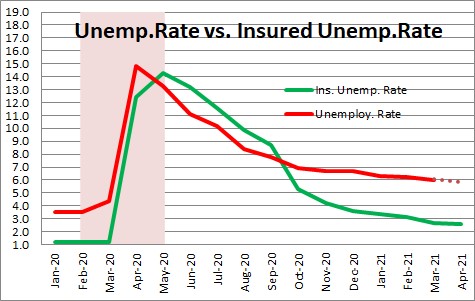 The $900 billion fiscal stimulus bill boosted retail sales by 5.3% in January.  Another fiscal stimulus bill of $1.7 trillion boosted spending in March.  The vaccines are being distributed quickly. As a result, herd immunity is likely by the end of May.  As a result, we saw GDP growth of 6.4% in the first quarter, and expect to see 11.0% growth in the second quarter, and 8.0% GDP growth for 2021.
Stephen Slifer
NumberNomics
Charleston, SC