May 19, 2022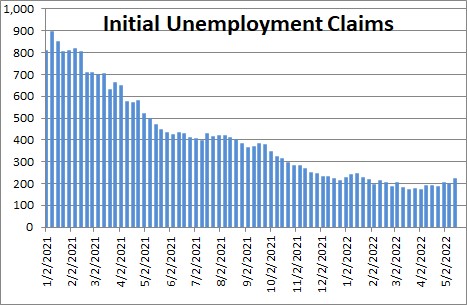 Initial unemployment claims for the week of May 14 rose 21 thousand to 218 thousand after having fallen 5 thousand in the previous week. The 4-week average for claims rose 21 thousand to 218 thousand.  The level has risen slightly in the past couple of weeks which is consistent with some of the layoffs reported recently by some tech companies.  We will see how quickly claims rise, but it is important to keep in mind that the current level of 218 thousand is not that far from the record low level of 162 thousand set in November 1968. It is also important to remember that the labor force today is double the size of what it was 53 years ago.    Viewed in those terms the current level of claims today is extremely low.  It is unrealistic to think that it is going to decline further.  Initial unemployment claims tell us that the labor market is, indeed, very tight.
The number of people receiving unemployment benefits fell 25 thousand in the week ending May 7 to 1,317 thousand after having declined 45 thousand  in the previous week.  This is the lowest level for this series since December 27, 1969 when it was 1,304 thousand.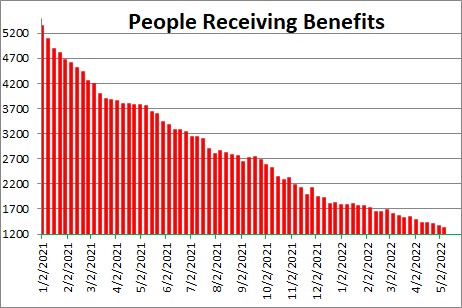 Given the slight decline in the number of people receiving unemployment benefits  the insured unemployment rate fell 0.1% in the most recent week at 0.9% after having  been steady at 1.0% in the previous week  Before the shutdown started it was steady at 1.2% so it is now well below its pre-pandemic level. This series reached a peak of 17.1% in the week of May 9, 2020 and continues to decline by about 0.1% every week or two.   However, at 0.9% it also happens to be the lowest on record for this series that has been around since 1971.   It is unlikely to fall too much lower.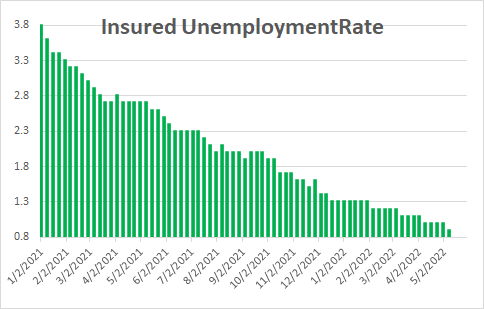 The insured unemployment rate tracks closely  the unemployment rate.   Given the level of  the insured unemployment rate we expect the unemployment rate to decline 0.1% in May to 3.5%.  We also expect payroll employment to increase by 450 thousand workers in May.  We will get that report on June 3.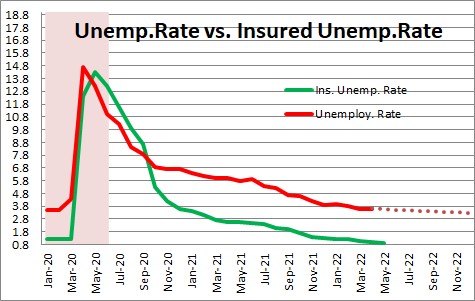 Inflation is on the rise and  the Fed is now expected to lift the funds rate steadily in 2022 to 2.5% by yearend..  However, both long and short-term real interest rates will still be sharply negative.  So while real rates are higher, they are still negative.  Negative real rates are  not going to slow the U.S. economy.  As a result, we  expect to see 2.0% GDP growth in 2022.
Stephen Slifer
NumberNomics
Charleston, SC