August 11, 2022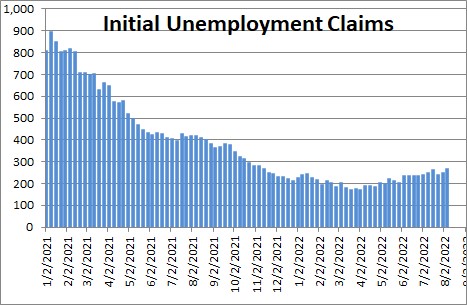 Initial unemployment claims rose 14 thousand in t he week ending August 6 to 262 thousand after climbing 11 thousand  in the previous week. The level has been rising slowly but steadily since reaching a low of 170 thousand in early April.  That works out to an average increase of about 5 thousand per week.  Initial unemployment claims continue to tell us that the labor market is, indeed, very tight but it is showing some signs of softening.  Thus far, in the face of rising interest rates and the fear of a recession, employers are reluctant to lay off workers.  They have been short-staffed for so long and find adding to staff so challenging that they seem unwilling to lay off people.
The number of people receiving unemployment benefits rose 8 thousand in the week ending July 30 to 1,428 thousand after rising 55 thousand in the previous week.  Many of those workers who do lose their jobs appear to be getting snapped up by other employers and, as a result, the labor market is not weakening much.  Jobs are just being shifted from one sector to another.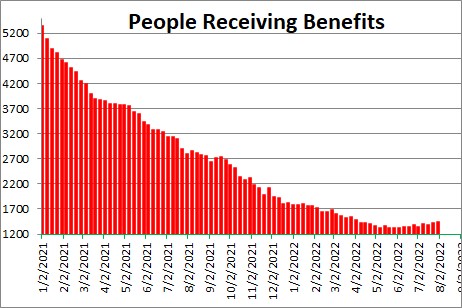 With little change in the number of people receiving unemployment benefits  the insured unemployment rate was unchanged  in the most recent week at 1.0% after having been unchanged in the previous week  Before the shutdown started it was steady at 1.2% so it is still below its pre-pandemic level. This series reached a peak of 17.1% in the week of May 9, 2020.  At 1.0% it remains close to the lowest level on record for this series that has been around since 1971.  If the labor market is beginning to shift gears, this rate will start to rise in the weeks and months ahead.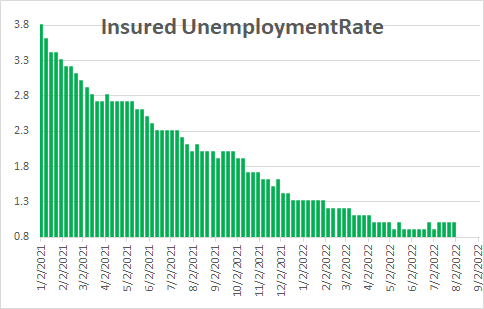 The insured unemployment rate tracks closely  the unemployment rate.   Given the level of  the insured unemployment rate we expect the unemployment rate to be unchanged in August at 3.5%.  We also expect payroll employment to increase by 300 thousand workers in August.  We will get that report on September 2.  Keep in mind that for the economy to slow down enough to reduce wage pressures and, hopefully, translate into a slower inflation rate, the unemployment rate needs to climb from 3.5% currently not just to the 4.0% full employment level, but to about 4.5%.  That means that the insured unemployment rate needs to climb from its current level of 1.0% to 1.8% or so.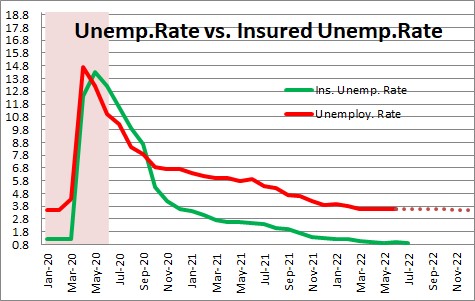 Inflation is on the rise and  the Fed said it intends to lift the funds rate steadily in 2022 to 3.4% by yearend.  We expect the Fed to raise the funds rate to the 4.0% mark by the end of next year.  Either way short-term real interest rates will negative at yearend for the foreseeable future.  So while real rates are higher, they are still negative.  Negative real rates are unlikely to slow the U.S. economy appreciably.  As a result,  we expect GDP to rise about 2.0% in the second half of the year after having declined in the first two quarters of the year.  We also expect to see GDP growth of about 2.0% in 2022.
Stephen Slifer
NumberNomics
Charleston, SC