January 13, 2022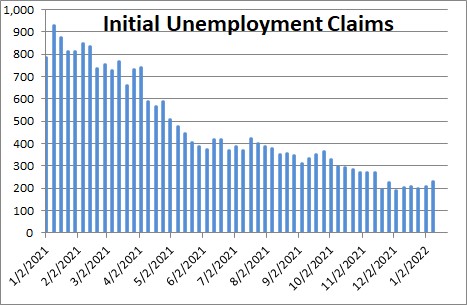 Initial unemployment claims for the week of January 8 rose 23 thousand to 230 thousand after rising 7 thousand in the previous week.  After reaching a peak of 6,867 thousand in March of last year claims have been falling rapidly.  The 4-week average for claims rose 6 thousand to 211 thousand.  The dramatic increase in COVID cases causing some individuals to remain at home either because they have been exposed and are now quarantined for five days, or because they have contracted COVID.  This is could dent economic activity temporarily.  But hospital managers in the Charleston, S.C. area suggest that we are only a day or two away from the OMICRON variant peaking and then beginning a rapid descent.  We will see.  If so, any economic impact should be short lived.
The number of people receiving unemployment benefits plunged by 194 thousand in the week of January 1 to 1,559 thousand after rising 35 thousand in the previous week.  That would  be the lowest number of people receiving unemployment benefits since June 2, 1973.  These data are for one week earlier than the claims data so it is likely to rise next week, but even so it is starting from the lowest level in 50 years.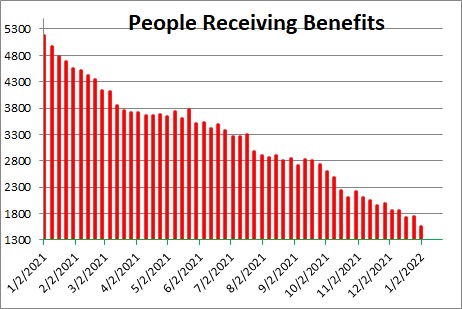 Given lithe sharp drop  in the number of people receiving unemployment benefits  the insured unemployment rate fell 0.2% in most recent week to 1.1% after having been unchanged at 1.3%  in the previous week.  Before the shutdown started it was steady at 1.2% so it is now below the pre-pandemic level.  This series reached a peak of 17.1% in the week of May 9, 2020 and continues to decline by about 0.1% every week or two.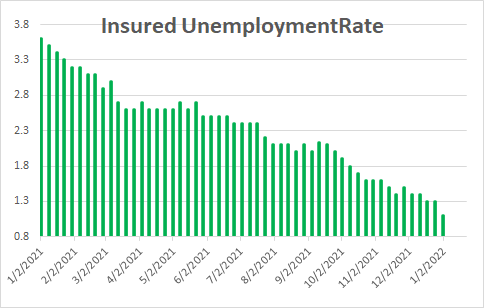 The insured unemployment rate tracks closely  the unemployment rate.   Given the level of  the insured unemployment rate we expect the unemployment rate to decline 0.1% in January to  to 3.8%.  We also expect payroll employment to increase by 400 thousand workers in January.  We will get that report on February 4.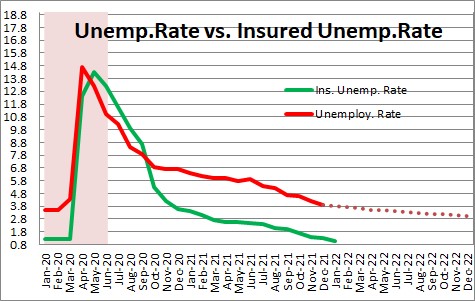 The fiscal stimulus money is boosting consumer spending, and with the savings rate still slightly elevated and net worth at a record high level the consumer has the ammo to spend on whatever he or she wants for months to come.  The number of COVID cases has increased which seems to be weakening consumer spending on restaurants and air travel somewhat, but the production side seems to be virtually unscathed thus far..  As initial unemployment claims and benefits continue to drop we should see a significant increase in payroll employment in January and beyond, and an even larger increase in civilian employment which includes self-employed workers..  As a result, we  expect to see 7.5% GDP growth in the fourth quarter, and 4.9% GDP growth in 2022.
Stephen Slifer
NumberNomics
Charleston, SC