September 10, 2020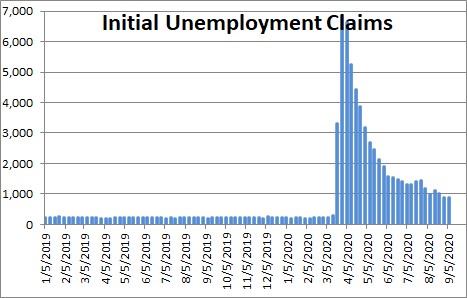 .Initial unemployment claims for the week of September 5 was unchanged at 884 thousand after having decline 127 thousand and 93 thousand in the two previous weeks.    Claims have fallen steadily since reaching a peak of 6,867 thousand in the week ending April 25. The spreading corona virus does not seem like it has slowed the rate of improvement in the labor market despite concerns by some it would curtail growth as Americans became fearful of going out to spend.
The number of people receiving unemployment benefits rose 95 thousand in the week ending August 29 to 13,385 thousand after having declined 1,200 thousand in the previous week.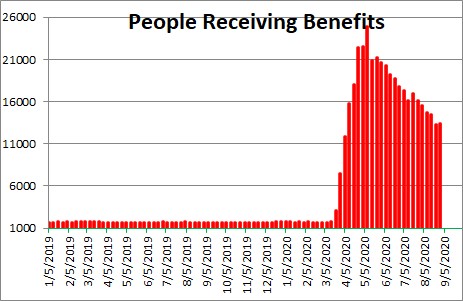 Given the small increase in the number of people receiving unemployment benefits the insured unemployment rate rose 0.1%  in the most recent week to 9.2% after having fallen 0.8% and 0.2% in the two previous weeks.  Before the shutdown started it was steady at 1.2% so it is still very high but it reached a peak of 17.1% in the week of May 9 so, thus far, it has been declining quickly.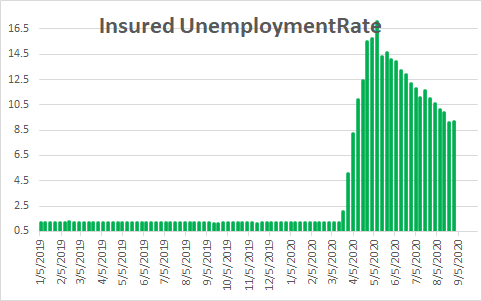 For what it is worth, we expect payroll employment to increase 1,000 thousand in September, and the unemployment rate to decline 0.6% from 8.4% to 7.8%.
Following the 32.9% GDP drop in the second quarter, the $3.0 trillion of stimulus money will provide a dramatic boost to growth in the third quarter.  We current expect third quarter GDP growth to rebound by 28.0% with an additional 7.0% gain in Q4.  As we see it, the economy does not need additional fiscal stimulus which is currently being debated on Capital Hill.  It is spending that will needlessly widen the budget deficit and drive up the amount of government debt outstanding.  Does anybody care about that any more?
The economy fell into recession in March with a further decline in April.  But with the fiscal stimulus money being disbursed the economy probably turned upwards in May.  As a result, the recession that lasted just 2 months — one-quarter of the 8-month duration of the average recession.
Stephen Slifer
NumberNomics
Charleston, SC