January 23, 2020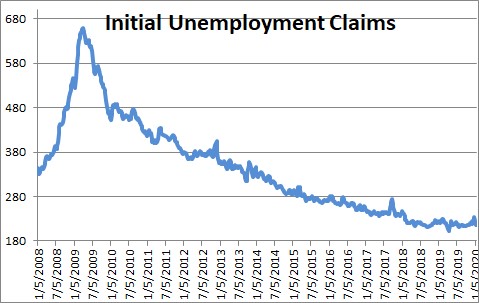 Initial unemployment claims rose 6 thousand in the week ending January 81 to 211 thousand.  The four-week average of claims declined 4 thousand to 213 thousand.  The 4-week average for the week of April 13 of 202 thousand was the lowest for the current business cycle and  the lowest 4-week average level of claims since November, 1969 when it was 200 thousand.  The current low level of claims indicates clearly that the trend rate of increase in employment of about 170 thousand remains intact.
As one might expect there is a fairly close inverse relationship between initial unemployment claims and payroll employment.  With initial claims (the red line on the chart below, using the inverted scale on the right) at 213 thousand  we would expect monthly  payroll employment gains to be far higher but employers today are having difficulty finding qualified workers.  As a result, job gains are significantly smaller than this long-term relationship suggests and are currently about 170 thousand.
With the economy essentially at full employment, employers will have steadily increasing difficulty getting the number of workers that they need.  As a result, they might choose to offer some of their part time workers full time positions.  But this series is close to where it was going into the recession so they will have limited success in finding necessary workers from this source.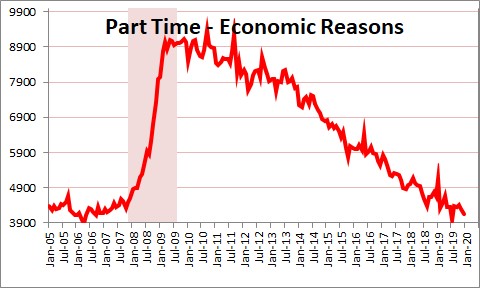 .They will also have to think about hiring  some of our youth (ages 16-24 years) .  But the youth unemployment rate today is close to the lowest on record (for a series that goes back to 1970) so there are not many younger workers available for hire.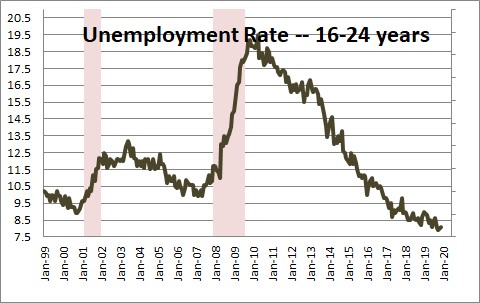 Finally, employers may also consider some workers who have been unemployed for an extended period of time.  But these workers do not seem to have the skills necessary for today's work place.  Employers may have to offer some on-the-job training programs for  those whose skills may have gotten a bit rusty.  But even if they do, the reality is that the number of discouraged workers today is quite low — it is essentially where it was going into the recession.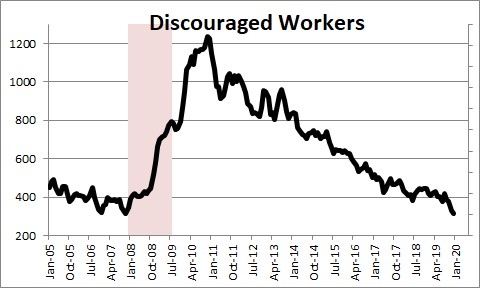 The number of people receiving unemployment benefits declined 37 thousand  in the week ending January 11 to 1,767 thousand.  The 4-week moving average rose 11 thousand to 1,731 thousand.  This series reached a low for this cycle of 1,654 thousand in October 2018.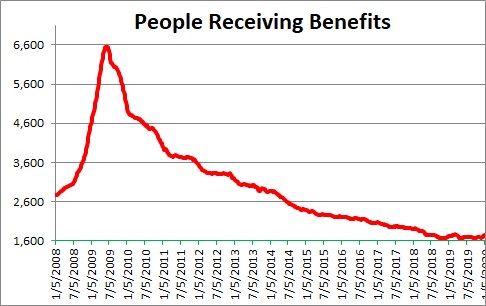 The only way the unemployment rate can decline is if actual GDP growth exceeds potential.  Right now the economy is climbing by about 2.4%; potential growth has probably picked up from 1.8% a couple of years ago to perhaps 2.3% today given faster growth in productivity.  Thus, going forward  the unemployment rate should decline very lowly.
Stephen Slifer
NumberNomics
Charleston, SC