May 21, 2020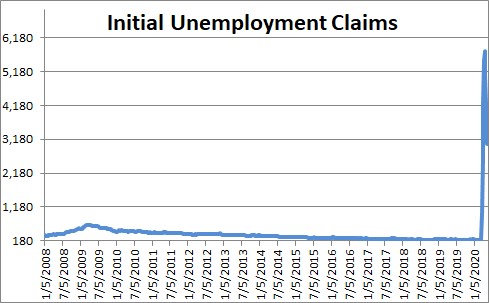 Initial unemployment claims for the week of May 16 fell 249 thousand to 2,438 thousand.  Unfortunately, that is still a very large number of people.   In the past 9 weeks 38.6 million Americans have lost their jobs.   Clearly, the measures put into place by Trump and many governors have stopped the economy dead in its tracks.    The 4-week moving average of claim dropped to 3,042 thousand in the most recent week.
The number of people receiving unemployment benefits climbed by 2,525 thousand to 25,073  which is, effectively, the total number of people that have been laid off since mid-March when the current shutdown began.  The insured unemployment rate has continued to climb to 17.2% (before the shutdown started it was steady at 1.2%.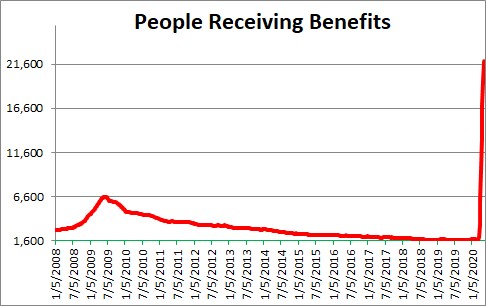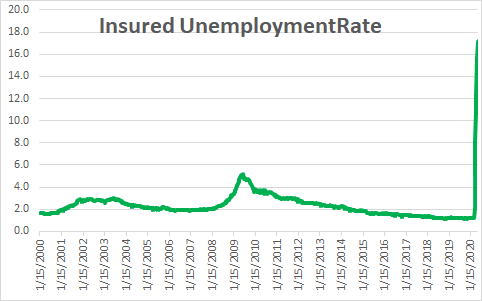 On May 8 we learned that payroll employment fell by 20 million workers in April. Previously, the biggest single month's decline was 804 thousand.  To put those numbers in context we lost 8,500 thousand jobs total during the 2008-2009 recession.  We expect payroll employment to fall another 5 million workers in May.  In two months we could lose 3.0 times the number of jobs that were lost in the entire 2008-09 recession.  Given that the economy shed 20 million jobs in April and, presumably, another 5 million in May, look for the unemployment rate to climb from 4.4% to 17.0% in May.  The peak unemployment rate in the 2008-09 recession was 10.0%.
We expect to see a second quarter decline in GDP of 60%.  To put that in context, the biggest single quarter decline in the 2008-2009 recession was 8.7%.  Not even close.  Huge.  But that is the second quarter.
Where we go from here depends upon how quickly the virus can be brought under control.  We are seeing hints that the pace of the virus is beginning to slow.  There is faster than expected progress in developing a vaccine with a possibility that something could be available  by January of next year.  There are indications that some products which can actually help patients recover from the virus will soon be available..  These developments should soon bolster consumer and business confidence.  The stock market has already recovered  more than one-half of its earlier decline.  If we get some hint  that the virus is getting under control, the $2.5 trillion of stimulus money will provide a dramatic boost.  As a result, third quarter GDP growth could rebound by 60.0% with an additional 7.0% gain in Q4.
The economy almost certainly fell into recession in March.  With further declines in April and probably May.  But with the fiscal stimulus money being disbursed the economy should turn upwards by June.  If that is the case it will be a recession that lasted just 3 months — less than one-half the 8-month duration of the average recession.
Stephen Slifer
NumberNomics
Charleston, SC