September 3, 2020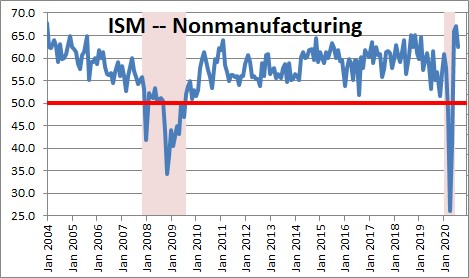 The Institute for Supply Management not only publishes an index of manufacturing activity each month, they publish two days later a survey of non-manufacturing firms — which largely consists of services. The business activity index fell 4.8 points in August to 62,4 after having risen 1,2 points in July and having surged 25 points in June and 15 points in May, after having fallen 22 points in April to 26.0 which was  the lowest reading since the inception of the index in 1997. For what it is worth, the previous month's level of 67.2 was the highest reading for this index since January 2004.  Who would have thought that?   In August 13 service-sector  industries  reported expansion while only 3 reported a decline.  
Anthony Nieves, Chair of the Institute for Supply Management, said, Respondents' comments are mostly optimistic and industry specific about business conditions and the economy as businesses are starting to reopen. Industries that have not reopened remain concerned about the ongoing uncertainty. There is a challenge with capacity and logistics due to the pandemic and the impact on deliveries and order fulfillment.".
Comments from respondents include:
"Our business activity is now thriving again, after modifications to our operations. While supply disruptions remain common, very critical items are more stable than in previous months. Tariff threats have caused more concern than in previous months due to actions in aluminum, and the rapid rise in lumber costs for construction expansions." (Accommodation & Food Services))
"Overall, we are seeing improvement in the level of activity in the short term. Backlog of orders is inconsistent." (Construction))
"We are significantly down from the pre-COVID-19 level. While month-over-month business activity is picking up, the pace is very slow and very slight." (Wholesale Trade)
"Clear signs of gearing up manufacturing and distribution for an extraordinary e-commerce Christmas. Brick-and-mortar likely closed to crowds."
"The corona virus continues to be a challenge for the business as we pivot and adapt to these new conditions. Sales have been affected in the retail space with less foot traffic in our brick-and-mortar stores, while e-commerce sales have increased significantly. We are starting to see sales level out in this new environment from the pandemic." (Retail Trade)
Typically, large changes in the overall index are led by orders which, in this case, which fell 10.9 points to 56.8 after rising 6.1 points in the previous month.  Comments from respondents include: "Preparation of reopening" and "Recovery of business from historic lows."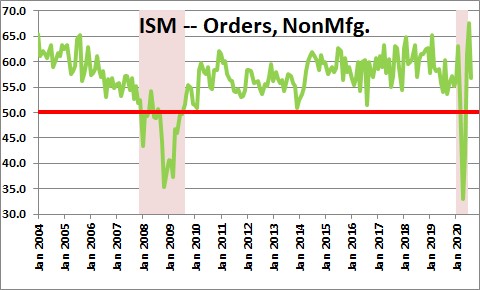 The ISM non-manufacturing index for employment rose 5.8 points in August to 47.9 after having declined 1.0 point in July.  Eight industries reported an increase in employment in August.  Comments from respondents include: "Attrition has taken employees; hiring is authorized, but slow to materialize" and "The need for employees is greater, but we are having a difficult time filling open positions."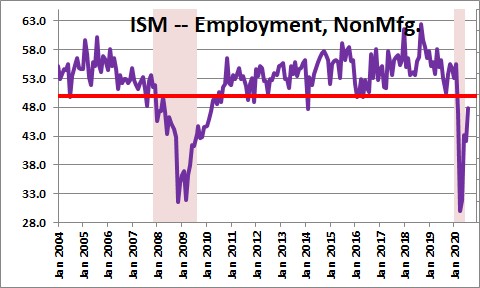 The supplier deliveries component rose 5.3 points in August to 60.5 after having declined 2.3 points in July.  This component is reversed in the sense that a reading above 50 percent indicates slower deliveries, while a reading below 50 percent indicates faster deliveries. The combined 25.9-percentage point increase in March and April was primarily a product of supply problems related to the corona virus (COVID-19) pandemic. Comments from respondents include: "Longer lead times for a variety of items, as well as more back orders, sometimes extending for months at a time" and "Factories operating below capacity."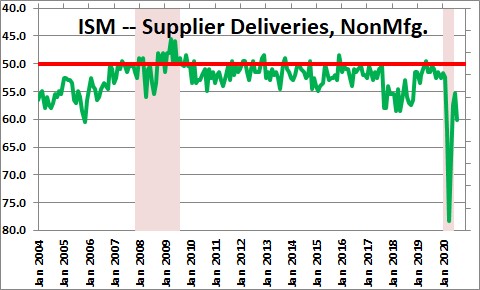 Finally,  the price component rose 6.6 points in August to 64.2 after having fallen  4.8 points in July, after having climbed 6.8 points in June and 0.5 point in May and 5.1 points in April.  Fourteen non-manufacturing industries reported an increase in prices paid during the month compared to five who reported a decrease.  this is the highest reading since November 2018.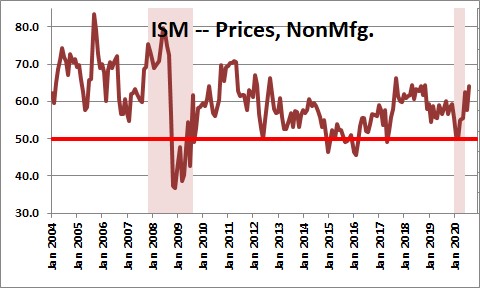 The manufacturing and non-manufacturing sectors of the economy both fell sharply in March and April but climbed somewhat in May, surged in June, and climbed further in July and August..  Clearly the recession ended in April and a new expansive began in May.  For what  it is worth, following a 32.9% decline in GDP in the second quarter we  expect GDP to climb by 28.0% in the third quarter and an additional 7.0% in Q4..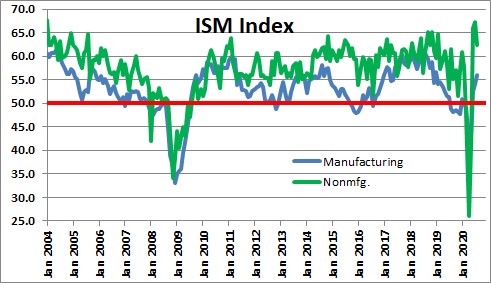 Stephen Slifer
NumberNomics
Charleston, SC