July 6, 2020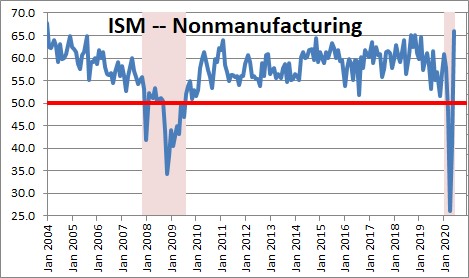 The Institute for Supply Management not only publishes an index of manufacturing activity each month, they publish two days later a survey of non-manufacturing firms — which largely consists of services. The business activity index rose 25 points in June to 66.0 after having risen 15 points in My to 52.0 after having fallen 22 points in April to 26.0 which was  the lowest reading since the inception of the index in 1997.  In June 14 service-sector  industries  reported expansion while only 3 reported a decline. Comments from respondents include: 
Anthony Nieves, Chair of the Institute for Supply Management, said "The NMI registered 57.1 percent, 11.7 percentage points higher than the May reading of 45.4 percent. This reading represents growth in the non-manufacturing sector after a two-month period of contraction preceded by 122 straight months of expansion. This is the largest single-month percentage-point increase in the NMI since its debut in 1997.
"Businesses are starting to reopen and the economy seems to be on the road to recovery, but let's not get too complacent, [as] COVID-19 is still a pandemic, [and] a vaccine has not been developed. Economics is the reason for the push for businesses to reopen. Utmost care and awareness still needs to be cautiously and religiously followed."
"Surprising recovery to sales volume over the past four weeks."
"Sales have picked up tremendously. Sporadic supply issues. Biggest concern for us is lumber shortages."
"We continue to all work from home globally. Strict restriction on travel and external events. Senior management focusing on a plan for returning to the office."
"Advertisers are starting to place more advertisements and the media business is turning around. Generally, we are at the end of the employee furloughs and layoffs. Our work efforts have been focused on navigating COVID-19. We are now shifting to value-add projects. We are cautiously optimistic, although as we get closer to the presidential election, we are on guard of unprecedented civil and social unrest."
Typically, large changes in the overall index are led by orders which, in this case, rose 19,7 points points from 41.9 to 61.6 after having climbed 9 points and May and having fallen 20.0 points in April to 32.9.. Comments from respondents include: "Customers releasing work orders" and "More activity due to lifting of restrictions."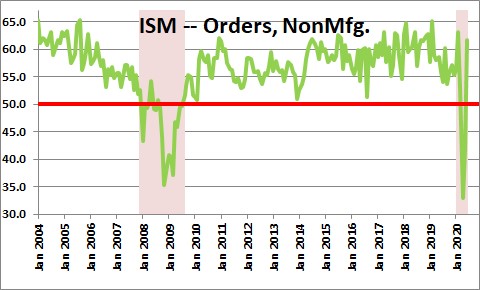 The ISM non-manufacturing index for employment rose 11.3 points in June to 43.1 after having climbed 1.8 points in May to 31.8 after having declined 17.0 points in April. Three industries reported an increase in employment in June.  11 industries reported a reduction in employment. Comments from respondents include: "We have a hiring freeze but also a no-layoff policy during the crisis; reductions are due to natural attrition" and "Furloughs reduced."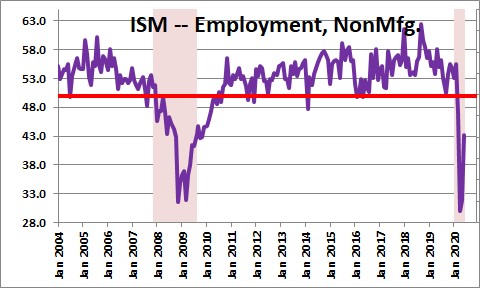 The supplier deliveries component fell 9.5 points in June to 57.5 after having fallen 11.3 points in May and having jumped 16.2 points in April to an all-time high of 78.3.  This component is reversed in the sense that a reading above 50 percent indicates slower deliveries, while a reading below 50 percent indicates faster deliveries. The combined 25.9-percentage point increase in March and April was primarily a product of supply problems related to the corona virus (COVID-19) pandemic. Comments from respondents include: "Delivery delays appear to have largely shaken out, and most products are becoming readily available with normal lead/shipping times" and "Supplier deliveries have begun to get back to normal."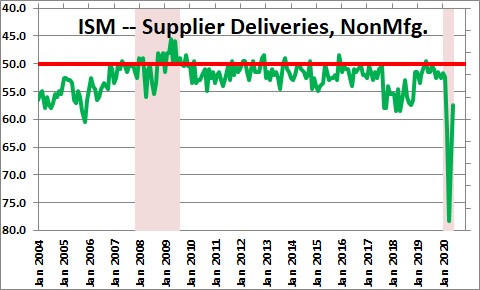 Finally,  the price component rose 6.8 points in June to 62.4 after having risen 0.5 point in May and having risen 5.1 points in April.   Fourteen non-manufacturing industries reported an increase in prices paid during the month compared to three who reported a decrease.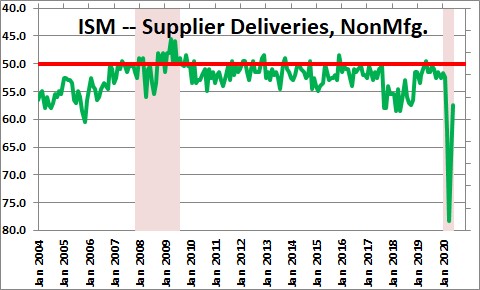 The manufacturing and non-manufacturing sectors of the economy both fell sharply in March and April but climbed somewhat in May and surged in June.  Clearly the recession ended in April and a new expansive began in May.  For what  it is worth, we expect GDP to decline 50% in the second quarter and rise by a comparable amount in the third quarter.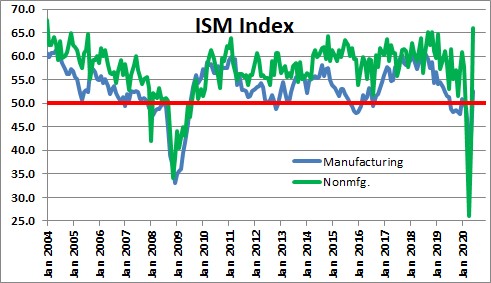 .Stephen Slifer
NumberNomics
Charleston, SC