September 3, 2021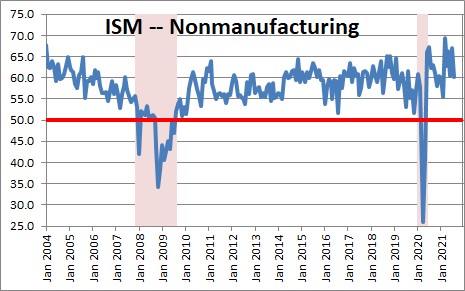 The Institute for Supply Management not only publishes an index of manufacturing activity each month, they publish two days later a survey of service sector firms.
The service sector business activity index fell 6.9 points in August to 60.1 after having jumped 6.6 points in July.  The 69.4 reading for March was the highest for this index since data collection began in 1997. It obviously remains close to that level.  Seventeen of 18 service industries reported growth in August.  The ISM group says that its current level of 60.1  is consistent with GDP growth of 4.4%.
Anthony Nieves, Chair of the ISM's Business Survey Committee said, "The August reading indicates the 15th straight month of growth for the services sector, which has expanded for all but two of the last 139 months..
Comments from respondents include:
"Supply chain disruptions — including manufacturing-labor shortages, logistics delays and lack of material to make products — are significantly disrupting our business." [Accommodation & Food Services]
"There is a shortage of available workers which is challenging our business operations." [Agriculture, Forestry, Fishing & Hunting]
"Material and labor shortages continue to hinder productivity. Price increases are ever-present and repetitive. Large, multinational manufacturers have had multiple price increases in the last three months." [Construction]
"Supplies are tight in technology hardware." [Information]
"Temporary labor continues to be in short supply. Transportation costs are inflating prices on all products." [Management of Companies & Support Services]
"Activity level continues to increase." [Mining]
"Continuing supply chain disruptions and supply cost increases." [Professional, Scientific & Technical Services)
Often changes in the overall nonmanufacturing index are led by changes in the orders component which is quite volatile.  In this case, orders declined 0.5 point in August to 63.2 after increasing 1.6 points in July.  The March level of 67.2 was an all-time high.  Thirteen of  18 industries reported growth in orders in August. Comments from respondents include: "Expansion into new markets has provided an uptick in business" and "Increased client demand for new and add-on projects."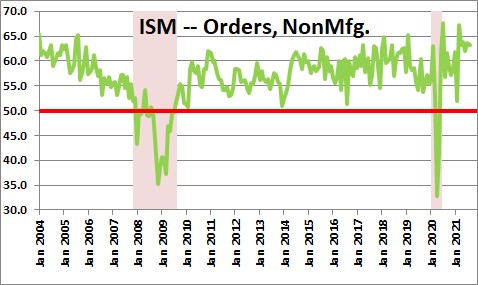 The ISM non-manufacturing index for employment edged lower by 0.1 point in August to 53.7 after having risen 4.5 points in July.  Nine industries reported an increase in employment in August. Four industries reported a decline. Comments from respondents include: "We are hiring at record levels to staff our restaurants, but turnover is high, and many former employees are still on extended unemployment or not ready to return to work," and "Increasingly difficult to find qualified candidates to fill open positions."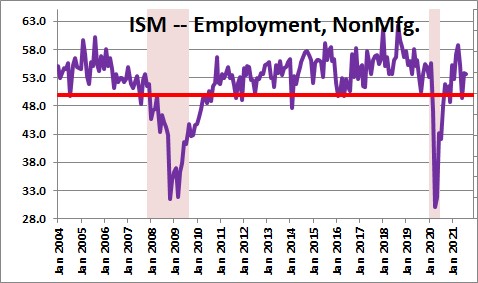 The supplier deliveries component fell 2.4 points in August to 69.6 after increasing 3.5 points in July.  This component is reversed in the sense that a reading above 50 percent indicates slower deliveries to service sector firms, while a reading below 50 percent indicates faster deliveries. Thus, firms are reporting slower deliveries in August  but at a slower rate than in July. Demand in the service sector is extremely strong, but firms are unable to muster a similar-sized increase in production. Comments from respondents include: "Significant delays caused by late container deliveries," and "Logistics constraints continue to slow the supply chain."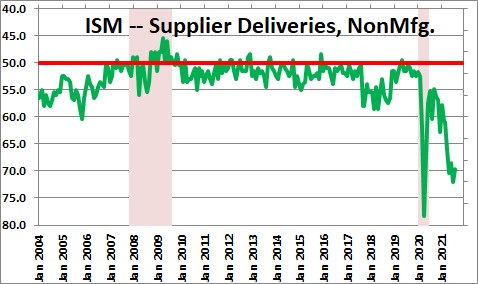 Finally,  the price component fell 6.9 points in August to 59.6 after rising 2.8 points in July.   Prices are rising rapidly but at a slower pace than in July.  . All 18 of 18 service sector industries reported an increase in prices paid during the month.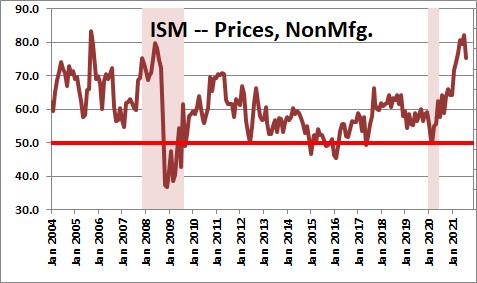 The manufacturing and non-manufacturing sectors of the economy have skyrocketed in recent months to the highest levels in years.  We expect to see an 8.0% increase in GDP in the third quarter of this year and a 7.8% GDP growth rate for 2021 and 5.1% for 2022.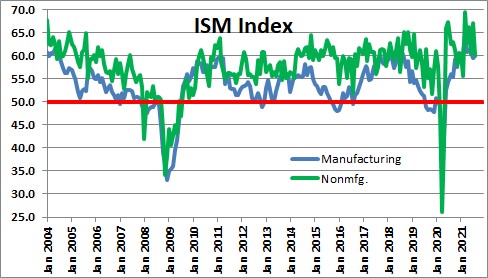 .Stephen Slifer
NumberNomics
Charleston, SC