August 5, 2019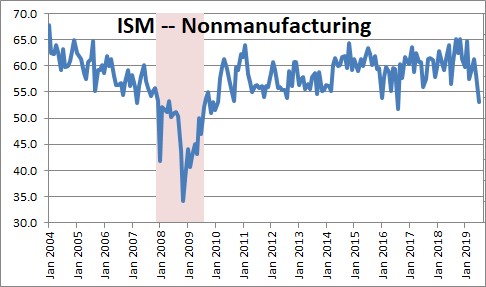 The Institute for Supply Management not only publishes an index of manufacturing activity each month, they publish two days later a survey of non-manufacturing firms — which largely consists of services. The business activity index fell 5.2 points in July to 53.1 after having declined 3.0 points in June.  The February level of 64.7 was the highest level for this index since January 2004 but it has softened considerably in recent months because of the escalating trade war with China.      In July 9 of 15 service-sector  industries  reported expansion.  At its July level the non-manufacturing index equates to GDP growth of 1.8%.
Typically, large changes in the overall index are led by orders which, in this case, fell 1.7 points to 54.1 after having declined 2.8 points in June.   At 54.1 this series still points to solid growth in services in the months ahead.  Comments from respondents include: "Customers are feeling confident about future business and the economy" and "The strong economy has made this growth a continuation of previous months' growth."  That hardly seems like an indication of any significant weakening in growth.  Still, the recent downtrend is disturbing.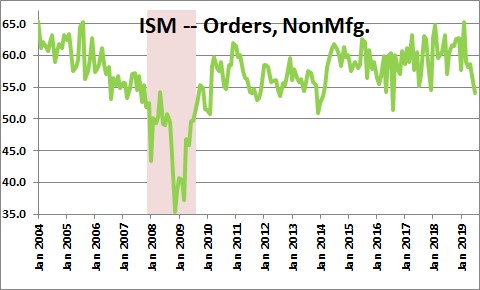 The ISM non-manufacturing index for employment rose 1.2 points in July to 56.2 after having declined 3.1 points in June.  Comments from respondents include: "We continue to hire for open positions" and "Unable to find qualified applicants."  Jobs growth should continue in upcoming months at about the same pace we  have seen of roughly 170 thousand per month.
Finally,  the price component fell 2.4 points in July to 56.5 after having jumped 3.5 points in June.   Thirteen non-manufacturing industries reported an increase in prices paid during the month.  At its current level of 56.5, prices are rising at a moderate pace.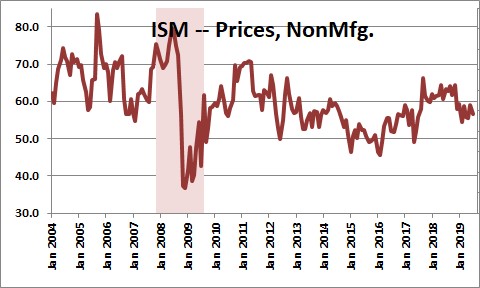 Stephen Slifer
NumberNomics
Charleston, SC