May 5, 2021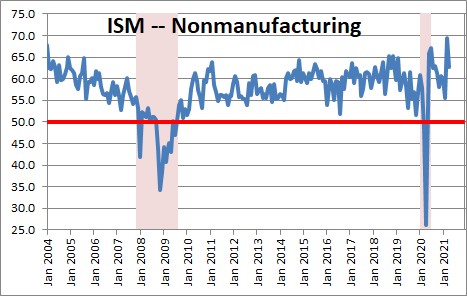 The Institute for Supply Management not only publishes an index of manufacturing activity each month, they publish two days later a survey of service sector firms.
The service sector business activity index declined by 6.7 points in April to 62.7 but this index surged by 13.9 points in March.  The 69.4 reading for March was the highest for this index since data collection began in 1997. Seventeen service industries reported growth in April against only one industry that declined.  The ISM group says that its current level of 62.7 is consistent with GDP growth of 4.7%.
Comments from respondents include:
"Restaurant capacity is increasing quickly as restrictions are removed. Consumers have pent-up demand; sales are increasing, and the labor pool is tight. Supply chain is challenged at every level as businesses across the U.S. ramp up." (Accommodation & Food Services)
"Delays in container deliveries are now impacting our business." (Agriculture, Forestry, Fishing & Hunting)
"Consistent with the past year, labor continues to be the biggest issue we are facing. Finding and retaining labor — skilled and unskilled — is highly challenging and frustrating. As the challenges continue, we are not accepting all the work that we could if we had the labor." (Construction)
"Elective surgeries coming back to pre-COVID-19 rates. Patient census continues to drop, as it does this time of year." (Health Care & Social Assistance)
"Overall, there is pricing pressure for goods and services in the market." (Information)
"Supply has been dwarfed by demand [and] ocean-transport logistics imbalances with ships and containers. North America parcel carriers swamped with volume-processing constraints, and highway carriers can't supply drivers, regardless of choked original equipment manufacturer [OEM] truck orders. Rail intermodal is only competitive among two dozen or so origins, to about as many destinations." (Professional, Scientific & Technical Services)
Often changes in the overall nonmanufacturing index are led by changes in the orders component which is quite volatile.  In this case, orders fell 4.0 points to 63.2 after having jumped 15.3 points in March to 67.2, an all-time high.  Seventeen industries reported growth in orders in April; only one industry reported a decrease (Agriculture). Comments from respondents include: "Customers are starting to spend capital on new projects" and "Increased client demand (and) reopening of business locations."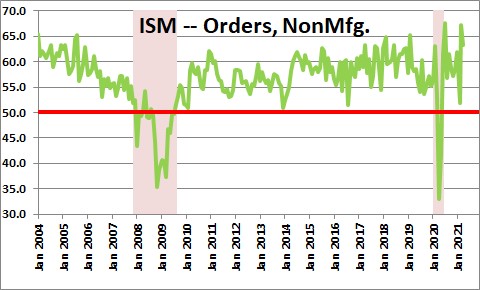 The ISM non-manufacturing index for employment rose 1.6 points to 58.8 in April after having climbed 4.5 points in March. After declining for seven months from March through September of last year, the employment index has now risen for four consecutive months.  Eleven  industries reported an increase in employment in April. Four industries reported a decline. Comments from respondents include: "Competition for labor as more restaurants begin easing their restrictions and returning to normal levels" and "All levels of the business are increasing personnel."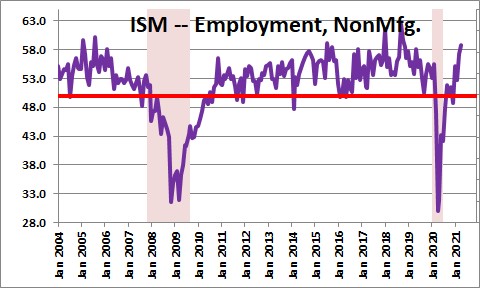 The supplier deliveries component rose 5.1 points in April to 66.1 after having risen 0.2 point in March to 61.0 after climbing 3.0 points in February.   This component is reversed in the sense that a reading above 50 percent indicates slower deliveries to service sector firms, while a reading below 50 percent indicates faster deliveries. Thus, firms are reporting slower deliveries in April at a significantly faster rate than in March.. Demand in the service sector is extremely strong, but firms are unable to muster a similar-sized increase in production.  Comments from respondents include: "Port congestion and over-the-road shipping delays" and "Suppliers are extending lead times due to capacity shortfalls and material shortages."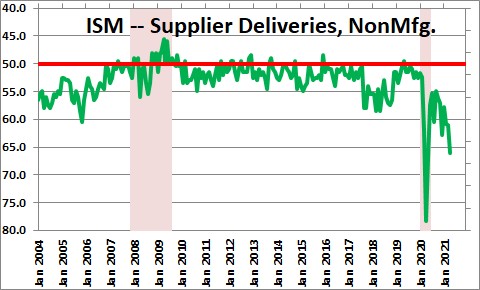 Finally,  the price component rose by 2.8 points in April to 76.8 after having climbed 2.2 points in March and having jumped 7.6 points in February.  Prices are rising at the fastest pace since July 2008. All 18 service sector industries reported an increase in prices paid during the month.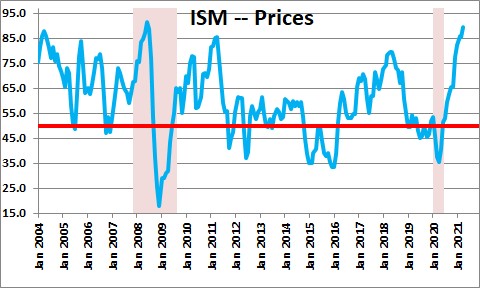 .The manufacturing and non-manufacturing sectors of the economy have skyrocketed in recent months to the highest levels in years.  We expect to see an 11.0% increase in GDP in the second quarter of this year and an 8.0% GDP growth rate for 2021.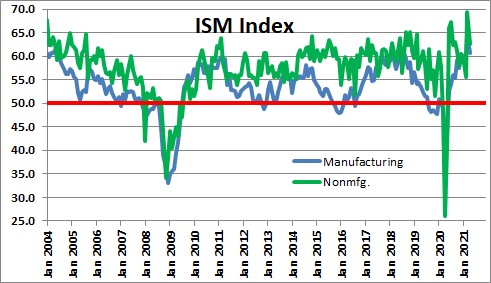 .Stephen Slifer
NumberNomics
Charleston, SC