September 6, 2022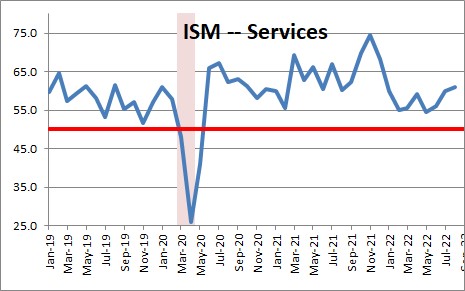 The Institute for Supply Management not only publishes an index of manufacturing activity each month.  They publish two days later a survey of service sector firms.
The service sector business activity (production)  index surprisingly rose 1.0 points in August to 60.9 after having risen 3.8 points in July and 1.6 points in June.  The August level is the highest thus far in 2022 and clearly indicates that the economy is neither in nor about to enter a recession.  Both the manufacturing and service sector purchasing managers reports confirm this conclusion.
Fourteen of the 18 service industries reported growth in  August. The ISM group says that its current level of 60.9 is consistent with GDP growth of 2.5%.
Anthony Nieves, Chair of the ISM's Business Survey Committee said, "According to the Services PMI®, 14 industries reported growth. The composite index indicated growth for the 27th consecutive month after a two-month contraction in April and May 2020. Growth continues — at a slightly faster rate — for the services sector, which has expanded for all but two of the last 151 months. The services sector had a slight uptick in growth for the month of August due to increases in business activity, new orders and employment. Based on comments from Business Survey Committee respondents, there are some supply chain, logistics and cost improvements; however, material shortages remain a challenge. Employment improved slightly despite a restricted labor market."
Comments from respondents include:
"Starting to see some cost pressures relief; the overall supply environment is healthy." [Accommodation & Food Services]
"Some pullback on projects by clients, but activity is still strong for our company. This has alleviated some labor availability issues. Generally, there has been improvement in lead times and prices, but still longer and higher, respectively, than in 2021." [Construction]
Supply chain issues continue to significantly extend lead times, with a shortage of materials to build scientific equipment and machinery contributing to the issue. Purchases need to be made three to six months in advance, in addition to the normal lead time. As for the higher education industry, it is breaking records for student applicants." [Educational Services]
"The supply chain and labor continue to be significant issues. Repair parts are nonexistent. Lead times for durable goods are extended, and the less-expensive, mass-produced products are breaking at increased rates — no QC (quality control). The FDA (U.S. Food and Drug Administration) must be reeling because we have been reporting sometimes daily. I'm concerned that a certain percentage of faulty products are probably discarded, which adds to the cost of doing business. Surgery and other hospital products cannot be culled, so it's a complete loss — if they are red-bagged, that is another cost." [Health Care & Social Assistance]
"The supply chain challenges affect a portion of our buys as they include products and components made outside of the U.S. that are subject to shipping delays and other issues." [Management of Companies & Support Services]
"COVID-19 still affecting many businesses. Also, there is a labor shortage." [Professional, Scientific & Technical Services]
"Lingering concerns about inflation and price increases. Still having difficulties hiring staff to fill many positions." [Public Administration]
"Very long lead times from major equipment — Original Equipment Manufacturers (OEMs). Commodity price escalation appears to be leveling." [Utilities]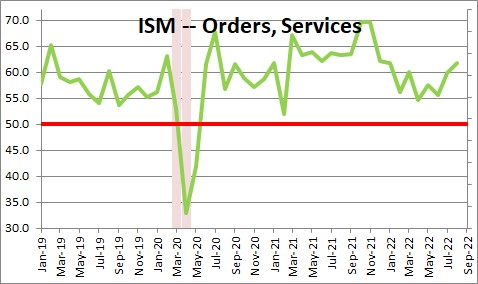 The ISM non-manufacturing index for employment rose 1.1 points in August to 50.2 after having risen 1.7 points in July.  Eight industries reported an increase in employment in August. Seven industries reported a decline. Comments from respondents include:  "Unable to hire enough people to fill jobs" and "(Head count) would be higher but there's some churn, as some employees transfer to other departments or leave for perceived better opportunities."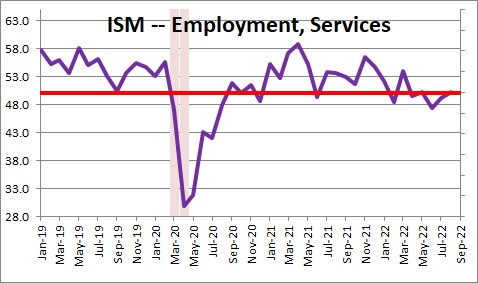 The supplier deliveries component fell 3.3 points in August to 54.5 after having declined 4.1 points in July.   This component is reversed in the sense that a reading above 50 percent indicates slower deliveries to service sector firms, while a reading below 50 percent indicates faster deliveries. Thus, firms are reporting slow deliveries in August, but they are slowing at a somewhat slower pace than in July   Demand in the service sector remains strong, and firms are finally able to muster a similar-sized increase in production. Comments from respondents include: "Still experiencing delays in some commodities" and "Constraints at U.S. ports and in highway transportation."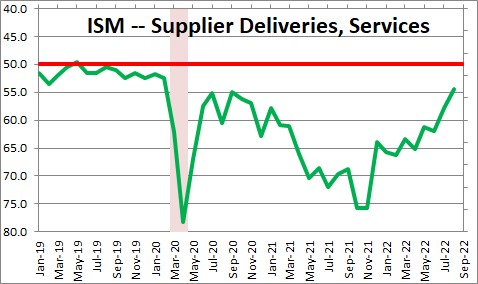 Finally,  the price component fell 0.8 point in August to 71.5 after having plunged 7.8 points in July and 2.0 points in June.  Prices are still rising rapidly, but the rate of increase has clearly slowed in the past couple of months.  Seventeen of 18 service sector industries reported an increase in prices paid during the month.  This index is showing clear signs of retreating for now.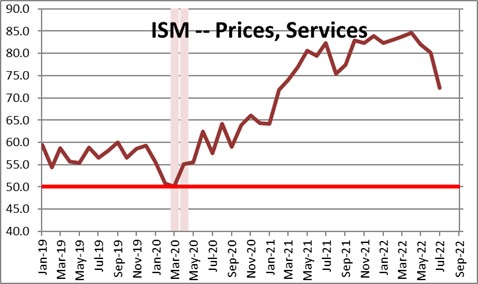 The manufacturing and non-manufacturing sectors of the economy have softened a bit in recent months as inflation has soared and the Fed has initiated the first three in a series of interest rate hikes.  Following back-to-back declines in GDP in the first two quarters of the year, we are looking for 1.5-2.0% GDP growth in the final two quarters of this year followed by 2.0% GDP growth in 2023 as some of those supply conditions get back to normal.  That will act as a tailwind to growth for the next several quarters.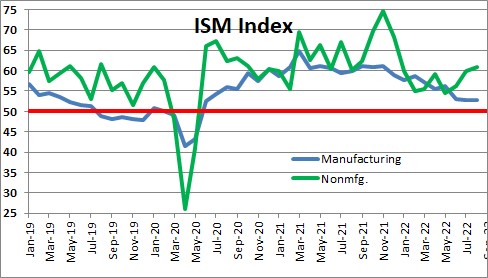 .Stephen Slifer
NumberNomics
Charleston, SC