December 4, 2019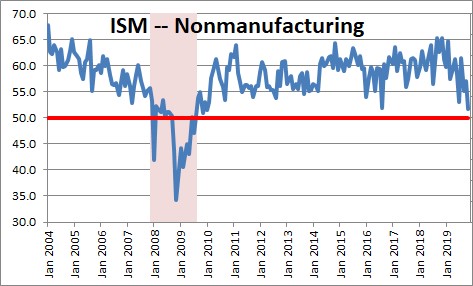 The Institute for Supply Management not only publishes an index of manufacturing activity each month, they publish two days later a survey of non-manufacturing firms — which largely consists of services. The business activity index fell 5.4 points in November to 51.6 after having risen 1.8 points in October..  It has been very volatile as economic news produces rather dramatic monthly changes.  While volatile on a monthly basis, this index has generally been in a range from 55.0 to 65.0 for the past several years.     The November level for business activity is lower than that, but orders and employment both rose in that month.  Our guess is that this index will rebound in December.   In November 9 service-sector  industries  reported expansion versus 7 industries that reported a decline. At its November level the non-manufacturing index equates to GDP growth of 1.9%.
Typically, large changes in the overall index are led by orders which, in this case, rose 1.5 points to 57.1 after having risen 1.9 points in October.   At 57.1 this series points to solid growth in services in the months ahead.  Comments from respondents include: "Business growth associated with new clients" and "People want to spend their budgets by the end of the year."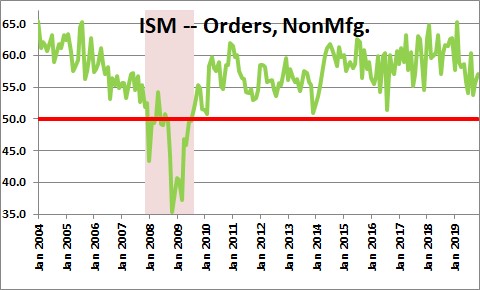 The ISM non-manufacturing index for employment rose 1.8 points in November to 55.5 after having climbed 3.3 points in October.  Comments from respondents include: "We are in a workforce crisis, unable to attract and/or retain workers" and "Hiring more personnel to support operations."    Jobs growth should continue in upcoming months at a pace of about 150 thousand per month.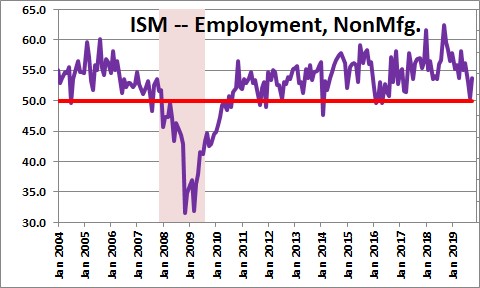 Finally,  the price component rose 1.9 points in November to 58.5 after having declined 3.4 points in October.   Ten non-manufacturing industries reported an increase in prices paid during the month compared to four who reported a decrease.  At its current level of 58.5 prices are now rising at a moderate pace.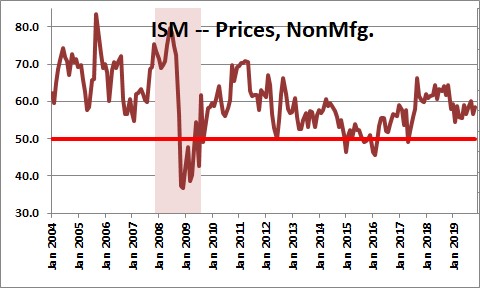 The manufacturing and non-manufacturing sectors of the economy are going in totally opposite directions.  The manufacturing sector is getting hit hard by the tariffs and Trump's inconsistent tweets.   But the much larger non-manufacturing (or service) sector is still cruising at a moderate pace.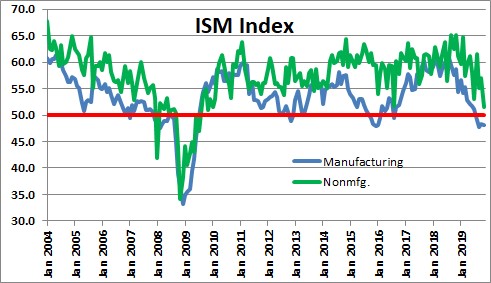 Stephen Slifer
NumberNomics
Charleston, SC