September 9, 2023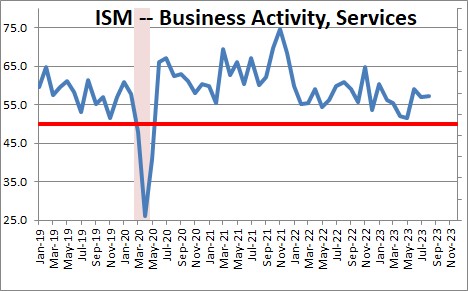 The Institute for Supply Management not only publishes an index of manufacturing activity each month, they publish two days later a survey of service sector firms.  The business activity index rose 0.2 point in August to 57.3 after having fallen in July by 2.1 points .  We tend to focus on the business activity component because it seems to track better with the pace of economic activity.
The the overall index rose 1.8 points in August to 54.5 after having fallen 1.2 points in July.   According to Anthony Nieves, Chair of the Institute for Supply Management's Business Survey Committee, "There has been an increase in the rate of growth for the services sector, reflected by increases in all four subindexes that directly factor into the composite Services PMI® and faster supplier deliveries. Sentiment among Business Survey Committee respondents varies by industry; however, the majority of panelists are positive about business and economic conditions."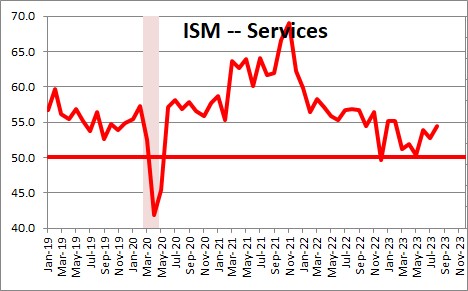 It appears that activity in the service sector has finally begun to soften ever so slowly  At its current level the ISM group says that is consistent with 1.6% GDP growth.
Comments from respondents include:
"Restaurant sales and traffic trends remain positive year over year and compared to pre-pandemic (levels). Hiring is stable, with quality employees available. New California regulations in July included (municipal) minimum wage hikes and implementation of Proposition 12 (a farm animal health and welfare legislation), resulting in much higher pork prices." [Accommodation & Food Services]
"Sales on a national level have been strong. Commodity material prices remain stable, and we are finding areas for cost reductions. Material availability has returned to pre-COVID-19 levels." [Construction]
"While labor costs continue to soften, costs of pharmaceuticals and supplies remain stubbornly high, negatively impacting operating margins. Supply chains are operating consistently, though some categories of supply remain constrained. Patient volumes and revenues were down slightly (for the month) but appear to be rebounding as back-to-school season approaches. Forecast remains cautiously optimistic." [Health Care & Social Assistance]
"The supply chain challenges affect a portion of our buys, as they include products and components made outside of the U.S. and are subject to shipping delays and issues. The prices of materials and other products have slightly increased. Distribution of some direct materials has been altered due to a key supplier financial issue." [Management of Companies & Support Services]
"Steady oil and gas production and sales volume. Declining commodity prices seem to have bottomed out." [Mining]
"The summer slowdown is similar to those in recent years due to vacations. Third-quarter projections are close to expectation. Inflationary costs are mostly in fuel and fuel-related commodities, having an adverse effect on profits." [Professional, Scientific & Technical Services]
"Prices have settled. Warnings of a possible recession in 2024 are not being taken very seriously by top management. The same experts warned that the country would be in a recession by now. Our general feeling is that the (Federal Reserve's) strategy for taming inflation and building a soft landing for the economy is working better than expected. The city has proposed reducing its municipal tax for the fiscal year beginning October 1." [Public Administration]
"Overall conditions seem quite good, although there is definite slowdown in residential construction driven by rapidly increasing interest rates." [Real Estate, Rental & Leasing]
"Business activity continues to be lower year over year, but we are meeting the year-to-date forecast." [Retail Trade]
"Utility contractors in high demand." [Utilities]
The orders component rose 2.5 points in August to 57.5 after having declined 0.5 point in July.  Twelve industries reported growth of new orders in August.  Comments from respondents include: "New customers added as our business continues to grow" and "New awards were issued from a government client."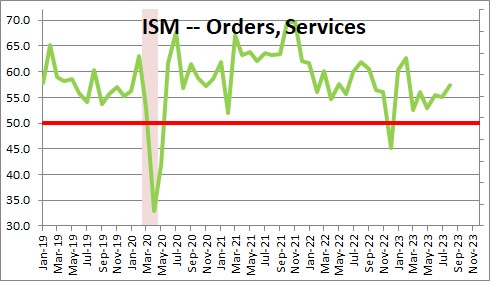 The ISM non-manufacturing index for employment  jumped 4.0 points in August to 54.7 after having declined 2.4 points in July. Eight industries reported an increase in employment in August.   Comments from respondents include:"Open positions being filled with quality candidates" and "We have lost employees due to normal attrition and are having issues backfilling these positions." Also: "The labor market remains very competitive."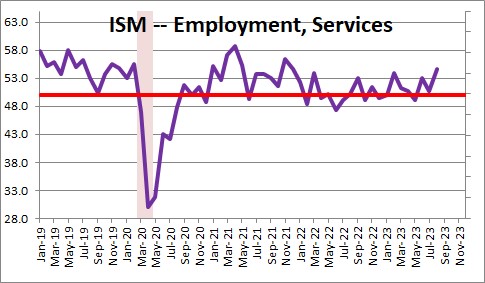 The supplier deliveries component rose 0.4 point in August to 48.5 after having risen 0.5 point in July.  This component is reversed in the sense that a reading above 50 percent indicates slower deliveries to service sector firms, while a reading below 50 percent indicates faster deliveries. Thus, firms reported faster delivery times in August but at a slightly slower rate of increase than in July    Firms began to report faster delivery times in December of last year for the first time since April 2016.  Comments from respondents include: "Inventories are growing at suppliers, and we are seeing fewer back orders on common materials" and "Supply on goods and services all good, and no delivery performance issues, including for imports transportation at ports and airports."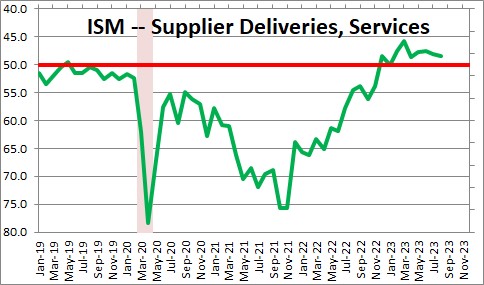 Finally,  the price component rose 0.1 point in August to 56.9 after having climbed 2.7 points in July.  Prices are still rising, but not nearly as rapidly as they were earlier in the year.  Twelve of the 18 service sector industries reported an increase in prices paid during the month.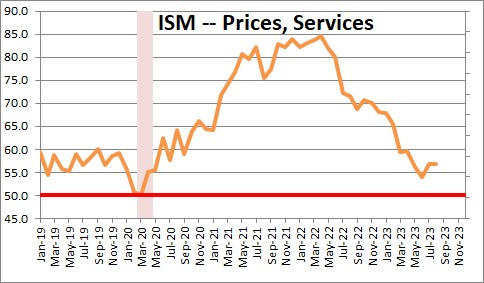 The manufacturing sector of the economy has contracted since November of last year as inflation has continued to climb at a much faster than desired pace and the Fed has initiated a series of interest rate hikes.  While the manufacturing sector is contracting, the service sector continues to expand  but at a respectable pace.  We are looking for 2.7% GDP growth in the third quarter of this year and 1,6% GDP growth in the fourth quarter as firms continue to hire, wages continue to climb, and real interest rates are still only slightly positive.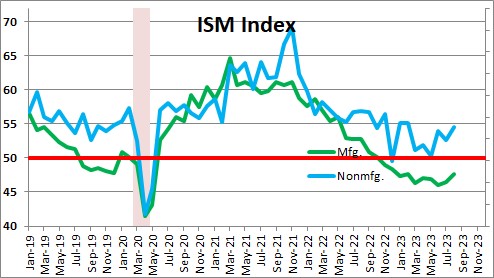 .Stephen Slifer
NumberNomics
Charleston, SC