December 3, 2021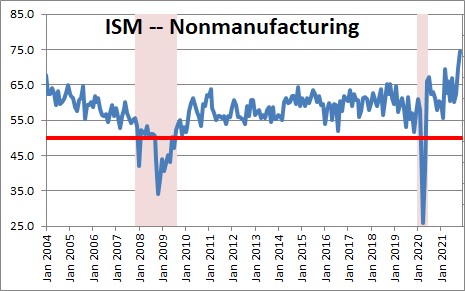 The Institute for Supply Management not only publishes an index of manufacturing activity each month.  They publish two days later a survey of service sector firms.
The service sector business activity (production)  index jumped rose 4.5 points in November to 74.6 after having jumped 7.5 points in October and 2.2 points in September.  The 69.8 reading for October was the highest level for this index since data collection began in 1997 and the data for this month that record high level even higher. All 18 service industries reported growth in October  The ISM group says that its current level of 74.6 is consistent with GDP growth of 6.9%.
Anthony Nieves, Chair of the ISM's Business Survey Committee said, "Demand continues to outpace supply that has been impacted by capacity constraints, shortages of labor and materials, and logistical challenges. This has also caused demand-pull inflation that is affecting overall business conditions."
Comments from respondents include:
"Labor shortages, transportation delays and supply constraints/allocations." [Accommodation & Food Services]
"Business is greater than in the past. Supply chain issues persist, but we're evolving to overcome or manage them better than in the past." [Agriculture, Forestry, Fishing & Hunting]
"Some food products that we have contracts on have been unavailable. Substitutes are always higher in cost." [Arts, Entertainment & Recreation]
"Construction material shortages and longer lead times continue to hamper operations. Significant cost increases from labor and freight are forecast for the start of next year." [Construction]
"Seeing inflationary forces in the marketplace, which is resulting in suppliers raising their prices moving into 2022." [Finance & Insurance]
"COVID-19 patients continue to impact census and procedures. Supplies continue to be difficult to obtain at times." [Health Care & Social Assistance]
Often changes in the overall nonmanufacturing index are led by changes in the orders component which is quite volatile.  In this case, orders were unchanged in November at 69.7 afater having jumped 6.2 points in October to a record high level of 69.7.  All 18 industries reported growth in orders in November. Comments from respondents include: "Economic situation is getting better and supply chain is improving" and "Supply chain issues are creating anxiety in the marketplace, and clients are doing just-in-case buying instead of just-in-time."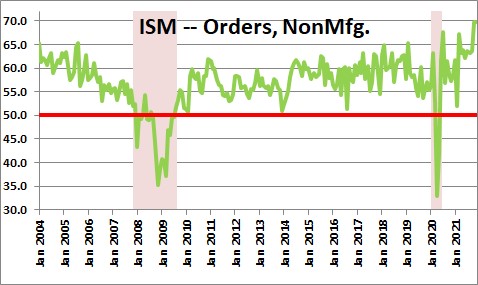 The ISM non-manufacturing index for employment jumped 4.9 points in November to 56.5 after having fallen `.4 points in October.  Eleven industries reported an increase in employment in November.. Four industries reported a decline. Comments from respondents include: "People are quitting to get paid more at different occupations" and "Increased business activity and customer demand requires more human resources."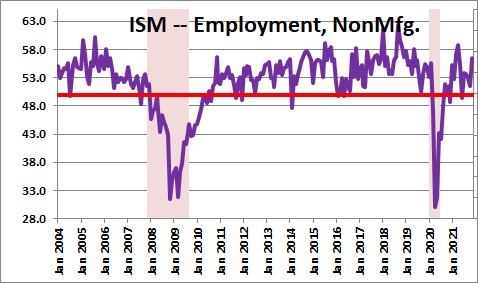 The supplier deliveries component was unchanged in November at 75.7 after having jumped 6.9 points in October  The level of this index is surpassed only by the 78.3 reading in April 2020.  This component is reversed in the sense that a reading above 50 percent indicates slower deliveries to service sector firms, while a reading below 50 percent indicates faster deliveries. Thus, firms are reporting slower deliveries in November, and they are slowing at about the same rate as in October.   Demand in the service sector is extremely strong, but firms are unable to muster a similar-sized increase in production. Comments from respondents include: "Shortages of raw materials (and) of delivery drivers" and "Longer lead times for transportation."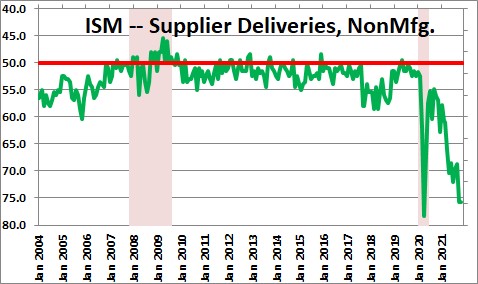 Finally,  the price component declined 0.6 point in November to 82.3 after having jumped 5.4 points in October.   This is the highest reading for this index since September 2005 when it was 83.5.  Prices are rising rapidly.  . All 18 of 18 service sector industries reported an increase in prices paid during the month.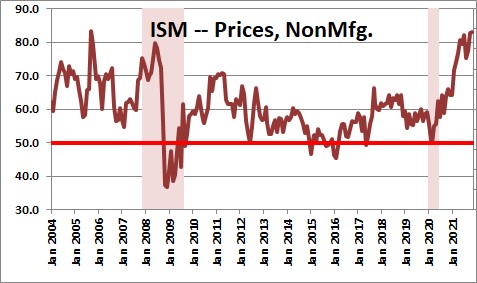 The manufacturing and non-manufacturing sectors of the economy have climbed in recent months to the highest levels in years.  We expect to see an 8.0% increase in GDP in the fourth quarter of this year and 4.9% growth for 2022.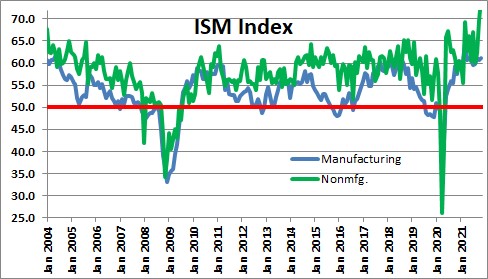 .Stephen Slifer
NumberNomics
Charleston, SC