February 3, 2023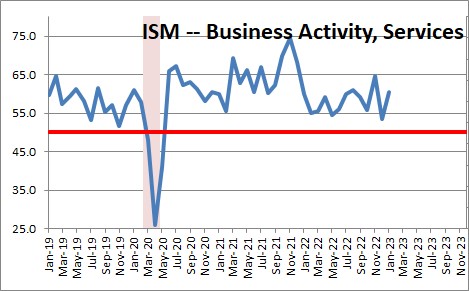 The Institute for Supply Management not only publishes an index of manufacturing activity each month.  They publish two days later a survey of service sector firms.  The service sector index jumped rose 6.9 points in January to 60.4 after declining 11.2 points in December.  According to Anthony Nieves, Chair of the Institute for Supply Management's Business Survey Committee, "Business Survey Committee respondents indicated that capacity and logistics performance continue to improve. Although responses varied by industry and company, the majority of panelists indicated that business is trending in a positive direction. Employment was unchanged for the month. Some companies still find it difficult to fill open positions, while others are facilitating staff reductions."
This index has been bouncing around for several months.  It rose 9.0 points in November, declined 11.2 points in December and rose 6.9 points in January.  it is hard to draw many conclusions from that volatility.  However, it appears that activity in the service sector remains relatively robust.  At its current level of 55.2 the ISM group says that is consistent with 1.8% GDP growth.
Comments from respondents include:
"Raw material availability and lead times have improved but still pose a challenge. In our outlook, we are positive about growth. Consumer confidence is returning, and people are more willing to spend money on luxury items." [Accommodation & Food Services]
"Generally, business is strong. Limitations in such areas as labor and packaging keep sales from exceeding expectations." [Agriculture, Forestry, Fishing & Hunting]
"New residential housing market is still reeling from mortgage rate increases. Sales have fallen off dramatically at entry-level price points, as costs are trending flat." [Construction]
"Demand for services remains high, yet we continue to satisfy demand despite continuing supply chain disruptions. There is improvement in some categories, like blood collection supplies, that have been constrained for more than a year. Others are moderately improving but not to a level where consistency is maintained. Labor is also moderately improving, (helping reduce) staff burnout and fatigue. Forecast for 2023 is currently optimistic." [Health Care & Social Assistance]
"While there is still uncertainty in the marketplace, there is a general feeling that supply chain (issues) are relaxing. There is no unrealistic expectation that challenging times are behind us, but we are cautiously optimistic about 2023." [Information]
"Orders are strong, but it's difficult to support customers' expectations on delivery due to challenges in the supply chain." [Other Services]
"Modest increase in sales activity following the holiday slowdown. Still seeing warning signs of a national/international recession. Higher interest rates having an impact. Outlook for the first quarter of 2023 is still projected lower than the same period in 2022." [Professional, Scientific & Technical Services]
"We're still experiencing delivery delays, but fewer than the past two years. Hopefully, lead times will return close to pre-COVID-19 levels." [Real Estate, Rental & Leasing]
"Coming off of peak season. Supply chains are solidifying, and capacities are better than in the past." [Retail Trade]
"Continued concerns regarding supply continuity. Energy supply costs are very high this winter season." [Utilities]
"The slowdown in new housing starts has made business slightly slower than previous years. We are also seeing a slowdown in e-commerce traffic and sales." [Wholesale Trade]
The orders component surged by 15.2 points in January to 60.4 after plunged by 10.8 points in December after having fallen 0.5 point in November.  Eleven industries reported growth of new orders in January.  Comments from respondents include: Increased production due to new customers" and "January is typically higher for us than December, as it's the start of a new year versus a holiday month."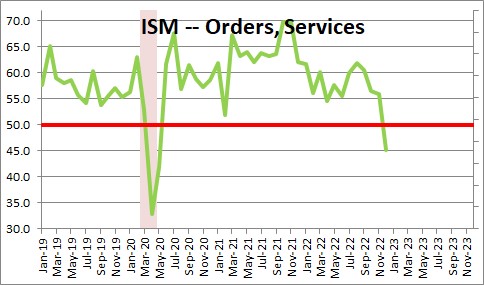 The ISM non-manufacturing index for employment rose 0.6 point in January to 50.0 after having fallen 2.1 points in December after rising 2.4 points in November  Eight industries reported an increase in employment in January. Seven industries reported a decline. Comments from respondents include: ""Unable to hire qualified labor — supply is thin" and "We continue to let people go, not replacing any open positions."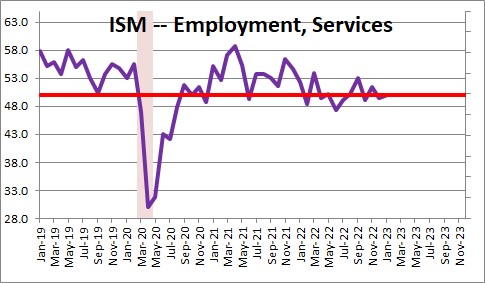 The supplier deliveries component rose 1.5 points in January to 50.0 after declining 5.3 points in December and 2.4 points in November.  This component is reversed in the sense that a reading above 50 percent indicates slower deliveries to service sector firms, while a reading below 50 percent indicates faster deliveries. Thus, firms are reporting no change in delivery times in January after reporting faster delivery times in December for the first time since April 2016.  Comments from respondents include: "Post-holiday freight has proven to be more efficient" and "Shortened lead times and increased fill rates."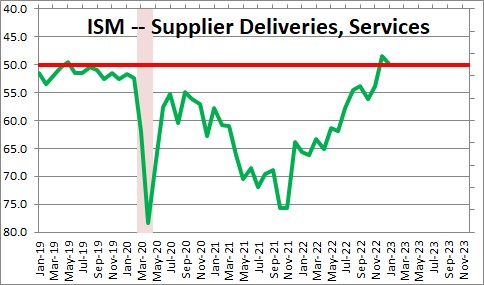 Finally,  the price component fell 0.3 point in January to 67.8 after declining 1.9 points in December to 67.6 after having declined 0.7 point in November.  Prices are still rising rapidly, but not as rapidly as they were earlier in the year.  Fifteen of the 18 service sector industries reported an increase in prices paid during the month.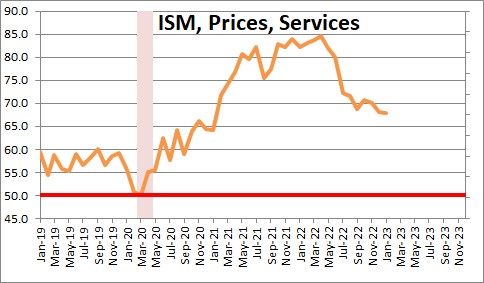 The manufacturing and non-manufacturing sectors of the economy have softened a bit in recent months as inflation has soared and the Fed has initiated a series of interest rate hikes.  The manufacturing sector is essentially declining somewhat for now while the service sector continues to expand at a moderate pace.  We are looking for 1.2% GDP growth in 2023 as firms continue to hire, wages continue to climb, and real interest rates remain negative at  least through midyear.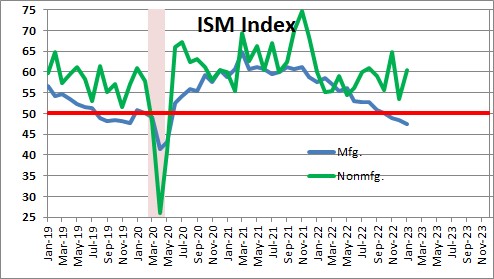 .Stephen Slifer
NumberNomics
Charleston, SC