April 3, 2020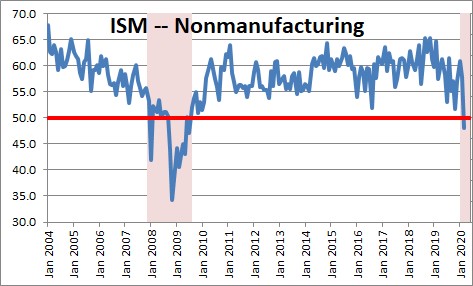 The Institute for Supply Management not only publishes an index of manufacturing activity each month, they publish two days later a survey of non-manufacturing firms — which largely consists of services. The business activity index fell 9.8 points in March to 48.0 after having declined 2.1 points in February.  This is the lowest reading since July 2009.  In March, service-sector  industries  reported expansion while 9 industries that reported a decline.  Comments from respondents include "Postponing major events and cutting travel" and "Reducing operations to essential services only."
Typically, large changes in the overall index are led by orders which, in this case, fell 10.2 points from 63.1 to 52.9 after having risen by 6.9 points in March.  Comments from respondents include: :"The uncertainty has put all new business processes on hold", and "New orders are significantly lower due to COVID-19, [but] spending for financial/tax projects remains slightly higher due to tax season."  What is truly remarkable is that orders were still above the break-even mark of 50.0 in March.  They are headed substantially lower in the months ahead.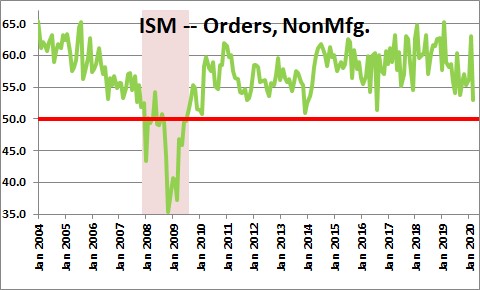 The ISM non-manufacturing index for employment fell 8.6 points in March from 55.6 to 47.0 after having risen 2.5 points in February.  Comments from respondents include: "Layoffs due to virus and decrease in revenue", and "Most employees have been asked to telecommute; there is a hiring freeze until everyone returns to the office."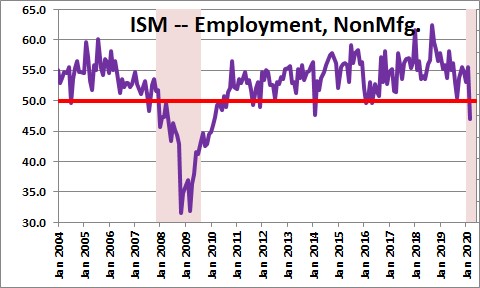 The supplier deliveries component jumped 9.7 points in March to 62.1 after having risen 0.7 point in February.  This is the highest reading since August 1997.  This component is reversed in the sense that a reading above 50 percent indicates slower deliveries, while a reading below 50 percent indicates faster deliveries. In March the higher reading reflected supply chain disruptions .  Comments from respondents inclulded:  "Supplier capacity and shipping has been slowed due to the corona virus", and "Global supply chain disruptions caused by COVID-19 concerns and the number of manufacturers reliant upon China for raw materials, parts and components."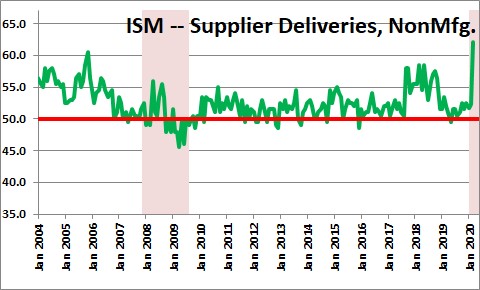 Finally,  the price component fell 0.8 point in March to 50.0 after having fallen 4.7 points in February.   Six non-manufacturing industries reported an increase in prices paid during the month compared to six who reported a decrease.  At its current level of 50.0 prices are now relatively steady.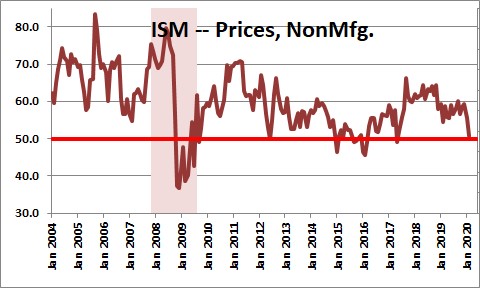 The manufacturing and non-manufacturing sectors of the economy both fell sharply in March.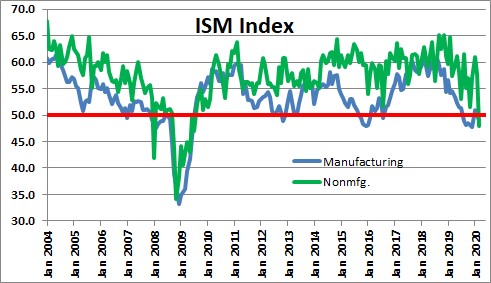 Stephen Slifer
NumberNomics
Charleston, SC