March 3, 2021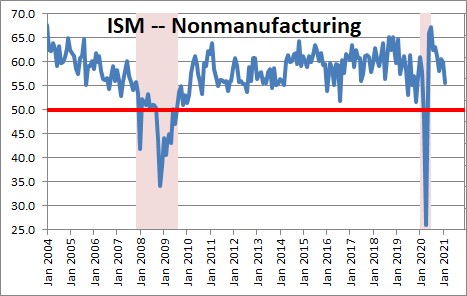 The Institute for Supply Management not only publishes an index of manufacturing activity each month, they publish two days later a survey of service sector firms.
The service sector business activity index fell 4.5 points in February to 55.5 after declining 0.6 point in January.  In the past couple of months the series has backtracked somewhat.  The ISM group says that its current level of 55.5 is consistent with GDP growth of 2.2%.
Anthony Nieves, Chair of the Institute for Supply Management, said, "There was a pullback in the rate of growth in the services sector in February. Respondents are mostly optimistic about business recovery and the economy. Production-capacity constraints, material shortages and challenges in logistics and human resources are impacting the supply chain,"
Comments from respondents include:
"Suppliers are taking the opportunity with the commodity-price increases in the last few months to propose price increases that are above and beyond normal expectations, causing significant concern. Business growth remains optimistic on the emergence of a post-coronavirus [COVID-19] era in [the] second half of 2021. U.S. port delays are problematic." (Accommodation & Food Services)
"The declining COVID-19 cases in the four states we operate in, combined with the increased vaccination rates, should bode well for our increased business activity moving into the second quarter of 2021." (Arts, Entertainment & Recreation)
"Sales of residential real estate continue to be strong, even outstripping supply. Cost inflation in building materials seen as shortages develop from sporadic COVID-19 closures at manufacturing facilities. Port congestion on the West Coast [and] winter weather in Canada closing mills and restricting truck shipping are contributing to product shortages nationwide." (Construction)
"Exponential demand for critical supplies due to [the] pandemic is driving distributer allocations and forcing alternative sourcing." (Health Care & Social Assistance)
"Supplier deliveries continue to be an issue as well as lead-times. Additionally, price increases are occurring with more frequency for products containing raw materials such as copper and steel." (Retail Trade)
"Construction and customer activity remains robust. Many materials have inconsistent lead times or are facing delivery delays." (Utilities)
Often changes in the overall nonmanufacturing index are led by changes in the orders component which is quite volatile.  In this case, orders fell 9.9 points in February to 51.9 after rising 3.2 points in January.   "An increase in inventories needed to meet new demands" and "Increased demand due to building stock to cover through the Lunar New Year."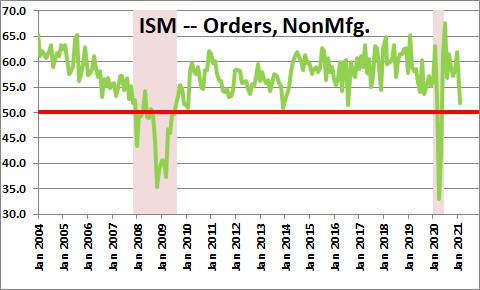 The ISM non-manufacturing index for employment fell 2.5 points in February to 52.7 after having jumped 5.5 points in January. Eleven  industries reported an increase in employment in January. Six industries reported a decline. Comments from respondents include: "Unable to fill vacant positions with qualified applicants" and "Need more resources to meet demand."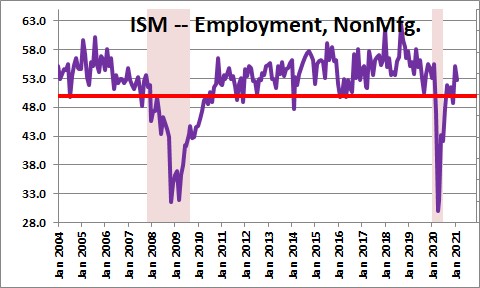 The supplier deliveries component rose 3.0 points in February to 60.8 after having fallen 5.0 points in January.   This component is reversed in the sense that a reading above 50 percent indicates slower deliveries to service sector firms, while a reading below 50 percent indicates faster deliveries. Thus, firms are reporting slower deliveries in February but not slower quite as rapidly as they were in January. Comments from respondents include: "Import logistics delays," and "Trucking shortage is delaying orders two to five days."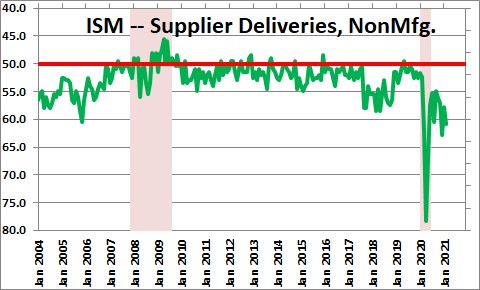 Finally,  the price component jumped 7.6 points in February to 71.8 after having declined 0.2 point in January.  Prices are rising at the fastest pace since September 2008.  Sixteen service sector industries reported an increase in prices paid during the month.  One industry reported a decrease.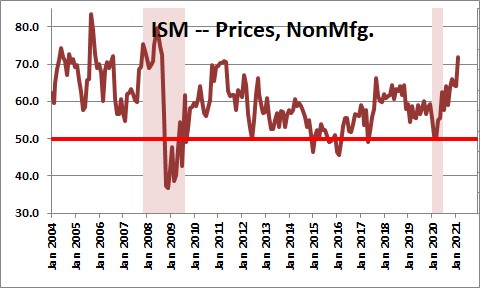 The manufacturing and non-manufacturing sectors of the economy both fell sharply in March and April of last year but have rebounded very quickly.  Having said that, late last year COVID was taking a bigger toll on the service sector — restaurants, hotels, and airlines in particular — as some local governments are imposing renewed restrictions to hopefully slow the rate of spread of the virus.  For what  it is worth, following a 31.4% decline in GDP in the second quarter GDP jumped 33.4% in the third quarter and 4.1% in Q4.  We expect to see an 8.2% increase in GDP in the first quarter of this year and a 7.5% GDP growth in 2021.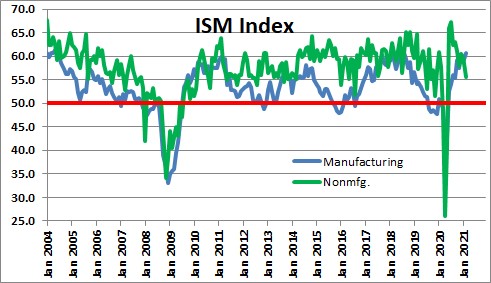 Stephen Slifer
NumberNomics
Charleston, SC