May 28, 2021
The labor market seems to be on a roll midway through the second quarter.  Layoffs have fallen to the lowest level since the recession ended last April, which suggests that the modest increase in payroll employment and the 0.1% uptick in the unemployment rate in April were aberrations, and that the labor market will resume substantial gains in May and beyond.  If so, the unemployment rate should slide to 4.1% by yearend.  Some suggest that it will be difficult to achieve those employment gains because so many people have dropped out of the labor force and are not actively seeking employment.  That may be the case today, but as generous unemployment benefits disappear we believe the vast majority of those workers who are not in the labor force will suddenly begin to look for – and find – employment.
Initial unemployment claims dropped 38 thousand in the most recent week to 406 thousand.  That is the fourth consecutive weekly decline.   The labor market is improving steadily.  As a result, we look for an increase in payroll employment for May of 700 thousand and the unemployment rate to decline 0.2% to 5.9%.  We anticipated similar changes for April but saw, instead, a far less substantial increase in employment of 266 thousand and an uptick in the unemployment rate to 6.1%.  Hopefully, we will not have a repeat performance in May.  We hypothesized at the time that while there were a record number of job openings, the availability of generous unemployment benefits was discouraging many unemployed workers from accepting a job until those benefits disappeared.  After Labor Day we anticipated much more sizeable gains in employment and a steady decline in the unemployment rate in the final few months of the year.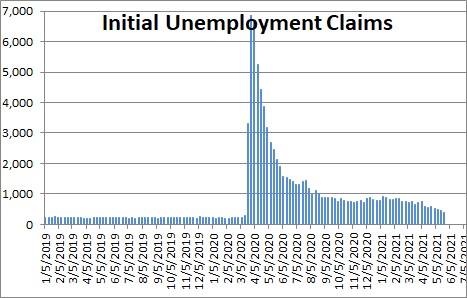 But now 24 states plan to exit the federal unemployment benefits program by the end of June.  Their state economies are booming and they believe that the availability of such generous unemployment benefits is negatively impacting the ability of business owners to find staff.  This action should encourage many unemployed workers to return to work.  As a result, we expect payroll employment to increase 4.8 million between now and the end of the year, and the unemployment rate to decline to 4.1%.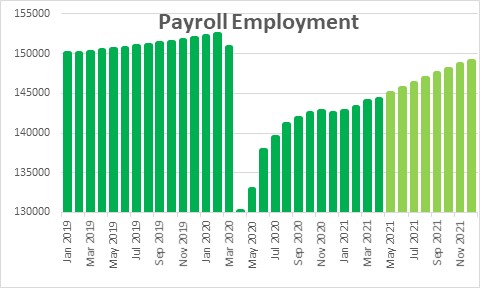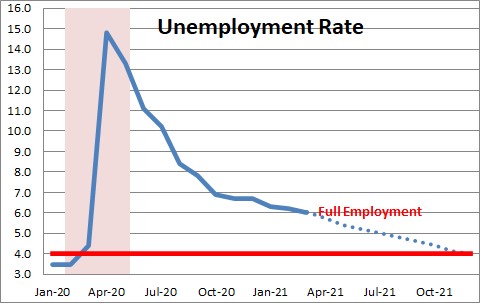 While we anticipate considerable improvement in the labor market, there will still be 3.1 million fewer jobs at yearend than existed prior to the recession and the unemployment rate will be higher than in February 2020 (4.1% vs. 3.5%).
Some economists suggest that it will be difficult to achieve robust gains in employment between now and yearend because the labor force is currently 3.5 million workers below what it was prior to the recession. People have given up looking for a job for a variety of reasons.  Some have lost their existing job and do not have the skills to get a new one.  They cannot find affordable day care for their children.  They are unwilling to return to their old job because they might catch COVID and spread it to their family.  There are undoubtedly some workers who legitimately fall into each of those categories.  But we believe that, to a far greater extent, those are excuses for not returning to work.  It is easy to stop looking for a job when the government is paying you not to work.  But as those benefits expire, the number of people who have not been looking for a job will suddenly start to look for — and find — employment.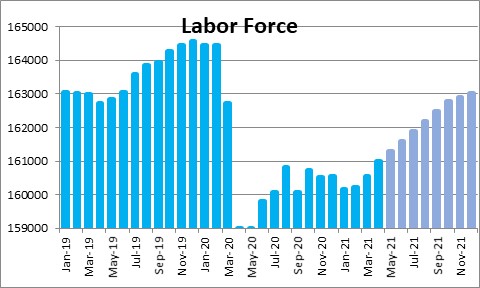 Most of the remaining dropouts from the labor force had low paying jobs in the leisure and hospitality industry – restaurants, bars, and hotels in particular.  They still have the skills required to return to their old job, they just choose not to.  That is not the issue for them.  Increasingly employers in that industry are being forced to boost wages and offer bonuses to hire new workers.  The job they return to will be far improved from the one they left.
Some claim they cannot afford day care.  But did they not have day care prior to the recession?  What is different now?
Some are afraid of contracting COVID.  Seriously?  The number of new cases has fallen from a peak of 248 thousand per day back in January of this year to 21 thousand currently and it will continue to shrink during the summer because vaccines are being distributed quickly.  The number of vaccinated individuals is increasing by 1.5 million people per day and 62% of Americans already have at least one shot.  If someone says they are afraid of returning to work, our suspicion is that they are looking for an excuse to remain on the sidelines.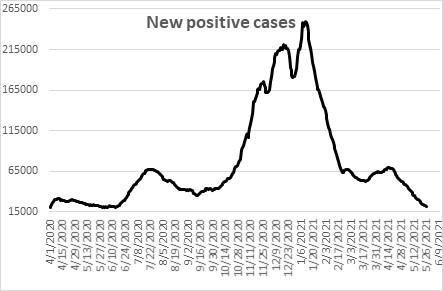 With respect to the likelihood these people will actually find a job, we believe the prospects are good because job openings are at a record high level.  In fact the ratio of the number of unemployed workers to job openings is very close to the very low that existed prior to the recession – when the labor market was widely regarded as being very tight.  The jobs are there.  Workers just need a little encouragement to take them.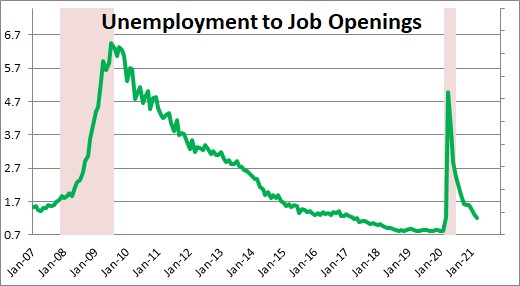 Stephen Slifer
NumberNomics
Charleston, S.C