June 5, 2020
Payroll employment rose 2,509 thousand in May which exceeded everyone's expectation.  But this outcome seems to reflect a very slight difference in the timing of when workers returned to work and, for this reason, does not change the overall outlook for the economy.  We had expected a 2,000 decline in employment for May, followed by a 10,000 increase in June as the economy continued to open up and workers returned to their jobs.  But now it appears that some of that hiring occurred slightly earlier than we anticipated and, following the May gain, we have reduced our projected jobs increase for June to 7,000 thousand.  The increase over the two-month period is only slightly stronger than anticipated.
We already knew that the labor market was improving.  After peaking at 6,876 thousand in the week ending March 28, initial unemployment claims (a measure of layoffs) has declined for nine consecutive weeks and now stands at 1,877 thousand.
In any given week, some workers lose their jobs and file for unemployment benefits.  At the same time other workers get hired and drop off the unemployment rolls.  When the number of people receiving unemployment insurance benefits declines, more people were hired in that week than lost their jobs. in the week ending May 16 the number of people receiving unemployment insurance benefits fell by 4.1 million.  The economy was opening up.  Workers were returning to their jobs.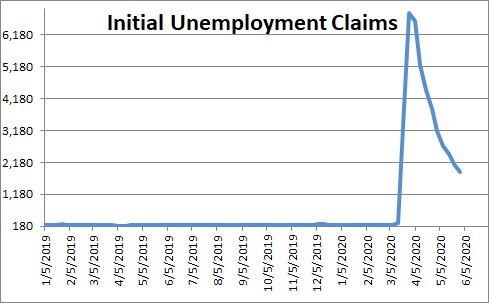 The employment statistics each month are determined from a survey that is taken in the week that contains the 12th of the month.  We thought that the mid-May hiring had occurred too late in the month to boost May employment.  We were wrong.  Employment rose by 2,509 thousand in that month versus our projected decline of 2,000 thousand.  But, anticipating a further opening up of the economy, we previously projected a jobs increase for June of 10,000 workers.  With some of those workers apparently having been hired in May, we are inclined to chop our projected June gain to 7,000.  The increase for the two-months is only slightly stronger than anticipated, but with a vastly different pattern.
Every month businesses have a certain number of people on their payrolls and work them for a specific number of hours.  If we know how many people are working and how long they worked, we can estimate how many goods and services they produced.  That is exactly what GDP is trying to measure.  Every month the Bureau of Labor Statistics combines payroll employment with the nonfarm workweek and calculates an "aggregate hours index" which can be used as a rough proxy for GDP in that month.  Payroll employment declined by 1,352 thousand in March and an additional 20,687 thousand in April.    As a result, the aggregate hours index plunged in those two months before rebounding somewhat in May.  For the first quarter this index averaged 111.1.  For the second quarter (assuming a further increase in employment in June) the index will average 97.2.  Doing the math, that works out to an annualized rate of decline of 50%.   This explains why we still look for a huge GDP drop in the second quarter of 50.0%.  The economy is getting better, but the April hit was breathtaking.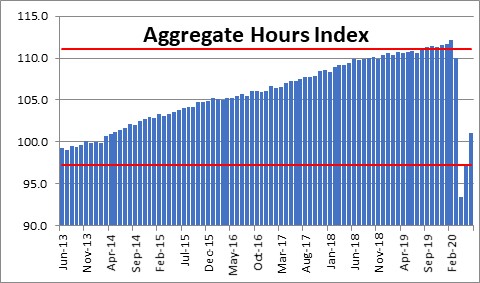 Given the increase in employment in May and a likely further sizable increase in June, third quarter GDP growth is likely to bounce back by 51.0%.
So even though the May increase in employment surprised everyone, if all it does is take some of the jobs growth for June and shift it back into May, it does not change the overall economic outlook by any appreciable amount.  We end up with a huge GDP drop followed by an equally enormous rebound.
Given all that has been going on, the stock market continues its upward trajectory.  After falling 32% from its mid-February peak, the S&P 500 index has rebounded and now stands just 5% below its mid-February level.  The tech heavy NASDAQ index has already established a new record high level.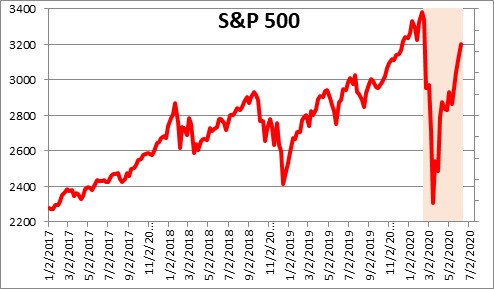 Many contend that the market is now grossly overvalued.  We disagree.  It is important to remember that there are two things happening simultaneously.  There is the natural rebound in economic activity as workers go back to work, once again start earning a paycheck, and pay overdue bills like the mortgage payment, the rent, the car loan, and credit card bills.  But on top of that is $2.5 trillion of fiscal stimulus with help from the Fed.  Most American households have already received their $1,200 refund checks.  Small businesses are getting money from the PPP program.  Boosted by the refund checks, real disposable income surged by 13.4% in April.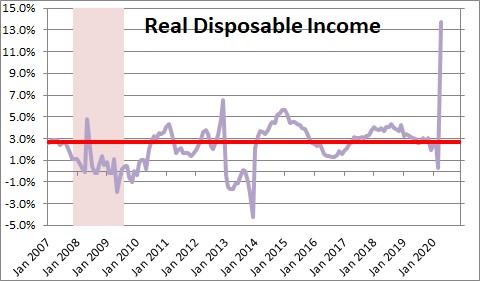 With income rising and the economy essentially shut down, there was nowhere to spend that money.  As a result the savings rate skyrocketed to 33% in April compared to a more normal level of 6%.  That money is going to get spent and, as a result, we anticipate a 51% increase in GDP growth in the third quarter followed by a 7.0% growth rate in the fourth quarter.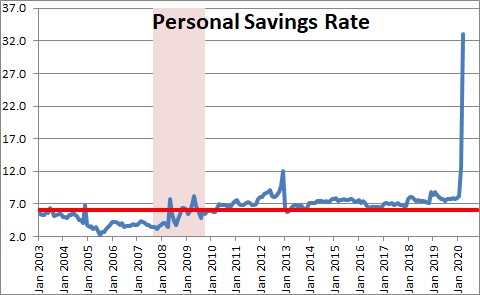 We will repeat our mantra.  Never underestimate the strength and the resilience of the U.S. economy.
Stephen Slifer
NumberNomics
Charleston, S.C.