April 26, 2022
New home sales fell 8.6% in March to 763 thousand but the January and February data were revised substantially higher.  As a result, the level of home sales in March was about as expected.  Nonetheless March represents the third consecutive drop in sales.  Sales declined 1.2% in February and 3.0% in January.  Bust that follows gains of 15.7% in December and 12.9% in November.  The jump in sales in November and December almost certainly reflects a widespread expectation that mortgage rates are going to rise during 2022 and that home prices will continue to climb albeit at a slower pace than in 2021.  Potential buyers were attempting to purchase before mortgage rates and prices rise further.    However, home sales are also being held in check by an inability of builders to attract a sufficient number of new workers and deal with significant supply chain issues.  Home sales are reported at the time the contract is signed,
With a small increase in the number of homes available for sale, and a sharp decline in the pace of sales, the month's supply of homes available for sale rose 0.8 month to 6.4 months in March  Once hiring picks up and more homes become available for sale, the pace of home sales will clearly be faster and, hopefully, the rate of price appreciation will be slower..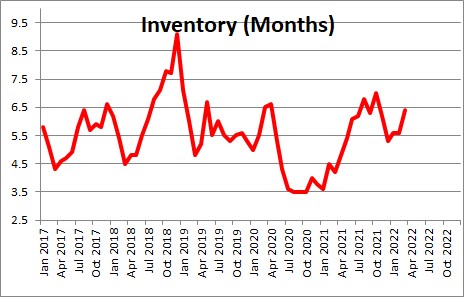 Home prices climbed 3.6% in March to $436,700 after having declined 2.2% in February and having risen 5.1% in January.  Over the past year new home prices have risen 21.4%.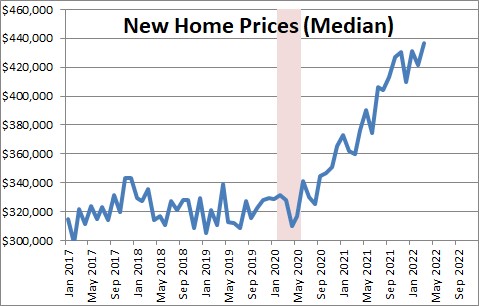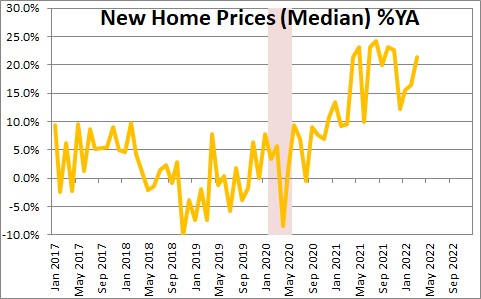 With home prices rising rapidly and mortgage rates climbing, housing affordability has declined.  It has dropped from about 175 earlier in the year to 135 but that is still relatively high.  At 135 it means that median-income earning consumers have 35% more income than is required to purchase a median-priced home.  As mortgage rates and home prices continue to climb during 2022, the affordability index should decline to about 108 by yearend.  Even at the end of this year it should still  be relatively affordable for most buyers.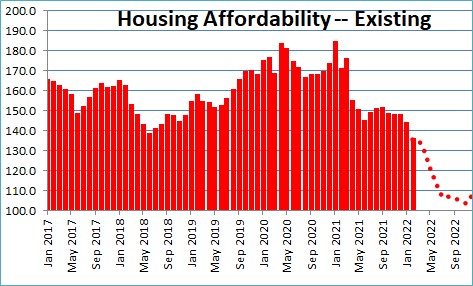 Houses are still flying out the door.  The NAR indicates that the average existing home sells in just 19 days.  That is very close to the shortest length of time between listing and sale.  For new homes the number of months on the market is 3.0 months which is also close to a record short time period.  Any way you slice it homes are being sold quickly despite higher prices.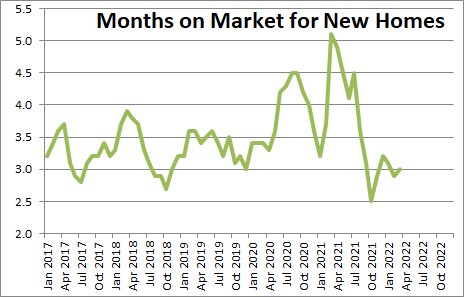 But that does not mean that housing remains affordable for everyone.  If one looks at the distribution of home sales by price between May 2020 and March of 2022, the percent of homes selling for $300,000 or less has fallen by 30 percentage points.  Those selling for $300,000-$400,000 thousand has risen 2%.  Homes selling at prices in excess of $400,000 have risen by 28%.  What this seems to suggest is that younger buyers who are perhaps purchasing their first home are getting shut out of the market.  So while housing remains very affordable for most buyers, younger first-time buyers are facing a problem.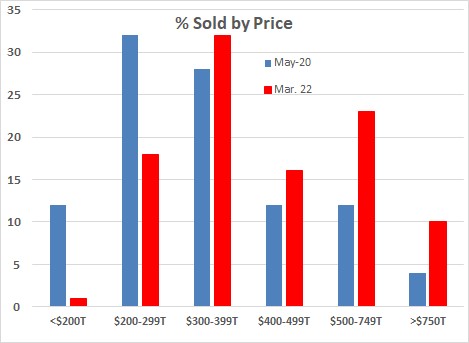 .Look for new home sales to continue to climb to about 870 thousand by the end of 2022.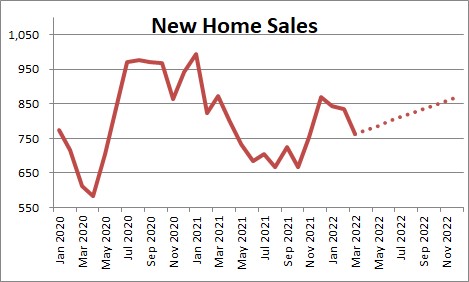 Stephen Slifer
NumberNomics
Charleston, SC