June 23, 2021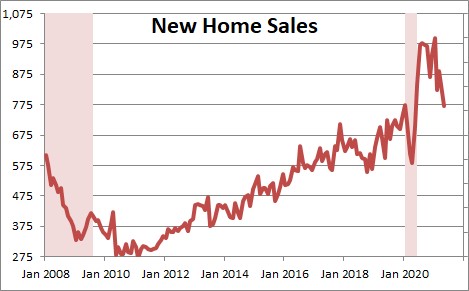 New home sales fell 5.9% in May to 769 thousand after falling 7.8% in April.  After hitting a peak of almost 1 million homes in January, home sales have declined steadily to their current level of 769 thousand.  But a couple of factors seem important.  First, home sales of 769 thousand are still the fastest pace of home sales since 2007 — that was 14 years ago.  Despite the recent declines they are still very robust.  Second, there continues to be a significant shortage of homes available for sale caused by builders inability to attract a sufficient number of new workers, social distancing requirements for home construction, and significant supply chain issues.  Once the pace of hiring picks up after Labor Day when the federal unemployment benefits expire, hiring in the construction sector should quicken, which means more homes will be available for sale, a faster pace of home sales, and some slowing in the extraordinarily rapid recent run-up in prices.
With a modest increase in the number of homes available for sale, and a sharp drop in the pace of sales, the month's supply of homes available for sale climbed from a record low number of  3.5 months in December to a still low 4.5 months in May.  That  compares to a 6.0 month level that is required for supply and demand to be in balance.  If more homes were available for sales, the pace of home sales would clearly be faster.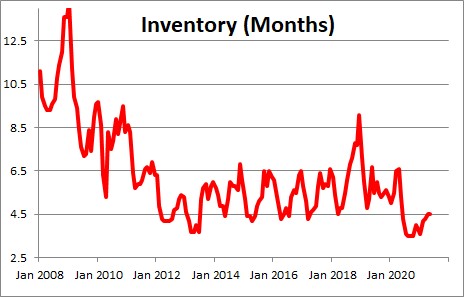 The stimulus money checks sent out in March boosted real disposable income and caused the savings rate to climb to 14.9%.  The consumer has plenty of money to spend on whatever he or she wants — homes or anything else — for months into the future.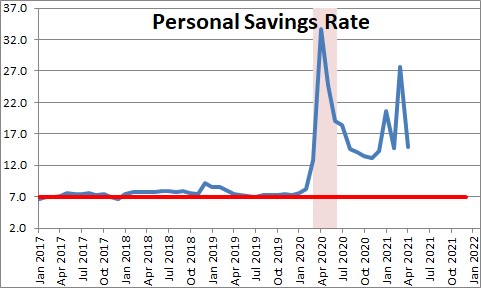 Home prices have been skyrocketing.  New home prices have risen 18.1% in the past 12 months to a record high level of 3$74,400.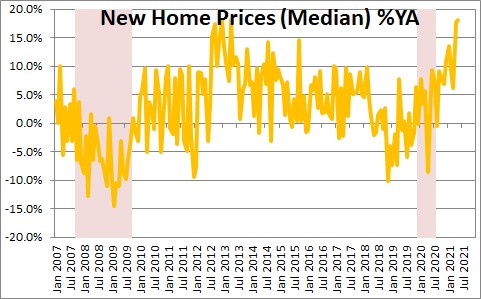 With home prices rising rapidly one might think that housing affordability would be declining.  But be careful.  Mortgage rates remain very low at 3.0%.  And consumer income is surging as the result of all these stimulus checks.  As a result, housing affordability index has fallen to 156 but that is still quite high.  At 156 it means that median-income earning consumers have 56% more income than is required to purchase a median-priced home.  Back at the peak of the housing boom this series stood at 114.  Housing was very expensive then.  But today it is quite affordable despite the rapid increase in home prices.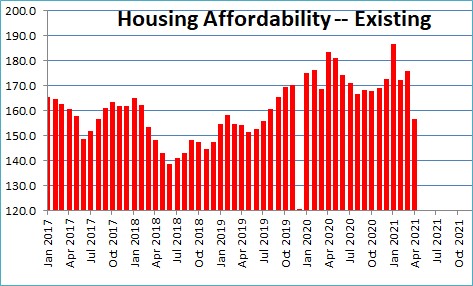 Houses are still flying out the door.  The NAR indicates that the average existing home sells in just 17 days.  That is the shortest length of time between listing and sale ever.  For new homes the number of months on the market is 3.5 months which is a near record short time period.  Any way you slice it homes are being sold quickly despite higher prices.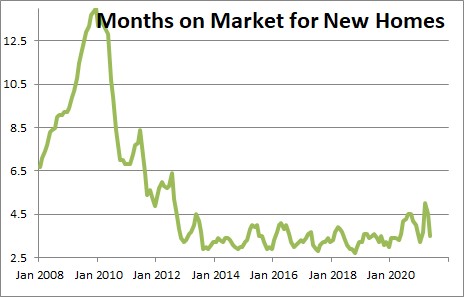 But that does not mean that housing remains affordable for everyone.  If one looks at the distribution of home sales by price between May of last year and May of this year, the percent of homes selling for $300,000 or less has fallen by 17 percentage points in the past year.  Those selling for $300,000-$400,000 thousand has not changed.  But homes selling at prices in excess of $400,000 has risen by 17%.  What this seems to suggest is that younger buyers who are perhaps purchasing their first home are getting shut out of the market.  So while housing remains very affordable for most buyers, younger first-time buyers are facing a problem.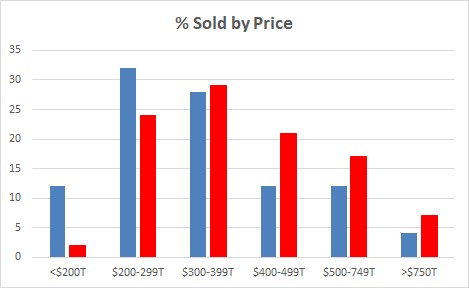 Look for new home sales to continue to climb as we move into  the summer and the corona virus continues to ease its grip on the country and as the $1.9 trillion of fiscal stimulus provides a lift to both consumer income and sales, as well as an increase in their net worth as both a rising stock market and rising home prices bolster the net worth of wealthy individuals.  We expect new home sales to fall about 7.0% in 2021 to 875 thousand.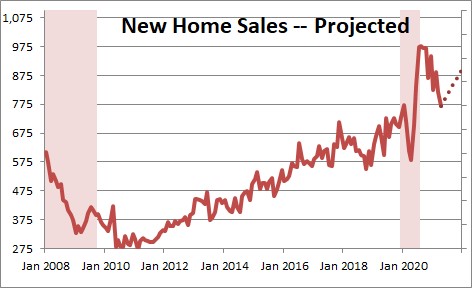 Stephen Slifer
NumberNomics
Charleston, SC