March 23, 2021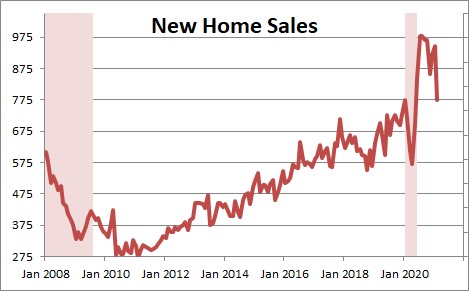 New home sales plunged 18.2% in February to 775 thousand after having risen 3.2%% in January.  But the February outcome is almost certainly attributable to the series of snow and ice storms that paralyzed much of the Midwest and the Northeast in that month.  Sales will almost certainly rebound in March and April.  The widespread availability of the vaccine combined with a sharp drop in the number of new cases being reported daily will trigger another burst of sales.   And then there is the series of tax refund checks that are boosting consumer income and the savings rate.  Sales should continue to climb rapidly in the months ahead.  However, there is still a significant shortage of homes available for sale, builders are unable to attract a sufficient number of new workers, social distancing requirements for home construction, and supply chain issues.
With a modest increase in the number of homes for sales but a sharp drop in the pace of sales, the month supply of homes available for sale climbed to 4.8 months in February compared to a 6.0 month level that is required for supply and demand to be in balance.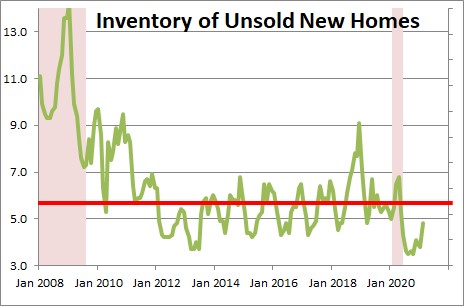 The stimulus money boosted real disposable income in the spring but few places to spend it as the economy was largely shut down, the savings rate surged.  As the economy gradually re-opens the savings rate has declined somewhat.  But in January another round of tax refunds were send out that boosted the savings rate to 20.5%.  And now in March there is yet another $1.9 trillion fiscal stimulus bill which includes $1,400 checks to virtually every taxpayer which is going to further boost the savings rate.  The consumer has plenty of money to spend on whatever he or she wants for months into the future.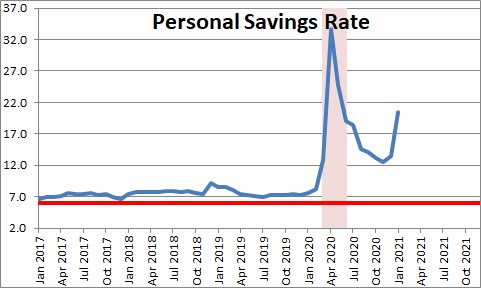 Mortgage rates fell to a record low level of 2.7% but have since climbed by about 0.25% to 3.0%.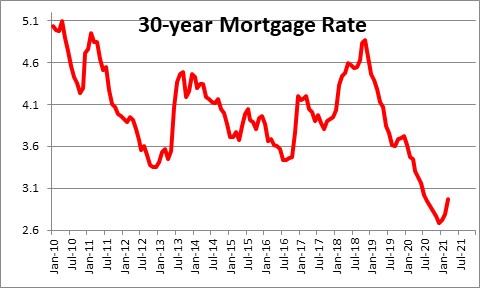 With home prices rising rapidly and interest rates edging upwards, one might think that housing affordability would be declining.  But, there is a third variable in the equation — consumer income which is surging as the result of all these stimulus checks.  As a result, housing affordability has surged to 187 which is quite high.  At 187 it means that consumers have 87% more income than is required to purchase a median-priced home.  Back at the peak of the housing boom this series stood at 114.  Housing was very expensive then.  But today it is quite affordable given rapid growth in income.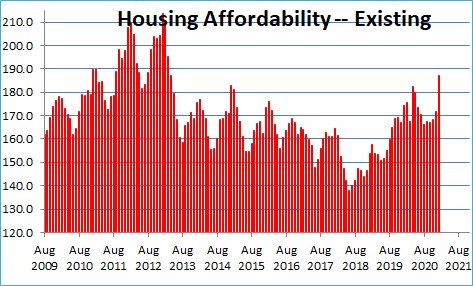 Also boosting sales is that people are getting used to working from home and are now finding that they need a larger home with space for a dedicated office.  In addition, given the ability to work from home or anywhere, sales in summer resort areas like Lake Tahoe, the mid-Atlantic beaches, and the Jersey short are booming.
Look for new home sales to continue to climb as we move into  the spring and summer and the corona virus eases its grip on the country and as the $1.9 trillion of fiscal stimulus provides a lift to both consumer income and sales, as well as an increase in their net worth as both a rising stock market and rising home prices bolster the net worth of wealthy individuals.  We expect new home sales to rise 8.8% in 2021 to 1 million.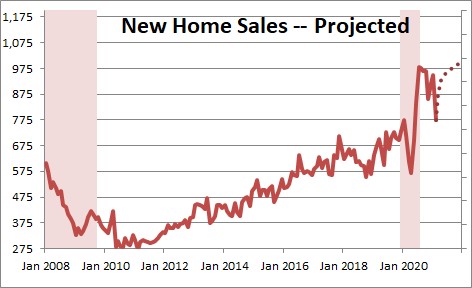 Stephen Slifer
NumberNomics
Charleston, SC