September 1, 2022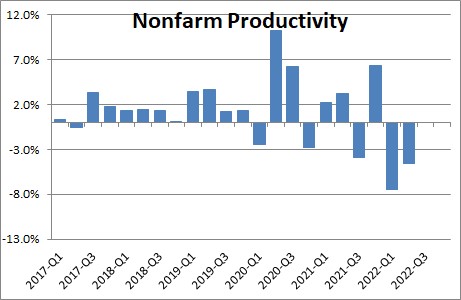 Non-farm productivity fell 4.1% in the second quarter after having plunged by 7.4% in the first quarter.  The second quarter decline consisted of a 1.4% decline in output combined with a 2.7% increase in hours worked. Hence, a 4.1% decline in productivity in that quarter.  While the economy has slowed and business people are cutting output, they are not reducing headcount or hours worked.  Give the extent of the current labor shortage they are still inclined to hang on to bodies since it will be difficult to find replacements once growth re-accelerates.
We still believe that technology will boost productivity growth in the longer haul.  Firms need to invest in technology because of an inability to get the number of bodies that they require.
If because of technological advancements productivity can rise by, say, 2.0% annually, then potential GDP growth (our economic speed limit) has picked up from 1.8% a few years ago to perhaps  2.3% (consisting of 0.3% growth in the labor force plus 2.0% growth in productivity.  That is an important concept because the potential growth rate is a proxy for the growth rate in our standard of living.  The difference between 2.3% growth in our standard of living and 1.8% is huge  — a 33% faster rate of growth rate in our standard of living.  We will see how this develops, but it is an important piece to consider.
Stephen Slifer
NumberNomics
Charleston, SC