March 5, 2020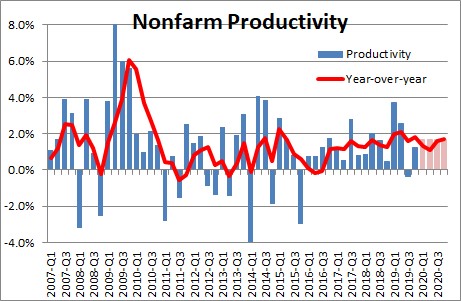 Non-farm productivity climbed 1.2% in the fourth quarter after having declined 0.3%in the third quarter.  During the course of the past year productivity has risen 1.8%.  The 1.2% increase in the third quarter consists of a 2.4% increase in output combined with a 1.2% increase in hours worked.   But what is noteworthy is that productivity growth is still climbing at a respectable pace at the 10-1/2 year mark in the expansion.  That is unusual and we believe that the tight labor market is causing firms to spend money on technology.  By doing so they can increase output without increasing their headcount which means that productivity growth climbs.
There are three types of investment spending which are roughly equal in size.  Structures (new factories, hotels, office space, etc.) has fallen about 7.0% in the past year.  Equipment spending (the things that go into those structures — equipment on the factory floor, furniture, office equipment, etc,) has also declined by about 1.0%.  But spending on intellectual property, which is the category that includes spending on computer hardware and software has risen by about 6.0%.  So even though overall investment spending has been relatively unchanged in the past year, the spending that has been taking place is on technology which is the kind of spending that will boost productivity growth.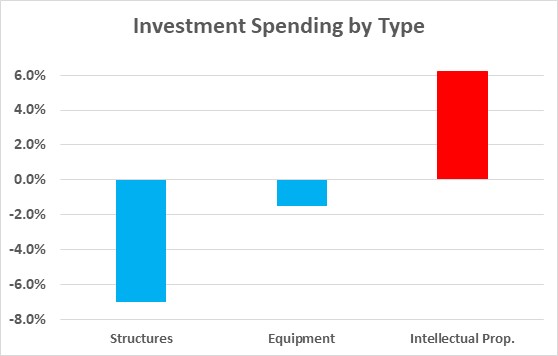 From 2000- 2010 nonfarm productivity averaged 2.7%.   From 2010 to mid-2016 productivity growth slowed to about 1.0%.  But productivity growth has begun to accelerate.  In the  past three years it has risen 1.5%, and in the past year it has risen 1.8%.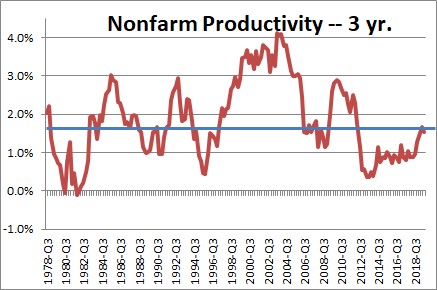 One of the reasons that productivity is not growing even faster is that retiring baby boomers are leaving both their jobs and the labor force, and taking some of their knowledge with them which is adversely impacting the growth rate for productivity.
We currently expect productivity growth going forward to average 1.7%.  If it sustains a 1.7% pace, the economic speed limit will climb from 1.8% a couple of years ago to 2.5% within a couple of years.  The standard of living will grow 0.7% more quickly.  It will also help keep inflation in check by offsetting some of the increase in wages.  Steady productivity growth at the pace we envision will produce remarkable results for the U.S. economy.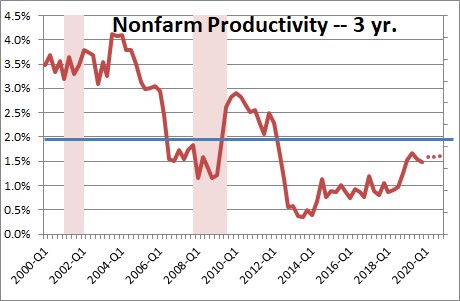 Stephen Slifer
NumberNomics
Charleston, SC