January 8, 2021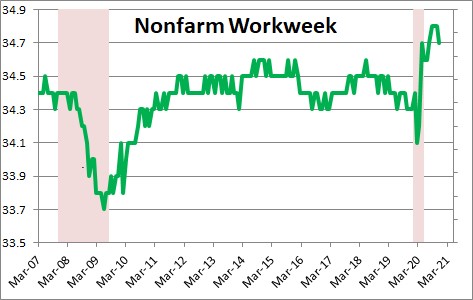 In any given month employers can boost output by either additional hiring or by lengthening the number of  hours that their employees work.  Payroll employment rose 245 thousand in November.
The nonfarm workweek declined 0.1 h our in December to 34.7 hours at 34.8 hours in each o f the previous three months.  The 34.8 hour workweek was a record long workweek for a series that dates back to 1999.  Thus, it is important to remember that the modest drop in December was from a record high level and, therefore should not cause any undue alarm..
The declines in  employment and hours worked are reflected in the aggregate hours index which declined 0.4% in December to 105.6 after rising 0.4% in November and 0.8% in October.  Given the strength in this index in October and November, the average level of this index for the quarter still rose 8.0% which suggests that fourth quarter GDP growth should have risen by a roughly comparable amount.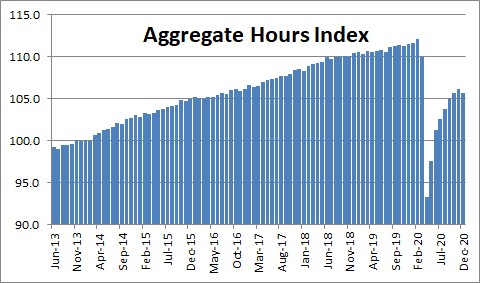 The factory workweek was unchanged in December at 40.2 hours after having fallen 0.2 hour in November.  The manufacturing sector continues to recover from its collapse in April.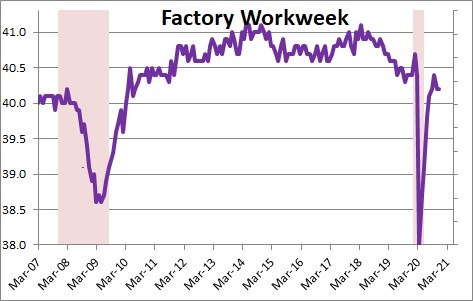 Overtime hours rose 0.2  hour in December to 3.3 hours after having declined 0.1 hour in November.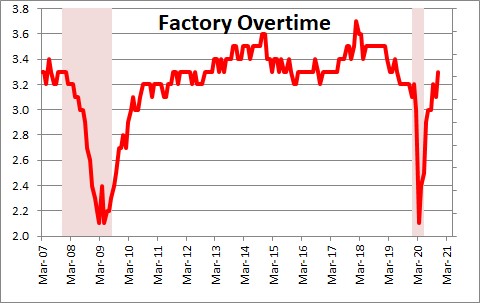 Given the steady gains in the aggregate  hours index we project an increase of 7.0% in Q4 GDP after having risen 33.1% in the third quarter.
Stephen Slifer
NumberNomics
Charleston, SC