May 8, 2020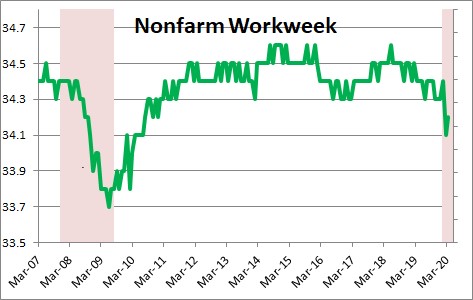 In any given month employers can boost output by either additional hiring or by lengthening the number of  hours that their employees work.  Payroll employment for March fell 701 thousand as restaurants and bars closed, retail jobs declined, doctors and dentists offices closed, construction and factory jobs declined.  Almost certainly the expansion came to an end in February 2020 and the recession began in March.
The nonfarm workweek rose 0.1 hour in April to 34.2 after having declined 0.3 hour in March to 34.1 hours which is the shortest workweek in almost a decade.
The declines in  employment and hours worked are reflected in the aggregate hours index which fell  fell 14.8% in April after having declined  1.5% in March.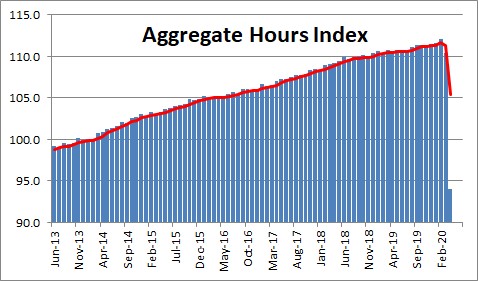 The factory workweek plunged by 2.1  hours in April to 38.3 after  having declined 0.3 hour in March,  This implies a huge drop in industrial production in April.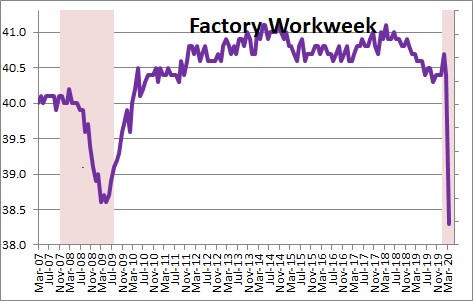 Overtime hours declined 0.9 hour in April to 2.1 hours after having fallen 0.2 hour in March.  The overtime hours for April was the least amount of overtime hours since May 2009.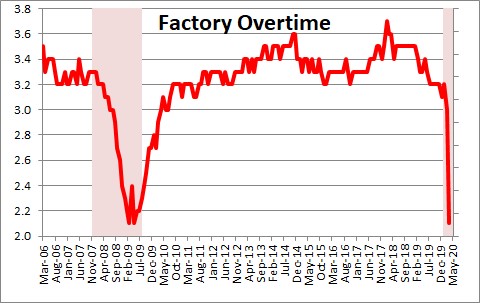 For what it is worth, if jobs fall again in May but rebound sharply in June it appears that Q2 GDP is on track to decline by 60.0%.  However, that figure will not be released until the end of July.  Prior to its release we will receive employment data for May and June as well as other important indicators, so the forecast will get fine-tuned between now and then.  But whatever it turns out to be, it will be a record decline in GDP.  If we see a drop of that magnitude, it will raise the question of whether the tactic of trying to halt the spread of the virus by shutting down the economy was worth the cost.
However, the virus is showing some signs of slowing down its rate of spread.  At the same time the government's $2.5 billion in fiscal stimulus is quickly spreading into the economy.  As a result we , anticipate an increase in GDP of 50% or so in Q3 and 7.0% growth in the fourth quarter.
Stephen Slifer
NumberNomics
Charleston, SC