December 2, 2022
*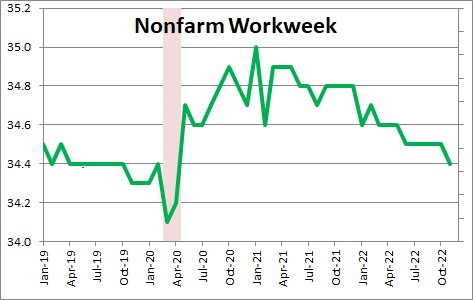 In any given month employers can boost output by either additional hiring workers or by lengthening the number of  hours that their employees work.  Payroll employment climbed by 263 thousand in November..  However, firms chose to work existing employees shorter hours as the nonfarm workweek fell 0.1 hour to 34.5 hours.  While both hours and employment have shrunk from where they were earlier in the year, the labor market has held up remarkably well given the higher inflation and sharply higher interest rates.
The changes in  employment and hours worked are reflected in the aggregate hours index which is on track to increase 1.5% in the fourth quarter.  That seems to imply that fourth quarter GDP growth will be positive by perhaps 1.5% after having risen 2.9% in the third quarter.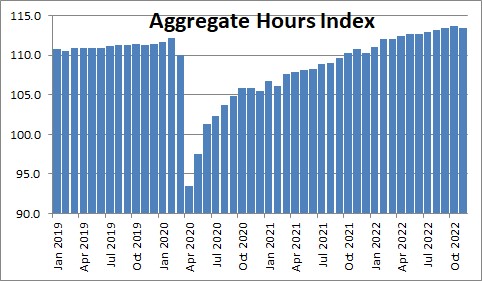 The factory workweek fell 0.2 hour in November to 40.2 hours after having risen 0.1 hour in October  The manufacturing sector continues to slow in response to higher interest rates.  At the same time  it is being hampered by an inability to find an adequate number of skilled workers.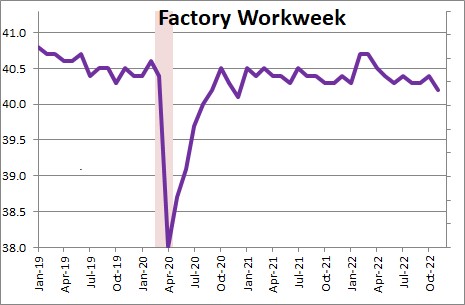 Overtime hours declined by 0.1 hour in November to 3.1 hours after having been unchanged in October.  As manufacturers fear a recession at some point in the relatively near future they are beginning to adjust to the prospect of reduced demand by slightly reducing overtime hours.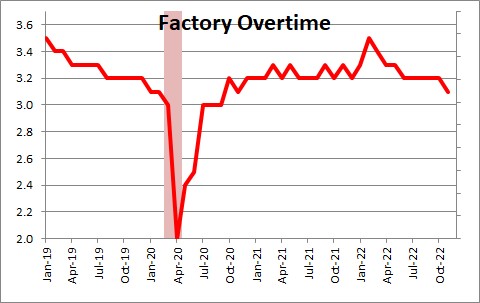 Stephen Slifer
NumberNomics
Charleston, SC