September 3, 2021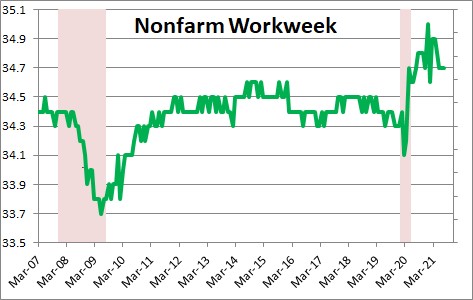 In any given month employers can boost output by either additional hiring or by lengthening the number of  hours that their employees work.  Payroll employment rose by 243 thousand in August.  In addition to hiring people, businesses can also lengthen the hours of existing employees.  The nonfarm workweek was unchanged in August at 34.7 hours which is where it has been for the past three months.    We suggest that the small-than-expected increase in employment in August reflects the difficulty employers are having finding workers for a variety of reasons — a lack of appropriate skills, an inability to pass the requisite drug test, and generous employment benefits amongst them.
The changes in  employment and hours worked are reflected in the aggregate hours index which rose 0.2% in August after having increased 0.6% in July..  This index is on track to increase 5.4% in the third quarter which, when combined with an expected 2.4% increase in productivity, should produce GDP growth of 8.0%.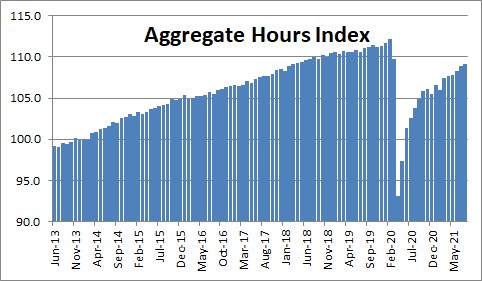 The factory workweek declined 0.3 hour in August to 40.4 hours after having risen 0.3 hour in July.  The manufacturing sector continues to recover from the March/April 2020 recession.  But at the same time factory production is being hampered by an inability to find an adequate number of skilled workers, lengthy delays in receiving required materials, dramatic increases in commodity prices which makes it difficult to produce an affordable product.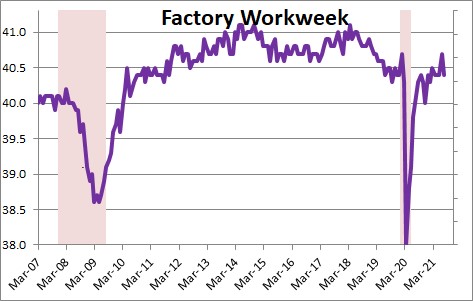 Overtime hours were unchanged in July at 3.2 hours..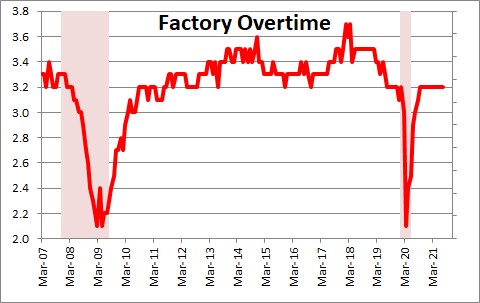 Stephen Slifer
NumberNomics
Charleston, SC