January 10, 2020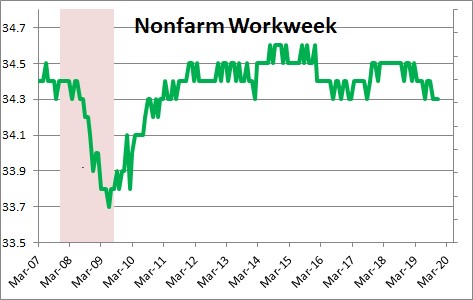 In any given month employers can boost output by either additional hiring or by lengthening the number of  hours that their employees work.  Payroll employment for December rose 145 thousand.  On average jobs are climbing by about 185 thousand per month which is  slower than the 223 thousand workers hired monthly in 2018.  About 16 thousand of the slower employment gains this year are attributable to the manufacturing sector which is legitimately weak,  But the remainder of the slowdown is attributable to the fact that the economy is at full employment.   Qualified workers become very difficult to find.
The nonfarm workweek was unchanged in December at 34.3 hours  This series has been bouncing around between 34.3 and 34.5 hours for the past year.  The current elevated level of the workweek  in most industries implies that employers are in need of workers and will continue to hire at a meaningful pace in the months ahead.
The increases in  employment and hours worked are reflected in the aggregate hours index which rose 0.1% in December after having climbed 0.2% in November.  For the quarter this index rose 1.1% which when combined with a projected increase in productivity of 1.3% gives us our projected GDP growth rate for the fourth quarter of 2.4%.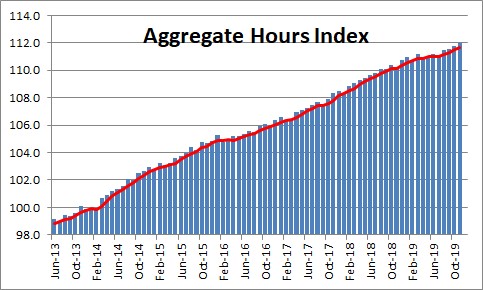 The factory workweek was unchanged in December at 40.5  hours after having risen 0.2 hour in November.  The factory workweek is lower than it was a year ago which reflects the toll  tariffs are taking on the manufacturing sector..  We expect the factory sector to be essentially unchanged for the next several months.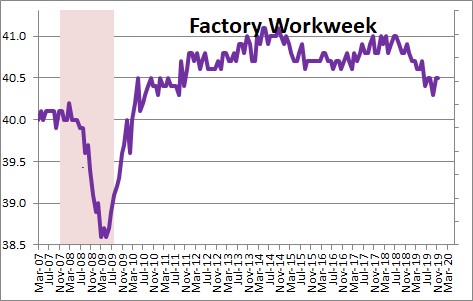 Overtime hours were unchanged in December at 3.2 hours.  They have declined in the past year which, like the factory workweek, reflects the impact of the tariffs.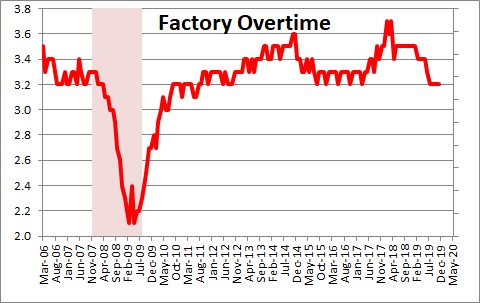 The economy continues to expand at a respectable pace.  We currently expect GDP to increase 2.4% in 2020.  The economy is currently being supported by robust growth in consumer spending and moderate growth in investment, but is being dragged down somewhat by the manufacturing sector.
Stephen Slifer
NumberNomics
Charleston, SC