September 9, 2023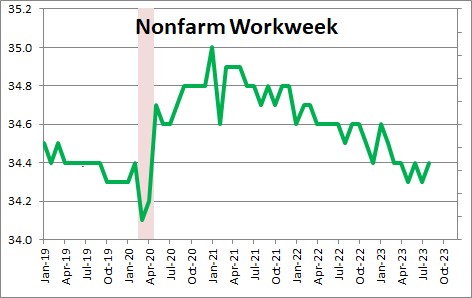 In any given month employers can boost output by either additional hiring workers or by lengthening the number of  hours that their employees work.  Payroll employment climbed by 187 thousand in July. At the same time the nonfarm workweek rose  0.1 hour to 34.4hours.  That 0.1 hour increase in the workweek is very powerful.  If, instead, employers had chosen to keep hours worked steady in August at 34.3 hours, they would have needed to boost payroll employment by an additional 455 thousand workers to produce the same amount of output, and we would have seen an increase in payroll employment of 642 thousand.
While both hours and employment have shrunk from where they were at the beginning of last year, the labor market has held up remarkably well given the higher inflation and sharply higher interest rates.   Keep in mind that prior to the recession the workweek was 34.4 hours.  So while hours worked may be significantly shorter than the 35.0 hours peak in early 2021, they are exactly the same as they were going into the recession.  It appears that employers are choosing to cut hours worked by existing employees as demand slackens rather than reduce headcount.
The changes in  employment and hours worked are reflected in the aggregate hours index which is likely to be rise slightly in the third quarter.  However, we are currently projecting third quarter GDP growth of 2.6% because the demand side components remain relatively strong.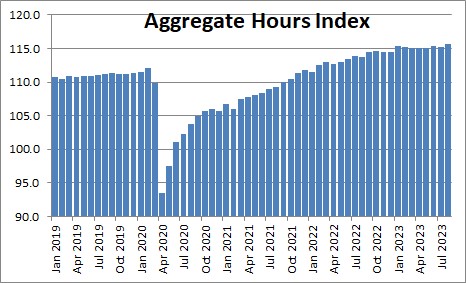 The factory workweek was unchanged in August at 40.1 hours after being unchanged at 40.1 hours in July.   The manufacturing sector has been slowing gradually in response to higher interest rates, but the workweek now seems to have plateaued at a somewhat shorter length of time.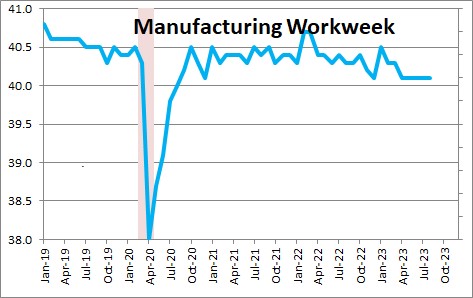 Overtime hours fell 0.1 hour in August to 3.0 hours after having risen 0.1 hour in July.    Manufacturers are finally beginning to adjust to the prospect of reduced demand by reducing overtime hours.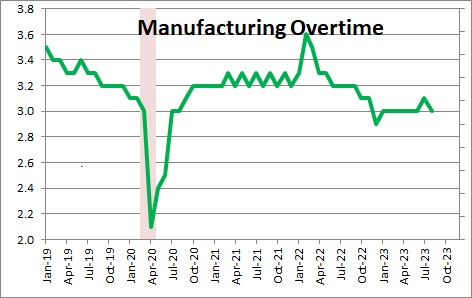 Stephen Slifer
NumberNomics
Charleston, SC