April 2 2021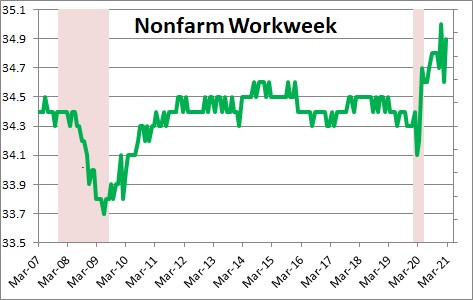 In any given month employers can boost output by either additional hiring or by lengthening the number of  hours that their employees work.  Payroll employment rose 916 thousand in March.  In addition to hiring people, businesses can also lengthen the hours of existing employees.  The nonfarm workweek rose 0.3 hour in March to 34.9 hours after having declined 0.3 hour in February.  The February level of 34.9 hours was just fractionally below the January level of 35.0 hours which was the longest workweek on record. The February decline in hours worked and its subsequent rebound in March were both largely attributable to the series of snow and ice storms that paralyzed much of the Midwest and Northeast in February.
The changes in  employment and hours worked are reflected in the aggregate hours index which rose 1.5% in March to 107.3 after having declined 0.8% in February.  The aggregate  hours index the first quarter rose 3.0% which is reasonably consistent with our projected GDP growth rate of 6.0% in that quarter.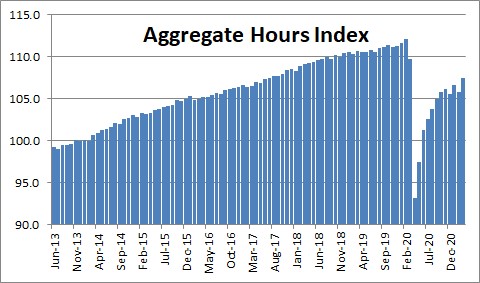 The factory workweek rose 0.2 hour in March to 40.5 hours after having declined 0.1 hour in February.  The manufacturing sector continues to recover from the March/April 2020 recession.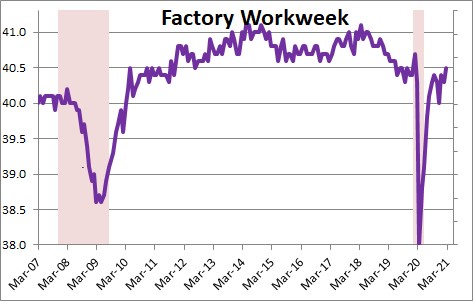 Overtime hours rose 0.1 hour in March to 3.3 hours after having been unchanged in February.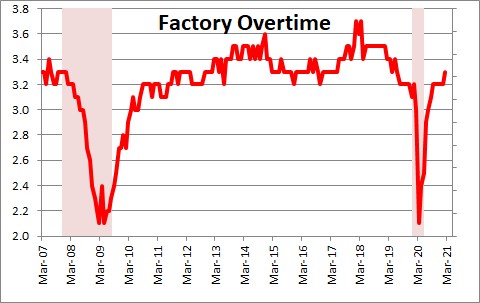 Stephen Slifer
NumberNomics
Charleston, SC