July 2, 2020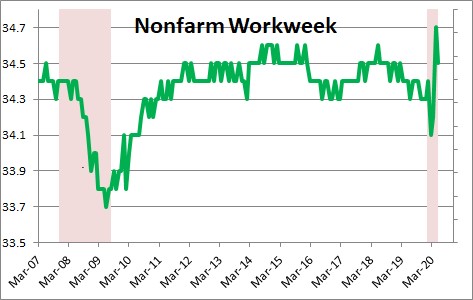 In any given month employers can boost output by either additional hiring or by lengthening the number of  hours that their employees work.  Payroll employment jumped 4,800 thousand workers in May after having risen 2,699 thousand in May and having declined 20,687 thousand in April
The nonfarm workweek declined 0.2 hour in June to 34.5 hours after having surged by 0.5 hour in May to 34.7 hours.  The May level of the workweek was the longest workweek on record so it is not surprising that it retrenched somewhat in June.
The declines in  employment and hours worked are reflected in the aggregate hours index which rose 3.6% in June to 100.9 after having risen 2.1% in May to 138.3 after having fallen 13.8% in April and 0.8% in March.  The quarterly average for the second quarter is 50.3%below its quarterly average for the first quarter.  As a result, it appears that Q2 GDP is on track to decline by 50.0%.  That figure will not be released until the end of July.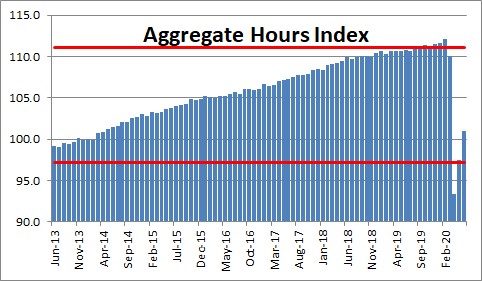 The factory workweek rose 0.5 hour in June to 39.2 after having risen 0.7 hour in May to 38.7 after having plunged by 2.4  hours in April to 38.0.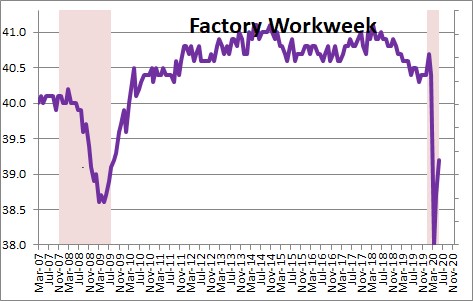 Overtime hours were unchanged in June at 2.4 hours after having risen 0.3 hour in May after having declined 0.9 hour in April to 2.1 hours.  The overtime hours for April was the least amount of overtime hours since May 2009.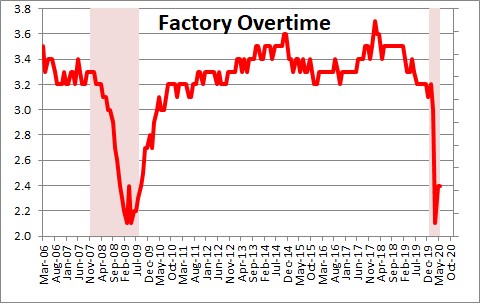 However, the government's $2.5 billion in fiscal stimulus is quickly spreading into the economy.  As a result we anticipate an increase in GDP of 50% or so in Q3 and 7.0% growth in the fourth quarter.
Stephen Slifer
NumberNomics
Charleston, SC