October 2, 2020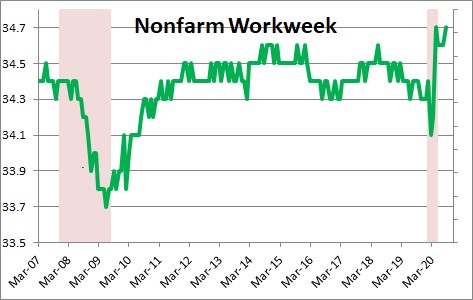 In any given month employers can boost output by either additional hiring or by lengthening the number of  hours that their employees work.  Payroll employment rose 661 thousand in September.
The nonfarm workweek rose 0.1 hour in September to 34.7 hours.  That 0.1 hour increase is the equivalent of an additional 409 thousand workers.  So if employers had chosen (or been able) to hire more bodies rather than lengthen the workweek, payroll employment would have risen 1,070 thousand workers in September.
The declines in  employment and hours worked are reflected in the aggregate hours index which rose 0.5% in September after climbing 1.0% in August and 1.3% in July.  The drop in the aggregate hours index in the second quarter is why GDP fell 31.7% in that quarter.  However, the index has risen steadily in each of the past five months.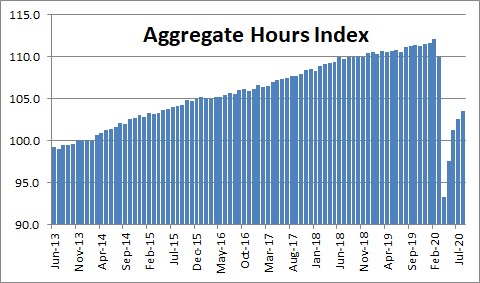 The factory workweek rose 0.2 hour in September to 40.2 after having risen 0.2 hour in August and 0.8 hour in July..  The manufacturing sector continues to recover from its collapse in April.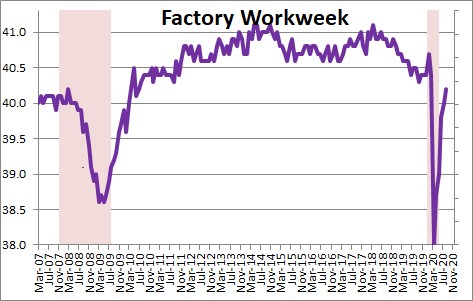 Overtime hours were fell 0.1 hour in September to 2.9 hours after having risen 0.1 hour in August and  0.4 hour in July.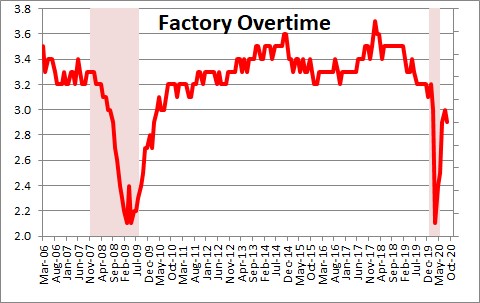 The government's $3.0 trillion in fiscal stimulus has quickly spread into the economy.  As a result we anticipate an increase in GDP of 28% or so in Q3 and 7.0% growth in the fourth quarter.
Stephen Slifer
NumberNomics
Charleston, SC