November 1, 2019
Occasionally, a single piece of information can alter the economic outlook.  As has been the case fairly often in the past, the catalyst is the employment report.  That was certainly true this time with the payroll employment data for October.  Employment rose moderately in that month and there were significant upward revisions to the previous two months.  Instead of threatening to weaken decisively, the labor market appears to have softened far less than had been thought just one month ago.  If that were not enough the Institute for Supply Management index describing conditions in the factory sector rebounded moderately in October as export orders rebounded vigorously.  While the manufacturing sector is still contracting, the slide is of modest dimensions.  We believe that the economy is likely to expand at a moderate 2.4% rate in 2020.  Others fear a far more significant drop-off in growth.  Given these latest data it is hard to envision such an outcome.
Payroll employment for October rose 128 thousand.  However, that excludes 42 thousand G.M. workers who were on strike during the survey week which means that in the absence of the strike the increase would have been 170 thousand.  Given that they have now returned to work, the November increase in employment will be boosted by a comparable amount and we could see an employment gain in excess of 200 thousand in that month.  In addition, employment for August was revised upward by 51 thousand and September was revised upward by 44 thousand.  As a result of all these changes the 3-month moving average of payroll employment is now 176 thousand.  Previously it appeared that the trend rate had slipped to perhaps 140 thousand.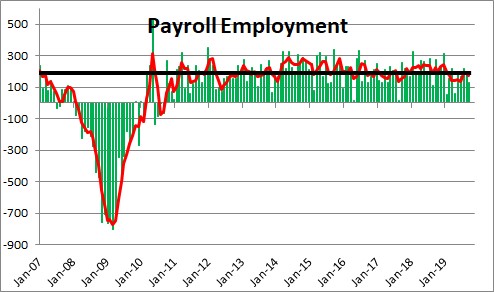 Last year payroll employment rose 223 thousand.  At 176 thousand it is currently climbing by about 50 thousand per month less rapidly.  Many suggest that this slower pace of hiring is attributable to a reduced pace of economic activity.  We disagree.  Most of the slowdown is attributable to the tight labor market.
Last year factory employment rose 20 thousand per month.  Today such hiring is about 5 thousand monthly.  So perhaps 15 thousand of the slowdown this year has been attributable to the legitimately weak manufacturing sector as tariffs take their toll.  But the remaining 35 thousand of the smaller employment gain has been caused primarily by the fact that the labor market is tight.  Firms may want to hire additional workers, but qualified workers are in short supply.  Thus, we conclude that most of the current slower growth in employment has been caused by a shortage of workers rather than being an indicator of economic weakness.
Keep in mind that the labor force is currently climbing by about 125 thousand per month.  If employment climbs by about 175 thousand in the months ahead, the unemployment rate will continue to decline slowly.  The labor market is getting progressively tighter with each passing month — not weaker.  The significantly stronger pace of hiring is undeniably good news.
But the good news keeps on coming.  The Institute for Supply Management's purchasing managers index for October rose 0.5 point from 47.8 to 48.3.  It is still below the break even level of 50.0 for the third month in a row.
However, a couple of things.  First, this index has fallen below 50 on a couple of occasions in recent years — two months in late 2012, and five months in late 2015-early 2016 — and the economy kept plodding along.  Second, keep in mind that the manufacturing sector is only 11% of the economy.  Service sector employment, by contrast, is almost 2/3 of the economy and it is expanding at about a 2.5% pace.  Compare the ISM index for manufacturing vs. non-manufacturing.  They are going in entirely different directions.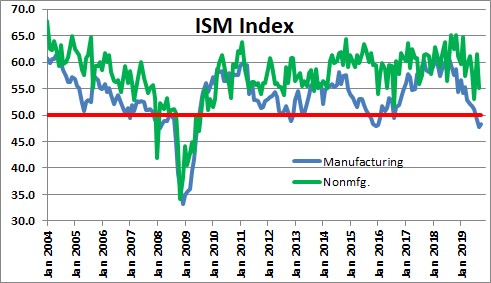 Perhaps the most interesting part of the October report on the factory sector is that export orders are not nearly as weak as the ISM report indicated one month ago.  In fact, the export orders component jumped 9.4 points in October to 50.4 after having fallen a comparable amount in the previous three months.  At its current level of 50.4, export orders are rising slightly.  At 41.0 a month ago it appeared that such orders were in a serious tailspin and had fallen to a level last seen in the midst of the 2008-09 recession.  The data for October paint an entirely different picture.  Given that the manufacturing sector is the one truly weak part of the economy, it is comforting to know that it is contracting only slightly and not falling off a cliff.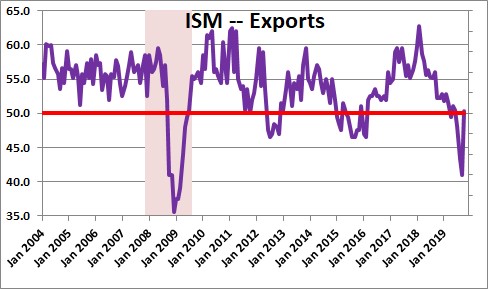 When we put all of this together, we will start with fourth quarter GDP growth projected to be 2.4% after having risen 1.9% in the third quarter.  There is nothing we can see that suggests the economy is about to weaken.  We look for roughly 2.4% GDP growth continuing throughout 2020.
All is well.
Stephen Slifer
NumberNomics
Charleston, S.C.