January 7, 2022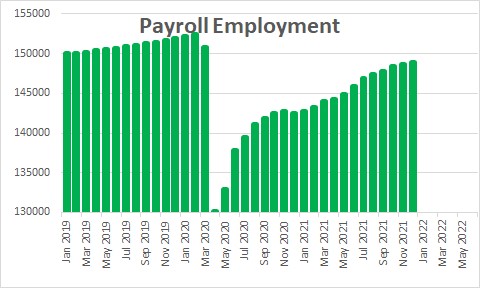 Payroll employment rose by 199 thousand in December which was less than the expected increase of 450 thousand. This compares to an increase of 648 thousand in October and 249 thousand in November.  On the surface the December gain seems anemic.  But this is only one piece of the story.  Payroll employment measures the number of workers that are on a company's payrolls.  It does NOT include self-employed workers.  In December civilian employment, which is derived from the data used to calculate the unemployment rate, rose 651 thousand versus the increase in payroll employment gain of 199 thousand.  . In November payroll employment rose 240 thousand while civilian employment climbed by 1,090 thousand. There are always differences  between the two measures of employment on a monthly basis.  They are, after all, calculated from different surveys.  But the month-to-month differences are never this large.  Over time the two surveys seem to show roughly comparable gains in employment.  But the difference this time cannot  be explained by month to month wiggles.  Since the recession ended in April 2020 payroll employment has risen by 18,790 thousand.  Civilian employment, in contrast, has risen 22,605 thousand.  For whatever reason, workers are less inclined to look to a company for employment.  They are increasingly venturing out on their own and starting businesses or becoming contract workers where they are employed on a job-by-job basis.  They do not work for that particular company.  To get an overall sense of what is going on we are increasingly having to focus on civilian employment rather than the payroll employment data.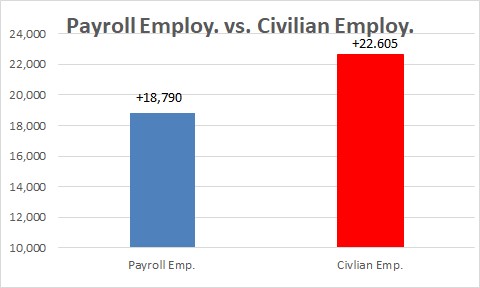 .In addition to hiring people, businesses can also lengthen the hours of existing employees.  The nonfarm workweek was unchanged in December 1t 34.7 hours where it has been each  month since October.  If employers cannot find enough bodies to hire, an alternative is to ask their existing employees to work somewhat longer hours.  It has been bouncing around at a high level for months.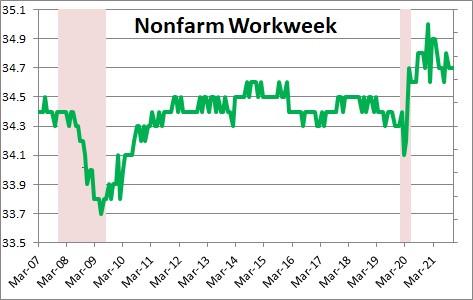 This shift in the labor market seems to explain why job openings are at a record high level and not getting filled.  People would prefer to work for themselves than work for somebody else.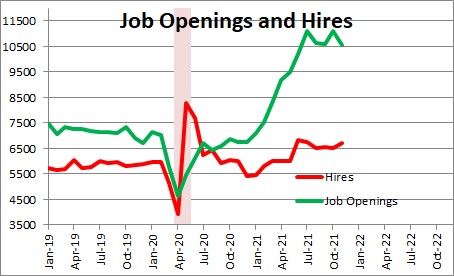 The changes in  employment and hours worked are reflected in the aggregate hours index which rose 0.2% in December after rising 0.3% in November.  This index  increased 4.6% in the fourth quarter which, given a  moderate increase in productivity, should produce a 7.5% GDP growth rate in that quarter.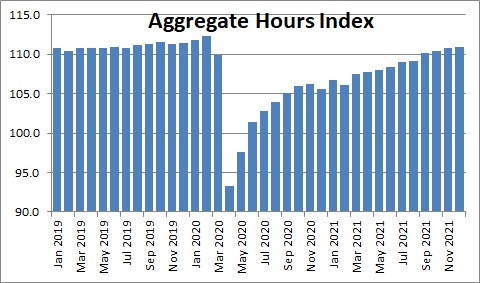 The demand side of the economy remains robust but the problem is that the production side of the economy is struggling to find enough workers to satisfy demand and work around significant delays in getting the materials necessary for production.
Jobs in the leisure and hospitality industries where employment  increased  53 thousand in December after climbing 41 thousand in November and 211 thousand in October.  Employment in this sector is still 1.2 million below the February 2020 pre-recession level.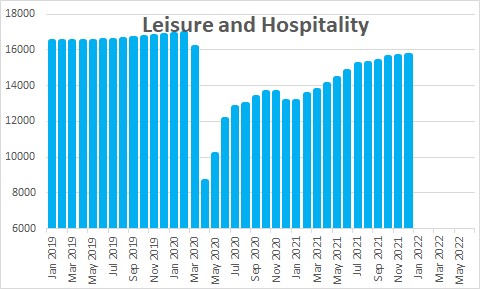 Elsewhere, jobs in the retail sector fell 2 thousand .  Manufacturing employment rose by 26 thousand.  Construction employment climbed by 22 thousand.   Health care and social services employment gained 6 thousand.  Info tech jobs  were unchanged.  Transportation and warehousing gained 19 thousand.  Professional and business services climbed by 43 thousand.   Financial sector jobs increase 8 thousand.  Public sector education employment  rose 3 thousand while private sector education employment rose by 3 thousand.
Given these employment gains we expect GDP growth of 7.4% in the fourth quarter and 4.9% in 2022..
Stephen Slifer
NumberNomics
Charleston, S.C.