February 7, 2020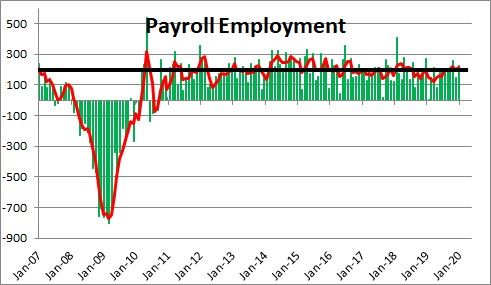 Payroll employment rose 225 thousand in January after having climbed 147 thousand in December and 261 thousand in November.  The  3-month moving average of payroll employment is now 211 thousand.  Thus, the pace of hiring has remained remarkably steady —  193 thousand per month in 2018, to about 175 thousand in 2019.  After the annual benchmark revision the smaller employment gains last year are attributable to the softness in manufacturing.  Factory jobs increased 22 thousand per month in 2018 but just 5 thousand in 2019.   Labor force growth rose about 135 thousand in the past year.  With employment gains continuing to exceed growth in the labor force, the unemployment rate should continue to decline slowly.
Amongst the various employment categories construction employment rose 44 thousand in January after climbing 11 thousand in December.  Over the past year construction employment has risen by 12 thousand per month.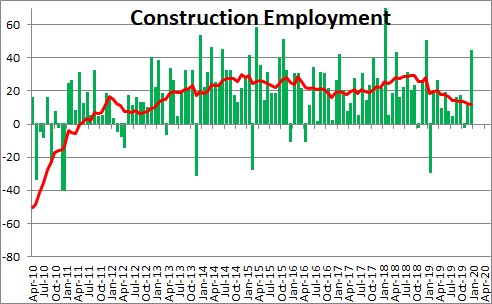 Manufacturing employment fell by 12 thousand in January after having declined 5 thousand in December after having climbed by 54 thousand in November.  Factory employment is now rising by about 2 thousand per month.  It is struggling as the tariffs take a toll on growth on the goods sector but recent purchasing managers data suggest the downward bias from tariffs may be coming to an end.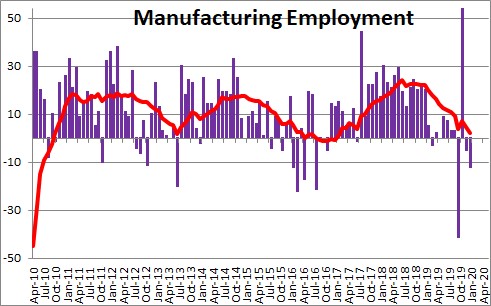 Elsewhere, health care  climbed by 36 thousand.   Professional and business services increased 21 thousand in January   Transportation and warehousing climbed 28 thousand.  Retail employment declined 8 thousand.  Employment in leisure and hospitality establishments climbed by 36  thousand.
In any given month employers can boost output by either additional hiring or by lengthening the number of  hours that their employees work.  The nonfarm workweek was unchanged in January at 34.3 hours.  It has been bouncing around between 34.3 and 34.5 hours for the past year.  The still  elevated level of the workweek  in most industries implies that employers are in need of workers and will continue to hire at a meaningful pace in the months ahead.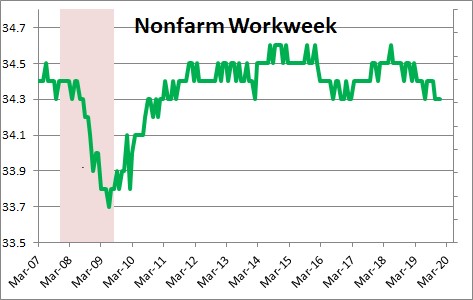 The increases in  employment and hours worked are reflected in the aggregate hours index which rose 0.2% in January to 111.5 after having rise 0.1% in December.  The index rose 1.3% in the fourth  quarter.  It appears to be on track for a similar gain in the first quarter.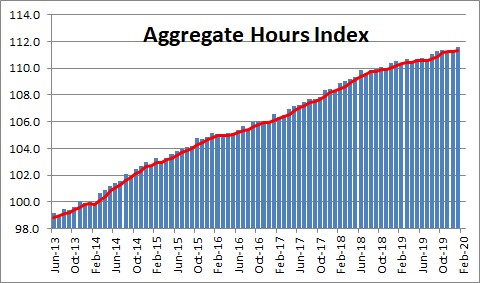 .There is no doubt that the consumer sector of the economy is expanding at roughly a 2.5% pace.   The stock market is at a record level. Consumer confidence remains at a relatively high level consistent with a roughly 2.5% pace of consumer spending.
The sectors of the economy that remains under pressure are the various production industries.  They are largely unchanged.  As noted earlier, factory employment is barely increasing.  Construction employment has been rising slowly but steadily.  Mining employment is essentially unchanged.  The service sector, however, is booming.
Looking ahead, steady consumer spending and continued rapid growth rate in investment should cause  GDP to grow 2.4%  in 2020.
Stephen Slifer
NumberNomics
Charleston, S.C.