October 8, 2021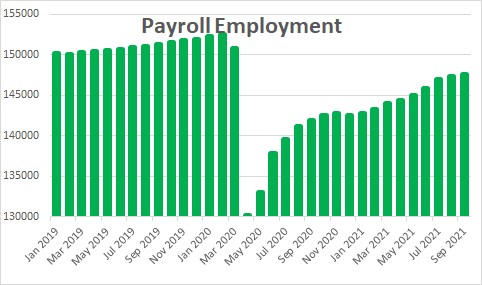 Payroll employment rose by a much-smaller-than-expected 194 thousand in September but the July and August data were revised upwards.  August revised upwards from a gain of 235 thousand in August to an increase of 366 thousand and July rose 1,091 thousand versus 1,053 thousand previously.  The relatively small gain in September seems top reflect the upswing in COVID cases in that month.  It is possible that some potential workers stayed home rather than look for a  job in that month.  We do not interpret this smaller-than-expected increase in September to be an indicator of emerging economic weakness.
In addition to hiring people, businesses can also lengthen the hours of existing employees.  The nonfarm workweek rose 0.2 hour in September to 34.8 hours.  If employers cannot find enough bodies to hire, an alternative is to ask their existing employees to work somewhat longer hours.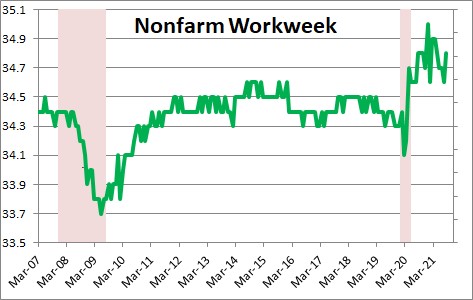 In our view the small gains in employment in August and September point to an inability of firms to hire as many as people as they need.  While payroll employment rose a meager 366 thousand in August and 194 thousand in September it is clear that the demand for workers was far greater. Firms do not work existing employees longer hours or sharply boost their hourly wages if demand is softening.  If COVID continues to retreat workers will emerge from their homes and once again begin to look for a job and, at last, firms may be able to hire some of those workers that they desperately need.
The changes in  employment and hours worked are reflected in the aggregate hours index which jumped 0.8% in September to 109.7 after having been unchanged in  August and climbing 0.6% in July.  This index increased 4.9% in the third quarter which, combined with an expected 2.1% increase in productivity should produce GDP growth of 7.0% or so in Q3.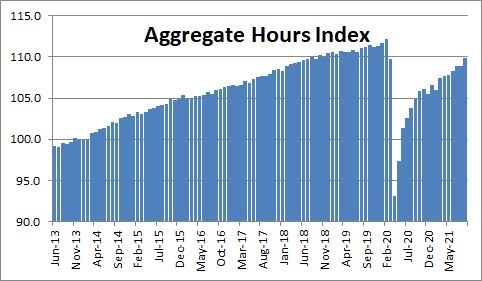 The demand side of the economy has softened somewhat in the third quarter as the virus spread rapidly.   The demand side of the economy remains robust but the problem is that the production side of the economy is struggling to find enough workers to satisfy demand and work around significant delays in getting the materials necessary for production.
The small increase in employment in September was led by led by the leisure and hospitality industries where employment  increased 74 thousand in September after rising far more rapidly earlier in the summer.  As COVID slows this category should quicken.  Employment in this sector is still 1.6 mullion below the February 2020 pre-recession level.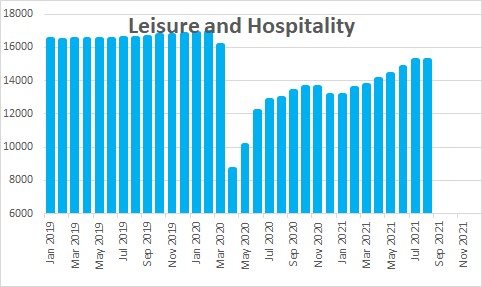 Elsewhere, jobs in the retail sector rose 56 thousand .  Manufacturing employment rose by 26 thousand.  Construction employment climbed by 22 thousand.   Health care and social services employment gained 12 thousand.  Info tech jobs rose 32 thousand.  Transportation and warehousing gained 47 thousand.  Professional and business services climbed by 60 thousand.   Financial sector jobs increase 2 thousand.  Public sector education employment  fell by 160 thousand while private sector education employment declined by 19 thousand.
Given these employment gains we expect GDP growth of 7.0% growth in Q3 and 10.5% in Q4.
Stephen Slifer
NumberNomics
Charleston, S.C.