January 8, 2021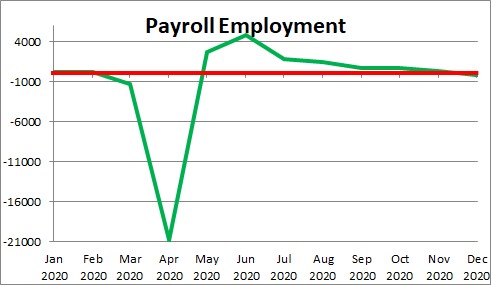 Payroll employment declined 140 thousand in December after having risen 336 thousand in November and 654 thousand in October.  Clearly, employment growth has come to a temporary halt as the corona virus takes its toll.  But this should be viewed as a temporary decline which could continue into the first couple of months of this year.  But two vaccines are already being distributed with more to come.  In addition, tax refund checks from the $900 billion stimulus package enacted in December should bolster hiring in the first quarter, and our leaders in Washington have made it clear that yet another fiscal stimulus package is in the works shortly after Biden takes office.
The decline in employment in December was almost exclusively in the leisure and hospitality industries which declined 498 thousand.  Within that category, employment in food service and drinking places fell 372 thousand, amusements, gambling and recreation declined 92 thousand, and employment in the accommodation industry fell 24 thousand.   Jobs in private education decreased by 63 thousand  in December.  Clearly, the employment drop reflects restrictions placed on these various types of employment in an effort to contain the pandemic.  Elsewhere jobs continued to climb at a moderate pace.  Temp help service employment rose 68 thousand.  Management jobs rose 11 thousand.  In health care jobs climbed by 39 thousand.  Construction increased 51 thousand.  Factory employment rose by 38 thousand.  Retail employment rose by 121 thousand. Jobs in wholesale trade rose 25 thousand in December.
In addition to hiring people, businesses can also lengthen the hours of existing employees.  The nonfarm workweek declined 0.1 h our to 34.7 hours after having been steady at 34.8 hours in each of the previous three months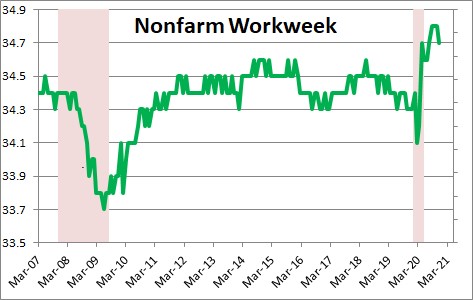 The changes in  employment and hours worked are reflected in the aggregate hours index which fell 0.4% in December to 105.6 after having risen 0.4% in November and 0.8% in October.  With the strength in the index in October and November the average for the fourth quarter was still 8.0% higher than it was in Q3 which suggests that fourth quarter GDP is likely to rise by a roughly comparable amount.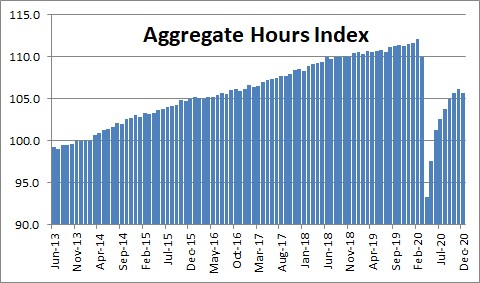 Given the sharp drop in employment beginning in March and continuing into April, the National Bureau of Economic Research has concluded that the expansion ended in February 2020 and the recession began in March 2020.    Given that employment rose sharply in both May and June, the NBER will likely mark the end date of the recession in April  If that happens the recession will have lasted just two months, far shorter than the average length of 8 months.
Stephen Slifer
NumberNomics
Charleston, S.C.