March 30, 2020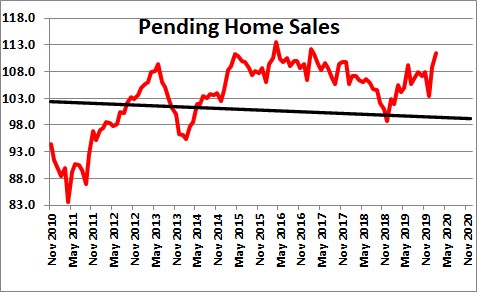 .Pending home sales climbed 2.4% in February to 111.5 after having jumped 5.3% in January.     In the past year pending home sales have risen 9.4%.
Lawrence Yun, the Chief Economist for the National Association of Realtors said that "February's pending sales figures show the housing market had been very healthy prior to the corona virus-induced shutdown," He noted that, "The data does not capture the significant fallout from the pandemic or the measures taken to control the outbreak. Numbers in the coming weeks will show just how hard the housing market was hit, but I am optimistic that the upcoming stimulus package will lessen the economic damage and we may get a V-shaped robust recovery later in the year."
This  series on pending home sales is collected by the National Association of Realtors and represents contracts signed, but not yet closed, on existing home sales.  Thus, it is both a leading indicator of existing home sales and housing market activity in general.   Not all these contracts go to completion.  The buyer may not qualify for a mortgage, the house may not appraise at a sufficiently high value, or the house may fail the buyer's inspection.  But the series is clearly indicative of changes in housing market activity.
Stephen Slifer
NumberNomics
Charleston, SC