November 27, 2019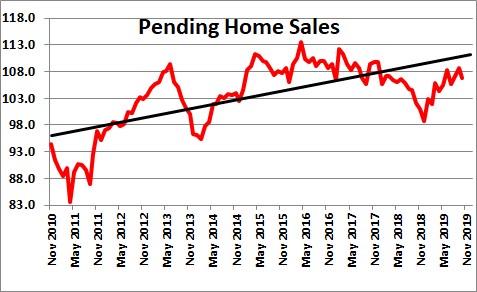 .Pending home sales fell 1.7% in October to 106.7 after having risen 1.4% in September   The upswing that began at the beginning of this year remains in place.  In the past year pending home sales have 4.4%.
Lawrence Yun, NAR chief economist noted that "While contract signings have decreased, the overall economic landscape remains favorable,  Mortgage rates continue to be low at below 4% – which will attract buyers – employment levels are strong and many recession claims have dissipated."
There is currently 3.9 month supply of homes available for sale.  Realtors suggest that the supply of and demand for housing is roughly in balance when there is a 6.0-month supply.  We are not even close.  As price gains slow, homeowners may believe that further rapid appreciation has come to an end and be more inclined to put their house on the market.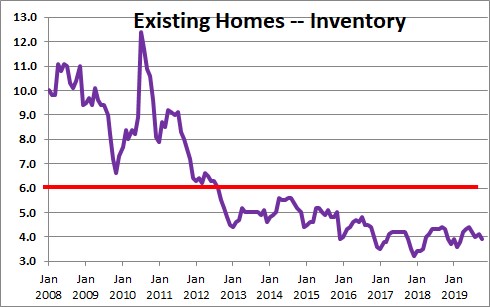 On the demand side the National Association of Realtors publishes a housing affordability index that now stands at about 165.0.  What that means is that potential buyers have 65% more income than is necessary to buy a median priced home (compared to 14% in 2007).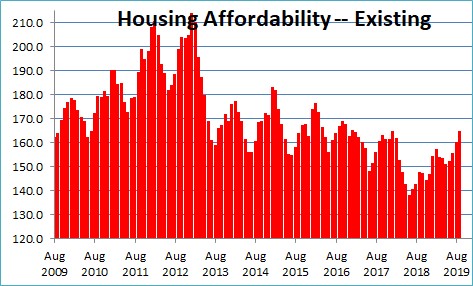 .Keep in mind, too, that the the average home stays on the market for just 36 days which compares to about 100 days when the NAR began collecting this statistic in 2011.  The NAR reports that 49% of homes that come on the market sell within a month.
.This  series on pending home sales is collected by the National Association of Realtors and represents contracts signed, but not yet closed, on existing home sales.  Thus, it is both a leading indicator of existing home sales and housing market activity in general.   Not all these contracts go to completion.  The buyer may not qualify for a mortgage, the house may not appraise at a sufficiently high value, or the house may fail the buyer's inspection.  But the series is clearly indicative of changes in housing market activity.
Stephen Slifer
NumberNomics
Charleston, SC