August 27, 2020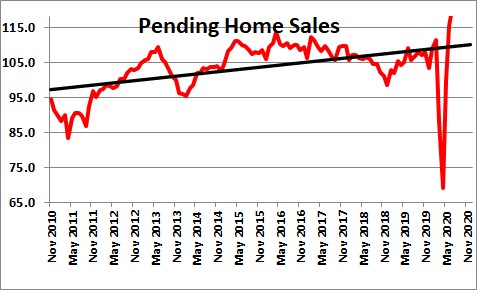 Pending home sales climbed by an additional 5.9% in July to 122.1 after rising 15.8% in June and by a record 44.3% in May, but after having plunged 21.8% in April and  20.8% in March as dramatic measures to halt the spread of the corona virus  shut down the U.S. economy.  But as the economy has begun to re-open sales have surged.
Lawrence Yun, the Chief Economist for the National Association of Realtors said that "We are witnessing a true V-shaped sales recovery as home buyers continue their strong return to the housing market.  Prospective buyers missed most of the spring buying season due to pandemic-induced lockdown measures. With nearly all states at least partially reopened, the market is experiencing robust activity from the pent-up demand. There are no indications that contract activity will wane in the immediate future, particularly in the suburbs.  He added that, "Realtors are telling me there is no shortage of clients or home seekers, but that scarce inventory remains a problem.  If 20% more homes were on the market, we would have 20% more sales, because demand is that high."
This  series on pending home sales is collected by the National Association of Realtors and represents contracts signed, but not yet closed, on existing home sales.  Thus, it is both a leading indicator of existing home sales and housing market activity in general.   Not all these contracts go to completion.  The buyer may not qualify for a mortgage, the house may not appraise at a sufficiently high value, or the house may fail the buyer's inspection.  But the series is clearly indicative of changes in housing market activity.
Stephen Slifer
NumberNomics
Charleston, SC