Pending home sales rose 0.9% in July to 77.6 after climbing 0.4% in June.  The market for existing home sales have essentially been unchanged for the past five months.  Current homeowners are reluctant to put their homes on the market which would mean trading in their current 3.0-3.5% mortgage rate for a 7.2% rate.  As a result, there is very little supply of homes on the market for realtors to show their clients.
Lawrence Yun, NAR's Chief Economist said, "The small gain in contract signings shows the potential for further increases in light of the fact that many people have lost out on multiple home buying offers.  Jobs are being added and, thereby, enlarging the pool of prospective home buyers. However, rising mortgage rates and limited inventory have temporarily hindered the possibility of buying for many."
We follow this particular indicator because it is a fairly good indicator of existing home sales in the following month.   As a result, look for little change in existing home sales in August.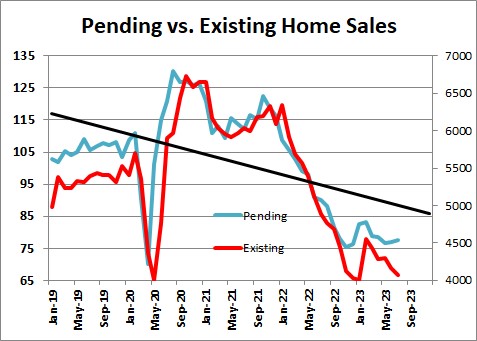 This  series on pending home sales is collected by the National Association of Realtors and represents contracts signed, but not yet closed, on existing home sales.  Thus, it is both a leading indicator of existing home sales and housing market activity in general.   Not all these contracts go to completion.  The buyer may not qualify for a mortgage, the house may not appraise at a sufficiently high value, or the house may fail the buyer's inspection.  But the series is clearly indicative of changes in housing market activity.
Stephen Slifer
NumberNomics
Charleston, SC