Pending home sales jumped 2.8% in June to 108.3 after having risen 1.1% in May.   In the past year pending home sales have risen 1.6% which in the first 12-month increase in this index sincd December 2017.
Lawrence Yun, NAR chief economist noted that  "Job growth is doing well, the stock market is near an all-time high and home values are consistently increasing. When you combine that with the incredibly low mortgage rates, it is not surprising to now see two straight months of increases,"   He added that, "Homes are selling at a breakneck pace, in less than a month, on average, for existing homes and three months for newly constructed homes.  Furthermore, homeowners' equity in real estate has doubled over the past six years to now nearly $16 trillion. But the number of potential buyers exceeds the number of homes available. We need to see sizable growth in inventory, particularly of entry-level homes, to assure wider access to homeownership."
There is currently a 4.4 month supply of homes available for sale.  Realtors suggest that the supply of and demand for housing is roughly in balance when there is a 6.0-month supply.  We are not even close.  As price gains slow, homeowners may believe that further rapid appreciation has come to an end and be more inclined to put their house on the market.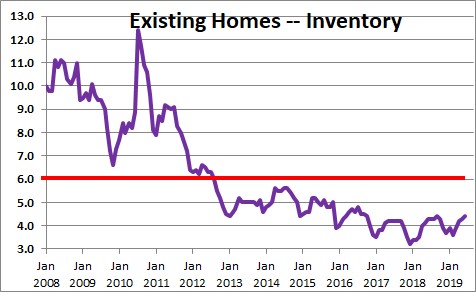 On the demand side the National Association of Realtors publishes a housing affordability index that now stands at about 150.0.  What that means is that potential buyers have 50% more income than is necessary to buy a median priced home (compared to 14% in 2007).   A few years ago potential buyers had 80-90% more income than required.  Since then home prices have risen and mortgage rates have climbed.  As a result, housing has become less affordable than it used to be, but it can hardly be regarded as "unaffordable".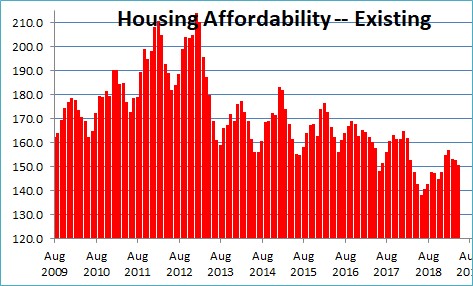 Keep in mind, too, that the the average home stays on the market for just 27 days which compares to about 100 days when the NAR began collecting this statistic in 2011.  The NAR reports that 55% of homes that come on the market sell within a month.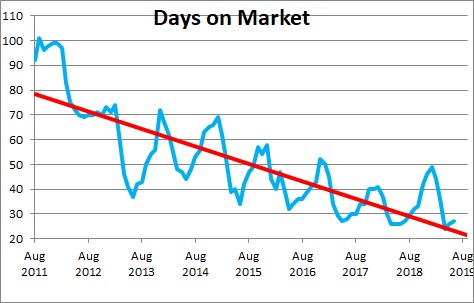 This  series on pending home sales is collected by the National Association of Realtors and represents contracts signed, but not yet closed, on existing home sales.  Thus, it is both a leading indicator of existing home sales and housing market activity in general.   Not all these contracts go to completion.  The buyer may not qualify for a mortgage, the house may not appraise at a sufficiently high value, or the house may fail the buyer's inspection.  But the series is clearly indicative of changes in housing market activity.
Stephen Slifer
NumberNomics
Charleston, SC