January 29, 2020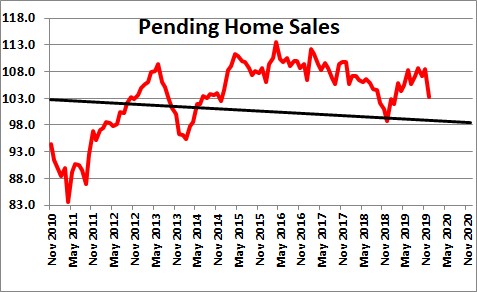 Pending home sales plunged 4.9% in December to 103.2 after having risen 1.2% in November.   That is a big drop and it was evident in every region of the country with the biggest decline occurring in the South.  However, the upswing that began at the beginning of last year remains in place.  In the past year pending home sales have 4.6%.
Lawrence Yun, NAR chief economist noted that "Mortgage rates are expected to hold under 4% for most of 2020, while net job creation will likely exceed two million."  While he noted that these factors are promising for the housing market, Yun cautioned that low inventory remains a significant longer-term concern.  "Due to the shortage of affordable homes, home sales growth will only rise by around 3%,"
Yun also said that, "The state of housing in 2020 will depend on whether home builders bring more affordable homes to the market.  Home prices and even rents are increasing too rapidly, and more inventory would help correct the problem and slow price gains."
There is currently 3.0 month supply of homes available for sale.  Realtors suggest that the supply of and demand for housing is roughly in balance when there is a 6.0-month supply.  We are not even close.  That suggests that home price appreciation is  likely to accelerate in the months ahead.  However, housing starts have picked up a bit in recent months so the supply constraint may become less acute in the months ahead.  But in order to construct new homes, builders need workers.  Can they find them?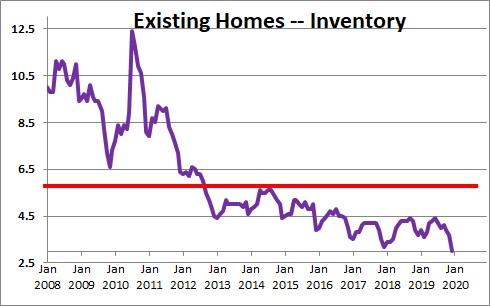 On the demand side the National Association of Realtors publishes a housing affordability index that now stands at about 165.0.  What that means is that potential buyers have 65% more income than is necessary to buy a median priced home (compared to 14% in 2007).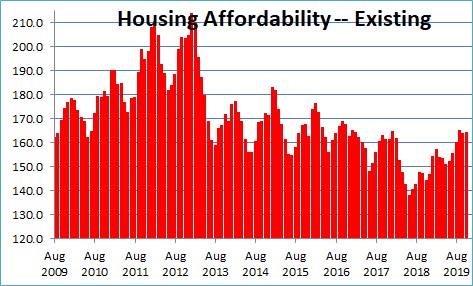 .Keep in mind, too, that the the average home stays on the market for just 41 days which is 10.9% lower than it was in December of last year.  It also compares to about 100 days when the NAR began collecting this statistic in 2011.  The NAR reports that 45% of homes that come on the market sell within a month.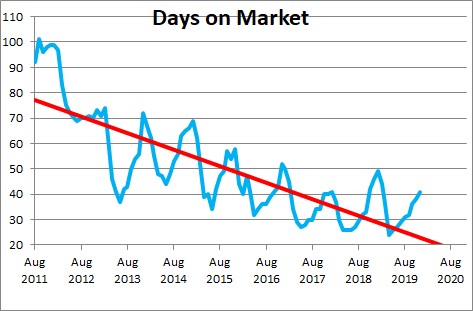 This  series on pending home sales is collected by the National Association of Realtors and represents contracts signed, but not yet closed, on existing home sales.  Thus, it is both a leading indicator of existing home sales and housing market activity in general.   Not all these contracts go to completion.  The buyer may not qualify for a mortgage, the house may not appraise at a sufficiently high value, or the house may fail the buyer's inspection.  But the series is clearly indicative of changes in housing market activity.
Stephen Slifer
NumberNomics
Charleston, SC