March 31, 2021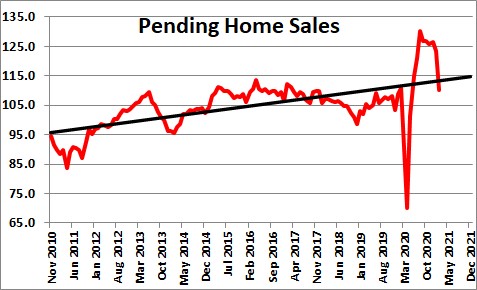 Pending home sales declined 10.6% in February to 11.0 after having declined 2.4% in January.  Following the March/April recession, home sales have surged but hit a speed bump in February as a series of snow and ice storms paralyzed much of the Midwest and Northeast in that month.
Lawrence Yun, the Chief Economist for the National Association of Realtors said that. "The demand for a home purchase is widespread, multiple offers are prevalent, and days-on-market are swift but contracts are not clicking due to record-low inventory."
"Only the upper-end market is experiencing more activity because of reasonable supply," he continued. "Demand, interestingly, does not yet appear to be impacted by recent modest rises in mortgage rates."  He added that, "Even with rising mortgage costs, rates are expected to remain relatively low at no more than 3.5% in 2021. He says the rates are still advantageous to both prospective buyers and to current homeowners who are contemplating refinancing.
The one thing that could slow things down somewhat is the rapid increase in long-term interest rates caused by a combination of faster growth in the economy as well as rising inflationary pressures and budget deficits.  But the Fed is not going to let that happen.  It can prevent  long rates from rising too rapidly by increasing its purchase of long-dated U.S. Treasury securities, or by purchasing fewer mortgage-backed securities each month and more U.S. Treasury bonds.
We follow this particular indicator because it is a fairly good barometer of the change in existing home sales in the following month.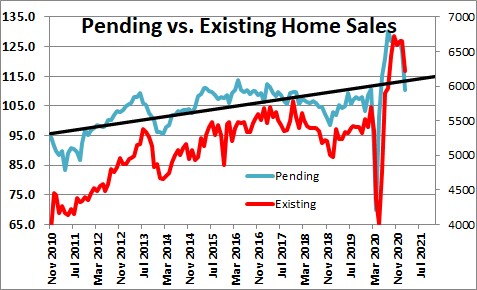 This  series on pending home sales is collected by the National Association of Realtors and represents contracts signed, but not yet closed, on existing home sales.  Thus, it is both a leading indicator of existing home sales and housing market activity in general.   Not all these contracts go to completion.  The buyer may not qualify for a mortgage, the house may not appraise at a sufficiently high value, or the house may fail the buyer's inspection.  But the series is clearly indicative of changes in housing market activity.
Stephen Slifer
NumberNomics
Charleston, SC