November 29, 2021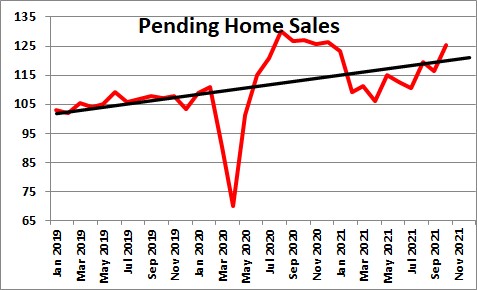 Pending home sales surged ahead by 7.5% in October to 125.2 after having fallen 2.3% in September.  Pending home sales hit a speed bump earlier in the year.  While price increases amongst lower priced houses is having a negative impact on homes priced at or below $300,000, for higher-priced housing there is little evidence of any reduced demand.  Instead,  a lack of supply for realtors to sell is primarily the issue.   Builders are having a tough time finding enough bodies to hire, available lots on which to build, and higher prices on their cost of materials — lumber and copper in particular.  Home sales would be even more robust if there were more  home available for sale.
Lawrence Yun, NAR's Chief Economist said, "Motivated by fast-rising rents and the anticipated increase in mortgage rates, consumers that are on strong financial footing are signing contracts to purchase a home sooner rather than later.  This solid buying is a testament to demand still being relatively high, as it is occurring during a time when inventory is still markedly low.  He added that, "The notable gain in October assures that total existing-home sales in 2021 will exceed 6 million, which will shape up to be the best performance in 15 years."
We follow this particular indicator because it is a fairly good barometer of the change in existing home sales in the following month.  Based on the increase in this series we look for existing home sales to climb in November to 6,500 thousand.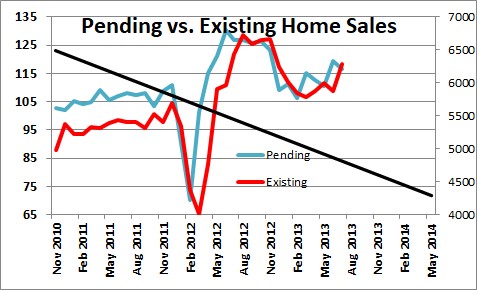 This  series on pending home sales is collected by the National Association of Realtors and represents contracts signed, but not yet closed, on existing home sales.  Thus, it is both a leading indicator of existing home sales and housing market activity in general.   Not all these contracts go to completion.  The buyer may not qualify for a mortgage, the house may not appraise at a sufficiently high value, or the house may fail the buyer's inspection.  But the series is clearly indicative of changes in housing market activity.
Stephen Slifer
NumberNomics
Charleston, SC