June 29, 2020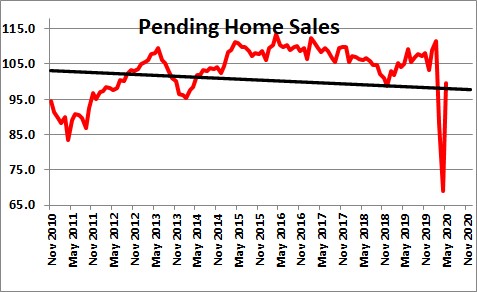 Pending home sales jumped by a record 44.3% in May to 99.6 after having plunged 21.8% in April to 69 and having fallen 20.8% in March as dramatic measures to halt the spread of the corona virus  shut down the U.S. economy.  But as the economy begins to re-open sales have surged.
Lawrence Yun, the Chief Economist for the National Association of Realtors said that "This has been a spectacular recovery for contract signings, and goes to show the resiliency of American consumers and their evergreen desire for homeownership.  This bounce back also speaks to how the housing sector could lead the way for a broader economic recovery.  More listings are continuously appearing as the economy reopens, helping with inventory choices.  Still, more home construction is needed to counter the persistent underproduction of homes over the past decade."
This  series on pending home sales is collected by the National Association of Realtors and represents contracts signed, but not yet closed, on existing home sales.  Thus, it is both a leading indicator of existing home sales and housing market activity in general.   Not all these contracts go to completion.  The buyer may not qualify for a mortgage, the house may not appraise at a sufficiently high value, or the house may fail the buyer's inspection.  But the series is clearly indicative of changes in housing market activity.
Stephen Slifer
NumberNomics
Charleston, SC