May 27, 2021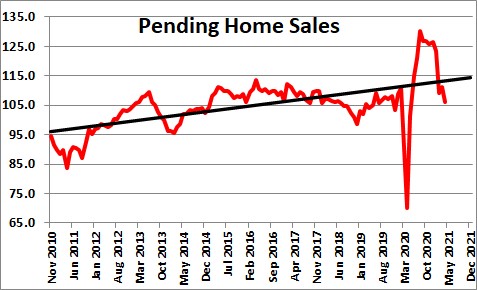 .Pending home sales fell 4.4% to 106.2 in April after rising 1.7% in March. Home sales have hit a speed bump in the past couple of months, not because of any reduced demand stemming caused by higher prices, but because of a lack of supply for realtors to sell.   Builders are having a tough time finding enough bodies to hire, available lots on which to build, and higher prices on their cost of materials — lumber and copper in particular.
Lawrence Yun, the Chief Economist for the National Association of Realtors said that, "Contract signings are approaching pre-pandemic levels after the big surge due to the lack of sufficient supply of affordable homes.  The upper-end market is still moving sharply as inventory is more plentiful there."  He added that  expects housing supply to improve as a whole as soon as autumn. He points to an increase in the comfortability of those listing, as well as a rise in sellers after the conclusion of the eviction moratorium or as they exit forbearance.
We follow this particular indicator because it is a fairly good barometer of the change in existing home sales in the following month.  Based on the decline in this series we look for another decline in existing home sales in May.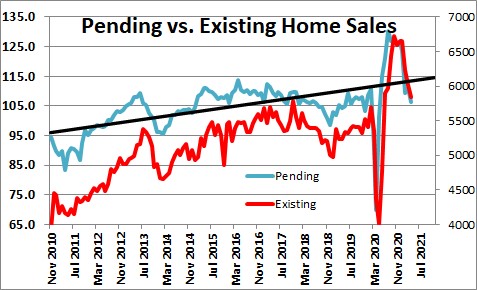 This  series on pending home sales is collected by the National Association of Realtors and represents contracts signed, but not yet closed, on existing home sales.  Thus, it is both a leading indicator of existing home sales and housing market activity in general.   Not all these contracts go to completion.  The buyer may not qualify for a mortgage, the house may not appraise at a sufficiently high value, or the house may fail the buyer's inspection.  But the series is clearly indicative of changes in housing market activity.
Stephen Slifer
NumberNomics
Charleston, SC