August 24, 2022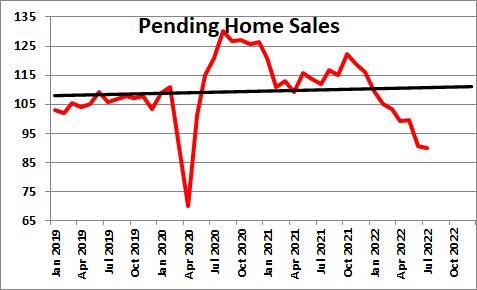 Pending home sales fell 1.0% in July to 89.8 after having declined 8.9% in June.  Pending home sales are being impacted by the combination of both higher prices and rapidly rising mortgage rates.
Lawrence Yun, NAR's Chief Economist said, "In terms of the current housing cycle, we may be at or close to the bottom in contract signings.  This month's very modest decline reflects the recent retreat in mortgage rates. Inventories are growing for homes in the upper price ranges, but limited supply at lower price points is hindering transaction activity."
Yun also said that "Home prices are still rising by double-digit percentages year-over-year, but annual price appreciation should moderate to the typical rate of 5% by the end of this year and into 2023," Yun added. "With mortgage rates expected to stabilize near 6% alongside steady job creation, home sales should start to rise by early next year."
We follow this particular indicator because it is a fairly good barometer of the change in existing home sales in the following month.  Based on the increase in this series we look for existing home sales to change little in August and remain about 4,800 thousand.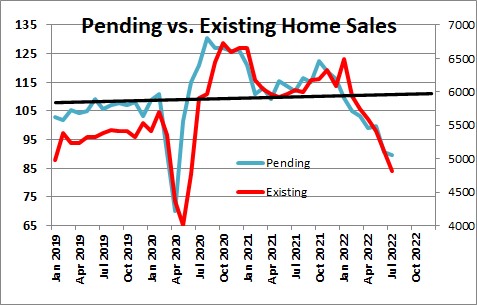 This  series on pending home sales is collected by the National Association of Realtors and represents contracts signed, but not yet closed, on existing home sales.  Thus, it is both a leading indicator of existing home sales and housing market activity in general.   Not all these contracts go to completion.  The buyer may not qualify for a mortgage, the house may not appraise at a sufficiently high value, or the house may fail the buyer's inspection.  But the series is clearly indicative of changes in housing market activity.
Stephen Slifer
NumberNomics
Charleston, SC