April 27, 2022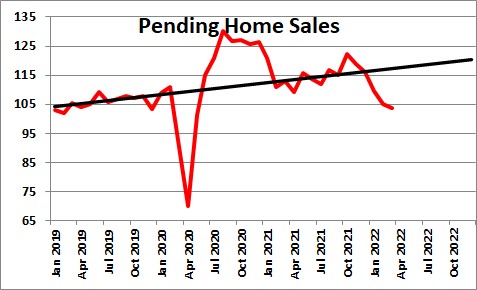 Pending home sales declined 1.2% in March to 103.7 after having declined 4.0% in February, 5.8% in January, 2.3% in December and 2.9% in November.  Pending home sales are being impacted by the combination of both higher prices and rapidly rising mortgage rates.  However, sales are being constrained by  a lack of supply for realtors to sell.   Builders are having a tough time finding enough bodies to hire, available lots on which to build, and higher prices on their cost of materials — lumber and copper in particular.  Home sales would be more robust if there were more  home available for sale.
Lawrence Yun, NAR's Chief Economist said, "The falling contract signings are implying that multiple offers will soon dissipate and be replaced by much calmer and normalized market conditions,  As it stands, the sudden large gains in mortgage rates have reduced the pool of eligible homebuyers, and that has consequently lowered buying activity.  The aspiration to purchase a home remains, but the financial capacity has become a major limiting factor."
We follow this particular indicator because it is a fairly good barometer of the change in existing home sales in the following month.  Based on the increase in this series we look for existing home sales to be relatively unchanged in April at about 5,800 thousand.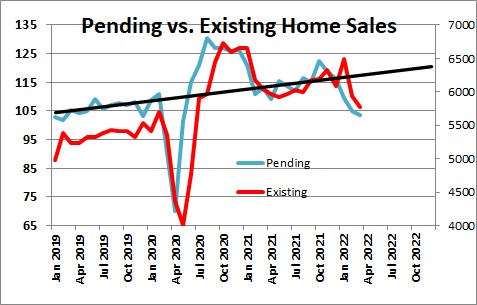 This  series on pending home sales is collected by the National Association of Realtors and represents contracts signed, but not yet closed, on existing home sales.  Thus, it is both a leading indicator of existing home sales and housing market activity in general.   Not all these contracts go to completion.  The buyer may not qualify for a mortgage, the house may not appraise at a sufficiently high value, or the house may fail the buyer's inspection.  But the series is clearly indicative of changes in housing market activity.
Stephen Slifer
NumberNomics
Charleston, SC