February 27, 2023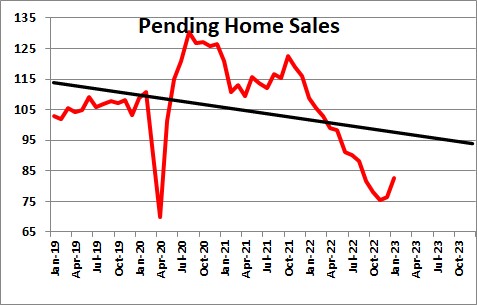 Pending home sales jumped 8.1% in January to 82.5 after having risen 1.1% in December.  After falling sharply throughout 2022 pending home sales have perked up and should continue to climb throughout 2023.
Lawrence Yun, NAR's Chief Economist said, "Buyers responded to better affordability from falling mortgage rates in December and January," He added that, "Home sales activity looks to be bottoming out in the first quarter of this year, before incremental improvements will occur.  But an annual gain in home sales will not occur until 2024. Meanwhile, home prices will be steady in most parts of the country with a minor change in the national median home price."
We follow this particular indicator because it is a fairly good barometer of the change in existing home sales in the following month.  Based on the increase in this series we look for existing home sales to begin to climb in February.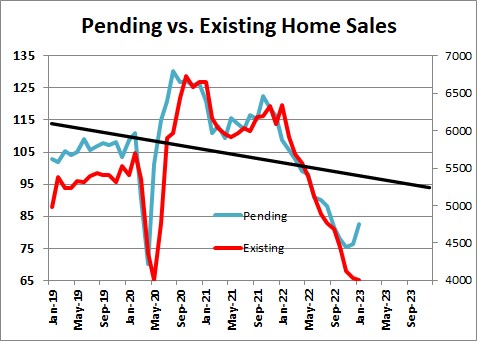 This  series on pending home sales is collected by the National Association of Realtors and represents contracts signed, but not yet closed, on existing home sales.  Thus, it is both a leading indicator of existing home sales and housing market activity in general.   Not all these contracts go to completion.  The buyer may not qualify for a mortgage, the house may not appraise at a sufficiently high value, or the house may fail the buyer's inspection.  But the series is clearly indicative of changes in housing market activity.
Stephen Slifer
NumberNomics
Charleston, SC