March 27, 2020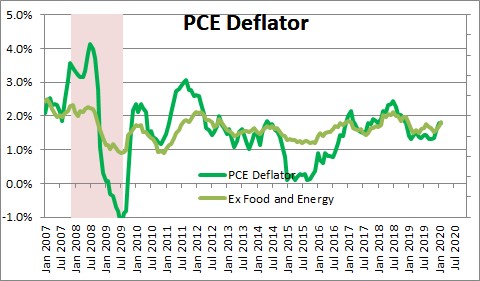 There are many different measures of inflation, but the one that the Federal Reserve considers to be most important is the personal consumption expenditures deflator, in particular the PCE deflator excluding the volatile food and energy components.
The PCE deflator rose 0.1% in both January and February.  The year-over-year increase now stands at 1.8%.
Excluding the volatile food and energy components the PCE deflator rose 0.2% in both January and February.  The year-over-year increase is now 1.8%.  This is the inflation measure that the Fed would like to see rise by 2.0%.   I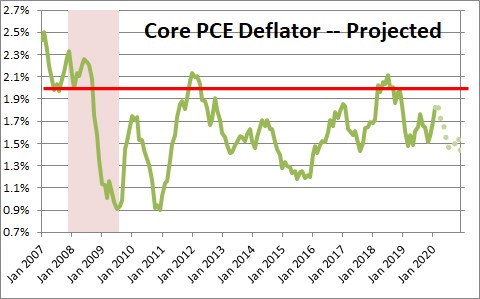 But the world has changed in the past month or so as a result of the corona virus.  Consumer sentiment has plunged, particularly in the second half of March.  The April level of sentiment should continue to fall to somewhere in a range from 60.0-70.0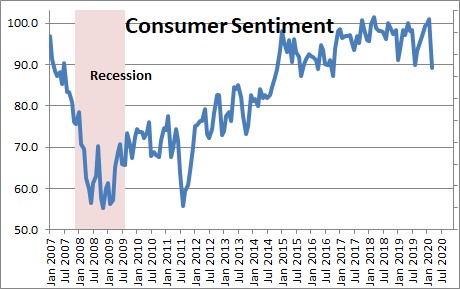 Three million Americans lost their job in the final week of March as initial unemployment claims soared to a record of 3,283 thousand.  The March employment report that will be released on April 3 should show an increase of about 50 thousand or so.  But payroll employment for April is likely to fall by at least 1 million workers.  For what it is worth, we are now anticipating a decline in Q2 GDP growth of 20%.
But we expect to see signs that the corona virus has begun to spread more slowly by mid-April and more clear-cut evidence of that happening by the end of April.  That should tend to bolster both consumer and business confidence.  The stock market should begin a robust and vigorous rebound.  At the same time the government will be sending out $1,200 check to every taxpayer which should amount to about $250 billion.  Much of that will get spent as consumers make postponed mortgage and car payments.  Some might be saved temporarily.  Basically, that money is designed to offset lost wages caused by the layoffs triggered by the corona virus.  That should be the catalyst for GDP growth in the third and fourth quarters of 8.7% and 7.0%, respectively.  In short, we anticipate a very sharp, but short recession caused by the virus.
Meanwhile, the Saudis and Russia have engaged in a spat and oil prices have fallen from $55 per barrel a couple of months ago to about $23 currently.  The recession and the drop in oil prices suggest that the inflation rate will slow in 2020.  We will take a stab at the core personal consumption expenditures deflator rising just 1.6% this year.
Stephen Slifer
NumberNomics
Charleston, SC