November 27, 2019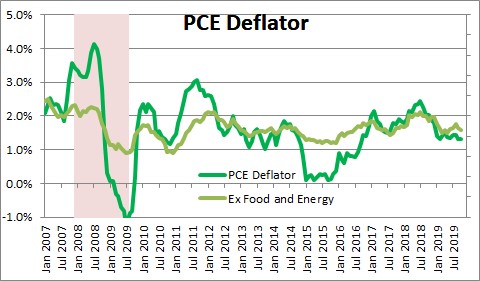 There are many different measures of inflation, but the one that the Federal Reserve considers to be most important is the personal consumption expenditures deflator, in particular the PCE deflator excluding the volatile food and energy components.
The PCE deflator rose 0.2% in October after having been unchanged in September.  The year-over-year increase now stands at 1.3%.
Excluding the volatile food and energy components the PCE deflator rose 0.1% in October after having been unchanged in September.  The year-over-year increase is now 1.6%.  This is the inflation measure that the Fed would like to see rise by 2.0%.   We think it will rise 1.6% in 2019 after having risen 2.0% in 2018, but quicken to 2.2% in 2020.  This inflation gauge was below the Fed's inflation target for a couple of years. It is now essentially at the target pace but is expected to rise to 2.2% next year which is slightly above the Fed's target.  However, the Fed has indicated that it is willing to live with this rate slightly above target for some time to counter the protracted period during which it was below target.  It seems to be shooting for an inflation rate for the cycle as a whole that averages its targeted pace of 2.0%.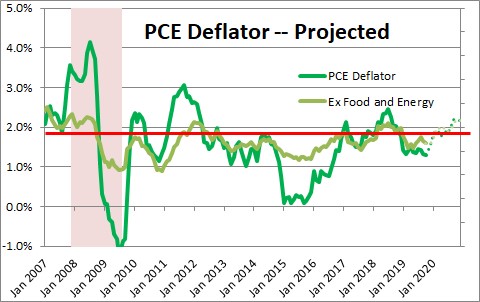 The more widely known inflation measure, the CPI ex food and energy, has been rising at a somewhat faster pace and is projected to increase 2.4% overall in 2019 and 2.8% in 2020.  For details of this forecast see the CPI write-up.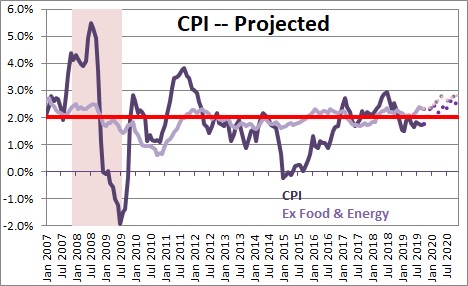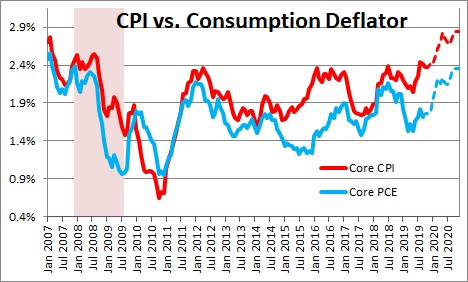 Why the difference?  The CPI measures price changes in a fixed basket of goods each month.  The deflator captures price changes, but also changes in consumer spending habits.  If we try to save money by switching from butter to lower-priced margarine, from beef to chicken, or if builders substitute PVC pipe for more expensive copper,  the deflator would come in lower than the CPI in that particular month.  For our money, we think that the CPI which strictly measures price changes is a better barometer of inflation.  The Fed disagrees.
Stephen Slifer
NumberNomics
Charleston, SC