April 30, 2021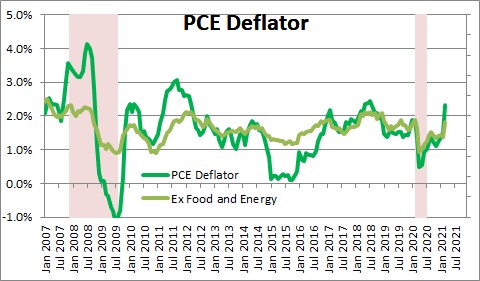 There are many different measures of inflation, but the one that the Federal Reserve considers to be most important is the personal consumption expenditures deflator, in particular the PCE deflator excluding the volatile food and energy components.
The PCE deflator rose 0.5% in March after having climbed 0.2% in February.  The year-over-year increase now stands at 2.3%.
Excluding the volatile food and energy components the PCE deflator rose 0.4% in March after climbing 0.1% in February.  The year-over-year increase is now 1.8%.  This is the inflation measure that the Fed would like to see rise by 2.0%.
The  purchases of Treasury securities by the Fed lasts year has caused money supply growth to surge.  We all learned back in our basic economic classes that money growth is the cause of inflation.  However, the length of time between a pickup in money growth and an increase in inflation is both long and invariable.  Thus, the recent increase in  money growth should cause the inflation rate to climb above the Fed's 2.0% target in the spring of this year.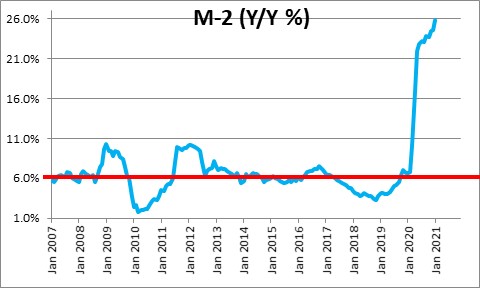 For what it is worth, we expect the core PCE deflator to increase 2.2% in 2021, and 2.6% in 2022..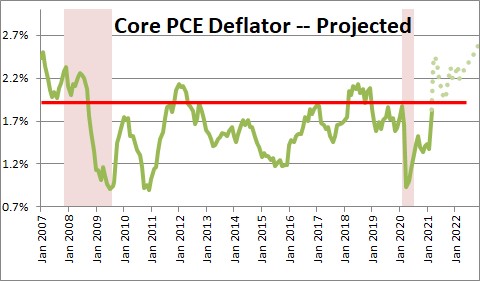 We expect  a second quarter GDP growth rate of 11.0% growth.  We also look for 8.0% GDP growth for 2021 as a whole as the vaccines bring the virus under control by midyear which makes us all more comfortable to go out to eat and travel, and as the elevated level of the savings rate causes a rapid pace of consumer spending.
Stephen Slifer
NumberNomics
Charleston, SC