January 27, 2023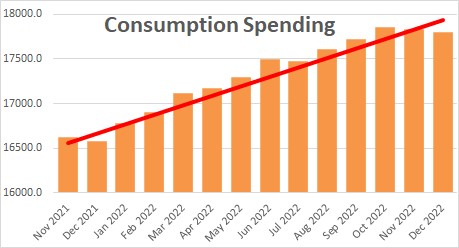 Personal consumption expenditures fell 0.2% in December after having declined 0.1% in November .  Clearly, consumer spending tailed off in the final two months of the year.  In the past year nominal consumer spending has risen by 7.4%  The consumer is still willing to spend despite lots of worries about inflation and the pace of Fed tightening although the pace of spending slowed down at the very end of last year.
What we are really interested in is "real" or inflation-adjusted spending.  That is what goes into the GDP calculation.  After adjusting for inflation real consumption spending fell 0.3% in December after having declined 0.2% in November.  In the past year real spending has risen 2.2%.  Not bad,  But in the past three months real consumer spending has fallen at  0.3% annual rate.           The consumer's willingness to spend is relatively intact, but his or her purchasing power is being eroded by inflation.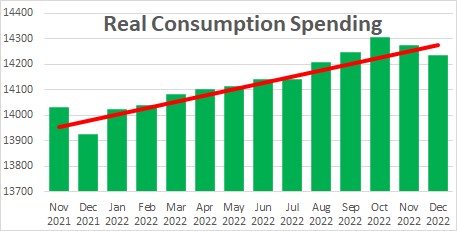 Personal  income rose 0.2% in December after rising 0.3% in November.  Over the past year personal income has risen 4.6%.  The recent gains in income are being driven by the wage component which reflects continued growth in employment combined with rising hourly wages.  The wage component of income rose 0.3% in both November and December.  Fueled by steady job gains wages and worker pressure to raise wages (given that average hourly earnings in real terms have been falling), wages have risen 4.6% in the past year.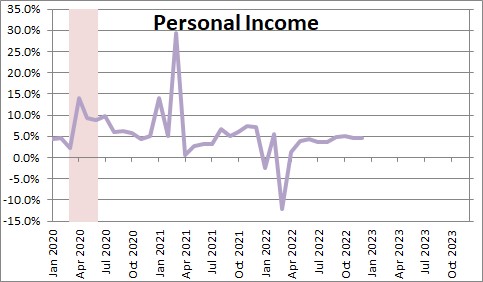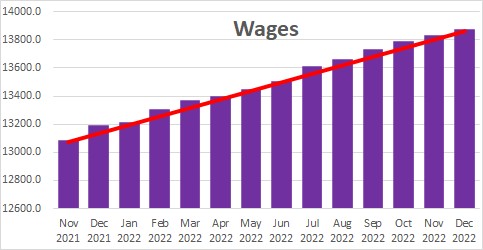 Real disposable income — what is left after paying taxes and adjusted for inflation — had been declining steadily through the middle of last year as inflation more than offset the increase in wages.  However, it has stopped falling.  It rose in each of the last six months of the year.  In particular real disposable income rose 0.2% in both November and December.  In the past year this series has fallen 1.7%,  in the past three months it has risen at a 3.9% pace.  Falling real earnings are causing workers and unions to push for higher wages to compensate.  Thus, we expect wage growth to continue to grow fairly rapidly.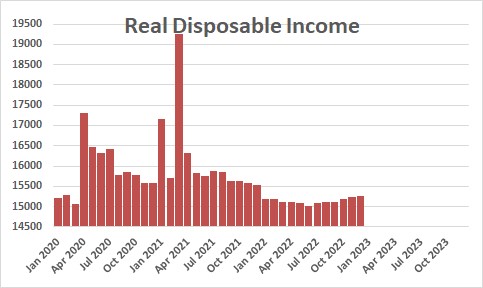 The savings rate rose  0.5% in December to 3.4% after rising 0.4% in November.  Consumers are able to save less of their paycheck each month than what they have done historically.  In the10-year period up to the beginning of the 2020 recession (savings rate data were biased upwards by all of those stimulus checks),  the savings rate averaged 7.0%.  Today it is 3.4%.  The 4.4% core inflation rate is making it more challenging for consumers to save.  Rising food and energy prices are hard to avoid, and after paying for those expenses plus the rent or mortgage, it is difficult to put away money for a rainy day..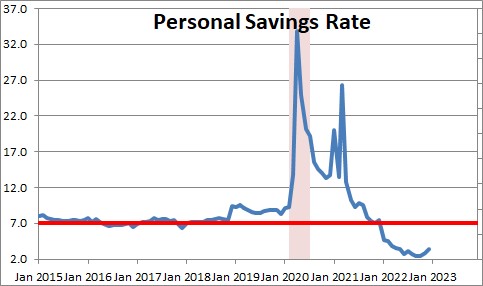 Consumers are spending, but clearly struggling. To maintain their pace of spending they are beginning to run up their credit card bills.  That is OK for a while because they have very little debt in relation to income currently, but that is not a sustainable situation.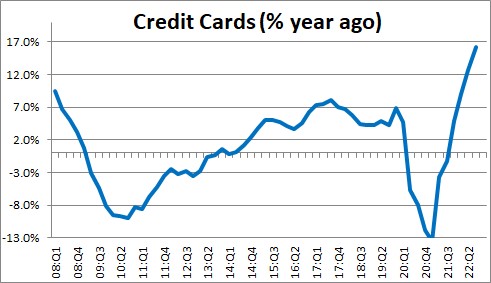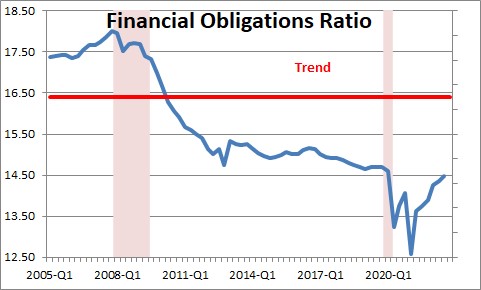 We expect GDP to rise 1.2% in 2023.    Negative real interest rates through midyear, steady job gains, and significant wage gains will provide enough fuel to keep the economy going for some time to come.  Not to mention that interest rates like the 10-year note and the 30-year mortgage rate have fallen sharply in recent months.  At some point, however, the Fed will keep raising interest rates to the point where consumers are going to cut back on spending and businesses are finally going to start laying off people.  We are not there yet, but we do expect a mild recession in the first half of 2024.
Stephen Slifer
NumberNomics
Charleston, SC