August 28,  2020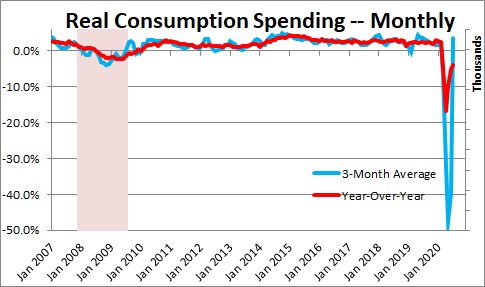 Personal consumption expenditures rose 1,9% in July after climbing 6.2% in June and 8.6% in May after having plunged by 12.9% in April and 6.7% in March.     What we are really interested in is consumption spending in real terms (i.e., after adjustment for inflation) because that is what goes into GDP (shown above).    On that basis consumption spending roses 1.6% in July after rising 5.7% in June after having climbed by 8.4% in May after having fallen 12.4% in April and 6.5% in March. The March and April drop-off in spending was caused by the drastic measures taken to halt the spread of the corona virus which were imposed in mid-March.  The $1,200 tax refund checks got into consumers' hands in May and June and spending has climbed sharply since.  To put these changes in perspective the level of real consumer spending fell sharply in March and April, but its increases in May, June, and July have brought the level of consumer spending back close to where it was prior to the recession.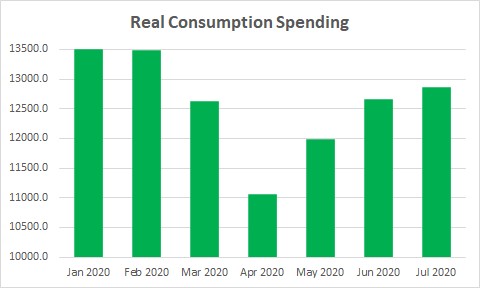 Personal income rose 0.4% in July after having fallen 1.0% in June and 4.2% in May after having risen 12.2% in April.  In April the wage component declined $0.8 trillion as workers lost their jobs, but transfer payments rose by $3.3 trillion. The April increase reflected the lift to income caused by the Treasury providing $1,200 checks to virtually every taxpayer.  But the idea was to put money into consumers' hands quickly to counter the job losses that were occurring.  And that has worked to some extend.  In May, June, and July wages rose each month while transfer payments dropped back sharply.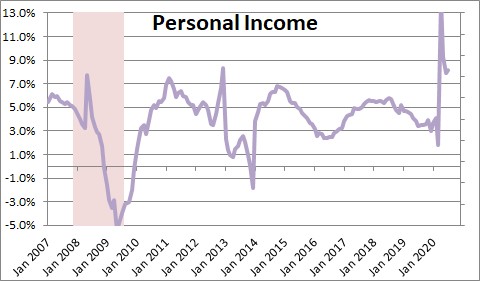 What that means is that real disposable income — what is left after paying taxes and adjusted for inflation —  fell 0.1% in July after falling 1.8% in June and 4.9% in May after having risen 15.4% in April.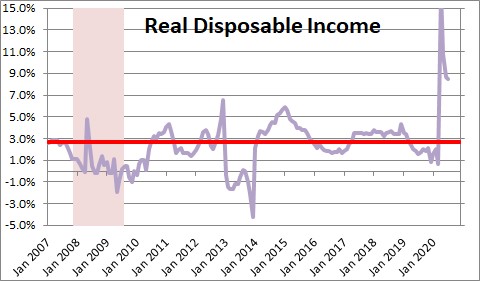 With the government shoving so much money into consumers' hands in April the savings rate surged to 33.7% in that month.  But the tax refunds could not get spent in April because the economy was essentially shut down in that month.  But that money is not going to stay saved.  Consumers deferred all sorts of purchases from mortgage and rent payments, to car loans, to credit cards.  Spending on those items is surging and the savings rate is falling.  In fact, the savings rate declined in May, June and July however it still stands at a lofty level of 17.8%.  With the savings rate still so high, consumer spending should continue at a brisk pace in the months ahead.  At same point when transfer payments are back to their normal level, the economy will have recovered sufficiently that job creation will boost income enough to keep the economy going.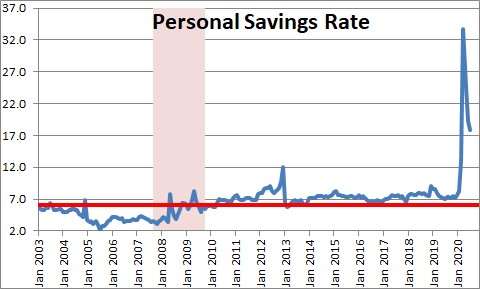 Following the  31.7% drop in second quarter GDP growth, the stimulus checks are boosting  confidence.  Consumer spending has picked up.  Home sales are surging.  The stock market has begun a vigorous recovery and reaches new record high levels with each passing day.   As a result, we now anticipate third quarter GDP growth of 28.0% and 7.0% growth in the fourth quarter
Stephen Slifer
NumberNomics
Charleston, SC