April 30, 2021
Personal consumption expenditures jumped 4.2% in March after having fallen 1.0% in February.    The $1.400 tax refund checks bolstered consumer income and spending in March.
Goods spending has already surpassed its January high, but spending on services — in particular spending on restaurants,  air travel and hotels — has not yet fully recovered.  But with the savings rate high at 27.8%  consumer spending is bound to climb sharply in the months ahead.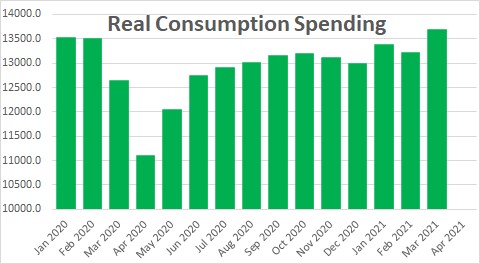 Personal  income jumped 21.1% in March after having declined 7.0% in February as the $1,400 stimulus checks caused transfer payments to surge from $4.2 trillion to $8.2 trillion.  But the income gain in March was not all transfer payments.  The wage component rose 0.7% in that month.  It has risen 4.6% in the past year, and at a 7.1% pace in the past six months.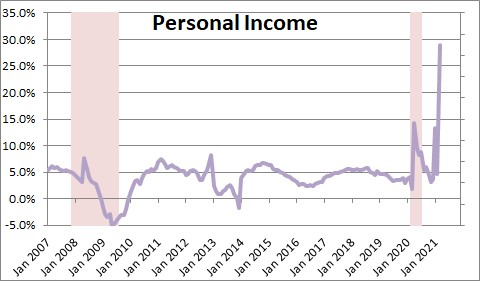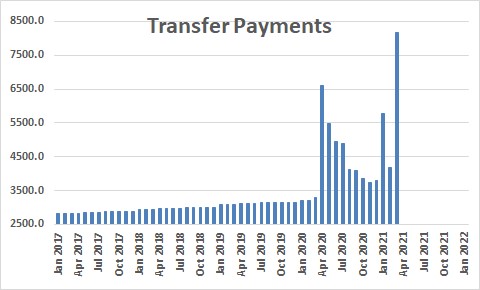 What that means is that real disposable income — what is left after paying taxes and adjusted for inflation –jumped 23.0% in March after having declined 8.1% in February.  The year-over-year increase is now 29.3%.  This will decline in the months ahead but should remain far above its 2.7% average growth for the foreseeable future.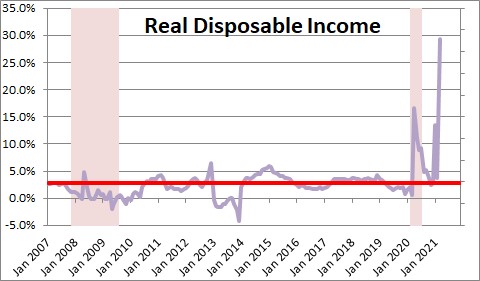 The savings rate surged from 13.6% in February to 27.8% in March.  With the savings rate so high consumer spending will continue at a brisk pace for many months to come.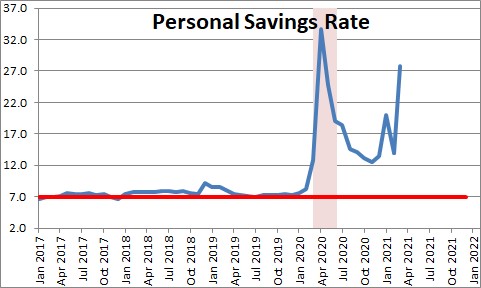 With the 27.8% savings rate so elevated there is about $4.5 trillion of surplus savings (savings above the normal 7.0% pace).  Those funds are liquid and available for consumers to spend at any time.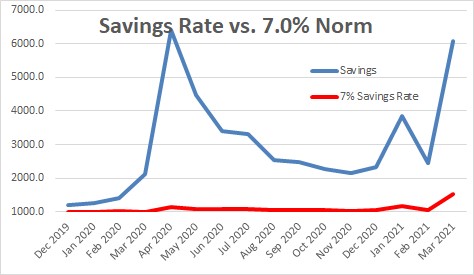 We expect GDP growth of 11.0% in Q2.  We expect to see GDP growth for 2021 as a whole of 8.0% as the vaccine gets distributed and consumers feel more comfortable going out to eat and  travel, and as liquid funds from the inflated savings rate get spent.
Stephen Slifer
NumberNomics
Charleston, SC