March 27,  2020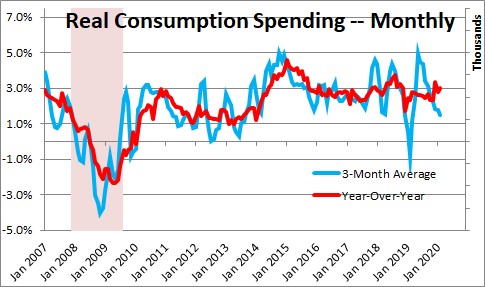 Personal consumption expenditures rose 0.2% in both January and February.  Over the course of the past year consumer spending has risen 4.9%.  What we are really interested in is consumption spending in real terms (i.e., after adjustment for inflation) because that is what goes into GDP (shown above).    On that basis consumption spending rose 0.1% in both January and February.  Real consumer spending has risen 3.0% in the past year.
But all of this is about to change as a result of the corona virus.
Consumer sentiment.plunged in March, especially in the second half of the month.  The April figure should be somewhere in a range from 60-65.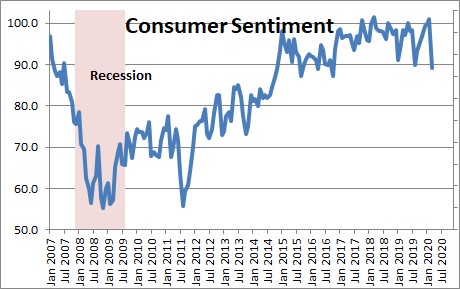 Three million Americans lost their job in the final week of March.pushing initial employment claims to 3,283 thousand.  What is shown below is a 4-week average so clearly it is going higher in the weeks ahead.  The payroll employment data released for March on Friday, April 3, is expected to show little change because the survey week occurred in the first half of the month — prior to the massive layoffs getting started.  But expect payroll employment to drop by perhaps 1 million workers and the unemployment rate in that month to climb to 4.8% or so.  It is currently at 3.5%.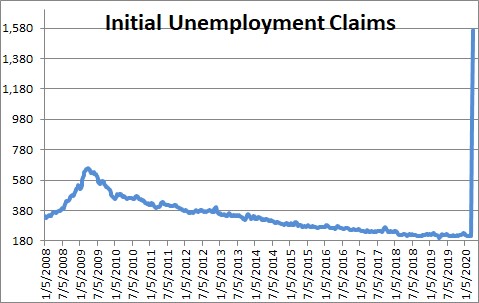 For what it is worth, we currently expect a decline in second quarter GDP growth of 20.0%.
But we expect to see signs that the spread of the virus is slowing down by mid-April with more clear-cut evidence available by the end of April.  That should bolster both consumer and business confidence.  The stock market is likely to begin a vigorous recovery.  As all that happens the government should begin sending out $1,200 checks to every taxpayer which works out to about $250 billion — but remember that this is largely designed to offset income lost via layoffs.  So what will consumers do with that extra cash?  Probably spend it to make up for deferred mortgage payments, car payments, etc.  That should help to soften the blow to the economy and, as a result, we now anticipate GDP growth of 8.7% and 7.0% in the second half of the year.
Lots of moving parts, but it seems to add up to a sharp, but short, corona virus caused recession.
Stephen Slifer
NumberNomics
Charleston, SC